Jekyll Island Club Hotel -
a fabulous Georgia getaway
with world class croquet
by
Jerry Aiello
Posted February 28, 1998
---

Hundreds of thousands of people have seen "real croquet" for the first time at a resort hotel. Resort owners in every quarter of North America have discovered the benefits of spending next to nothing (compared with golf) to add croquet as the crowning touch in their menu of amenities. Often, the resort's croquet lawn doubles as the main venue of a local USCA club. Sometimes there is even a resident "pro." With croquet resort destinations multiplying in every direction, what is needed now is a serious croquet player willing to visit them, rate their offerings, and share this information with us so we won't choose the wrong destination for our own special croquet get-away. We have found our man, and his first review follows.

---
Croquet has been called "The sport of the next millennium". That may be overstating things a bit, but I do know that once you have played the six-wicket game on a quality lawn, your life will be forever enriched. Surely there could be no better place to learn or play croquet than at a fine resort - with an ambiance of subtle luxury, recalling a past era: a time when life was slower paced, where one could pause and smell the roses. The Jekyll Island Club Hotel on Jekyll Island off the Gold Coast of Georgia is just such a spot.
Jekyll Island is called Georgia's "Smilin' Island". It's about an hour's drive south of Savannah, and about the same distance north of Jacksonville, right off Interstate 95 and an easy drive from both airports.
A meticulously restored historic hotel on a secluded island
The Club Hotel was built by architect Charles Alexander in 1887 as an exclusive retreat for members of America's highest society: J.P. Morgan, William Rockefeller, Joseph Pulitzer, Vincent Astor and William Vanderbilt among them. The club was originally used as a hunting lodge but eventually became the Winter playground for the rich and famous.
The State of Georgia purchased Jekyll Island from the Jekyll Island Club in 1947. The Club Hotel has been wonderfully restored, and many of the cottages built a century ago are in use today at the resort. The Jekyll Island Club Hotel is in the historic district of the island on the Jekyll River. The rest of the island consists of three 18-hole golf courses and several hotels along the Atlantic Ocean beach. The island is small, unspoiled for the most part, uncrowded, and secluded.
The climate is described locally as "semitropical" - meaning, I suppose, that in the Fall and Winter seasons the temperatures rarely, if ever, fall to freezing. My wife Suzanne and I were there in early November, and the weather was mild, with temperatures hovering in the mid-70's - perfect for playing golf, taking a bike ride around the island, or playing several hard sets of tennis.
The sacred quest of a pair of croquet fanatics
It was even perfect weather for croquet, which is the main reason we were there visiting the resort. You see, we are on a sacred quest to visit the finest resorts where croquet is offered for the guests. We've designed a rating system that includes literally everything from soup to nuts. If we've played croquet there, our reviews will give you the inside scoop on what to expect before you make your own trek. It's going to be tough going - if only because new resorts are bringing in croquet so fast that we'll be hard pressed just to stay even - but we're prepared to make the necessary sacrifices to get it done!
Croquet on the front lawn puts you at center stage
The croquet lawn at the Jekyll Island Club Hotel is literally the hotel's front yard. It is a full-sized, bentgrass lawn maintained impeccably by the hotel staff - as are all the grounds on the resort. The lawn overlooks the Jekyll River: shrimp boats, the coastal low-country marsh (bring bug spray), the hotel's gardens, the pool, the horse-drawn carriages. If you play croquet there, you will be playing croquet at the very center of the resort, so be prepared to become the center of attention.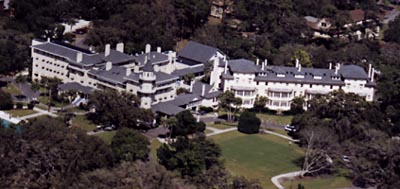 Six-wicket croquet holds a special fascination for resort vacationers. It seems that whenever and wherever we play, a small crowd forms at courtside just to see what's going on and try to figure it out. Being the shy and withdrawing type that I am, I usually need a good reason to saunter over to introduce myself and answer their questions - a run by my opponent is usually enough of an incentive to turn away from the action. This is all part of the fun and responsibility we croquet fanatics have accepted on the cutting edge of a new cultural movement.
Whenever we travel to play croquet away from home, I take along a supply of the USCA's old one-page fold out "Croquet: Basic Principals of Play." When I meet someone who seems particularly interested, I give them a copy to take home. Of course, I ran out of originals years ago, so now I give them my own photocopied versions.
The hotel "rents" the lawn to the local Jekyll Island Croquet Club. Club members schedule times during the day when they have access to the lawn, so if you are a guest at the hotel and want to play croquet, you might have to work around club events. All necessary croquet equipment is available at the hotel through the bell staff at the front door. We brought our mallets with us (they fit nicely in golf club travel bags), but the Hotel had several available. Although the situation did not arise on this trip, I would imagine that the concierge would have little difficulty arranging a match for you with members of the local club. The club is active year-round and hosts their own popular invitational tournament each May.
Golf, anyone? Tennis? And what about dinner?
Jekyll Island is a wonderful place to visit if you want to play golf at some of the East Coast's loveliest courses - with well kept Bermuda grass fairways, large greens, and challenging water and sand hazards. There are three 18-hole courses, a 9 hole course, and a par-three course for those who want to practice their pitch-and-putt game, all top-of-the-line.
Although we played tennis on the less-than-adequate but free Club Hotel courts, we found a top-notch tennis facility about a mile away. (We walked, but judging from the looks we got, the locals don't consider walking a respectable mode of transportation.) We found thirteen Har Tru clay courts, with seven lighted for night play. They claim to have been rated one of the 25 top municipal tennis facilities in the nation by Tennis Magazine. I believe it. They'll arrange matches for you if given enough notice.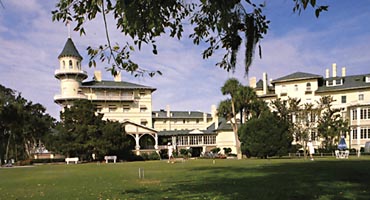 When Suzanne and I travel, we dine well. If we don't find excellent fare, we go home early. We did not want to leave the Jekyll Island Club Hotel. The dinners in the main dining room were superb. If I had to offer any criticism. it would be that the menu lacked sufficient regional specialties made in traditional ways. (Hey, I like shrimp and grits, is that a problem?).
You can book under a modified American Plan, or dine a la carte. We tried other eateries on the island, and can tell you with confidence that the American Plan is the only way to go. (The less said about the nearby Blue Beard's Restaurant, the better).
Have I made myself clear? If you're going to travel on the Georgia coast for a fun vacation in the sun, bring your mallet to Jekyll Island. The lawn is fast and smooth, but watch out for the fade to the setting sun on those long approach shots.
[Send your tips - and warnings - on your own croquet resort experience to Jerry at: croquet@ns.gemlink.com; or share your personal resort review with readers of CROQUET WORLD ONLINE MAGAZINE in a Letter to the Editor, e-mailed to: bobalman@aol.com.]
A note on the reviewer and his very croquet life
Jerry Aiello and his wife Suzanne have been croquet advocates and serious players since 1988. Over that ten-year period they have sponsored annual charity events at their home in central Virginia, thus bringing the six-wicket game to the attention of many local business and community leaders. In 1996 they installed a full-sized Bermuda grass lawn at their home, after much consultation with turf experts. "It all went pretty well," Jerry notes, "considering the site was a former sheep pasture with a 15 percent grade. The first year play was a bit rough, but last year it was simply wonderful."
In 1997 they founded Wicket Vacations, as a result of their many explorations of sports activities around the continent. "Over the years we have enjoyed a few vacations that really stood out," Jerry notes. What made them special was the opportunity they gave us to meet new people and participate in some sort of competition and school. One of these vacations was at Lantana in Bermuda, where John and Nelga Young put together a really fantastic croquet school and small tournament at their resort. Another was our association with the Hackers tennis tournament at The Colony on Longboat Key each December."
They surmised that there might be a market for croquet-oriented vacations at the finest resorts around the world. These vacations would have to be at special places that included fine dining, five-star accommodations, alternative area attractions, and at least one tournament-quality croquet lawn. The "croquet vacations" are five days long and include instruction by a USCA professional and tournament play. Evening meals are taken as a group to allow for social mingling.
The first Wicket Vacation has yet to take place. The details are still being worked out, and resorts are being visited and evaluated. Jerry and Suzanne hope to lead their first tour in the Spring of 1998 and be in full operation by the beginning of 1999. In the meantime, they will be busy scoping out potential vacation sites and sharing their discoveries with our readers.
---