Top-ranked players outline
their ideal courts, amid a chaos
of less-than-serious lawns

by Bob Alman
layout by Reuben Edwards

---

The photo essay below was inspired by a recent Nottingham Board speculation around the differences and distinctions between "croquet courts" and "croquet lawns." We asked top-rank players to give us their precise prescription for an ideal court--the one with the highest probability of revealing the best player in a single untimed Association game that goes to 26 points. The main feature of "garden croquet" on casual lawns, for most people in most places, is the fun of playing together a social game. But the requirements for the serious courts for ranked competitions are very exacting. As these courts have advanced to near-perfection, the sport's top players now acknowledge the supreme importance of "imperfections" in the court surface--to produce interesting games for the spectators as well as provide a more fair and rigorous standard for high-level interactive play.

---
"Croquet court" is the broader definition of any terrain used for any kind of croquet, with a growing turf, an artificial turf, or no turf at all. "Croquet lawns" with grass are usually preferred by most clubs, but there are some exceptions, as shown in this article.
We offer some favorite photographs to illustrate the seriousness of our sport at its best, contrasted with suitably casual settings for a lightweight game with 9-wickets and two pegs; and the vast contrasts between "serious" and "casual" in surfaces, court dimensions and types, and equipment.
Bob Chilton couldn't resist taking this morning picture of the serious courts laid out at the National Croquet Center. The early-arriving player--with no awareness at all that she is part of the picture--must also be distracted by a scene made perfect by light and clouds--and well-placed birds. Look at the halo of light provided by god and Chilton to frame the waiting player.
Here's the question we asked a few highly ranked players in the sport, whose responses are interspersed with the photographs.
You are playing a 26-point game of Association Croquet in midday, windless conditions, against a strong opponent. Describe the court you would prefer to play on, as an ideal test of skill, as to.....
* Playing surface: type and texture;
* Levelness of the surface and preferred degree of variations;
* Hoops: tightness and type;
* Speed of play, as measured in Plummers;

PADDY CHAPMAN, 2018 World Champion
My ideal playing surface is very fine grass (which is used in New Zealand or the United Kingdom), not the more hardy and coarse kind found in much hotter countries. Fine grass can play much faster than coarse grass. Clay-based soil capable of setting rock-hard on a sunny day is perfect.
For hoops , Atkins, 3-11/16th width. If the soil is firm, the width of the hoop does not matter very much.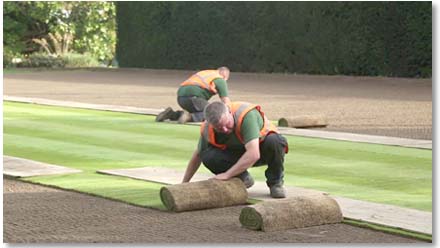 This Roehampton lawn is guaranteed to be perfect at almost every serious player's favorite place to compete in England, a court surrounded by tall, thick, and perfectly trimmed hedges.
I enjoy a relatively flat court that rewards a good single-ball shot, but the odd non-flat patch around the hoops is a good thing, to ensure rewarding players with more accurate breaks, and accurate close-by hoop app
A speed of 13-14 seconds over the majority of the court is perfect. Generally the faster the better as far as I'm concerned, and it's fun to play on a lawn with a lightning-fast patch.
For hoops , Atkins, 3-11/16th width. If the soil is firm, the width of the hoop does not matter very much.
Basically what I have described above is Lawn 1 at United in Christchurch, where I played a lot of my croquet when I was still learning the game. The south-west quadrant of the lawn can get almost unplayably fast in mid-summer, probably upwards of 17 seconds in places, and it's just great fun to play on. Croquet is such a better game when played on a surface where completing a 4-ball break presents a genuine challenge. TPs can be done on such a lawn, but nothing short of a fantastic turn is going to see one completed.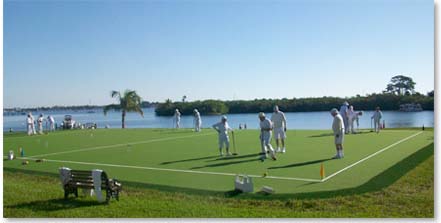 This artificial court at Sand Hill Cove on the St. Lucie River in South Florida, with a perfectly flat surface, was required to prevent herbicides and fungicide runoff polluting a water channel much distressed by toxic algae bloom.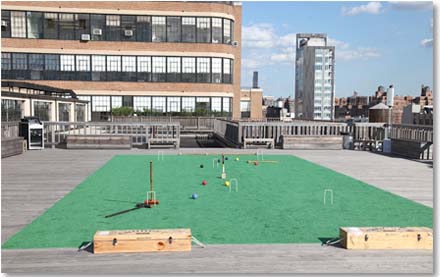 What a good idea: serious rooftop cocktails and casual croquet await at this hotel.
STEPHEN MULLINER, 2016 World Champion
My preference would be for a 12-second court with firm, dry turf so the hoops are very rigid and anything less than a good hoop stroke will be rejected rather than simply stick in the jaws.
In such conditions, even an apparently flat court will reveal imperfections which will also play their part in making life interesting, especially in relation to hoop approaches from anywhere more than 2 feet to the side.
The United Club in Christchurch, New Zealand, produced such courts for the 2008 Association Croquet World Championship, the 2009 New Zealand Open, the 2013 NZ Open and the 2018 NZ Open.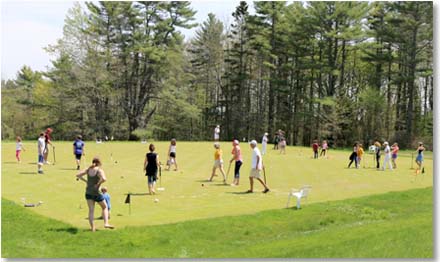 The club at Woodlawn in Ellsworth, Maine, sometimes invites locals to play casual Golf Croquet on their serious lawn.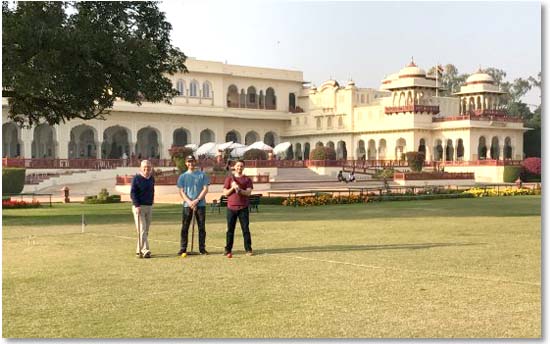 Overnighters at Rumbagh Palace in the north of India are free to try croquet there as well, where a century ago, the moguls of the region competed with each other in the splendor of their living styles and the quality of their courts and equipment. But the tourists of the 21st Century never complain. Their fourth snaps the picture that proves they were once there.
CHRIS CLARKE Multiple World Champion
Grass should be cut to approximately 3mm on a very hard unwatered clay-based lawn. The texture of the grass should be fine--some combination of fescue and browntop would be ideal.

Prairie Lights Croquet Club in the American midwest is aptly named: the court is well lighted, and a town on the flat plane behind is also lighted. The dress for play signals less-than-serious games.
The surface should be generally flat for shooting (15 yarders hit at half ball or better should always hit), but I would be happy with a small general slope N/S or S/N so that extra consideration of pace needs to be given dependent upon the direction of stroke. I would like the areas around the hoops to have some small hills and ideally be slightly faster than the average lawn speed, so that approaching from distance is more difficult. I am happy for the lawn not to be completely even-paced--indeed, I think having a particularly fast tricky boundary can be an advantage for improving tactical options.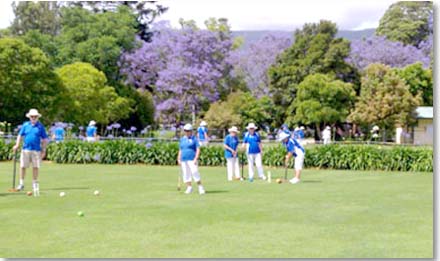 Players in New South Wales like to wear color-coordinated tops for their casual games on a serious lawn.
The hoops should be set to 1/64" clearance and the balls should be matched. To create a true test of skill, Jaques balls would be used, but nowadays Dawsons are the best available. The best hoops currently available are Atkins.
The key, however, is the very hard clay-based lawn. I think I'd be perfectly happy with 14 seconds, but 17 would also be acceptable.
Lawn 1 at Cheltenham (England) for the Open Doubles final in 2003 was close to perfect.
Lawn 5 at United for the 2015 New Zealand Open Championship final was probably perfect.
Legendary player and scholar Keith Wylie preferred an "indifferent" court for an ideal test of skill, likely to produce a winner after many failed hoop attempts and turn-overs, calling for hit-ins as an important measure of mastery in the game. (See Wylie's article)
The "improvements" in courts in recent decades, since Wylie's death, have proceeded logically to a state of unfortunate "perfection" allowing too many games and matches to be won by a fortunate player who gets the innings early and defeats an obviously more skilled and higher ranked competitor. This editor predicts future courts intentionally designed to guarantee many turn-overs--courts that are fast, deliberately terrained, set with tight hoops, and able to be shifted six feet in any direction to avoid a "home-court' advantage. We think Keith Wylie, if he were still around, would approve.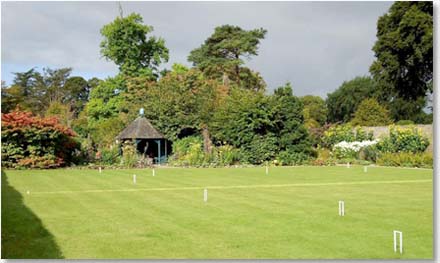 Serious croquet lawns in Ireland are sometimes framed by beautiful plantings.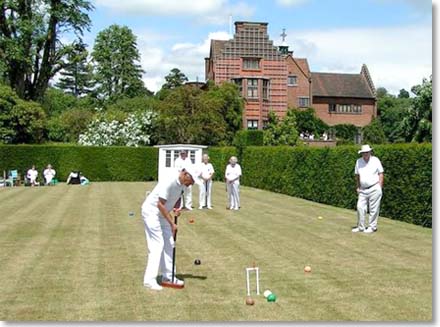 The website for Britain's National Trust advises visitors not to eat food on Winston Churchill's croquet lawn at Chartwell. But just to prove it's a sort-of-serious lawn: here are the annual games.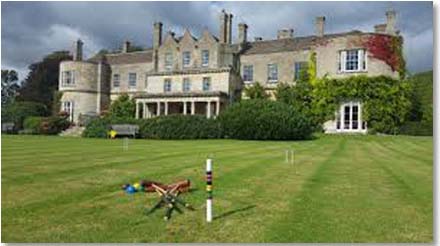 Many lawns in England are declared "croquet courts" by long tradition.
The British are fond of saying that croquet is okay--but not as interesting as watching grass grow, or paint dry. That's especially true when a solitary player is working hard on the court for 25 minutes while the opponent sits and waits (or goes to lunch). Such a game is likely to end at the peg only after the "lucky" player achieves 26 points. And the game will have been boring to everyone--gaining the attention of spectators at any level only when an error ends a turn, giving the opponent a chance to hit-in.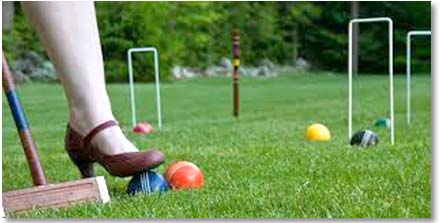 This will be a challenging shot in an obviously lightweight game, risking injury for the foot and damage to elegant footwear. Note: The "seriousness" of a game is not dependent upon any particular court dimensions, equipment, or dress regulations.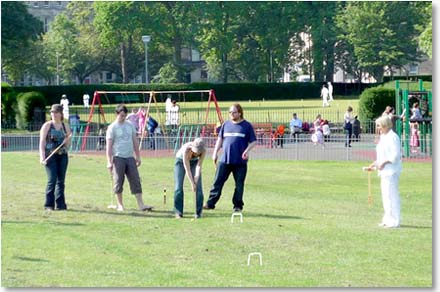 Ian Wright cleverly puts a playground between the "serious" croquet play in the background--the Scottish Master being hosted by the Meadows Croquet Club--and the barefoot "just for fun" variety in close-up.
Surely we would all prefer the entertainment of watching a top-level game with many turn-overs, affording the best chance of the most skilled player to win the game or match and the ranking he or she deserves.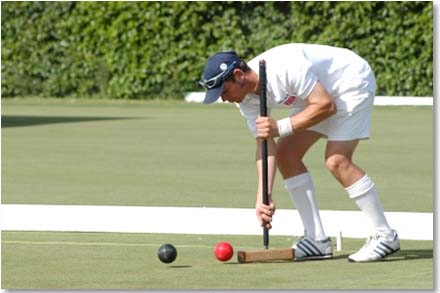 When the player gets two balls in the air at once, it's got to be a serious game. Johnny Mitchell snapped this photo of the late Matthew Barrow.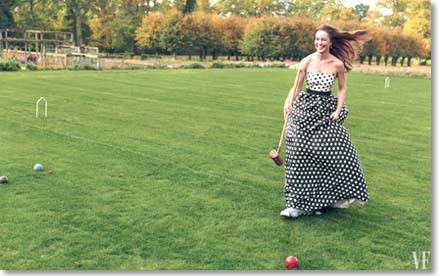 Pippa Middleton does not require a serious lawn to demonstrate for the camera her enjoyment of a casual game of croquet.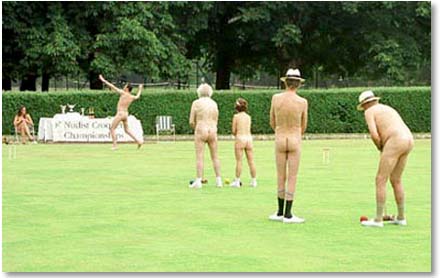 Players at the Ealing Croquet Club are snapped doing a lot of strange things on their court--including a javelin throw in the background. Fortunately Quiller Barrett recorded the scene for us, commenting that it was staged for a television ad that never saw airtime.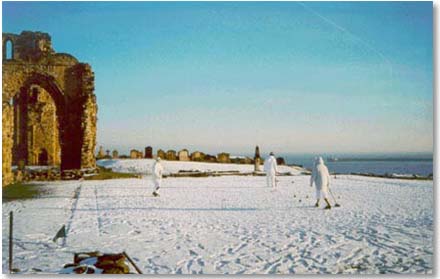 Croquet on the beach is much better in climes that produce broad beaches with hard sand, unlike this sand surface at England's Tynemouth Castle in 2001.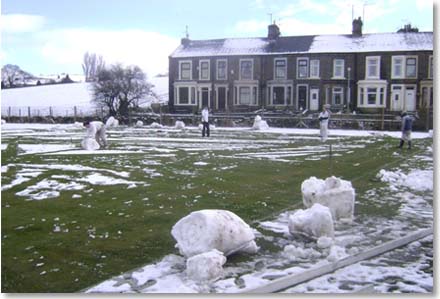 The figure at right center is proving he can play an all-weather break in wintry conditions, while the members of Pendle are clearing the lawn of snow. David Turner snapped the pic in 2008 during an unusual Easter season in England.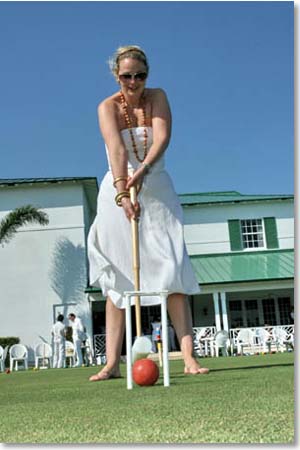 The lady takes the game seriously enough to take off her shoes, put down the cocktail, and take practice swings towards a wide hoop at a private party on the serious lawns of the National Croquet Center in West Palm Beach.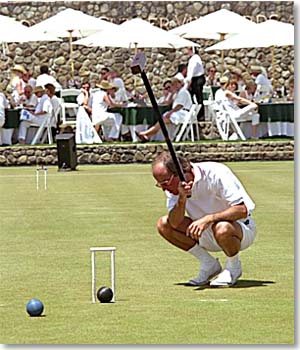 Serious and casual mix easily at Sonoma-Cutrer. Adrian Wadley caught this picture of a serious player--Johnny Osborn--calling the referee to judge whether his black ball complete cleared the playing side. Six of the diners in the background appear to express some casual interest in what's going on on the courts, while the others pay serious attention to their wine and munchies.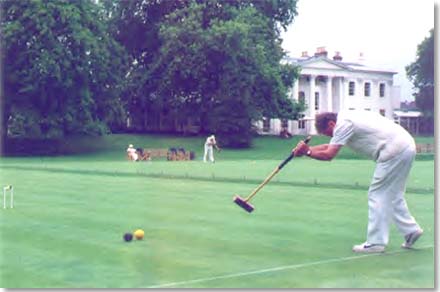 And finally the most serious lawns and players of all, at London's Hurlingham Club, are photographed by Russell Bretherton.
---