Long Grass

by Bob Kroeger
pics courtesy of Bob Kroeger and Bob Alman
posted June 2, 2014
---

When most Americans hear the word 'croquet' it conjures up images and memories of a 4th of July barbeque, a Memorial Day friends and family get together, or a Labor Day end of summer cookout--all in the backyard on a beautiful sunny day. The several year old $29.95 croquet set which has gathered dust for several months (or years) is dragged out of the garage or basement and set up on an unmanicured lawn or regular backyard lawn--one with all kinds of imperfections and obstacles. These events have everyone play spanning up to four generations with the burning desire to send their opponents into the garden, down a hill, or as far away as possible, loving every step they have to take to find their ball. This is a true American Experience.

---
But when a 'tournament' croquet player hears the word croquet, nothing could be further from their minds than the above description. Tournament players are used to playing on perfectly flat manicured lawns with the grass mowed to just a few millimeters, not inches.

The biggest croquet lawn in the world at the National Croquet Center in West Palm Beach is prepared for a huge corporate event. The corporate players will wield mallets and hit balls while holding hors d'oeuvres and alcoholic drinks.
Few would argue that playing on a perfect lawn allows skill, not luck to more positively determine the result of the game--although the results do not actually demonstrate this. The only problem is that few Americans have access to these types of playing surfaces. The good news is that good quality croquet can be played in backyards, city parks, soccer fields, baseball outfields, and the like. Even if they aren't flat, skill will usually will win out over luck.
The 'Parade Grounds' at Heritage Museums and Gardens in Sandwich, Massachusetts on Cape Cod.
Back in 1995, the United States Croquet Association (USCA) decided to embrace the idea of 'legitimizing' backyard croquet (aka 9 Wicket Croquet) by holding its first Backyard National Championship. This was played on the Cambridge Common in Harvard Square, Cambridge, Massachusetts. The 64 players found these conditions very challenging but true to form, six-time American Rules National Champion Reid Fleming won the singles title while Neil Houghton and John Oehrle (also both championship level players) won the doubles.
For reasons unknown, the USCA backyard program lost steam and had a resurgence in 2008 when the second Backyard Nationals was held in the nation's heartland, Kansas City, Kansas, this at a baseball facility. This venue was used through 2011, again with more experienced American Rules players winning (George Cochran, Matt Smith, Matt Baird, Art Parsells, Nick Zink, and Jeff Caldwell picking up first place trophies in singles and/or doubles).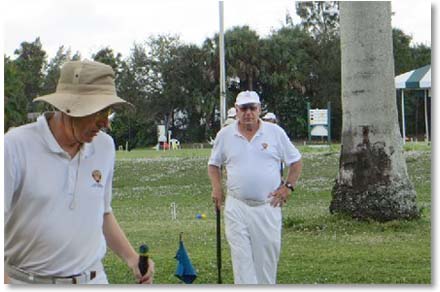 Cochran and Warlick--Nine-Wicket Croquet doubles champions on the Back Nine at the National Croquet Center in 2014.
In 2012 the Nationals went to Harleysville, Pennsylvania, which had very challenging conditions--this event saw a new singles winner in Stephen Morgan and new doubles winner in John Warlick. The most recent Backyard Nationals (2013) was held on the Back Nine (a water retention area) section of the National Croquet Center in West Palm Beach, Florida--this with palm trees, hills, and other challenges on the court. George Cochran came away with his unprecedented third backyard singles title and he and his partner John Warlick repeated as doubles winners.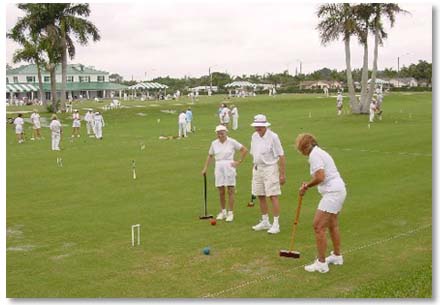 When the Back Nine opened in 2002, it's reduced-size courts were perfectly sufficient and probably even superior for groups with world rankings above 1,000--in other words for everyone but the top players.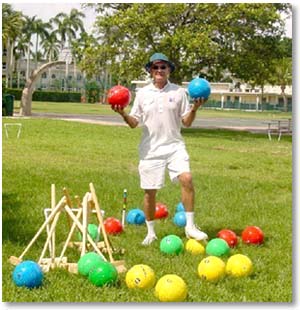 To match the equipment with SuperSize Croquet, first buy the equipment at Oakley Woods.com. Here Bob Alman poses with a set-up at a Palm Beach middle school.

Aside from the traditional backyard version of croquet using nine wickets and two stakes, the game of Golf Croquet (6 wickets and one stake) is being played on long grass surfaces, especially at charitable fundraising events. Event organizers know that they don't have to rent expensive country clubs with perfectly flat courts, opting instead to find venues with regular lawns be it in urban, suburban, or rural settings. Depending on the number of participants and required number of courts, court size can be scaled making for an ample number of courts (typically about 40' x 32').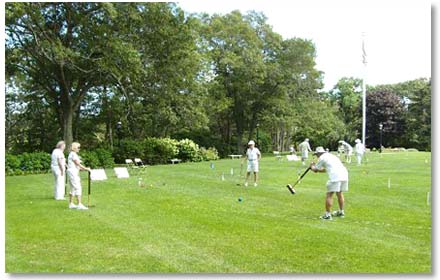 Another view of the Heritage Museums and Gardens in Sandwich, Massachusetts on Cape Cod.
On the basis of these successful fund-raising events (admittedly with a party format), it is this author's belief that any version of croquet could work well on normal grass surfaces. In the US, we are appreciative that the USCA promotes backyard croquet, and if other governing bodies of organized croquet did this as well, membership numbers could well grow along with equivalent interest in the sport.
ABOUT THE AUTHOR: Within the USCA, Bob Kroeger is the well-known and respected co author of the Bob And Ted Video Series (both the books and DVDs) available from the USCA, and also the sole author of the USCA's Shot-Making Manual. He is one of the few nationally known full time employed croquet instructors and an expert on slow motion croquet videography.
---