Croquet in the movies:
A 2005 update

By James Hawkins
layout by Reuben Edwards
Posted May 22, 2005





---

A few years ago, James Hawkins wrote an article for the English Croquet Gazette on croquetís various appearances on celluloid that subsequently appeared in Croquet World Online. These publishings elicited a flurry of other reports of sightings, ranging from obscure American cartoons to hackneyed TV detective shows. Hereís an update including some of the most noteworthy appearances of the game on celluloid.

---
Iíve long been aware of that legend among croquet players, the 1972 James Ivory film Savages. This remains one of cinemaís few productions in which the game takes the central role. Itís now available to buy on DVD, as part of a box set (the Merchant-Ivory Connoisseur Collection), or to rent online (itís Disc 6 within that set). Sorry to say, itís too much of an acquired taste for me.

Savages concerns a group of primitive Ďmudpeopleí, who emerge from their forest to find a New England mansion. They play a bit of croquet, act in a civilised way, before each reverting to their former selves and returning to the forest. The point, I suppose, is that thereís some of the savage in each of us, and we canít shake off our natural traits. Within this context, croquet (at least in its public perception) is an apt metaphor, occupying that middle ground between sophistication and vicious savagery.

And that, in two sentences, probably wraps up every shred of meaning from the film. Ivory has grown into a fine filmmaker, and you can see that talent emerging in Savages. For my money, this was too odd to be fun, and not odd enough to be sufficiently stimulating.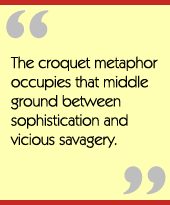 If sophisticated savagery is how other people see croquet, Michael Lehmannís Heathers from 1989 is a further case in point. Thereís little new to say about this movie. As a high school teen comedy, itís top notch. Thereís lashings of croquet action, but itís a good film rather than a great one.

A greater film, and arguably as great as they come, is something of a surprise on this list. Iíd seen Alfred Hitchcockís 1959 masterpiece North by Northwest a dozen times and not noticed the croquet scene. And yet, there it is, tucked away like a Hitchcock cameo, in the first five minutes of the film.

At the point where Cary Grant (the hero) first sees Martin Landau (the baddieís nasty henchman), Ernest Lehmanís script gives us this: ď...A man is playing croquet all by himself in the fading light. His name is Leonard. Later, we will see him at closer range. He is about thirty, but looks much younger, for he has a soft baby-face, large eyes and hair that falls down over his forehead. His attitudes are unmistakably effeminate.Ē

So whatís going on here? Thereís an element of cultured thuggery within the character for sure, but where does the issue of sexuality come into the picture? Neither Hitchcock in his direction nor Landau in his performance make such an emphatic show of this side of Leonard. Does Lehman aim to impart a further added layer of metaphorical meaning to the game?

Perhaps so. Croquet was a big feature of Hollywood social life in the 1940s and 50s. In a country with no established class system, the cinema moguls were starting to become the new aristocracy. Croquet became the favoured pursuit of polite society, and its advocates included many of Tinseltownís movers and shakers.

Sam Goldwyn, Daryl Zanuck, the Marx Brothers and Howard Hawks all played regularly. Most notable, in social circles at least, was the director George Cukor. Cukorís croquet parties were famous, and Hitchcock had certainly been on the guest list.

Cukorís own sexuality was no secret, and perhaps the reference in North by Northwest is an in-joke among the Hollywood hierarchy. Maybe Hitch and Lehman had less affectionate regard for Cukor, and genuinely believed croquet was a game only suitable for the effeminate. We can only speculate.

In light of this, the 1998 film Gods and Monsters is a must-see. It portrays a fictionalised account of the aging British horror director James Whale, cast aside by Hollywood, and having come to the end of the line, physically and emotionally as well as professionally. Ian McKellen gives an astonishing performance in the central role, but itís for its croquet scene that this film is particularly significant. Whale - in this film at least, if not in real life - skirted along the periphery of the Cukor clique, and attended one of the celebrated parties.

Great croquet moments in history are seldom recorded. Whether Cukorís parties fall into that category or not is moot. That an actual croquet event is committed to film, and in a way that seems to show how it really happened, is something for us to get excited about.

Historical accuracy, for once, failed that perfectionist of cinema, Stanley Kubrick. Barry Lyndon (1975) is, perhaps, his most unjustly neglected film. Based on Thackerayís novel, itís the tale of an 18th century chancer who climbs up European society. This is a movie with everything: beautiful scenery, Leonard Rossiter as a baddie, and a game of croquet. Barry has married well, and his wife has given birth to a son. Father introduces son to croquet at an early age, but itís a long, long time before this could have happened. Dates are uncertain, and not explicit in the narrative, but a fair estimation is that this scene occurs in around 1790, long before the gameís invention. Iím sure that historians with an interest in equipment could place the design of the balls much later still.

Perhaps it was the complaints over this anachronistic howler that affected Kubrickís next film. Stephen Kingís novel, The Shining, has its main character on the rampage with a croquet mallet. At some point between page and screen, all references to the game were excised and the weapon replaced with an axe. Our loss is cinemaís gain.

That more or less concludes my updated review of croquet on screen. Itís still not good news for our image. Kubrick sees croquet as a game for children. Most other film-makers see it as an expression of elegance and cruelty in equal measure. But one film stands apart, and it gets my vote for the best depiction of croquet in cinema.

My previous discussion on this topic yielded an angry email from a group of Canadian university students, who had rented FW Murnauís 1922 silent shocker Nosferatu, on my recommendation. Several versions of this film exist, and itís the full 90-minute complete special edition you need to watch.

I said back then that itís an important film, because it shows that croquet had become common currency, even in a country such as Germany, where the gameís influence wasnít previously known to be so great. Iíd go further than that now. Archive croquet footage of any sort from the early 1920s is rare indeed. Itís only by fluke that this film still exists (Bram Stokerís widow had all copies of this film destroyed for copyright reasons; only one print survived). Iíd venture to suggest that this is one of the only instances of the heyday of croquet on film anywhere.

Nosferatu is a cracking film. 83 years on, in grainy black and white, and with no dialogue, it remains a profoundly scary piece of horror. And, if itís just the croquet youíre after, itís got that too. Two people playing croquet, no hidden meanings, no subtexts, just playing in the garden for fun.

A CROQUET SAMPLER YOU CAN TAKE TO THE VIDEO STORE

Savages, James Ivory, 1972
Heathers, Michael Lehmann, 1989
North by Northwest, Alfred Hitchcock, 1959
The Shining, Stanley Kubrick
Barry Lyndon, Stanley Kubrick, 1975
Anna and the King, 1999
Nosferatu, F.W. Murnau, 1922 (silent)
Feather Dusted, 1955 (cartoon)
I'm Just Wild About Jerry, 1965, (Tom and Jerry cartoon)
A Room with a View, James Ivory
Howard's End, James Ivory
The Remains of the Day, James Ivory
The Avengers, Ralph Fiennes, 1998
Comin' Thro' the Rye, 1923
Love, 1927 (silent, starring Greta Garbo as Anna Karenina)
Anna Karenina, 1935 (a talkie with Greta Garba as Anna Karenina)
Sherman's March, 1986 (documentary)


This article was published in another form in the English Croquet Gazette and is republished here by permission of the author.
---