Photo Contest Finals!

by James Hawkins
with some commentary by Bob Alman
and layout by Reuben Edwards
Posted November 25, 2009


---

For our fourth annual contest, a routine has become a tradition: You send the photos to Bob; Bob sends the ones that qualify to layout editor Reuben Edwards, who arranges and numbers them online for us to review; and then Associate Editor James Hawkins of England views all the photos at once and with his keen eye for graphics proposes the final order with commentary largely based on the "stories" submitted by the photographers. Bob then quibbles somewhat, perhaps giving more favor to the American and Southern Hemisphere contingent and less to the English. But finally we all agree, and here's the result. We thank our readers for submitting some interesting photos and stories for this year's contest.

---
Another English playing season is over. I've had my annual cameo appearance at a croquet tournament, but this year witnessed a curious event.
It was Sunday afternoon, and players' interest was starting to drift towards what was happening in the final. As our own games finished, several of us opted to sit and watch, passing judgment on the tournament leaders. The eventual winner ran his last hoop. He rushed his partner ball back towards the peg. He lined up his croquet stroke, then played his last shot. Both balls hit the peg, to a ripple of applause from the onlookers. "Right," says the guy next to me, as the new champion walks off the lawn to shake hands with the loser. "Now I can get my camera and take some photos."
It's too typical a response. There's never a shortage of amateur photographers at tournaments, but too often there's an absence of will to produce photographs of the game itself -- while it's being played. Of course, there's a place for the 'Grip and Grin' photo -- winner shaking hands embarrassedly with the club president, while holding an awkward smile for ten cameras aimed from the veranda. But the "Man Holding A Trophy" shot has to be part of a mix, alongside other images. Where are the action shots? Where are the quirky pictures that shed light on the eccentric ethos of our beloved game?
Here they all are, ladies and gentlemen, as we once again share the highlights of our annual photo competition. As ever, golden statuettes are in short supply. Our prizes are a hearty handshake; your reward is that warm glow of achievement. So sit back and enjoy the 2009 Prize Ceremony, in categories suggested by the photos themselves.
All the photos in this contest and article belong to the photographers and are published here by permission. They are reproduced here in low-resolution form suitable for the Web, but most are available in higher density from the photographer. If you wish permission to reprint, contact the photographer directly, or ask us for the photographer's email address if you don't have it.
Click on the images for a larger view. A new window will open.
---
Venues
| | |
| --- | --- |
| | You already know I'm not a great fan of the staged photo. But here's one clear winner: Four people standing on a croquet lawn, but a croquet lawn on a ship. Stephen Mulliner, Samir Patel, Daphne Gaitley and Don Beck on board the Celebrity Equinox, the world's first floating croquet lawn, with en suite cruise liner. Congratulations to Anna Patel for the image. |
| | |
| --- | --- |
| Honorable mention in this category goes to Laris West, who found an abandoned miniature golf course in Galveston, Texas. If only adventurous players showed more of this kind of enterprise in creating new venues! This one, alas, is no more, having been devastated by Hurricane Ike. | |
The Stephen Mulliner awards
| | |
| --- | --- |
| | The aforementioned cruise ship is the first of many pictures to include the omnipresent Stephen Mulliner, so this year there's a special category dedicated to him. Mulliner is one of a handful of players whose kinetic energy is a gift to shutter-bugs. Three awards in this category go to Brigitte Breznik from Austria, demonstrating that a lack of insider knowledge of the game should be no hindrance to spotting a quality image. |
| | |
| --- | --- |
| Equal plaudits to Johnny Mitchell for snapping Mulliner throwing the balls off the lawn as he finishes a game at the Worlds in May. Doubtless he'll next grasp the red clip, still on the peg. | |
Having a lie down
| | |
| --- | --- |
| | Mulliner may spend much of his time crouching or lying down, but he isn't the only player who's happy to get down on the ground for a good look at the balls. Here Geof McDonald captures an oddly anonymous Bruce Fleming, masking his face from the camera. |
| | Peter Wilson captured this multiplayer pileup involving Colin Irwin and Ian Lines. They are, apparently, searching for a position on the boundary denying Black a wiring lift. |
A chance of showers
| | |
| --- | --- |
| | Credit goes to two photographers for the during-and-after photos of wet weather at major venues. The first, by Johnny Mitchell (left), shows Rutger Beijderwellen converting a gazebo table into an umbrella at the National Croquet Center's WCF World Championship in Florida. The second (above)has been titled "Mirror in Cheltenham" by the photographer, Ivo Martak of the Czech Republic. |
The ballet
| | |
| --- | --- |
| | |
| In this Jola Jurasinska photo from Edinburgh, judging from the ball in flight, Campbell Morrison appears to have failed a jump shot through Hoop 1 -- although Jola is claiming the hoop to actually have been scored. In either case, the croquet ballet is most arresting. | The body language of Andres de Diego of Spain is movingly expressive after a super hoop spits the green ball straight back towards him at the Worlds, perfectly captured by Johnny Mitchell. |
The patient outplayer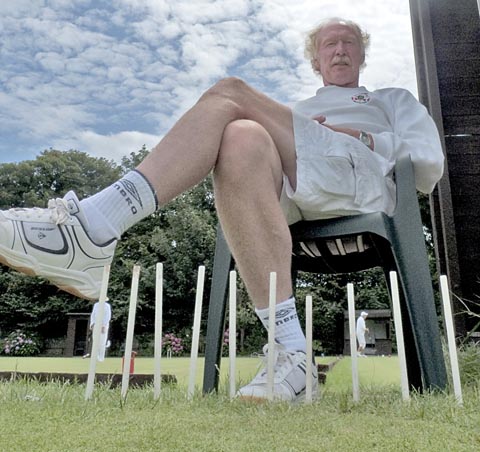 Quiller Barrett caught Kevin Carter showing off the Umbro Socks from his sponsors in a relaxed mode behind the ten bisques his opponent has yet to use in England's 2009 Seniors Championship for over-50's.
Spectators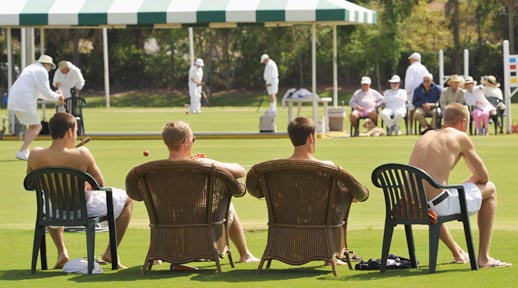 I remember an issue of the Croquet Gazette, back in the late 1980s, in which the photo of a man in shorts provoked a volley of complaint from prudish British spinsters. Imagine the shock which would have resulted from the display of bare flesh in this next picture. Johnny Mitchell's study of contrasts shows Michigan's famously youthful "Mol mob" making the most of their late winter Florida getaway on the near side of the court by exposing lots of skin during the USCA's 2009 Club Teams, while the conventional crowd of elders on the opposite site of the lawn protect themselves from cancer-causing rays.
For art's sake
| | |
| --- | --- |
| | Sometimes a point of view can create a photograph out of almost nothing, and who are we to suggest what might be learned from Bob Kroeger's odd black and white photograph? Art, after all, speaks for itself. Doesn't it? |
| | And our category winner is Peter Wilson, showing Liz Wilson in a double take at the Ripon Spa,which Liz describes as "a wonderful play place to play croquet." Green, pink and yellow balls – green, pink and yellow flowers. Has the gardener planted the flowers to match the balls, or have the balls been painted to match the exact colour of the flowers? |
Best photo series
We invited submissions for a new category this year -- for up to four related photos all taken on the same day -- and were glad to receive several imaginative responses.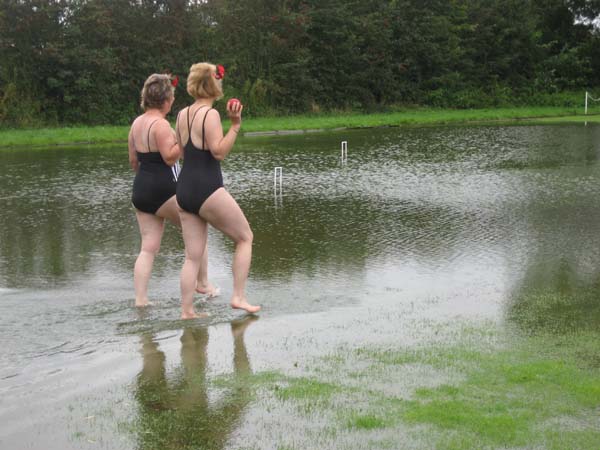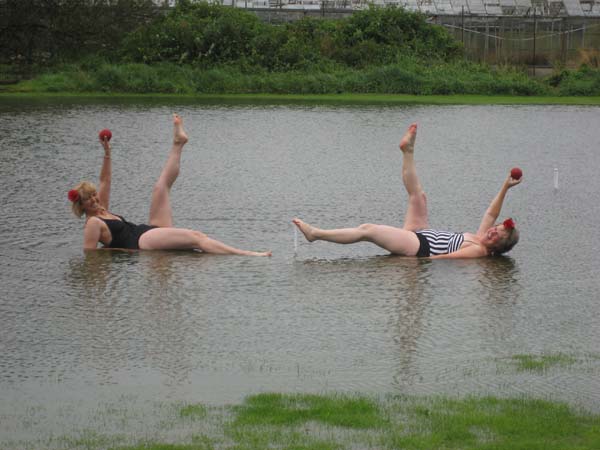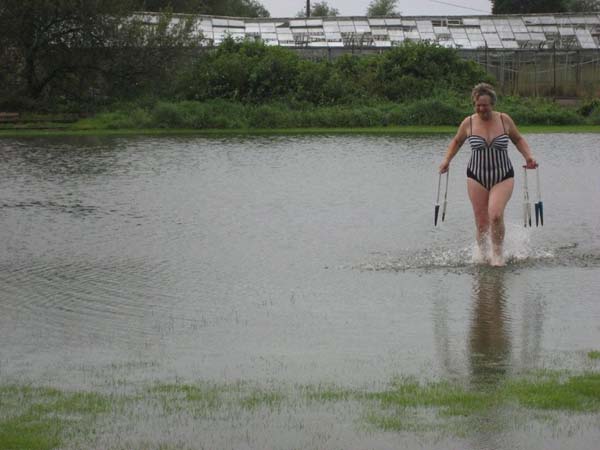 It's wet weather. You know there's a danger of flooding on the lawns. There's a clear dividing line, never to be crossed, between (a) photographing some miserable players at a waterlogged club, and (b) going to the club equipped with bathing costumes, waiting for the deluge, changing clothes, and then being photographed in a synchronised swimming display. Commendations to Liz Wilson and Betty Bates for their artistry, and to Peter Wilson for his photography. You can see the video of this water ballet at http://www.youtube.com/watch?v=VI3wu6kJTg0.
Silver goes to Jola Jurasinska, whose time-lapse photos show you all you need to know about the helplessness of knowing your opponent is scoring a long break, which finally ends.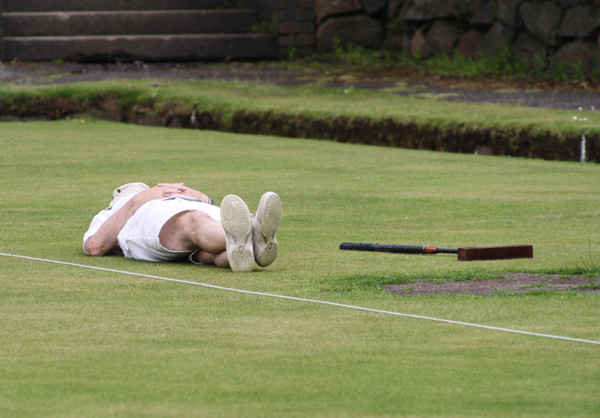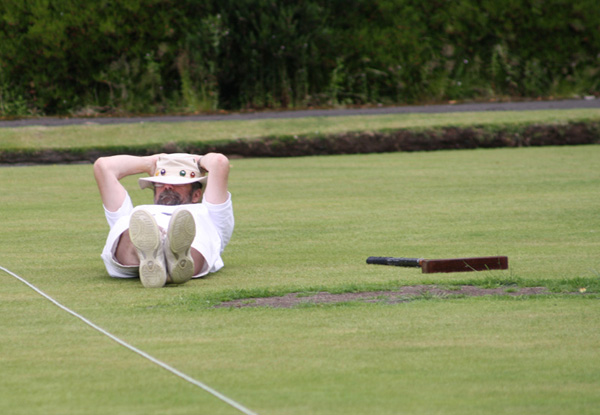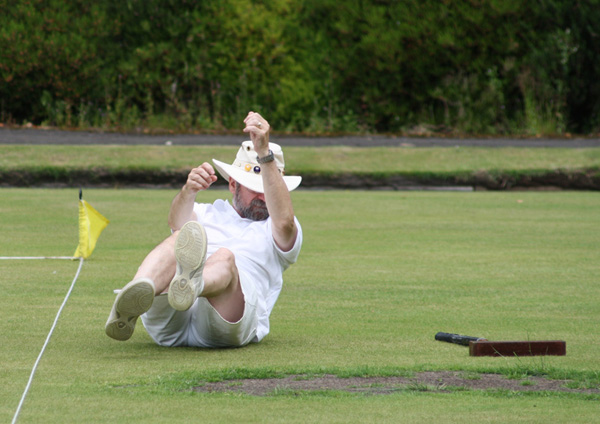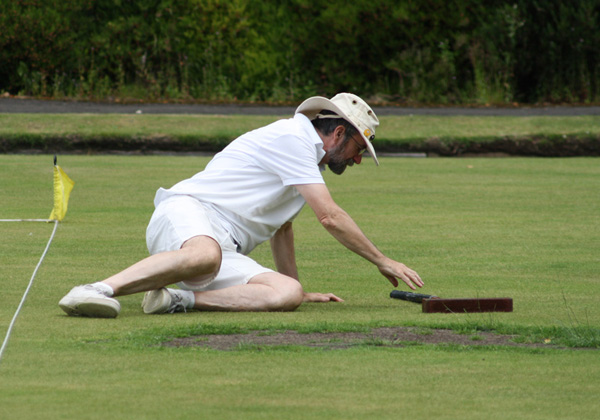 Gold in the Series category goes to Tudor Jenkins, who produced these photos at Southwick in September 2008.

These three images portray much of what a croquet tournament is about: the anticipation before play, the thrill of a long peg-out, and the aching feeling bar manager David Gaitley must be sensing, stuck at the bar while everyone else is in play.
Swinging mallets
Samir Patel, a star competitor in our previous awards, favours us with this interesting experiment in motion blur, showing that action shots are possible, even in a static sport like croquet.

Ian Lawrence's picture of Les Bowker shows the effect of backlighting in photos taken late on a sunny afternoon.



Fergus McInnes photographed Duncan Reeves in play at Kelvingrove in Glosgow in 2003. Note the stance, grip and concentration, the mallet still in contact with the brown ball the instant after the croquet stroke, and the slight blur on green in this 1/320 second exposure.
| | |
| --- | --- |
| | But here's our category gold medal, and it's another Patel. This is Ben Rothman taking aim during the 2009 World Championship final in Florida in May. As he casts the mallet, taking multiple practice swings, a long exposure traces the motion of his body. His arms and shoulders are a blur, but his legs are absolutely immobile. It's a lesson in technique for all budding players, as well as for budding photographers. |
Hoop shots
I'm reluctant to rank these two photographs in order of preference, because they're so very different. So give yourselves each a pat on the back for your gold medal.

| | |
| --- | --- |
| This first one comes from Regus McInnes in Edinburgh. Look at Ruth Goudie's body language, and you can just feel that sense of deflation after missing an easy shot by a fraction of an inch. | |


In Dane Parkinson's entry, Alix Verge was demonstrating jump shots, and Dane has spectacularly caught the moment when Yellow bounced onto the Red in a perfect drag-jump taking both balls through.



This image, says Alix, is used on posters for special events at their club in Australia. This, I think, is the key point. Taking photos is a mildly diverting bit of fun, but it's also more than that. There's always a need for good quality publicity photos of croquet. In an age when every phone has its own camera, there's a danger of the world drowning under a deluge of poorly snapped, hastily uploaded photos. Those images stick in the mind of outsiders and taint their views of croquet. So let us take to the lawns, ladies and gentlemen, pay attention, keep an eye out for perfect composition and split-second timing, and you'll probably produce some admirable photographs. Some of our '09 contest pictures prove it's actually possible. You don't even have to be a professional. But if you want to see what kind of croquet photographs a professional could take on any given day, look at our last five photos.

The eye and the essence

Brigitte Breznik of Austria offers abundant proof that a professional photographer with a good eye and perfect timing doesn't need to know about tactics or strategy to represent our sport to its best advantage in the public media. All these pictures were taken at Austria's annual International Open in September and submitted by Heinz Hackl with Brigitte's permission. We end with them to show conclusively that you shouldn't wait for the trophy ceremony to take an admirable picture for your croquet newsletter. Be nice to your readers and show them, instead, the finalists in action on the court. And to Brigitte: This special award is given in the hope that you'll send us more photographs next year.
This athletic player seems to be looking for a wire. The red flowers in the background subtly mimic the red ball, without diverting the eye.
The croquet stroke. (For the observant among you -- Yes, it's another picture of Stephen Mulliner.)
Running the hoop.
Here's all you need to know about the full roll.



Double-banked synchronicity. What more can we add? Let this beautiful and witty shot be the spur to inspire you towards the perfect croquet photograph.

---