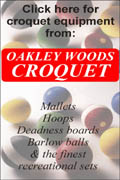 Serious Croquet:
gifting the American sport

editing and captions by Bob Alman
photographs by Bob Chilton
book text excerpts by Johnny Osborn
layout by Reuben Edwards
Posted April 2, 2012


---

Bob Chilton is a wealthy Texas who learned film photography in high school and in his retirement years cultivated a sophisticated mastery of photography. He lovingly applies this skill in pictures taken over several years at major East Coast venues in the US, and with the help of Johnny Osborn's rhapsodic text has merged his two favorite hobbies into a single oversized volume of striking photographs. Avoiding the cliches of most mainstream photographers of the sport, he concentrates on portraits of tournament players taken at unexpected non-playing moments. Although the volume includes archival photos of other artists, we've chosen a selection of Chilton photographs that reflects American croquet today but also familiar aspects of the sport in many countries. Chilton's Photoshopping, deleting distracting details, tends to make the central figures linger in the mind's eye. He has donated all the proceeds of this book to the USCA and the Croquet Foundation of America, owners of the unique 12-court headquarters facility known as the National Croquet Center in West Palm Beach.

---
There are no captions in Chilton's book, though the figures are identified in an index, and John Osborn's poetic prose ripples throughout the oversized volume. Here are some excerpts from Osborn's writing, to help frame our selection of Chilton photos.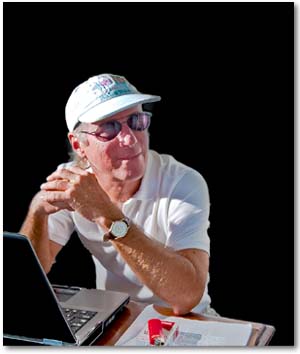 John Osborn, son of the founder of the USCA, author or co-author of several books, is the croquet pro at the Mar-a-Lago club in Palm Beach and one of the most popular tournament directors in America. Here he waits to record new scores into his computerized tournament schedule at a major event.
In 1977 the United States Croquet Association was formed under the guidance of Jack R. Osborn. With the establishment of the Official Rules of croquet, interest jumped forward from far and wide, eventually evolving into a base of more than three hundred clubs throughout the States. A national handicap system was established and tournaments multiplied. What had once been a small pocket of summertime players had suddenly turned into an organization of serious and determined croquet players. Those who had frolicked through the rugged yards of youth now battled upon country club lawns. Bike rides were replaced with airline tickets and bare feet now slip into top-of-the-line sneakers, mandatory white clothing replacing tie-die T-shirts. Play was aplenty, and with a serious and sanctioned tournament available each week of the year, distance now became only a means to a goal, a desired trip to the next physical and strategic challenge.
Even today it is a wonderful expression to witness; that look from a temporary friend sharing borrowed time as you wait for the boarding of your flight. At the bar, you have just explained that you are off to participate in a croquet tournament. Knowing the next series of questions, and to break the awkward silence, you explain that 'no' there is no prize money and 'yes' you do actually have a full time job. You offer some casual details, such as how long you have played, what it is all about and, if you are lucky enough to know how to phrase the answer, why you enjoy it so much. Sometimes there are verbal questions to follow and sometimes simply a nod. There is almost always, though, within the eyes of your new acquaintance, that look of a deer mesmerized by the headlights.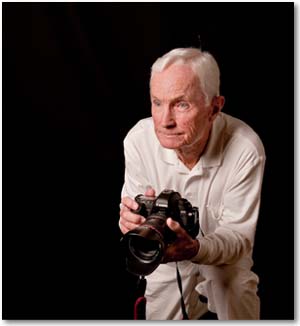 Chilton learned to play USCA croquet in Dallas and its environs. But as a devotee of serious croquet, he plays in many of the major sanctioned tournaments in the US, where he took the photos in the book and in this article.

Now, away from the lawns, you cannot tell a croquet player by their looks. Age and sex are irrelevant. As is height, weight, and the style of obligatory while attire they don.

In fact, there is no such thing as the average croquet enthusiast. Employed, unemployed, retired or returning for a senior year of college, wealthy or not, looks vary and the lives led beyond the boundary lines of the lawns run the full spectrum. Upon a croquet lawn, perhaps more so than anywhere else, everyone is equal. Whether your opponent is a pharmacist or a farmer, it's a simple lesson learned by many new to competitive croquet: never underestimate your opponent, and never judge the foe by whatever cover is shown.
If you click on this image, you will find detailed information on how to order this oversized coffee table book in several different price categories. The interior pages are the same for all versions. The author is donating all the proceeds to the US Croquet Association and the Croquet Foundation of America, owners of the National Croquet Center in
West Palm Beach.
No, it's not an easy game, croquet. It's complicated. It's confusing. It take time to understand the shots needed and longer to master them. it takes experience to digest the nuances of strategy and an eternity to feel confident with the choices you make. Sure, it starts easy: someone hands you a mallet and let you hit a few balls. It feels good and you are then excited. The sun is up and laughter surrounds you--it feels familiar. And so you take a lesson, which proves to you that there is more to the game than meets the eye. You do a three-day school, which gives you a headache, more complications added to your already over stimulated mind. You practice....A mallet is bought--not cheap but it may be the answer to those off-center shots. You finally decide to enter a tournament which, while humbling you, direct you into the areas where you need more practice. You spend more time on the lawns, meet more people, play more tournaments and no matter where you are now, find yourself booking airline tickets to a tournament on the other side of the country. And you can't wait to go, no matter what happens! It's a beautiful location one way or another, and the camaraderie is contagious--you have to go....!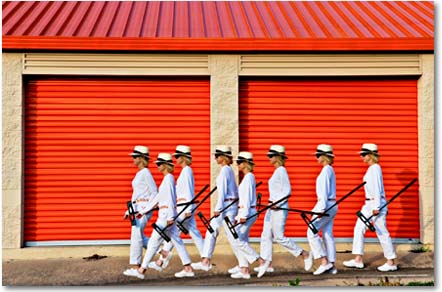 Carrie Shapiro strolls past a storage facility on the way to her morning game.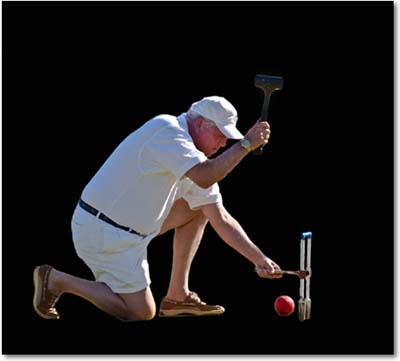 Somebody has to set the hoops tight and straight. Here Stewart Jackson is determined to do it right.
| | |
| --- | --- |
| | Sandy Walsh believes it's just as important to look good as to play well. She does both. |
| | |
| --- | --- |
| Anders Theiste is a serious player who brings his own personal style to the game. | |
| | |
| --- | --- |
| | Julie Rugart and Jane Simons are delighted to meet again at this major event early in the season. They are about to embark on a contest that will incur major deadness on both sides. |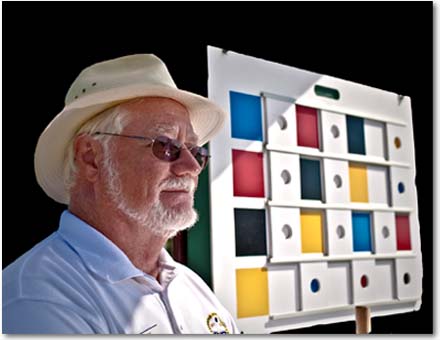 It helps when somebody volunteers to keep the board. In this case, it's Don Finch.
| | |
| --- | --- |
| Partners need to agree on situational tactics, as Peter Just and Bill Martin are doing here in Senior Doubles. In Association Croquet, partners might have a reasonable choice of three. But in American rules, the added complication of more than three thousand combinations of carry-over deadness puts many more choices into the intense discussion that finally produces partnership accord. | |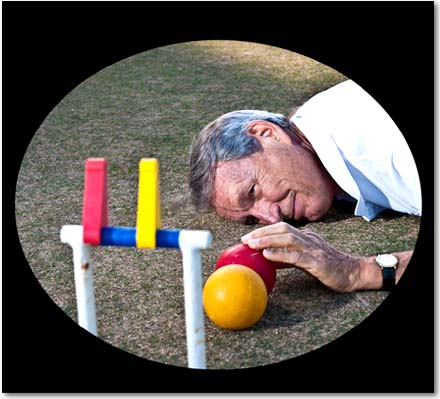 Top-flight competitor David McCoy knows there's no excuse for not lining up a peel perfectly, even when it means getting down on the ground and risking grass stains on your whites.
| | |
| --- | --- |
| | If a certified referee is needed, Donna Dixon is willing to be called. |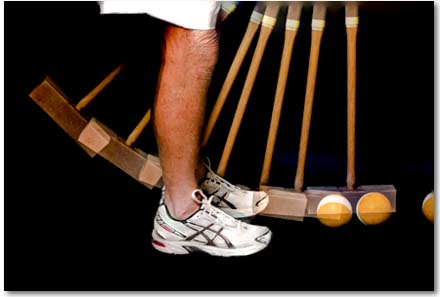 A good stroke is a joy to behold, especially in stop-action.
| | |
| --- | --- |
| Derek Wassink couldn't possibly be in a tight match. His expression reveals the kind of satisfaction one feels after making a killer leave in last turn with a 20 to 2 lead and sitting down to watch the hapless opponent attempt a series of unlikely miracle plays. Perhaps Chilton put the corner flags into the picture to signal that kind of finish. | |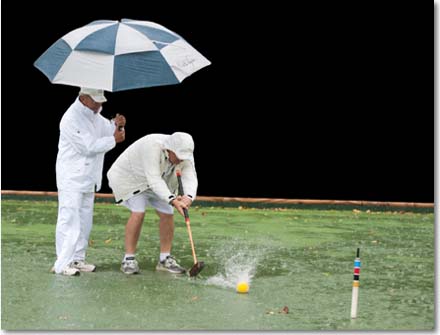 Serious croquet cannot be played in standing water, and Bob Chilton admits that this shot was a set-up: "At last year's Texas Classic the heavens opened and play had stopped to let the court drain, but I talked Bob Knowlton into taking one more shot for the camera."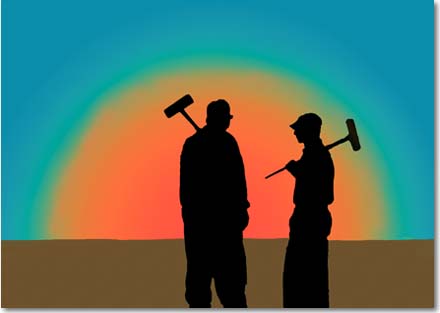 When the sun begins to sink below the horizon, you know it's time to end the game.
Copyright 2012 Bob Chilton
No photograph in this article may be copied in any form without the express permission of the photographer.
---