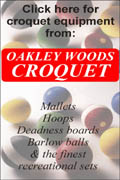 Tournament of champions:
at International Polo, Palm Beach

by Bob Alman
photography by LILA PHOTO except as noted
Posted March 7, 2012


---

A purse of $8,000 for a field of eight top-ranked players achieved, in its fifth edition, the purpose of the event started back in 2008: to give a few of best players in the world a good reason for coming to compete in Palm Beach, with a good chance of a decent reward for excellent results. The year 2012 is only the second year featuring Golf Croquet, and the goal might have been approached in 2011 if not for the Arab Spring, which prevented the appearance of two top-ranked Egyptians. But since then, Golf Croquet champions have shown up in many countries, including Ireland, home of the first non-Egyptian Golf Croquet champion in the sport's history. We illustrate this story of a great event with excellent photos from several sources.

---
All the players in the 2012 event were Golf Croquet champions in the last year or recently, some of them multiple times: Khaled Younis is three-time world champion. Mark McInerney, current world champion, is a long-time Irish champion of Association Croquet as well. Duncan Dixon has won four out of five of the last national championship of New Zealand. Young James Goodbun, at 19 the kid of the bunch in a field dominated by young players, won the 2011 Ascot cup in Britain, the country's top Golf Croquet event. The portly American entry, Danny Huneycutt, was the 2011 USCA Player of the Year. Pete Landrebe of Australia won that country's national championship in 2009. Stephen Mulliner, at 58 the "old man" in the field, usually ends up near the top of the list in both Golf Croquet and Association Croquet. And most of the players--including young Hamish McIntosh of New Zealand--qualified for the knockout in the world champion in England last July.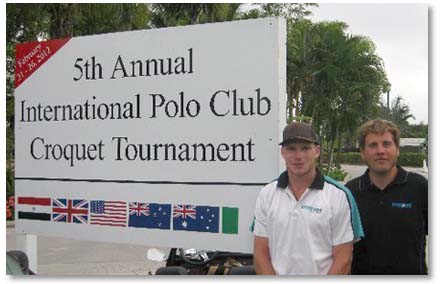 Hamish McIntosh and Duncan Dixon both represented New Zealand in the invitational, and each won $1,000 as semi-finalists in the event with champions of Golf Croquet's "big five" dominating the field of eight. Duncan Dixon photo.
With such a 2012 roster of players, it's no surprise that Rick Landry, the new manager of croquet at International Polo Club, has announced that the first invitations are to be made, in future, to the most recent national champions of the Big Five in Golf Croquet--New Zealand, Australia, Egypt, Great Britain, and the US--with the first invitation going to the current world champion, and other places awarded to champions of near-equivalent merit and players who excel in the knockout of the world championship.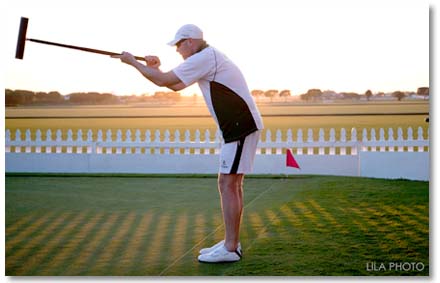 Mark McInerney's classic follow-through is back-lit by a setting sun. Many three-game matches flirted with sundown.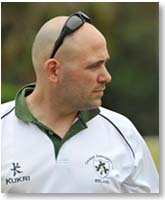 The 28-year-old Irish world champion, who lives in Dublin--a dog behaviorist by profession--took the top prize of $4,000. Johnny Mitchell photo.

The 2012 event was blessed not only with an impressive strong field of great players and amiable human beings, but also fair weather. The only problem, to put it bluntly, was the unexpectedly high level of play among surprisingly evenly-matched competitors. The problem was evident before the end of the first half-day of play. "We ran out of time," Landry reports. "The first match was a shocker, with Mulliner upsetting the world champion in two games, 7-5, 7-4." But then the sun went down on Danny Huneycutt and Hamish McIntosh with one game each, and their third and deciding match game had to be held over until Thursday morning.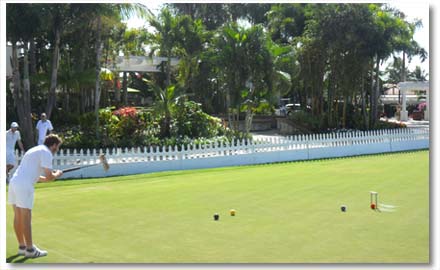 Duncan Dixon of New Zealand scores a long one with red against James Goodbun of England, while world champion McInerney observes from beyond the picket fence. The photo was snapped by fellow Kiwi Hamish McIntosh, so all four of the under-thirty "youth contingent" are involved in this photo.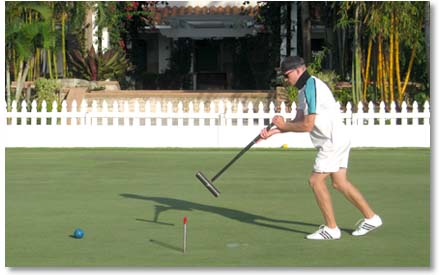 Hamish McIntosh, who is studying sports psychology in New Zealand, appeared to use some of it in his semi-final against Khaled Younis, but it wasn't quite enough to make him a finalist. Duncan Dixon photo.
Later Stephen Mulliner--who seems to mine statistics as naturally as he breathes and bounds around the court in an endless display of perpetual motion--reported that while typically 40 percent of first-to-seven best-of-three matches require only two games, in the first three days of this event the percentage of three-game matches was considerably over 60 percent. Which means more time was needed. Where could it come from?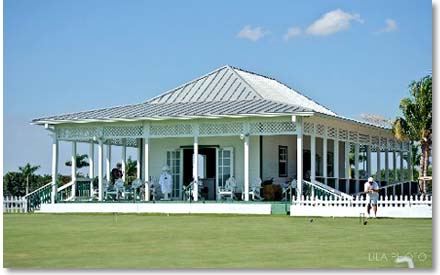 The Sports House, with it's wrap-around porch, affords ideal elevated viewing of the action, behind two-foot-high barriers to protect spectators from hard-hit Dawson balls.
That night, with the considerable help of event manager veteran Steve Mulliner, an entirely new schedule was made which, with the consent of David McCoy, Acting General Manager of the National Croquet Center, included starting games on several courts at the National Croquet Center a day earlier than planned.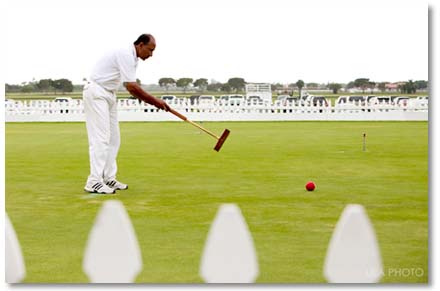 Three-time world champion Khaled Younis is a high school teacher and coach in Egypt who includes croquet in his athletic program. He took the $2,000 second prize in the event.
Even with the schedule adjustment--which now allowed closer to an average of three hours per match than the original two hours--games still frequently courted sundown at both facilities. The quickest match was less than an hour: McInerney against Younis in the block; but the Goodbun match against Younis lasted more than four hours.
| | |
| --- | --- |
| | England's James Goodbun, at 19 the youngest competitor, represented England well as 2011 winner of the Ascot Cup. Both James and fellow Brit Stephen Mulliner--at 58 the oldest in the competition--narrowly missed achieving a semi-finalists slot. Duncan Dixon photo. |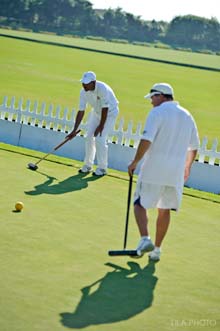 After a slow start in the tournament, Danny Huneycutt kept American hopes alive by upsetting Younis in a close three-game contest.

But the weather cooperated--with only 15 minutes of lost time on one lawn, due to a squall--and that gave time for an unexpected single-game playoff on Sunday morning at the National Croquet Center for a four-way tie for fourth place: testament to the closely matched skill of expert players near the top of their form.

The Sunday morning playoff--in two stages of first-to-10 games at the National Croquet Center, almost half an hour distant from International Polo--put Hamish McIntosh of New Zealand into the second semi-final game at International Polo against Khaled Younis. Mark had beaten Duncan Dixon in three games in the eight o'clock match. When Khaled then defeated Hamish McIntosh in a spirited match, Landry breathed a sign of relief at seeing his two top seeds emerge as the finalists. "But Rick," I said, "this is a famously volatile game, and it would have been fine to see someone else in the final. People love to see an underdog win, and any of these players would deserve it. " Rick shook his head. "Maybe so," he said, "but a tournament director always likes to see the top seeds make it to the end of the ladder."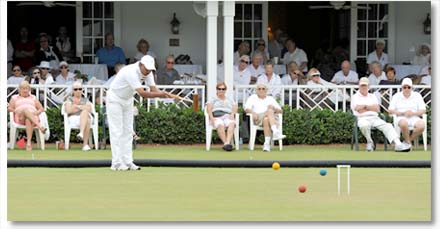 Khaled Younis shows off the hard-hitting Egyptian style of play that brought him the title of world champion three times, one of them in the 2002 World Championship that opened the National Croquet Center. This exhibition game between two world champions, publicized in the local press, drew a record crowd obviously riveted to the action. The black irrigation pipes are sufficient for protecting the crowd from fast balls on the relatively level courts of the Center. Johnny Mitchell photo.
| | |
| --- | --- |
| | The current and former champions, Mark McInerney of Ireland and Khaled Younis of Egypt, prepare to begin their widely publicized exhibition game at the National Croquet Center. Younis won the hour-long game, witnessed by a spellbound crowd large by American standards, augmented with score-board and play-by-play commentary MC'd for nearly an hour by Bob Alman with considerable help from visiting WCF president Amir Ramsis, who also delivered a gracious speech, along with incoming USCA president Johnny Mitchell, doing double duty as photographer; and Rick Landry. Though Mark lost the exhibition game, he took both his critical matches against Younis at International Polo Club. Johnny Mitchell photo. |
Landry got his wish. So after playing a hectic four-day qualifying schedule with lots of improvised cross-town transfers not in the original plan, McInerney took the decisive shot on the fifth day through Number 12 at close to five o'clock. Just enough sunlight remained for a casual ceremony that awarded him $4,000, with $2,000 to go to Younis and $1,000 each to the young semi-finalists from New Zealand, Duncan Dixon and Hamish McIntosh. I asked each of them, "Will you come back if you're invited?" Dixon commented, "It's a long way to come for a tournament," but Hamish was more optimistic.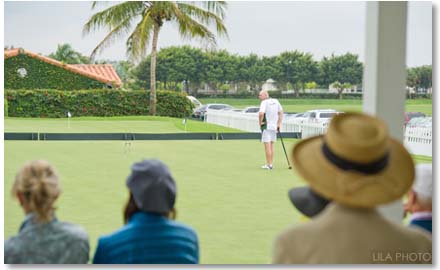 In Sunday's finals match, McInerney pauses to consider his next stroke as the adjacent polo field begins to fill with parking for the 4:00 PM main event in the polo stadium 50 yards from the croquet lawn.
I have a feeling most of these fine players would come back again, so I wish them fair weather and top scores in the rest of 2012. Landry and the folks at International Polo will be looking carefully at the results of major events over the next eight months or so and dispensing invitations accordingly.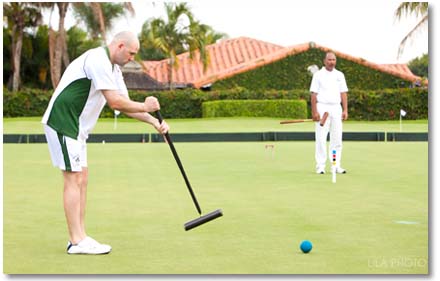 McInerney attacks Younis at penultimate as part of a breath-taking series of clearing shots that McInerney finally finished to win the top prize.
To all the top competitors in the world, we wish you good luck in 2012, and good playing! To those of us who mostly watch their spectacular play in amazement: Mark your calendars for the last week in February 2013.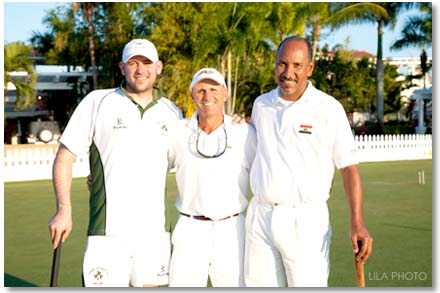 All's well that ends well. Rick Landry, Polo's Director of Croquet, stands happily between his finalist champions as the sun sinks swiftly in the west.
The 2013 International Polo Club Palm Beach Golf Croquet Invitational will closely resemble the 2012 edition, but with a looser schedule employing more courts at the National Croquet Center. Priority invitations will go to the WCF world champion and winners of the national championships of the major croquet playing countries.
---