The Art of Croquet
Paintings from the National Croquet Gallery
Posted July 29, 1997
"I've always considered croquet more art than sport," says Theo Holcomb, founding director of the National Croquet Gallery, housed in a single turn-of-the-century room of Rhode Island's Newport Art Museum.
Supported by private contributions to the Croquet Foundation of America (its full name is the National Croquet Gallery, Hall of Fame and Archives), it was founded largely as a home for the Croquet Hall of Fame. Since it's official opening in 1993, however, most of the public notice has been for the art received and arranged by Holcomb and others, some of it a permanent part of the collection, most of the more distinguished pieces loaned for temporary display.
Since the late 19th century, an astonishing variety of art has been produced with croquet themes - some of it bearing impressive credentials and hefty price tags. One of Holcomb's most spectacular "discoveries" is a heretofore unknown Rockwell Kent (shown here). Holcomb traced it to a dining room in a private home in upstate New York and arranged a loan to the Gallery.
The Gallery usually has on display about 30 drawings and paintings amidst the other exhibits of the Croquet Hall of Fame and Archives. We present here four of them.
Stroll through our Digital Art Gallery to get a better view.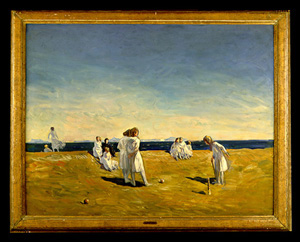 Croquet, Maine oil, by Rockwell Kent [better view]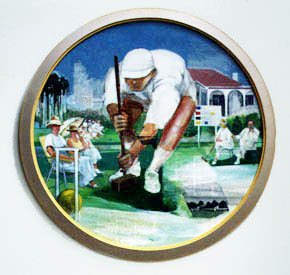 Three Ball Break acrylic, by Richard E. Lowe [better view]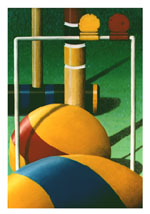 Croquet acrylic and oil, 1989, by T.O. Duncan [better view]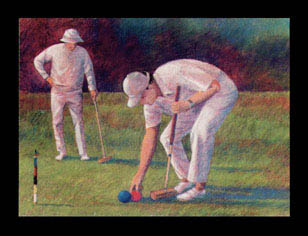 Rover Combat pastel, 1993, by Richard McDaniel [better view]
---

[We are indebted to Theo Holcomb and the Croquet Foundation of America for allowing us to reproduce these works of art from the National Croquet Gallery in Newport. These works may not be reproduced in any form without the express permission of the National Croquet Gallery.]

---
---