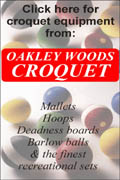 Second-largest US croquet facility
debuts in eastern Virginia

by Bob Alman
photos courtesy of Macey White and John Curington
layout by Reuben Edwards
posted August 5, 2017
---

Many club development models have been reported in this magazine, most of them unique in some respect. Macey White, the entrepreneur behind the establishment of the second-largest croquet facility in the US, is creating the kind of club that appeals to many tastes and styles. It's a privately owned and managed facility with all the openness and welcome you expect to find at a public club. It puts a premium on great food and socializing with a "down-home" flair, solidly in the tradition of East Coast establishment croquet, but priced for broad appeal. The courts are world-class, and the club aspires to be, at the same time, "the most beginner friendly club in America." The club is producing three USCA-sanctioned events in its debut year and intends to build upon its record in 2018, when the facility will be fully complete.

---
Macey White lives with his wife Barbara on his own 120-acre ancestral farmstead, in a house built by his great grandfather. Although he owns and manages his own bail-bondsman business nearby, he has earned the leisure to perfect the farmstead, now, by his own handiwork.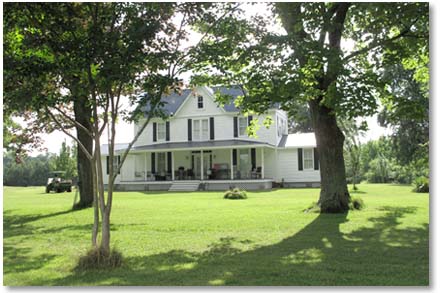 Macey White lives in the 1890s farmhouse his greatgranddad built, on a 120 acre farmstead in Hartfield, Virginia, between the Piankatank and Rappahannock rivers on Chesapeake Bay, which supplies the seafood the club's tournaments have already become famous for. Macey and his club members have put together the second-biggest croquet facility in the United States in its front yard.
That means re-purposing much of the homestead--once devoted to growing and processing peaches--for something much dearer, now, to Macey's heart: croquet.
The peach orchards once in front of the house have been taken away and replaced with eight laser-leveled and world-class croquet courts--an unbroken expanse, easy to maintain with the right machinery, and not all that labor intensive--if you know what you're doing and you're committed to maximum efficiency, in both time and money.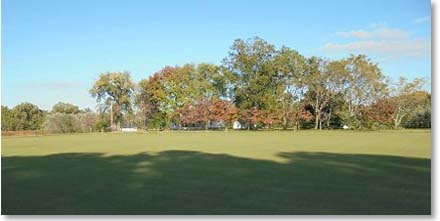 Just two years ago, this field was a tree filled wild area that had once been a peach orchard. Now it accommodates eight regulation size croquet courts, with lots of room to spare.
Macey has proved that he actually does know what he's doing, including enlisting the enthusiastic help of talented locals who now play croquet and contribute to the facility's health and growth. He spends no more than 10 hours a week on lawn maintenance, he told me.
But what about the clubhouse and the dining?
The 100-years-old peach packing shed near the courts, constructed a century ago with a metal roof, is being re-purposed as the Chesapeake Bay Croquet clubhouse, complete with rest-rooms, kitchen, and a common area sufficient for seating 60 or more diners, when needed.
The members seem to share Macey's missionary spirit. He told me, "We're getting superb professional design from architect Bo Prillaman and interior designer Bert Butler. They're both club members." Members provide many other essential services to the club, including help with lawn maintenance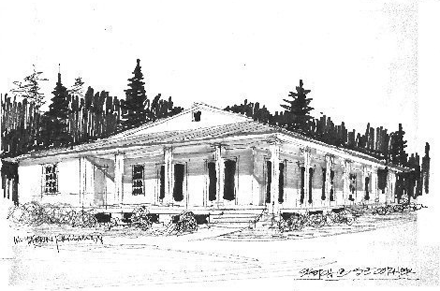 This clubhouse design re-purposes the old peach-packing house a short walk from the lawns, with a kitchen, bathrooms, and a common area of more than 1100 feet. Below, the work had progressed to this stage before the end of July, with functional bathrooms and showers near the courts. The interior and a covered veranda are soon to be completed.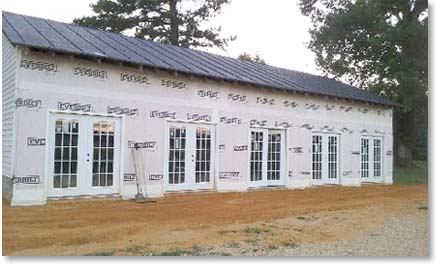 For the elaborate dinners offered in the open events, there's a glorious alternative to the clubhouse on the farmstead property, a larger country-club style facility Macey leases to the local gun club for two days a week. Its larger clubhouse can seat 130 for the feasts Macey has learned to orchestrate himself, hiring and supervising the chefs who turn local seafood from the bay into the choicest dinners in their season.
"The caterers I contacted were much too expensive," Macey told me. "I can do much better hiring local chefs I trust who engage their own staff of cooks and servers."
The "everyman" story of discovery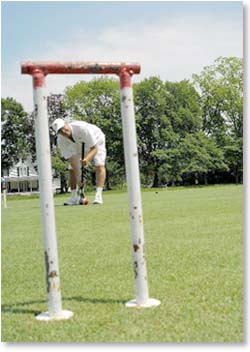 In his mid-fifties, Macey is a highly ranked player in America and still improving. He's made himself available for selection to the USCA for international competition. Here he's setting up a full roll to position in front of one of the hoops he built. (Yes, that's right. He made the hoops, the pegs, deadness boards, and just about everything else on these lawns in his own workshop.)

Although he could be a poster child for self-actualization, Macey White does have one big regret: that he didn't discover the sport 30 years ago. He doesn't blame anyone for that, but lots of readers of this magazine will understand exactly why it didn't happen: because he thought, like millions of Americans who did the same thing, that the toy game was "croquet."

He told the writer of a local press outlet that although he was attracted to the game as a child, he found it impossible to control the ball on the relatively rough turf of even a well-maintained lawn. It frustrated him, so the toy set was put away, along with other childhood pastimes.

Then, in his early 50's, when he good-naturedly agreed to go with a local friend to play croquet, he assumed he was going to revisit that childhood experience. When they first came into view, the lawn and the equipment were the first revelation: but then, when he was given a heavy mallet and hit the first ball on the manicured court, he fell in love with the sport, instantly. On that lawn, with this mallet and some practice, he could actually control where the balls would go!

White recruited some other friends to play "real croquet," and for a time they did that on a court in Mathews, Virginia. Before very long, he started talking with his buddies about building their own courts, and over time, the vision actually took shape and became the Chesapeake Bay Croquet Club.

It was a modest goal at first, but eventually, Macey recalls, "We chose to built eight courts because you can run a really nice tournament on eight courts," and the place to do that was obvious: right in front of Macey's house, were the remains of the ancient peach orchard still stood, untended and neglected.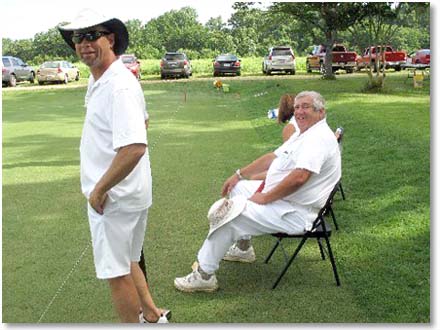 CBCC vice-president John Priest, sitting in the shade beside the courts, is looking happy and satisfied with a first season in 2017 that features three--yes, that's three--tournaments, complete with fabulous "home-style" cooking and world-class croquet on near-perfect regulation size courts.

John Priest, now the vice president of the CBCC, was one of many friends who encouraged the larger vision and helped make it come true. All the basic elements were there, just waiting to be employed--including the neglected peach packing shed, with the ideal size and location to serve as a club house; the gun club facility, already in perfect shape to host large groups for elegant sit-down dining; and ample space for parking along the gravel roads lacing the property.

Ideal club management: the benign dictatorship

TRIBUTE FROM A FELLOW ENTREPRENEUR

John Curington, builder/manager of one of the biggest croquet facilities in the USA, in North Florida, wrote to his members after playing in June's Rockfish Open. "Starting with the reception/dinner Wednesday evening through to the award ceremony and luncheon on Sunday, it was a great experience. The food was regional, bountiful and delicious, including breakfast, lunch, and dinner each day--and breakfast was the real deal, not just coffee and donuts. Lunch was served courtside by Natasha, Jill and Lily, who kept the buffet replenished and appealing. Dinners were a drive shot away at the Middlesex Sports Club, much like our pavilion, but air-conditioned. The heck with croquet, go for the food! But there was great croquet, with players from many states single-banked on near-perfect courts--probably the best on the east coast, with uniform top grass conditions, perfect corners, expansive aprons for no roll-off down the line and 6-foot spacing between. Having built 24 courts myself, I know what an achievement this is."

As a long-time and well respected local, Macey has plenty of connections to the local community. Locals are proud to have a significant facility on the outskirts of their town, and the local press has given sufficient attention to the farmstead's recent re-development to publicize the club in its first year. Macey intends to have a big club operating in a small town--another first for the sport.

But, "The number of courts we have is based on our overall mission and not necessarily our membership. Our goal is to increase our membership to more than 100 players. We started the year with five members and now have 27," Macey said in July. "We believe we will top 40 members by the end of 2017 and pick up another 20 to 30 next season."

A big club in a rural environment would be another "first" by the CBCC. Macey thinks that is possible if the club succeeds in being, as he puts it, "the most beginner friendly club in America."

But his ambition is much bigger than rural Virginia: "Our goal is to become a world class croquet facility that regularly produces major tournaments, hosts visiting instructors, and holds clinics and workshops for new players."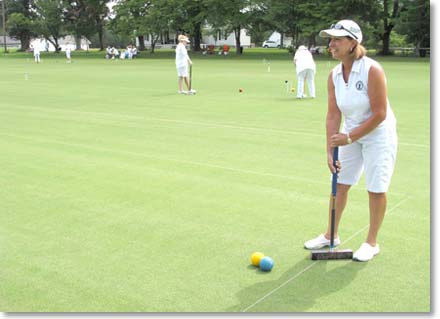 A local paper published this photo with an invitation to the public to visit and play on Wednesdays and Sundays at 1 PM. It's Robin Horrigan from Pinehurst. Instead of casual Golf Croquet among the visitors, Macey and his members give first-timers a "complete" experience of the sport. After they learn the shots, a club member is paired with each guest in a game. It's labor-intensive, but it seems to work. CBCC intends to be "the most beginner friendly" club in the United States. Photo by the Southside Sentinel.
The club's major events--at least five a year--will take place between May and November. But local members can expect to play croquet all year on the cold-resistant variety of bermuda grass planted for the courts: "We played on the lawns all winter," Macey said. "They turned tan in late November and greened up this year in late February."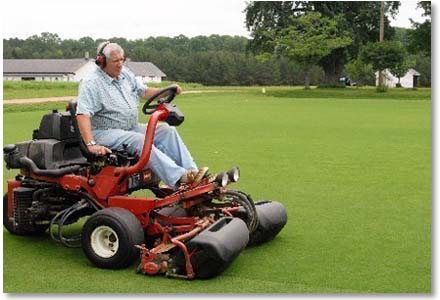 The lawns have to be mowed three times a week. The duty is shared by club members
Macey White's message to the croquet world
I asked Macey what he wanted everyone to know about his remarkable club. It's this: "Come play in our tournaments. We have a great venue for both top notch championship players and new comers to the sport. All our tournaments have free clinics for beginners and on-court coaching available for high handicap players. While we are a world class competitive venue we strive to be the most beginner friendly club in America."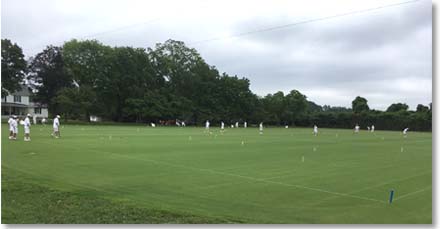 It's difficult to get the entire sweep of the courts in one photo. John Curington tried to do it in these two snapshots.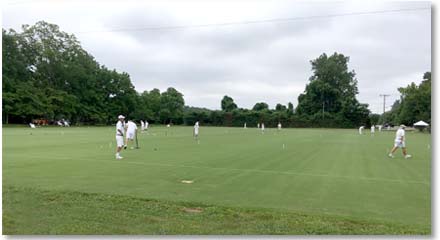 I believe this venue's popularity will quickly spread to international events, and not only for the Solomon Trophy, between English and American top-level teams. It's would be an ideal venue for mid-level English visitors in, say, April, before the English season gets underway. They could easily come as tourists in that season, with Williamsburg, the historic early English settlement, about a half hour away, and the American capital just up the road, virtually a day trip.
In its first season and not yet complete, as the second-largest croquet facility in the US, the Chesapeake Bay Croquet Club already competes with the National Croquet Center in Florida and Mission Hills in California for world-class croquet. But for native hospitality, it has no equal.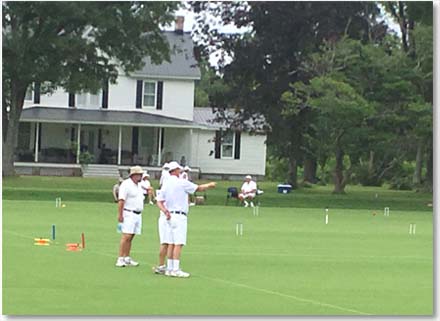 Rodney Lassiter discussing a play with John McGowan. Photo by John Curington.
The future, short-term and long-term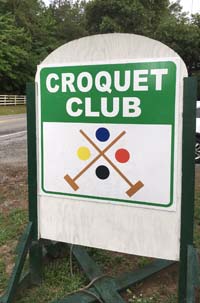 This large sign lets you know where to turn onto the gravel road to find 1834 Twiggs Ferry Road. John Curington photo.

The CBCC debuted with three major events in 2017, and even though the facility was not complete, the reports of first-time visitors were unanimously favorable. All the events except one featured more than one offering, pairing Golf Croquet with either American Rules or Association Croquet. Clinics, coaching, and instruction are a standard part of each event on the first day, which typically concludes with a court-side reception and dinner before the tournaments begin the next morning. At this writing, you can still play in the last two:

September 13-17 - Blue Crab - American Rules, singles and Waterford Doubles.

October 11-15 - Big Oyster - Association Croquet and Golf Croquet, singles and Waterford Doubles. Players can choose to play Golf Croquet, Association Croquet, or both and any combination of singles or doubles in both.

In 2018, the Southeast Regional Golf Croquet Championships will be the first USCA title event. By March of 2018, the club will be fully up to speed and ready to host--and host well--large national and international events.

For information and registration materials on these events contact maceywhite@gmail.com.
Macey White is 57 years old. He began playing been playing croquet in 2012. His US handicap is -1, his Association Croquet grade is just over 1900, and he plans to establish a Golf Croquet grade in the fall. With a PhD in chemistry and a career at Dupont for many years, he has taught college courses, farmed, managed a general contracting company, and now runs a bail bonding business. He and his wife, Barbara Wallace, live in the ancestral farmhouse overlooking his lawns. On his property are several workshops for both wood and metal, which enable Macey to fashion, himself, much of the equipment used in the sport. For all we know, he and Barbara also have a vegetable garden. With the Chesapeake Bay only a mile away providing fresh local fare for visiting players and croquet in the front yard, he's closer to self-sufficiency than anyone we know.
---