Who needs a Croquet Circus?

by Bob Alman
photos by Terry Colbert
layout by Reuben Edwards
Posted March 17, 2007


---

Remember when croquet was the most fun you could legally have on a lawn? No? Remember when croquet was the most popular adult participation sport - hands-down - on both sides of the Atlantic? Of course you don't remember. Because that was about 140 years ago, when croquet was the focus of just about every family outing and garden party. What happened?

---
A lot of things happened to take the fun out of organized croquet, but you can trace croquet's decline to one major factor which is also one of those "sad ironies" that journalists are fond of pointing out. It's simply that the very popularity which encouraged the leaders of the sport to "refine" the rules - make the wickets stronger and tighter and the mallets heavier and thus much more expensive, create tournaments that were dawn-to-dusk affairs stretching over many days, rigorously refereed by officials schooled in interpreting a book of "laws" that yearly became more complex and impenetrable to the ordinary social player - put it motion the inevitable decline of croquet as a popular pastime.
Get it? Croquet was taken over by the top level of players whose main interest was competing and winning championships.
The effects were seen dramatically at the first state-of-the-art mega-facility for the sport - Wimbledon. Wimbledon became in 1869 croquet's heart and center. But by 1882, lawn tennis was all the rage, and Wimbledon gave croquet the hook, for good reason: Tennis was more fun, it was more popular, and just as in croquet, men and women could play it together. Croquet in England made a partial recovery in the 1890s, but never regained even a shadow of its former status as the most popular social sport.
Flash forward to the 21st Century, and the United States had joined the worldwide community of 27 WCF nations with recognized national associations. In only a couple of decades, the US earned the status of one of the "big four" croquet-playing nations in the world (with Great Britain, Australia, and New Zealand).
Why is croquet a fringe sport?
Today, in those countries and all the other members of the World Croquet Federation, "association croquet" is a fringe sport.
You will reply, "That's inevitable," and many would agree - but not Terry Colbert, the new General Manager of the National Croquet Center in West Palm Beach. The beautiful Center is the 21st century American successor to Wimbledon as the largest, the finest, and the best, croquet's number one showcase venue in the world. Colbert may suffer his own mistakes in the fullness of time, but he will not imitate the monstrous failure of Wimbledon.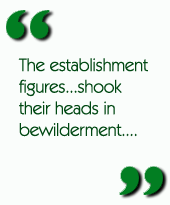 Colbert, former longtime president of the New York Croquet Club, is not very interested in high-level tournaments. He wants to build the sport, and in doing that, he insists that croquet, first and foremost, should be fun. "You don't have to worry about the top players, they'll take care of themselves, they can have all the grueling dawn-to-dusk croquet jousts they want. But what about the new players, what about the social players? What about the people who showed up at the croquet court expecting it to be even more fun than the backyard croquet they played with grandma?"
Colbert's most original answer to his own question, so far, is The Croquet Circus at the National Croquet Center in West Palm Beach in mid-February of the high season: Four days of novelty and fun and competition embracing a range of games; four days at a leisurely pace beginning at around ten in the morning and usually ending at three or four, with plenty of time for lunch - and maybe even cocktails - between. Time, even, for optional pickup games for the players who wanted more play than allowed in the loose formal schedule.
This is revolutionary! The establishment figures in American croquet shook their heads in bewilderment when they heard the audacious name of the event: A Croquet Circus? Ridiculous.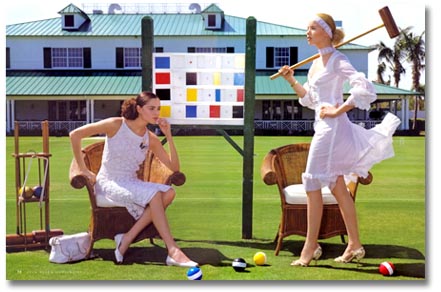 Wha....??? To make sure everyone understood that the Croquet Circus was not going to be your run-of-the-mill tournament, Colbert prominently featured this photo from Palm Beach Illustrated in his publicity
In the 21st Century in America as in the other main croquet-playing countries, the sport is still dominated by high-level players with rigorous standards. In the face of their substantial doubts, Colbert persisted. Now we know that he had a good point. Now, after the fact, we can explain exactly why this event was so popular with the high-handicap players who did it; and why, next year, with their word-of-mouth, it will likely sell out soon after it's announced.
What the numbers say
The reason can be stated simply and statistically, by glancing at the USCA "Grand Prix" and figuring out how many USCA players sign up for one or more sanctioned events - the tournaments typically from one to six days long that are the basis of USCA handicapping and rankings. The stark fact is that only one in three USCA croquet players do even one sanctioned event in the course of a year - and that is likely to be a one-day local club affair.
Anyone interested in marketing and development should contemplate this reality and address it in their croquet programs, wouldn't you say?
Well, no, why should they? Most croquet clubs can go along quite happily with their small contingent of players, a fraction of which will play sanctioned tournaments. No need to cater for the beginners, who'll either improve or fall by the wayside. Which is what they do, in droves - fall by the wayside, I mean.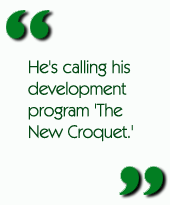 Colbert would like to do something about that, and he'd like everyone to know about it. So for media consumption, he's calling his development program "The New Croquet." It's kind of vague, but it certainly embraces the Croquet Circus. It's more an attitude, he says, than a specific program or event. The attitude is one of having fun, enjoying the sport, not having to play in the freezing rain until the sun goes down to get more ranking points, being able to talk, laugh, socialize - maybe even have a beer or a cocktail along with the game. In short: recreating the FUN of backyard croquet and actually expanding the fun on superb lawns, with professional equipment, off the veranda of a beautifully designed and appointed clubhouse second to none.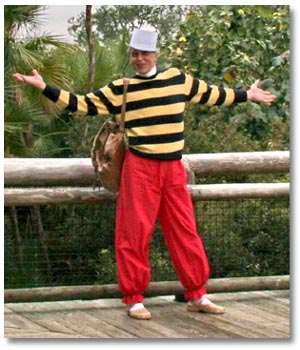 Terry Colbert in one of his many ringleader guises, at the nearby Zoo - a themed excursion five minutes from the Center.

And there's the rub: Terry Colbert has the biggest job in the croquet world, big by many standards, centered at the biggest and most beautiful croquet facility in the world - and the most publicized. And it has the potential of revolutionizing the way croquet is promoted locally and nationally.

Did I say "revolution?" You bet. A four-day "Croquet Circus" for high-handicap players at the world's premier croquet venue is revolutionary. A multi-day croquet event organized around fun instead of competition is revolutionary.

Sure, you can have fun competing hard and winning trophies for wiping out all your opponents. That's not the kind of fun we're talking about: We're talking about the kind of fun that isn't dependent on winning, the kind of fun that's new, different, special, and maybe even kind of goofy. Not something anybody would want to do every week, but maybe worth a once-a-year shot - especially for high-handicap players who usually take a back lawn at a big event, if they get any play at all.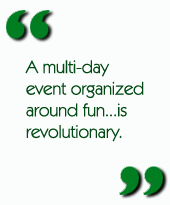 You've got to like Terry Colbert. You've got to, because he doesn't give you any choice about it. He exudes Midwestern charm, schooled in Manhattan Fifth Avenue PR saavy, dressed in designer clothes and his trademark saddleshoes. He's an expert designer on paper and in three-dimensional spaces with his architectural training - but so are tens of thousands of others in New York. His edge is in the charm. You've got to like him, he's croquet's rock star.
Most of the members of the National Croquet Center - croquet's showcase if ever there was one - love Terry Colbert. They bask in his presence as they would in the company of a Hollywood celebrity. Colbert loves the roar of the greasepaint and the smell of the crowd. Put him in front of a room, and he'll start telling a story. Put him in from of a crowd, and he'll sell himself - and maybe a membership. No, not a social membership. For someone like you, a full, premium membership, maybe even a Lifetime Membership!
The highly ranked players may stand around and look askance, passing a court where Colbert is teaching the newer members. "But he doesn't know how to hit a croquet ball, what's he doing teaching?" one may ask, incredulously. It's true, he tends to punch the ball. He knows better, he can actually do a proper croquet stroke, I've seen him hit a ball correctly, but in the flash and flow of the moment, he tends to stab it. It's no wonder that he has an unimpressive four handicap, but it doesn't embarrass him at all, because it doesn't matter to the Center's future whether Colbert consistently demonstrates classic one-ball croquet form.
Colbert has asked himself why croquet is such a small sport. One of his answers is that it has tended to be dominated by people who have the notion that people who join croquet clubs want to win tournaments. But that can't be, because two-thirds of USCA members never play in tournaments. They must be looking for something more casual, more social, more fun, Colbert insists. They're looking for fun, and croquet organizers should give it to them.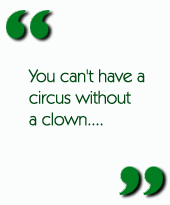 But a four-day Croquet Circus for USCA members? It seemed a little strange to me, but all I said, remembering the painted clown we engaged in San Francisco at a one-day fund-raiser years ago to roam the courts challenging people to the shoot the ball between his ridiculous shoes, was "Well, you can't have a circus without a clown."
It should be no surprise that Colbert cast himself as the clown.
This particular clown has sensibly decided that novice players shouldn't feel they have to wait months and years before being confident enough to play in a touranment. If they first joined and picked up a mallet last month, why not invite them to register in a four-day "Croquet Circus" designed for them and other high-handicap "social" players?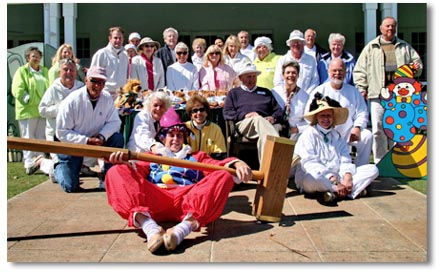 The clown in front claims to wield the biggest mallet in Florida. The Circus participants in the background are bundled up against a cold snap unusually severe for Florida in February.
In Colbert's opinion, there is no good reason why this shouldn't happen as part of a broad mix of croquet programs and events offered, in sum, to please every taste - not just a taste for arduous, multi-day competitive events.
How the Croquet Circus was organized
Unlike a conventional tournament, the Croquet Circus awarded points in each of the five different categories of play:
American Rules
Nine-wicket croquet
Golf Croquet
Malletball
Skill Stations

Except for the Skill Stations, all events were played as modified Waterford doubles - that is, with players changing partners every two games, in each activity. There were at least two different activites on each day, and all the activities were programmed for multiple days. A win in any single game garnered 10 points. The top three overall winners were trophied, but also the winners in each category, as well "most improved player" and "best sportsman."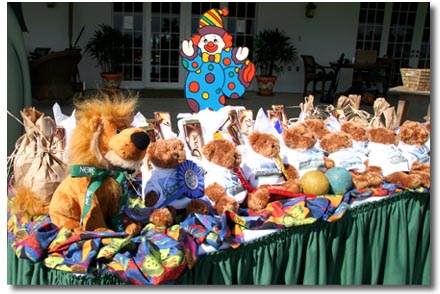 The trophies - stuffed animals that talk back - carry out the circus theme.
Changing partners in American Rules doubles
These games were the most conventional aspect of the Circus, but they were casual and social, and players switched partners after two games in the Waterford format.
Nine-wicket croquet on regulation lawns?
I was skeptical of the plan for nine-wicket croquet, because in fact, the USCA rules for nine-wicket croquet are best played with only four balls (not the traditional six) and it was recognized early on that players must not be allowed to "foot" the ball in the traditional way, to prevent severe damage to the lawns. So the game at first looks very much like USCA standard American rules, on a nine-wicket setting - but looks are deceiving.
As it turned out, players enjoyed the novelty of the setting, which makes it easier, on a fifty by 100-foot court, to score more wickets and to play breaks, as they are all in closer proximity. Moreover, the rules incorporate no end-of-turn for shooting out of bounds, balls are replaced on the yard line, as in International Rules, and most importantly, there is no carry-over deadness. In fact, except for strict sequence of ball play, the rules resemble Association Croquet more than USCA rules.
This game would be unplayable by low-handicap players - they would go all around in two turns. But for the Croquet Circus players, it was just fine - it created a wide-open game with lots of action every turn and more breaks than in conventional club games.
The nine-wicket games were a revelation to many of the Circus players who had only played "backyard croquet" on a bad lawn with primitive equipment. Now many of the local players want to keep a nine-wicket court up permanently - not just to recruit new members, but to play on for their own enjoyment of the game.
Golf Croquet
Surprisingly, many participants from far-flung clubs had never played Golf Croquet, so they the Circus was not merely fun for them, it was a sigificant learning experience in the sport.
Super-sized Malletball makes its formal Center debut
Another first-time experience for most people in the Circus was Malletball. I have been directing casual Malletball games for corporate groups and school children for three years or so - some of them at the Center - but I was taken aback by the suggestion that the big-ball game be incorporated into a multi-day event for USCA members. But I happily agreed and looked for the best way to design an interesting oval course that would make the most economical use of the space.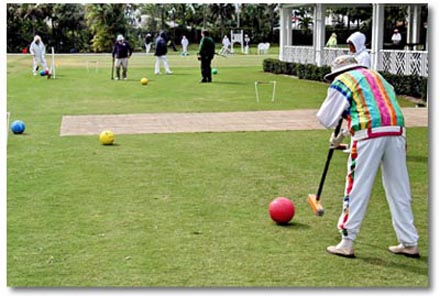 The slightly longer grass fronting the verandah of the National Croquet Center, though short, holds these soccer balls perfectly. In the far distance beyond another walkway is the ubiquitous St. Augustine grass, long and slightly mushy, impossible for small-ball croquet, but perfect for supersized Malletball.
To mirror the "extreme" aesthetic of a game that was designed to be played anywhere, I designed a course that took off from the slightly longer Bermuda 419 grass surface immediately around the clubhouse veranda, crossed over one of the twelve regulation close-cut bermuda tiffdwarf courts that is actually too fast for Malletball, to a larger area across a sidewalk and beside the irrigation pond, with long St. Augustine grass - the very lush and slightly mushy turf that is used for not much of anything but decoration in South Florida.. The course circled back across the regulation court to the verandah to finish the oval course in front of the clubhouse.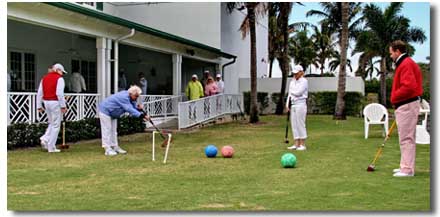 Blue attacks, putting opponent red out of scoring position near the beginning of a Malletball course that include three different types of grass, several expanses of sidewalk, and other interesting obstacles.
Malletball, though it was invented at the National Croquet Center several years ago to help promote croquet, was a revelation to many of the non-local players. A few considered the oversized equipment excessive, but most played the game with relish. Several couples ended up buying their own sets - for croquet on their farm in Virginia, or for "toequet" (kicked instead of malleted) with their grandchildren. Two one-lawn clubs, including a nearby club at the Village of Golf, bought sets to augment their playing capacity on lands adjacent to their court - and to help draw attention and publicity to their clubs.
As the guy who developed this game at the National Croquet Center in partnership with Denny Ridgway - the inventor of Toequet - I would be the first to advocate producing the Croquet Circus annually. And partly as a consequence of this event, I am planning with Don Oakley, owner/manager of Oakley Woods, who distributes the equipment for Toequet and Malletball, the first WORLD CHAMPIONSHIP for these supersized wicket games. We hope to produce it in Palm Beach County, focused on the Center but with games offsite in wide-open county park spaces, sometimes in 2008.
The Skills Station is weighted for high handicaps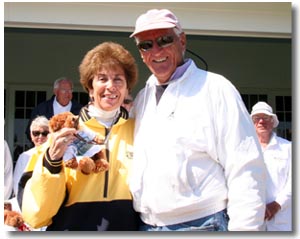 Janet Catalono of frigid Toronto, winner of the most points in the five events combined, is congratulated by Archie Peck, Director of Croquet at the Center.

Jim Taylor, lately of Atlanta and now a half-year resident of Palm Beach, is a virtual staff member of the Center during the high season, and as Associate Director of the Circus, he designed the point system for the entire event - including the Skills Station.

The Skills Station tested players in four different shots, including wicket shooting as well as long lags to specific circular targets - one a single-ball shot and the other a rush. A perfect score in the skills station would be 30 points. As an equalizer, each player was given a bonus of twice their handicap to add to the basic score. So a 10-handicap player who scored 20 points in the Skills Station would actually win 40 points.

How the players rated the Circus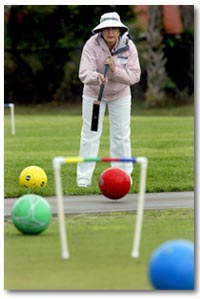 Sharada Alducin attempts to score with a long shot across a lightning-fast sidewalk.

I talked with many of the Circus players, but Gerry McCauley of Palm Beach Gardens can represent them all in their general enthusiasm for the event and format. She told me, "I wasn't all that interested at first, I did it to support the club. But then I was really amazed at how much fun I was having. I would never have thought that nine-wicket croquet would be so much fun. With the wickets so close together, some players played multiple wicket breaks for the first time. hope they keep that nine-wicket court up all the time on Court 12, because it's such a great way to introduce people to the club, and so many of them are already familiar with the backyard croquet setting, they already know what to do.

"The Skills Stations were great, no partner, just a contest for all those shots we all need to learn to do to improve our game....

"In American Rules, changing partners was good. We never played with the same partner more than two games in a row.

"Malletball was a revelation. Even though the wind took away some of the balls on the fast courts, it was interesting to have to play over sidewalks and around hedges and on different types of grass and terrain. And the rules are pretty much the same as for Golf Croquet, so learning it was a snap. I can see teaching my grandchildren to play croquet with the big-ball equipment and giant wickets."

Gerry will play a Circus event next year, and she's pretty sure a lot more people will want to do that, too.

We end with an answer to a well-worn question

Croquet organizers are constantly speculating about the problem of getting and keeping new players. The Croquet Circus offers a provisional answer, a fresh solution. The growing popularity of Golf Croquet to introduce the sport is certainly a positive development, but it has not produced a revolution in the sport; Golf Croquet is typically played as intensely and solemnly as the MacRobertson Shield International Teams!

For big clubs with plenty of courtspace for innovation, many elements of the Croquet Circus could be a big hit for novice players and a good draw for expanded membership, not even to speak of the press. Newspaper writers and editors love novelty above all else. They already know everything, and they've published it twice. Give them something new, different, and special, and they'll beat a path to your door. All you have to do is call and say you're having the first-ever Croquet Circus at your club, and let them know they'll see things they've never seen before, and they'll come, and they'll send a photographer.

For small clubs with limited regulation court space but with adjoining open space, supersized Malletball and/or Toequet could spark greater activity and enthusiasm for croquet and its variants.

Any organizer who genuinely wants more people to play croquet would do well to consider the desires of that neglected two-thirds: the novices and social members who never play in conventional tournaments.

Colbert suggests that you give them a Croquet Circus. On present evidence, I'd have to agree.
---