Playing through dementia

text and photos by James Creasey
Posted April 10, 2010


---

James Creasey is a native of England who discovered Denver's USCA croquet club playing in Washington Park four years ago and was immediately hooked on Golf Croquet. Soon after that, his father was diagnosed with Alzheimer's and began to gradually lose many of his faculties, including speech. Maintaining a meaningful relationship with Alzheimer's patients is a common and growing challenge for millions of families. Creasey found one solution that worked for him and his family, and he's certain it works for others as well.

---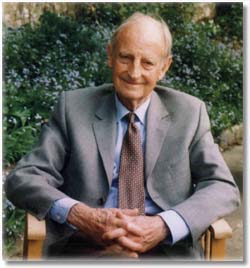 In his last years, up to the time of his death at the age of 87, Maxwell Creasey played countless games of Golf Croquet with his family.

To his wife and sweetie of 63 years he was known as Maxwell or "Darling", or a nickname to remain unpublished or, depending on how much mud he had brought through the back door into the house on the soles of his shoes, by one or two choice epithets.

To his six children he was known as Dad, or during our rebellious years as something more colorful that will also remain unpublished.

To his thirteen grandchildren by whom he was both adored and feared, especially if they were caught retrieving a soccer ball from amongst his treasured roses, he was known as Grandpa.

To one of his great grandchildren he was known as Poppa, or by the three pre-verbal ones by just a mutual smile that would extend from ear to ear while cradled in his arms sometimes for hours as he sat in his favorite armchair. (I remember from my own parenting days that a smile like that could also be just gas, at least for the little one.)

To me he was simply Dad, although he did have a nickname for me that fell into disuse in direct proportion to the angst I caused him during my teenage years.

Before he retired for the third time in his late seventies he had risen from the humble rank of office boy delivering cups of tea in a London property office to the chairmanship of two international commercial real estate firms whose parent company was traded on the London Stock Exchange. He frequently flew via Concorde to the further flung outposts of the property portfolios. In the latter years he sat on the boards of eight other companies, some publicly traded, as managers and investors sought his expertise.

A sudden stroke changes everything

In October of 2007 I got a call from my brother in England saying that Dad, at the age of 84, had suffered a minor stroke. (The subsequent diagnosis of vascular dementia would help to explain a string of confusing events that followed.) His children recognized this as a time when we should figure out how to best take care of him and give back some of the love and dignity that he had given to us over the years. So I got on a plane in Denver just two days after my brother's call, concerned that the Dad I had known might be gone inside a shell of his former self. One thought troubled me more than any other on the trans-Atlantic flight that night: 'What if my own father does not know who I am?'

I spent the next two weeks with Mum and Dad in England at their home south-east of London. Continuing to be 'unemployed' over the next two and a half years, I was able to be there for about two in every ten weeks. In hindsight I see I was discovering my real 'work'.

From the time of the diagnosis, vascular dementia silently and sporadically stole his memory and capacities. He would forget that he still lived at "Copthorne", our family home of forty years. Seated at his own dining room table, he would ask, "When are we going home?" "It is so undignified", my mother said to me one day, glancing over her shoulder to make sure he couldn't hear. Gradually, Dad stopped speaking altogether.

He once had shown a prodigious ability to remember the names and personal details of a host of contacts, ranging from his peers in the property world to the janitor of an office tower in Minneapolis. People on four continents spoke affectionately of him. It seemed so unfair that the man who had granted dignity and respect to so many was now losing his own.

A chance connection at The Nare

For more than fifteen years my Mum and Dad had been taking a summer holiday by the seaside at a charming and welcoming little country house hotel called The Nare on the cliff tops of Cornwall in southwest England. It was too far for Mum to drive by herself, and Dad had long ago given up his license. Wanting what may be their last summer holiday together, Mum asked me if I'd come along and help. Of course I would. I could give Mum a much needed respite from almost full time care of Dad.

But I was once again troubled by the same nagging through I'd had on the plane: "What am I going to do with Dad, day after day? What will we do in those lengthening silences?" Because already, conversation had become more intermittent. Forming entire sentences was a real effort for him. As for games, golf was too precise and ping-pong too fast, and Scrabble, chess, cards and Mah Jong had too many elements to contend with.

The croquet back-story

About five years prior to this one of my colleagues at work in Denver had introduced croquet into our annual company summer picnic. A year later the company had another croquet outing. Impatient that once a year was not enough, I joined the Denver Croquet Club and improved my skills in the game that had been waiting for me! The Denver Club plays in a public park looking out over a lake to the snow-capped Rocky Mountains. Croquet became a delight of my life on summer evenings with new-found friends, and Golf Croquet remains my favorite version of that game.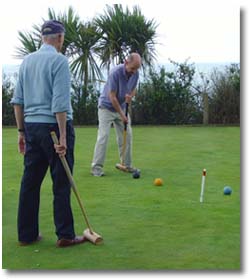 Author James Creasey aims for a hoop on the lawn overlooking the Atlantic at The Nare as Maxwell waits his turn.

Imagine my joy when we arrived at The Nare and I discovered up on the cliff top with spectacular views of the countryside and the far western reaches of the English Channel the most perfectly kept croquet lawn you could imagine, together with a little shed offering shelter from the rains that blow in off the vast sweeps of the Atlantic Ocean!

As a child I had always wanted my Dad to play with me - cricket, soccer or whatever the seasonal game might be - but the work he brought home from his office at night and weekends too often took precedence over playfulness. So I had no idea how he would respond if I asked him to play croquet with me at The Nare.

After breakfast on the first morning he and I strolled up to the lawn in silence with just a remark or two about the flowers or the lovely sunny day. What I did not know until my mother told me later was that over the years my parents on their visits here would sneak up to this lawn and like school children trying to avoid being caught by the headmaster they would try their hand at a game or two. So Dad already was familiar with the equipment, if only he could remember how to use it.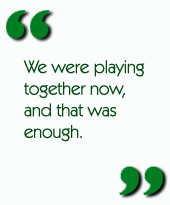 I brought out two mallets and just two balls. I knew it needed to be simple if Dad was to stand a chance at following his own game. So there we were on the cliff tops of Cornwall playing together the games that I had longed for as a child. What joy! We were playing together now and that was enough.
He may be confused, post verbal and not able to find his way down the corridor, but with a little guidance on whose turn it was next, he could play a crack game of croquet. He would frequently make a hoop from one end of the court to the other! It took every bit of skill I could muster to keep up with his accumulation of points.
Expanding the game to friends and family
The next morning I invited some Australians at the breakfast table to join us for croquet. The day after that an English couple joined in and by the end of our holiday several families were promising to return home and buy a croquet set to play in their own back gardens. We were one of those families.
A few days later, on my flight back to Denver, I felt thoroughly satisfied both with the gift I had left behind and the gift I was taking home: croquet for them and a heart full of memories for me.
A few days later I began to get excited phone calls and emails reporting that my siblings, my nephews and nieces all had something they could do with Poppa besides sitting with him in those awkward, prolonged silences. They were playing croquet together in the garden at Copthorne.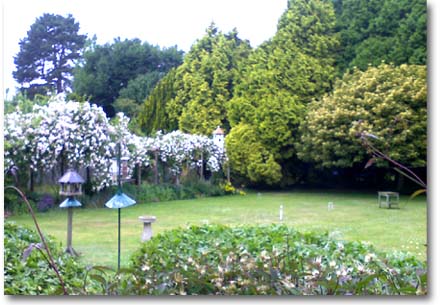 This view of the English garden lawn from the kitchen of the family home calls to mind an illustration from "Alice in Wonderland."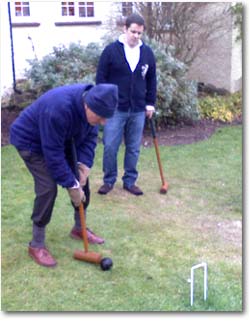 No day was too chilly for play in the garden. Here, beneath the kitchen window, grandson Tom watches Maxwell prepare to shoot a hoop.

Over the next two years I spent two of every 10 weeks with them at Copthorne. In the summer of 2009 I was able to take them for what turned out to be their last holiday together at The Nare. Once again, Dad and I played croquet there every day, rain or shine.

Although Dad's general condition continued to deteriorate, his ability to play croquet did not. If he answered the front door to greet family, friends or complete strangers, they could expect to be silently ushered to the back lawn and handed a mallet for a game, accompanied by an encouraging smile.

My father, Maxwell Creasey, passed away on September 21st, 2009 at the age of 87. In the Order of Service for the Thanksgiving of His Life is a picture of him playing croquet on that lawn at The Nare. And yes, there is that smile.

EXPANDING THE GAME, GLOBALLY

I am forever grateful that my father taught me to play croquet with someone who is dealing with dementia. With my family on both sides of the Atlantic, we all learned the mental, physical and social benefits of playing croquet together with Dad. We became a closer, more loving family.

Inspired by my own experience, in the summer of 2009, I invited members of the Alzheimer's Association to play Golf Croquet doubles with their caregivers on the Denver Croquet Club lawns. This event was successful even beyond my expectations, and we started a program with the Alzheimer's Association and the Denver Croquet Club that includes weekly play in season on the Washington Park courts. In 2010 we begin our second season on May 4, continuing through late September, playing Tuesday and Thursday morning from 10 am til noon. We're asking a university research team to be on hand to audit and report on the program and its effects.

We're expanding the program nationally with the U.S. Croquet Association in 2010, and it's my personal goal to see at least groups in North America alone by the end of 2010. Any kind of club or group can conduct these games for Alzheimer's patients and their caregivers, not just on manicured lawns but in settings as simple as your own backyard. There's nothing to buy, and nothing to join. For your free how-to booklet or to join this ongoing conversation, please contact James Creasey by email.
---