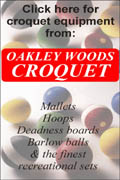 Women's Golf Croquet World Championship
to be played in Egypt in November 2005


Posted January 22, 2005


---

By long tradition throughout most of the 150-year history of the sport, separate championships have been produced for men and women in most of the croquet-playing countries – including Egypt - often with an "open" championship for qualifiers of either sex. The purpose has never been to exclude women from competition, but to give women an opportunity to compete against other women. This division has never occurred in the United States, which only organized in the 1970's. In the U.S. as in other countries, top-ranked "open" tournaments turn out to be de facto men's tournaments, with perhaps one or two women qualifiers. (Only four women are in the current top 100 ranked players in the world.) The trail-blazing event announced in the following WCF press release is the first-ever genuine world championship for women competing in any form of the sport. Egypt boasts a number of very strong women Golf Croquet competitors, who are expected to give the visitors a run for their money. Egypt has never lost a Golf Croquet world championship.

---
World Croquet Federation (WCF) Media Release
1st WCF Women's World Golf Croquet Championships Cairo, Egypt – November 2005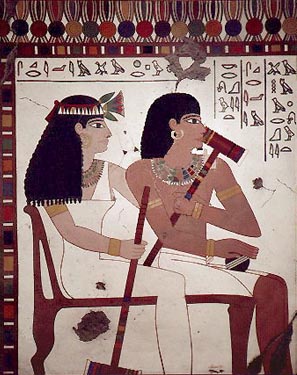 © 1996 Richard Deurer
Reproduced by permission of the artist, whose other other works may be viewed on his Website.
The event will be held in Cairo, Egypt, from 13-20 November 2005. The WCF Event Organiser is David Openshaw, WCF President.
The WCF will not be allocating places for each country, but will accept entries from all our members associations with an expected entry of 32 players with a closing date of 1st of April 2005.
To help entrants make travel plans the WCF will start to confirm entries from 1st March 2005. All entries should be made via your National Association.
The Entry Fee will be 30 GB pounds.
The Egyptian Croquet Association will provide an excellent service to all players and their partners. [Partners in this instance means spouses or traveling companions. The tournament is played only in singles – editor] This will include:
Organisation of Visa. (Cost 25 US dollars).
Help through Customs.
Hotel Accommodation convenient to the venue of the Gezirah Club.
Organisation of sightseeing tours before, during or after the event. (For example, visiting the Pyramids and Sakkara, Old Cairo, or a Nile Cruise.)
Special trips for partners during the event can be organised.
Transfer to and from the Airport.

The WCF will attempt to meet all entrants' individual requirements in these areas.

David Openshaw, President of the World Croquet Federation said, "The Egyptian Croquet Association have already organised two WCF World Golf Croquet Championships - in 1997 and 2000. We hope this event will be promoted by all Member Associations to their women players who play both Golf Croquet and Association Croquet. [Women players who play both Golf Croquet and American Rules Croquet will also be accepted – editor] I feel sure this will be a great event and a great opportunity to visit such a unique part of the World.

I will be happy to answer any queries from potential entrants."

NOTE: David Openshaw's email address is: david@open123.demon.co.uk. Or contact the World Croquet Federation at secretary@wcfcroquet.org

---