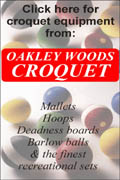 The face of youth
in American croquet

by Bob Alman
with thanks to Danny Huneycutt, Bill Hartman, and Dan Mol;
photos by Johnny Mitchell, Danny Huneycutt,
Bill Hartman, and Andrew Regensburg
Posted May 20, 2007


---

Managed youth development programs in England and New Zealand have yielded some good results over time, producing young players who help bolster the current rankings in each of these countries. In the U.S., development has been spotty and intermittent, with occasional successes dependent mostly on the ad hoc commitment of teachers and sponsors. Croquet-playing families have usually been the training ground for future champions, such as Jacques Fournier of the Arizona Fourniers, now largely retired from the sport. And a few committed individuals in North Carolina are seeking to start a new wave of development in middle schools, high schools, and colleges. The problem with all of this, of course, is that "youth" doesn't last long. Very soon, these kids – no matter how hot their enthusiasm for the sport might have become – will be preoccupied with serious study, then careers, then families and children. Where will croquet fit into all this? The remarkable Mol/Herin clan from Michigan may have provided the best model to date for including croquet in all stages of life. For them, croquet really is a "lifetime sport."


---
I was doing other things that day and didn't know about it until it was too late: Two 16-year-olds competing in the finals of the top flight of a sanctioned tournament at America's headquarters croquet venue. Two brothers. And three more of their siblings plus two parents in the same flight – seven in all. America's first family of croquet, without a doubt.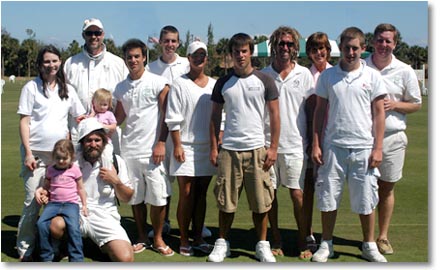 Multiple generations of Mol's, Herin's, and the Theiste's on their annual croquet pilgrimage from Michigan to the National Croquet Center of Croquet Week, 2007.
No, it wasn't a major tournament. If it had been the Nationals, this could be the image-buster croquet organizers have long prayed for. But it augurs greater things ahead, because one of these brothers – Trevor Herin - placed an impressive 16th in the last American Rules National Championship, America's most competitive event, and at their rate of progress, they'll be ready for the top trophies any year now.
| | | |
| --- | --- | --- |
| 16-year-old Trevor Herin looks like the USCA's poster boy for youth development as he strides off the court in victory after winning the top flight of the Golf Croquet Tournament in Croquet Week at the National Croquet Center in March, 2007. | | Dan Mol, Jr. proves that the famous family club from Michigan does not enforce a unifom standard of style and dress in the National Club Teams Championships. |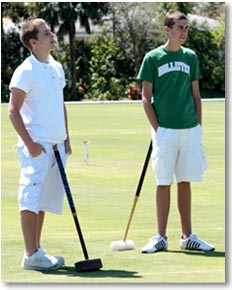 Peder Theiste and Brad Mol await their turn as partners in the National Club Teams Championships First Flight.

The event that saw two brothers competing in the final was the Golf Croquet Championship of Croquet Week at the National Croquet Center in West Palm Beach in March - the biggest annual gathering of croquet players in America. The Mol/Herin clan from Michigan come each year to compete – a round dozen – and they have become American croquet's poster family. The Mols actually provide an entirely new model for pursuing the so-very-elusive dream of having our sport known as something besides "an elder pastime."

The toy, backyard game has long been a feature of family activity in America, but this is not backyard croquet played with a $39.95 toy set from Target. This is the real thing, and the Mol's and their friends the Thieste's actually have real croquet lawns in their back yards.

And it isn't fair or accurate to point to one or another of the brothers as "the future national champion" – they are all impressive players, and each can beat the other on any given day. All three brothers agree that Trevor, as a handicap two, is the best player, but he was himself defeated by his identical twin Tom in the Collegiate Division of the Golf Croquet National Championships played in North Carolina in March of 2007. That's one explanation of how they got to be so good: the typical teen's drive to compete and win, especially against the sibling – or for that matter, the father or the mother, all good players.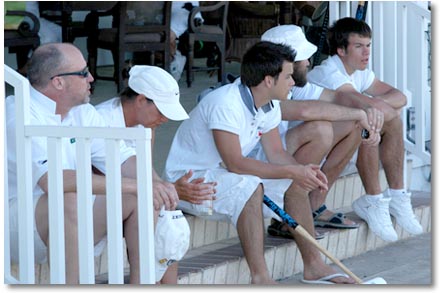 Dan Mol and the incredibly youthful matriarch Paula Mol (on left) pull together with the family at courtside to cheer on a competing family member.
DAN MOL ON THE SIBLING RIVALRY AMONG THREE BROTHERS
My sons Trevor, Tom and Brad were all eligible to play in the High School Championship at the Nationals, but the tournament directors felt there would be little or no competition in that division for the boys, since their reputations had begun to get around. So they agreed to move up to the collegiate level, where they competed against a team from Georgetown University, Davidson College, and a few other locals.

Moving them up proved to be right, as the three 15-year-olds finished first through third in the tournament with a combined record of 30 wins and 8 losses. Six of their losses were to each other! Tom finished first, Trevor second and Brad third with all the genuine collegians looking up.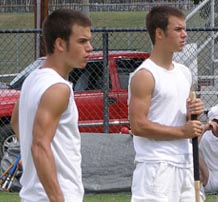 In the best-two-of-three finals match between Trevor and Tom, Tom got off to lead of 6-4 in the first game (games go to 7), but Trevor came from behind and beat Tom, 7-6. Knowing the dynamic between the two, you might think that Tom would fold from discouragement and Trevor would have an easy time of it from there. But Tom won the second game 7-4. With the competitive juices at full flow, it was no surprise to see Trevor vault out to a 4-0 lead in the third game and deciding game, and it looked like yet another domination of oldest twin over the youngest twin. Well, Tom had something up his sleeve all the while, and he gutted out a gritty 7-6 win over a stunned Trevor (and an appreciative audience) by showing the determination and perseverance that no one knew he had.

After expressing surprise at his come-from-behind victory, he calmly told us that before the match began, he had told Trevor, "I'm not going to just let you win". He had become a prophet as well as a winner.

Tom had finished first, Trevor second and Brad third, all of them ahead of the teams from Georgetown University, Davidson College and the locals.

The 2006 National Championship was the first major tournament all the brothers haven't played in together. Trevor, handicapped at 2, with brothers Tom and Brad slightly higher, acknowledges that he's the best player among the three by a currently narrow margin at USCA and "Association" croquet. And he's ambitious. He knows he could set a new mark for the Youth Factor in this sport.

Jacques Fournier, where are you now?

Comparison with Jacques Fournier of Arizona - now retired from croquet in his mid twenties - is inevitable. Fournier started earlier than Trevor and his brothers as a very young child, but they both learned to play in a family of "serious" croquet players - on the family court. After his impressive showing in the Nationals, Trevor told me, "They invited me to play in the Selection Eights." He was obviously pleased with the invitation to an elite tournament designed especially to groom future members of the USCA international team.

Competitive croquet is a big commitment for anyone, and especially for a popular kid in high school who also plays football and basketball. "Which do you prefer?" I asked him. After a long hesitation, he said, "Football." "Good answer," I said. He would have to be "well rounded," wouldn't he, to avoid some razzing about being a croquet player? No, Trevor doesn't think so. He's had plenty of publicity already in local and regional newspapers, and, he says, his classmates think it's pretty cool. "Maybe so," I allow, "because they think you're cool." He doesn't dispute that.

One of these three brothers could become a national champion of USCA 6-wicket American Rules croquet, and it's easy to imagine them all playing in the same championship, and thus tripling the chances for one of them to win. Each of them is playing better day by day – they've got to, because they have brothers to beat! And is there any more effective training program than sibling rivalry? Throw a couple of twins into the equation, and you've got competitive heat near to thermonuclear magnitude!

North Carolina leads the way in youth development

The mid-Atlantic region is the engine driving croquet's growth these days, and that extends from the top-ranked players who anchor America's international teams all the way down to the middle-school level, where North Carolina's Gamewell Middle School has a thriving croquet program, thanks to Bill Hartman, a teacher who saw the potential and made it happen.

Top-ranked American player and organizer Danny Huneycutt has called 2006 a watershed year for youth croquet in the region, citing:
State and regional championships that have included players from Gamewell Middle School, from Davidson College, Georgetown University, and even a 7-year-old competitor from the local Meadows Mallet Club.

The USCA Golf Croquet National Championships designed to include separate Junior and Collegiate flights, drawing 29 players from local universities and from Michigan, held at the North Davidson High School in Welcome, North Carolina.

Close to 90 students in the North Davidson High School Golf Croquet and TopGun Championships, and 40 students enrolled in Gamewell Middle School's croquet club events.

More than 150 students in the croquet program at North Davidson High School, with 25 of them competing in croquet events sponsored by the local Meadows Mallet Club.
The program started by Huneycutt and Jon Essick at North Davidson High School is now, in 2007, in its fourth year, operating under the auspices of Lifetime Sports, devoted to sports not limited by youth and agility. Davidson now has built two regulation croquet courts to support the program – surely a first in American croquet! Mike Lambros, Special Ed teacher and softball coach at the school, oversees the program.
At Gamewell Middle School, teacher Bill Hartman started the program with supersized Toequet and then introduced Golf Croquet and USCA six-wicket croquet. Starting small, it now includes as many as 50 students at a time.
These programs are important not just for the numbers of students in them, but for the successful models of development they represent. Once they're given a choice, students enjoy these wicket sports; that's all school administrators need to know, in order to give croquet a chance on campus, along with the mainstream sports whose appeal are actually more much specialized than croquet, calling for vigorous physical activity and large-team dynamics that do not appeal to many students.
Danny Huneycutt and his pals in North Carolina are pushing hard to establish youth programs for croquet that last, that self-generate, that are built into the annual programs of their sponsoring institutions as surely as football or basketball. It's a tall order, but a promising start has been made. We might not see the proof for another ten or 20 years – after some of these students have graduated, gotten jobs, built families....and have finally chosen croquet as their family sport. Just like the remarkable Mols of Heatherwood Hills.
---