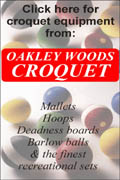 The sport takes root in Germany


by Joern Vinnen
Posted June 21, 2008


---

With only nine places to play "Association" Croquet for roughly 82 million inhabitants, Germany's growing croquet population nevertheless can boast great variety and enthusiasm and venues of surpassing beauty. As in other European countries on the continent with relatively new national associations, much of the development is focused on easy-to-learn, fast-paced Golf Croquet.

---
Our croquet tour begins in Hamburg
The city of Hamburg, in northern Germany with a population of 2,000,000, has three clubs with roughly 60 players who mainly prefer the game of Golf Croquet. At Rissener Sportsclub an old field hockey pitch has accommodated the Queen of Games since 2000, on two lawns. While some players have complained of the poor quality of the courts, others who have been able to execute many consecutive triple peels on them are less complaining. And those who have won tournaments have tended to complain least of all.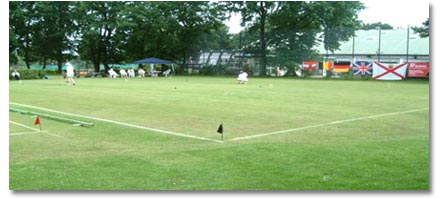 Germany's 2005 Association Croquet Open was played at Hamburg-Rissen.
This is the club where Deutscher Krocket Bund featured their most recent Golf Croquet and International Open tournaments. The sportsclub's main activities are tennis, with 17 courts; and field hockey, for the 2nd German League. Since Hamburg is in the north of Germany, there's light to play all these sports until 11 PM in midsummer.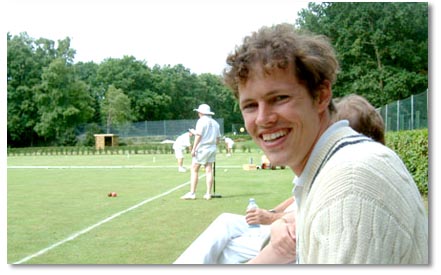 A nice day on the lawns at Hamburg-Rissen brings out all the players.

Invading moles from a nearby forest - often the night before a tournament - are the most difficult maintenance problem at Hamburg-Rissen. The 17 club members try to improve lawns year by year (with limited success so far) by doing almost all of the turf-work on their own and drinking large quantities of beer in the Polish-run clubhouse that also hosts the club's tennis and field hockey players. Main events in 2008 are a Germany-Sweden test match in May and the 2nd German Golf Croquet Open in July.

Many croquet lawns begin as hockey fields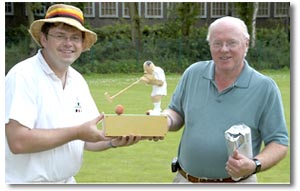 The author (left) presents a distinctive trophy to Englishman Colin Irwin for his fourth victory in the German Open. The German association strongly promotes their open tournaments to international players, ensuring the highest possible level of competition.

Only a few miles distant, on the opposite bank of Elbe River, croquet is played at Heimfeld Tennis Gesellschaft, a traditional tennis and field hockey club. A former hockey pitch was converted into a flat four-lawn croquet field where up to 40 members play the game. The courts are beautifully sited next to a large forest and well suited for Golf Croquet, though the turf of rough hockey-pitch grass is somewhat long. The amenities include a good club house restaurant with a Hungarian menu.

The best maintained lawn in Hamburg is in the Stadie-Family-Clubs garden, manually cut with utmost precision by its owner and mastergardener Siegfried, who never forgets to tell you that it takes him weeks of preparation before a single shot is allowed to be played. On this greenest of lawns, well trained birds (all called with their personal names by the master) pick worms without damaging the lawn or subjecting them to pesticides. This is the home of the Igel-Cup (hedgehog-cup) the unofficial German Garden Croquet Championship. The lawn is not full size and has a "dog leg," which adds to the fun.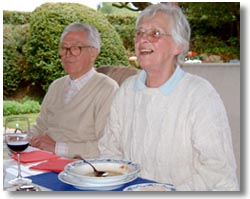 Julia and Siegfried are splendid hosts at Stadie-Family-Clubs, offering both their Gulasch soup and the hedgehog cup for winners.
Further west, close to the naval port of Wilhelmshaven, the marshlands are so flat and green you can play croquet wherever you want! Local cows (and their farmers) will never understand why such glorious milk-cow-meadows are wasted on fancy strangers in white. However, since 1998 Frank and his wife Claudia have presided over a little Croquet paradise on their estate, with 2 ½ full-size lawns that play best after pouring rains! This lawn is where German croquet ace celebrity Rutger Beijderwellen, who lives nearby, first tried the sport. I remember Ron Welsh commenting to me in 2000, "Rutger will be a very good player one day."
Even closer to the Dutch border in the small town of Dalum a completely new private full size lawn was build in 2005 by Eberhardt and Sieglinde Zeh. Here they play with their friends, constantly improving their skills. The enterprising couple learned Association Croquet all on their own, from the books of Laws, without benefit of instruction!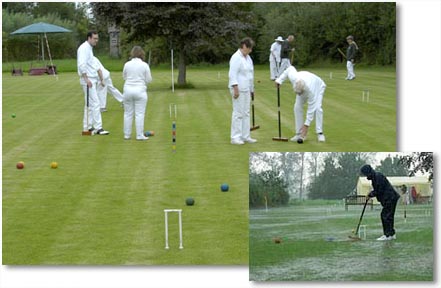 A World Croquet Federation coaching event in Ellens in 2007 was conducted under skies both fair and foul.
An ideal mix of wine, food, scenery, and croquet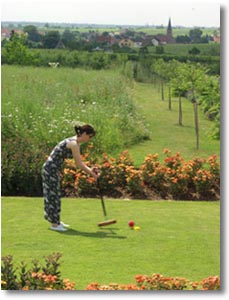 Wachenheim's practice court has a spectacular view of the valley.

Not far away from Cologne in the Westerwald mountains a new croquet community has grown up at Ransbach-Baumbach. The main tournaments are the Ransbach Open and the "Hot Spiced Wine Cup."

In the old Roman town of Bonn (former capitol of West Germany) the Bonner Krocketfreude take good care of the sport. They, too, occupy a former field hockey pitch. Only Golf Croquet is played on the two full-size lawns, enhanced by a well appointed clubhouse. The hospitality of Bonner Krocketfreude is famous throughout the German association.

Traveling further south, the Palatine Wine Area offers excellent croquet at the Buerklin-Wolf winery/Wachenheim, famous for their Riesling. The winery maintains two lawns, one full-size built newly in 2006 and a smaller practice court. The lawns are the centerpiece of an English garden, offering beautiful view over vineyards into the Rhine Valley, and overlooking Wachenheim Castle. Playing here on a Sunday morning, listening to the church bells from the wine villages down in the valley, is an unforgettable experience. Wachenheim hosted the German Association Croquet Championship in 2007. The quality of the wine and the food here rival the excellence of the croquet.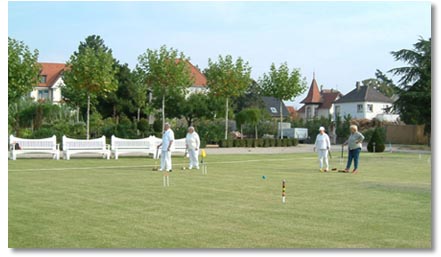 An afternoon on the full size court at Wachenheim.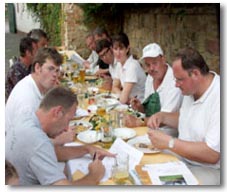 Croquet players have learned to expect gourmet cuisine at Wachenheim croquet events.
In Saxonia, between the cities of Dresden and Leipzig, some of the keenest and oldest croquet freaks survived socialist times. Near Grimma they have created a private croquet paradise with a half-size lawn and a pool, flood lights, BBQ and a spectacular view.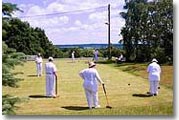 In Saxonia's croquet paradise, a small court is big enough.


Croquet in Germany is in its infancy, with much to come in the future. Feel invited to play with us when you travel in Germany. If you speak German or want to brush up your language skills, see www.Krocket.de or contact me at Jvinnen@yahoo.de.

Anyone interested in finding out more about croquet in the countries affiliated with the European Croquet Federation may contact their national organizations directly.

Austria, www.croquet.at, office@croquet.at
Belgium, www.croquetb.org, johnswabey@gmail.com
Czech Republic, www.kroket.org, presidentACMK@hotmail.com
England, www.croquet.org.uk, caoffice@croquet.org.uk
Finland, www.krokettiliitto.fi, juha.torkkeli@krokettiliitto.fi
France, rodolphe.dourthe@castorama.fr
Germany. www.krocket.de, chairman@krocket.de
Guernsey, sjackson@federaltrust.co.uk
Ireland, www.croquetireland.com, secretary@croquetireland.com
Isle of Man, kevin.wells@manx.net
Italy, www.croquetitalia.it, info@croquetitalia.it
Jersey, www.mnlg.com/jcc, tlm@localdial.com
Norway, www.croquet.no, ncf@croquet.no
Scotland, www.scottishcroquet.org.uk, secretary@scottishcroquet.org.uk
Spain, jlasw@separ.es
Sweden, www.croquet.nu, simon@ekorrviken.st
Switzerland, www.croquet.ch, ian.sexton @cern.ch
Wales, chris@butedock.demon.co.uk
Luxembourg, J.Davis@eib.org


A NOTE ON THE AUTHOR Joern Vinnen, 41, helped to found Deutscher Krocket Bund in 1997 and since then has remained chairman of the German association. He frequently manages national championships and international test matches in Germany. He has a handicap of eight and loves to play Golf Croquet. Joern - who's also into hunting, fishing, hiking, and cycling - lives with his family in Hamburg and plays croquet with his wife Priska and their two children. As an attorney, he specializes in family and probate law.
---