The problem with the Championship Balls


By Alan Pidcock
(English Croquet Association Equipment Committee)
photo by Gail Curry
posted May 11, 2001

---

Alan Pidcock is the person who subjects balls to the testing needed to determine whether they meet the necessary standard to become "officially approved" for Championship play by the English Croquet Association, the WCF, and most of the rest of the croquet world who rely on the judgment of the English Croquet Association Equipment Committee. As the man in the middle of the controversy surrounding the manufacture of what was intended to be the Jaques "New Eclipse", he has announced that the Taiwan ball has passed the critical tests for Approval. He has also broken his official silence on the matter to issue a report to the English Croquet Association, published in the May 2001 issue of The Croquet Gazette. This article is adapted from that report.

---
Many readers will be aware that production of the Jaques Eclipse croquet ball came to an abrupt end in May 1997 in a devastating factory fire that resulted from ignition of the celluloid used for the surface coating. In the intervening period Jaques have been developing a solid plastic ball under the 'New Eclipse' logo and, as the person responsible for issuing Croquet Association (and hence World Croquet Federation) 'Championship Approval' of balls, I have been involved in testing and commenting on the balls at intervals during their development process.

Sadly, I must now report that Jaques have terminated this project for reasons which Christopher Jaques has explained in a letter recently Presented to the CA Council. In essence Jaques discovered that as the ball neared 'Approval' standard and after they had purchased about 5000 balls to fund the development, the agent who was having the ball made for them in Southeast Asia was making strong efforts to sell the ball under other logos on a worldwide basis (including the UK).

Price war deemed inevitable by Jaques

Since the world market for 'Championship Approved' balls is relatively small and the proliferation of sources would make a price war almost inevitable, Jaques decided that the project had become financially unviable and they were in any case unwilling to continue to deal with the agent concerned. At present Jaques are investigating the possibility of producing the ball elsewhere, but it is clear that it will now be some time before any 'New Eclipse' can be expected from Jaques.

Those with Internet capabilities can read a full account of this somewhat tangled web on www.CroquetWorld.com where statements or letters from key parties are given in full. The agent in Taiwan, Richard Wu (Sunshiny Corp.), has emphasised that there was no exclusive arrangement with Jaques and has protested that he would always seek to protect suppliers of his balls within their own sphere of operations.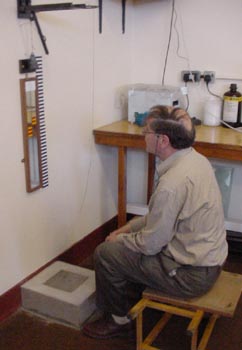 Caption: How high does your ball bounce? Professor Pidcock is prepared to pronounce judgment with his precisely calibrated testing rig.

When the 'Sunshiny' ball was submitted for 'Approval' in April, there were problems with overweight and differences between the bounce height of balls in the set, but the latest set submitted (May) has passed the test and has been awarded 'Championship Approval'. The 'red' ball of the set tested was somewhat maroon in colour and Approval relates strictly to such sets. However, it is hoped that a further 'red' will come for testing in due course and, if its properties conform satisfactorily with the tested set, the Approval (valid for three years under current regulations) will be appropriately extended.

To add further to our woes in relation to croquet balls, the Barlow GT balls which have done so much to raise our expectations of durability and quality in recent years, failed the tests when they were resubmitted following expiry of their 3-year Approval in October 2000. It appears that over time their moulds had deteriorated and the two hemispheres of the resulting balls had become slightly offset; this produced an easily observed effect on the direction of rebound when the ball was dropped on the stepped region of the equatorial line.

Barlow's response to the problem has appeared to me to be exemplary: Although at the time of writing 'Approvable' balls have not been received from Barlow, it is clear that strenuous efforts are being made to rectify the problem and in the meanwhile Barlow has made no attempt to fulfill orders from the defective moulds. We can all hope that GTs that are fully up to their original standard will be available again soon.

Deficiencies in testing required for Approval

These difficulties have revealed a serious problem with the CA's (and by adoption the WCF's) approval process. The test protocol was devised some years ago to provide a mechanism for basic quality control that required only simple equipment which would be easy to replicate at any location. It requires that single set of balls is submitted and if they prove to satisfy the test requirements in weight, roundness, milling and rebound at a single (unspecified) temperature, Approval is given and is valid for 3 years. Second colour balls and the striped balls used in America for double-banked play have never been officially tested.

In tests of 4 year old Barlow GT balls it was noteworthy that a greater proportion of second colour balls were out of specification; unfortunately, none of the balls in question had been tested when new, so it has not been possible to determine yet whether there is a significant effect of aging/use on the balls. Interestingly, in contrast to rumours of softening with age, most of the balls outside the specified rebound range bounced higher than the upper limit - only a few were below the lower limit. Maybe players notice a shortfall in distance and blame the ball, but overhits are attributed to player error!

No screening for batch consistency

Manufacturers appear to produce relatively small batches of balls Essentially in response to orders from their selling agents, and currently there is no independent monitoring process to guarantee that these batches are either internally consistent or have properties that are closely similar to those of the Approved set. Nor, in general, do clubs or Federations (or some countries!) have facilities for screening new balls for departures from the Approved standard.

While it would not be difficult to write a set of stringent regulations for gaining and maintaining Approval, implementation would face at least two major difficulties. The amount of testing required would increase well beyond the capacity of the current single set of testing rigs (and particularly its operator) available to the Equipment Committee. If the costs of monitoring the standard of batches of balls were somehow to be transferred to the maker, would the manufacture of 'Championship Approved' balls continue to be financially feasible?

The English CA's Equipment Committee has been contemplating changes to the test protocol for some time, but felt that it would be inappropriate to propose changes when it knew that balls were in course of development. When the present situation stabilises, it would seem that (at least) some limits on the effect of temperature on performance should be included - especially as we know that it took Barlow several years to build lower sensitivity to temperature into the GT.

The author welcomes suggests and comments from croquet players. Send an email to Alan Pidcock at Pidcock@manorh.u-net.com.

[Post your own comments in our Readers Forum on "Cloning the Eclipse."]

[NOTE: This article was revised from a report in the May 2001 issue of The Croquet Gazette and republished here by permission.]
---