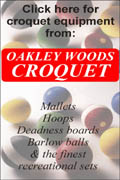 Super-Champ Jeff Soo Tops 2002 Grand Prix


by Rich Curtis
Posted January 22, 2003


---

Rich Curtis, First Vice President of the USCA, took the major role in the design of a complex system that awards points to players in all USCA-sanctioned American Rules and International Rules tournaments based on the strength of the field and the final rankings in each event. Working out the bugs in the automatic calculation and reporting system took several years, and now in its fourth year, the New Grand Prix is working perfectly. The Grand Prix is updated and posted to the USCA Website at least twice a month and often more frequently. The programming permits searches in several categories - including the handicap ranges, which quickly yield the names of players performing beyond the expectations of their official handicaps. Thus, anyone can go for the gold in the Grand Prix. Just play in the sanctioned events, watch your Grand Prix points climb, and track your rankings from week to week.

---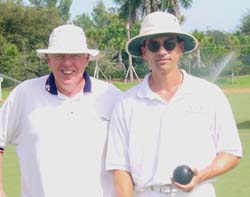 Leo McBride's second-place finish to Jeff Soo in the Grand Prix is foreshadowed in this snapshot from the 2002 USCA National Championships

North Carolinian Jeff Soo outscored everyone else in the 2002 Grand Prix and won his second USCA Player of the Year accolade. Soo's performance capped an impressive year in which he won both the USCA Singles and Double Championships, as well as the USCA International Rules Doubles Championships. Soo performed at a high level in the British-American Solomon Trophy matches and lead an all-North Carolina team to victory in the Carter Challenge (the American Rules aftermath of the Solomon.) He missed the equivalent of a croquet grand slam by coming in second to his favorite partner in International Rules singles. Paul Scott, Soo's partner in both the doubles wins, ended up tenth in the Grand Prix.

Runner-up in this year's Grand Prix was Leo McBride, making his first appearance among the top ten finishers. Leo won both the Mid-Atlantic/New England Single and Doubles trophies in 2002 as well as finishing second to Soo in the National Singles Championships. Rounding out the top five were Kenster Rosenberry (up from 72nd last year), Mike Jenner (tenth last year) and Doctor G himself, Doug Grimsley.

Although Soo has been a frequent presence in the top five finishers during the four years since the Grand Prix has been reinstated - including his win of the 2000 Grand Prix - fully 18 of the 25 players finishing in the top places in each of the five handicap groups this year had never posted a top five finish.

Women rule the 3-5 handicap range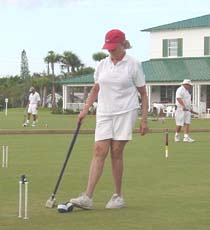 Barbara Leeming of PGA National and Greenwich won lots of her prize-winning points in the 2002 National Championships.

Although there were no women in the top ten of the Grand Prix, they once again made a strong showing in other handicap ranges, boding well for the future. Women predominated in the 3-5 handicap range. Billie Jean Berne took the 2002 title, moving up from third place last year. Although this was one of the few years that she didn't play in the National Championships, Billie Jean had a strong year overall, with doubles wins in the USCA Southeast Regional Championships and the North Carolina Club Teams.

Martha Ramey finished second to Billie Jean in the 3-5 range. Missy won the USCA First Flight Doubles National Championship with her father, Lou Fusz, and finished fourth in singles. Barbara Leeming completed the trio of top women players, grabbing fourth place. Rounding out the top five Grand Prix finishers in 3-5 were Aaron Kurtzman, placing third, and C. LeeThomas, placing fifth. Lee was the USCA First Flight Singles Champion in 2002.

In the 6-8 range, it's Richard Sullivan, Paul Embry, and Jim Armour

Richard Sullivan captured the 6-8 handicap group. Richard won the Merion Invitational and was the top finisher in theWaterford doubles at Merion. Paul Embry finished second in the group and Jim Armour finished third. Stephanie Paduano, who graced the cover of the Fall 2002 Croquet News, finished fourth, in part due to her Mid-Atlantic/New England 2nd Flight Singles win. George Blake, another New York Croquet Club member, took the fifth spot in the group.

Stetson tops in 9-11 handicap range

Four women placed in four of the five top spots amongst the 9-11 handicappers. Jo Stetson, with solid performances in a number of tournaments and a second place finish in the First Flight of theNational Club Teams, finished first. Second was Eileen Holberg, who hones her game during the summer at theClaremont in Maine and in Palm Beach during the winter. Ed Walter of the Patuxent Club finished third. Joy Guernsey-Diesel and Janet White were fourth and fifth, respectively.

University of Virginia student wins in 12 and up category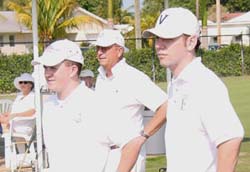 Zach Rawlings (on right) studies the court situation in partnership with his University of Virginia mentor Jacques Fournier on their way to victory at the 2002 Club Team Championships.

Zach Rawlings, a college player at the University of Virginia, won the 12 and over competition. Placing second was MaryWilson, who finished fourth in 2001. South Carolinian Ted Roth was third. He was followed by Norma Jean Loving of the National Croquet Club, who won the group in 2000 and Ellen Taves of the Puget Sound Croquet Club, who was second in the group that year.

The Grand Prix does not reflect the best players in any handicap range, but rather, those players who posted the best performance over up to five tournaments during the year. Players earn handicap points for each USCA sanctioned tournament that they enter during the year. Singles and doubles are counted and both American and International rules tournaments are included in the Grand Prix. The Grand Prix points are calculated based upon a player's finishing rank, the strength of the other players in the tournament and whether the tournament is a club or invitational, a regional championship or a national championship. The full listing of all players in 2002 is available on both CroquetAmerica.com and www.CroquetWorld.com. Anyone interested in the actual formulas can contact me by email at: RGCRover@aol.com.

The 2003 Grand Prix has just begun...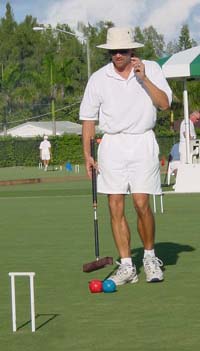 Jeff Soo shows off his thoughtful, deliberate style in a rout of the British for the President's Cup in October of 2002.

The first results to be entered into the 2003 Grand Prix are usually from South Florida annuals such as the Palm Beach Invitational, the Gasparilla, the Laura Hart, and the Beach Club Invitational. Thus Florida players take an early lead in the Grand Prix, only to be challenged later in the year as the northern spring allows play in more northerly climes. Follow the 2003 Grand Prix on the websites as the year progresses and the tournament schedule heats up.

One of the main differences between the new Grand Prix and the old Grand Prix is that players with limited tournament time can still win as a reward for consistent high performance. Although only the five best finishes are counted for each player, the more tournaments entered increase your chances of doing well. That said, even a few good tournament performances can result in a high Grand Prix total. In 2000, Jeff Soo won the Grand Prix despite playing in only four singles events and two doubles events. If you play in as few as five events and perform consistently well, you could win top honors in your handicap range.
---