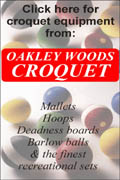 Launching Season One
for Liverpoolís new club


text and photos by James Hawkins,
Croquet World Online co-editor
Posted February 23, 2007


---

Croquet World co-editor James Hawkins boldly announced his Liverpool initiative on this site early in 2006, and the subsequent season he labelled ďSeason ZeroĒ Ė a time for exploration, formulation, discovery. In creating something new Ė even a croquet club Ė the development process necessarily entails embarking on a voyage to the unknown. In Season Zero, there have been many discoveries and many dots connected. Here is the update James Hawkins promised us a year ago. And if you live in the environs of Liverpool, this is your notice to get connected with this new club, starting with a nucleus of 15 members.

---
A year has passed since I received the thumbs-up from Liverpool City Council to set up a croquet club in Clarke Gardens. In Liverpoolís southern suburbia, the park, including its derelict kiddiesí pet zoo, has seen little activity for years. Apart from the occasional dog-walker, no one seems to use its facilities. The old zoo is now overgrown and penned off with security fences. The last of the goats and donkeys were moved away five years ago. The guinea pigs are long dead, and wild foxes are the only residents of the area. The several buildings on site Ė a 350-year old coach-house, stable block and walled garden, as well as a wooden prefab hut (circa 1995) Ė are showing signs of advanced neglect.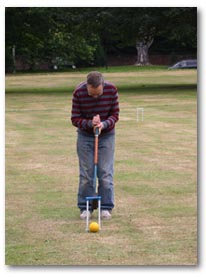 Author and organiser James Hawkins, playing on the newly improvised Liverpool croquet court, finds the playing surface - a close-cut soccer pitch - "surprisingly good, a lot better than some of the established clubs I've played at."
Given the choice, then, between (a) no park users and (b) a croquet club, Derek, my New Best Friend at the Council, has bent over backwards to accommodate my project. We shook hands on the project on a freezing morning in February 2006. Much was left unfinalised at that stage: I was given the impression that maintenance and rent would be nominal charges, that I could use the nearby wooden hut for storage (once Iíd removed the dried-on evidence of the nesting parrots who were its former occupants), and that I could take as much space on the old football pitch as I wanted for croquet lawns.
On the one hand, we had room to start playing croquet on six makeshift croquet lawns, with an option to move into the walled garden and expand eventually to another six lawns Ė space aplenty to eventually become Englandís second 12-court mega-club. On the other hand, I had no money and no members. So Derek and I agreed that 2006 would be a year to test the feasibility of getting the project moving.
That was February. By the time everyone else was dusting down their mallets for last seasonís first tournament, I had a better indication of costs for use of the land: Provisional rent for the site = £0 Maintenance cost = £0. As Estate Manager for all of the cityís (many) parks, Derek seems to have absolute authority to reallocate resources between one area and another. The current vogue for biodiversity allows for a meadow area alongside an intensively mown croquet lawn, without any effect on the total ground staff budget.
Surveying Season Zero
Where there has been an effect, and one to my detriment, is in the renegotiation of employment contracts. Liverpool City Council offered early retirement to many of its staff, and took on new recruits during the year. For reasons I donít fully understand, the departure of the ex-employees was in June, and the arrival of the newcomers wasnít until mid-October. From where I stand, I saw little real interruption in service; Iíd turn up at the weekend, and someone would have done some cutting the previous day. Whether he was out there himself on a tractor, I donít know, but Derek resolved to continue the commitment to mowing and white-lining. It wasnít a precise cut, but I didnít need anything too refined for Season Zero, my test year. If that was the skeleton service, I look forward to the 2007 playing season with some cautious optimism.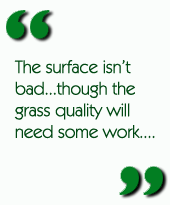 Taking on six lawns for a brand new club is clearly unmanageable. One full-sized lawn divided in two for beginners is plenty, so thatís what Iíve had marked out. The surface isnít bad Ė like anywhere, there are a few hills, and the grass quality will need some work over the coming years. As a newly registered club with the English Croquet Association, Iíve claimed the loan of a full set of equipment under the Development Committeeís new scheme. Iíve borrowed a further set of hoops and balls from Southport. So in Season Zero, lawns have been acquired, maintained and equipped for next to nothing. All is exactly as I anticipated.
Confronting the unexpected and going with the flow
But no, not quite: Just as I thought I was the only interested party for the use of Clarke Gardens, Derek and his colleagues were meeting with another organisation. Independent Living Association (ILA) is a local body catering for the needs of adults with learning disabilities. Looking for a centre in which to provide social support, employment and teaching of life-skills, they have their eye on taking occupancy of the old coach house and its surrounds.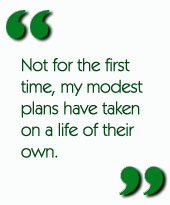 Itís funny how things turn out. Derek mentions my rival interest in the use of the site to Richard, whoís leading ILAís proposed project. The next day, Richard emails me and asks to join my club. It turns out he was a keen garden player 30 years ago at college, and wants to resume his interest in croquet. Not for the first time, my modest plans have taken on a life of their own. Potentially, ILA has the resources to draw down several hundred thousand pounds to develop the buildings in the park. The croquet club would become an external community group sharing the use of their facilities and vice versa. I let his members have dedicated access to the lawns for golf croquet for a couple of mornings a week, and he lets my members use the toilets and the kettle in his new centre.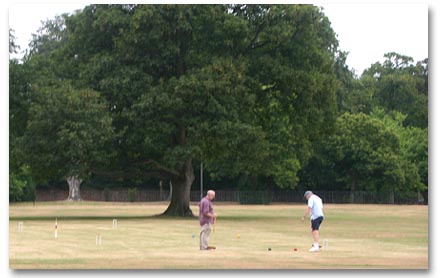 The first croquet game in Clarke Gardens was played by Peter Bundred and Richard Hook.
Iím placing quite an optimistic spin on the situation. Perhaps itís fair to do so. I could have found myself with either no competition for use of the park (a politically insecure position), or hostile competition (which would make life intolerable). In many ways, this seems, cautiously, to provide perhaps the best possible fit. Only time will tell how our relationship plays out.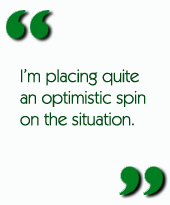 Iíve been taken aback by the emergence of new recruits like Richard. I didnít finally sign any contract for use of the land with Derek until early July. The opportunity to recruit formally had slipped away from me for the season. 2006, according to my schedule, was only a time to iron out the teething problems with the Council, and to get together a list of potential members who might join the project when I start in earnest in 2007.
Already Iíd found a few established players from other clubs; Steve Lewis, a top-ranking Bowdon migrant now lives a couple of miles away in Wavertree, renegades from Southport and Chester have pledged to give their support, and Iíve had unanticipated contact with Liverpool-connected players from as far as Tyneside and Surbiton. But Iíve had beginners clamouring at my door too. There have been approaches from the husband of someoneís work colleague (God knows why they were discussing me), and from the friends of a friend of someoneís friend, who have all been discussing the club at the office water-cooler, or in the pub. In all, Iím probably headed towards my first real season with 15 or so full playing members signed up. And Iíve yet to lift a finger.
The problem Ė and itís a big problem - is storage. Derek had promised me a lockable wooden shed / ex-aviary. By July, its decrepitude was more apparent, and its usage was deemed unsuitable. So, throughout the season, all club equipment remained in the back of my car. If anyone came to play, they had to wait for me. If I was out of town, the club ground to a halt. For the duration of the season, Liverpool Croquet Club and James Hawkins were one and the same person.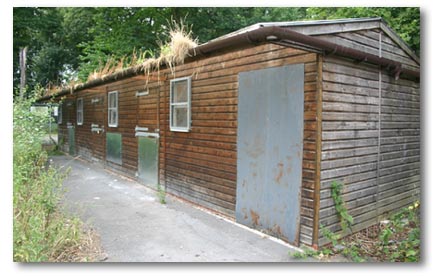 This abandoned birdhouse was offered for croquet storage but later found too decrepit and insufficiently secure.
All an outsider saw was me, getting my equipment out of my car, carrying it to my croquet lawn and playing a game with my friends. There was nothing anywhere to indicate a public activity. So how could I make that leap? How do I show them that I mean business, that this is for real and not some personal pipe-dream?
Getting ready for Season One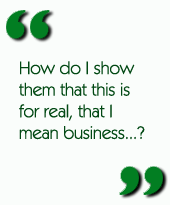 The answer is, of course, to get on with things. The new season, Season One Ė commencing after Easter - has to start with as much play on the lawns as possible. Iíve got to convert all my pledges of membership, from new as well as established players. Iíve got to sort out the storage issue, even if thatís just a big steel shipping crate and a padlock. Iíve got to make sure Iíve enough equipment to cater for all these enthusiastic croquet players. And I need to establish the group as a real club, a functioning entity with the power and the intention to govern itself and get things done.† A time will come when I can step to one side, and settle down to other projects.
In the meantime, Derek is the best resource a club could ever have. Heís been looking down the back of the Liverpool City Council sofa, trying to find if thereís a missing couple of thousand quid for spending on a temporary hut. Through him Iíve finally found the right person to speak to in the Councilís Sports Development office. And thatís led to the discovery of the local grants system.
Liverpool: European Capital of Culture in 2008
The Liverpool Culture Company has been set up to organise events for Liverpoolís tenure as European Capital of Culture in 2008. Theyíve a pile of money sloshing around for community arts and sports projects. If I have my way, some of that cash will be coming to me to finance the purchase of equipment. I may not have storage finalised by then, but by Easter when the season starts, Iíll know whether Iíve got enough financing in hand to allow the club to move forward straightaway and grow to the next level.
Season One promises to start with everything we need: grounds, maintenance, a nucleus of players, a functioning and growing club, storage, and the good will and support of the community and the Council. Fingers crossed.
EDITORíS NOTE: To establish his Liverpool Croquet Club, Croquet World co-editor James Hawkins has taken on the one essential commitment needed for any fledgling club to succeed: the determination to make it happen, no matter what. Many have done the same, throughout the world, wherever Association Croquet has taken hold. The extraordinary thing about Hawkins and the Liverpool Croquet Club, however, is the thorough and ongoing documentation of its development, reported yearly on this website. This is the second of many instalments. We intend to look back a decade from now and review not only what happened in Liverpool and how it happened, but also the expectations and the turns of fortune along the way, the entire course of development as it is actually happening, month by month and year by year. The next instalment will be about what happened in Season One upcoming: The Liverpool Project, Part III. If in the meantime you want to get connected with the Liverpool Croquet Club in any way, contact James Hawkins.
---