Citing various code violations largely centering on the Festival Tent erected as a hospitality center for lawn events, the Palm Beach County Planning and Zoning Commission yesterday ordered the National Croquet Center to cease all playing activity on the lawns. The tent is being taken down today.
This decision was made in a meeting with the Commission that included General Manager John Curington, architect Digby Bridges, and representatives from the Lake Patrick Homeowners Association.
The draconian action was taken in the face of strong support from the local residents represented by the Lake Patrick Homeowners Association, who stated that they are fully supportive of the Center's presence and have no problem with its day-to-day operation.
The Commission decreed that the Center should not operate as a playing facility until the main building is completed. In the view of Curington and others, this position contradicts the Commission's stand on other recently constructed nearby facilities - including the Trump International Golf Club, where golf was played long before the main clubhouse was finished.
The Commission will review its position in another meeting on March 6th, along with the state of compliance of the National Center. Although there is some optimism that the severity of the order will be considerably moderated, there is no assurance that the lawns will be reopened for play in the foreseeable future.
At the same time the Commission shut down the lawns for play, they cleared the way for the essential Certificate of Occupancy for the 40' x 100' Utility Building where the staffs of the USCA, Croquet Foundation of America, and the National Croquet Center will be housed. The Commission also released the hold on the building permit for the clubhouse, dependent only on the installation of a sewer line.
Except for the missing sewer line and electrical connections, the Utility Building has been fully prepared for occupancy, with the USCA/CFA staff space in one large corner room, and the temporary Pro Shop at the other end of the building, along with two tiled restrooms.
Although daily play at the Center has been stopped, the Center's management intends to seek "special event" permits to allow major scheduled tournaments in March to proceed - especially the back-to-back National Golf Croquet Championship and the Club Teams, March 10-18. If these events cannot be held at the National Center, they will be moved to other nearby venues.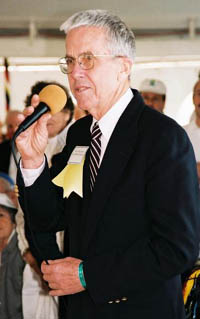 The mayor of West Palm Beach - shown here speaking at the Center's official opening - is one of many local notables who have come to the Center and pronounced it an unqualified boon to the people and the county.

The surprising action of the Palm Beach County Planning and Zoning Commission follows two full months of operation at the National Croquet Center, beginning with the opening of the lawns for play on December 2nd, and continuing through the Official Opening and Launch Week Festival in late January. The playability of the lawns and the overall state of readiness of the Center have been widely praised by USCA players and visitors alike.

The Community Service Programs of the Center have been successfully launched and well attended by the public - including a free "Introduction to Croquet" on the first Saturday of each month and Golf Croquet on the first and third Wednesdays. The local press have favorably reviewed the Center, and productive relationships have been formed with many businesses and public and private institutions in the county. Getting underway in mid February is the Youth Development Program, seeded by invitations to athletic directors from 50 local high schools to come to the Center for a presentation on golf croquet and the establishment of an ongoing youth program using the Center as the site for intramural competitions and for an expanded summer program for Palm Beach County youth on the Center's 12 lawns.

Planned for March is the annual spring picnic for the Chamber of Commerce, the monthly meeting of the Palm Beach County Sports Commission (with whom the Center had hoped to participate in their annual Youth Festival in April), and the monthly gathering of the Hospitality Sales and Marketing Association. Numerous appointments have been made with event planning firms and local corporations interested in corporate memberships and events at the Center.

All this activity has come to a screeching halt as a result of the Comission's drastic action. Most of it will have to be replanned and rescheduled for the future, at the cost of considerable time, energy, money and momentum.

The good works of the Center through the Youth and Community Service programs have apparently not impressed the Commission. Although the "votes" for the Center from the public, the business community, the press, and numerous civic and county agencies have been overwhelmingly positive, these opinions, so far, have not counted with the Commission.

Daily unscheduled play by members of the National Croquet Club has been increasing daily and weekly. A special "Valentines Week" of events was promoted by mail to all the South Florida members. Members will be compensated in some way for the loss of playing time.

Further developments will be reported here as they occur.

- Bob Alman
Acting Director of Marketing and Community Affairs
National Croquet Center
West Palm Beach, Florida


[Photograph by Arthur Bagby]
---