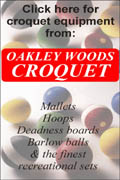 Croquet in a desert oasis paradise

by Bob Alman
watercolors by Veronica Branger
photographs by Leo Nikora
Posted June 13, 2010


---

Mission Hills Country Club has a thousand residences and all the country club amenities, just minutes away from Palm Springs, excelling in golf and tennis - and croquet. It's the best current model for the co-development of a croquet facility within a country club. The Mission Hills management - ClubCorps of America - saw the possibilities for using croquet to create and expand grass-court tennis and financed several stages of growth in the first ten years of the club. By the second ten years, just ended, Mission Hills real estate was drawing croquet players from across the country buying to a retirement paradise with world-class croquet. By 2005, when Mission Hills hosted its first National Championship, players had begun to refer to the club as the National Croquet Center West, with its ten-court capacity and ability to host virtually any national event and most international ones as well.

---
It started small. In 1989, locals Pat Apple and her friend Nancy Duepree asked the country club management to mow a patch of grass for a croquet-themed charity event. The affair went well, and the management suggested they start a croquet club. Soon, they had one excellent full-size croquet court, a small membership limited to Mission Hills Country Club members, no experienced USCA players, and lots of arguments about rules.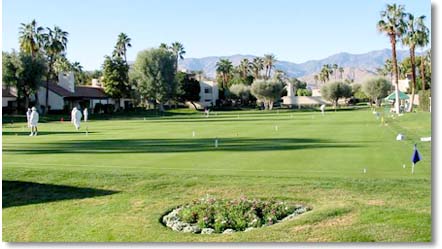 The original three courts are the ones most used for regular club play.
As word spread about the new court in Rancho Mirage, players and coaches from both Southern and Northern California as well as Arizona showed up to teach, advise, and run some small tournaments. Within a few years, with three lawns, Mission Hills became the annual site of the US Open, an International Rules tournament that is the only surviving remnant of the American Croquet Association organized in the late eighties by Stan Patmor and other Arizonans to promote International Rules play.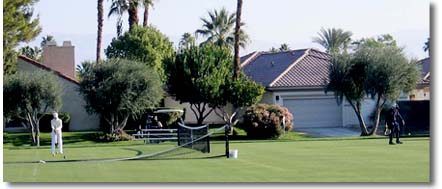 The peaceful co-existence of croquet and grass-court tennis is mostly a matter of scheduling and benefits both sports at Mission Hills. The closeness of resident housing is not nearly the problem it might be for a sport like golfing.
By the time Dick Tucker and Ellery McClatchy bought into the desert paradise in the late nineties, the membership was expanding, but the big spurt of growth came when Jim and Phyllis Butts moved in from Los Angeles and proposed to build beyond their three original courts. It was Jim who pressed the case for dual use with tennis courts, by offering to raise half the cost of sodding the expansion of the first three lawns and two new ones to make it possible for the croquet courts to do double duty as grass tennis courts. This brilliant and brilliantly obvious strategy worked.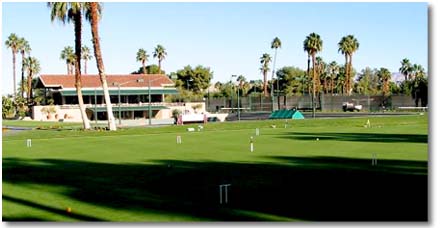 The proximity of the Tennis House to the courts makes it a popular choice for croquet lunches.
So the club grew from about 30 members in 2002, when Jim and Phillis arrived, to more than a hundred in 2009, with tournament capacity expanded to ten courts. Clearly, grass court tennis and croquet would not be nearly as successful at Mission Hills without an extraordinary degree of mutual support and cooperation with the management. (If only lawn bowlers, croquet players, and golfers could learn this same lesson, all the lawn sports would grow and prosper together!)
Club President Jim Butts sees nothing but continuous expansion ahead, with membership at 130 and constantly climbing. Obviously, there has been a "critical mass" of growth to fuel future growth, with sound management - which is a given. When asked what the upper limit for croquet membership is, Butts replied, "About 500." That sounds reasonable.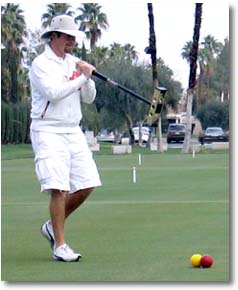 When Ben Rothman begins his full-time stint as club pro for the six-month season starting in November 2010, Mission Hills will join the top ranks of croquet facilities in the world for the quality of its teaching and tournament-directing capacity as well as the number and excellence of its courts.

The croquet club has been smart by keeping initial croquet membership fees low - little more than at a good club on municipal turf. After you join the Country Club with at minimum a tennis-level membership, your croquet club membership is only $180 single, or $280 for a couple. And we'd bet that long before that number is reached, there will be even more tennis/croquet courts built by the savvy ClubCorps people. How savvy? Butts says about 60 croquet members live in their own domiciles on the country club grounds, and that at least 25 croquet players have moved to the Coachella Valley because of the croquet at Mission Hills.

If you can trust the trend line, Mission Hills will max out membership long before another decade passes, with what will then be the biggest croquet membership facility in the world. And why not? The National Croquet Center in Florida shows occasional promise of restoring its early pace of membership development, but the fact is that the USCA headquarters facility's membership stands today at about 230, down from its high of 375 in 2004, and the NCC doesn't have a full-time, on-site manager. But ClubCorp of America - Mission Hills' owner - has already demonstrated consummate expertise in development by combining grass-court tennis and croquet to grow both sports in tandem. ClubCorp has plenty of experience in creating attractive living environments, with 170 clubs around the world, including 26 states of the USA - business and sports clubs, country clubs like Mission Hills, and golf resorts.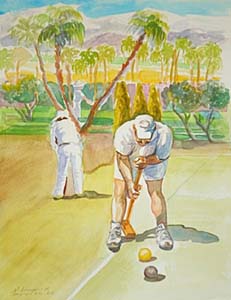 Having big tournaments for tennis or croquet is mostly a matter of cooperative scheduling. And the Mission Hills Country Club benefits from the publicity croquet offers (like this article) as well as the revenue from numerous high-season multi-day events such as the US Open, the Mission Hills Invitational, the Desert Classic, and the USCA national championships, which go west every several years in both American Rules and International Rules. It seems inevitable that major international WCF events will be held there also, to follow up on this year's Solomon Trophy test matches between the US and England, which the US won for the first time at Mission Hills.

Looking to retire in a croquet paradise? If you're inclined to go east, consider Palm Beach County for its National Croquet Center, with 12 lawns, a beautiful clubhouse, and a court-saturation point nowhere in sight. If you go West, you have only one reasonable choice: Mission Hills.

ABOUT THE ARTIST:
Born in Paris, France, Veronique Branger is an accomplished muralist and painter who has lived and traveled around the world, finally settling in the Coachella Valley. She studied at the National School of Fine Art in Lyon, France and continued her artistic education in San Francisco, California. She began her career as a graphic painter and project designer producing forty urban large-scale murals in collaboration with architects and city planners in France, Spain, Mexico and the United States. She enjoys working in all media and especially likes the spontaneity, playfulness and freedom of watercolor painting, in which she executes commissioned work of all sizes.
---