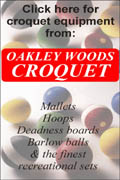 Pasadena challenge match showcases fast-paced
twist on an old and slow sport


by Bob Alman and Eric Sawyer
photos by Eric Sawyer, Mohammad Kamal, and Genie Hendry
poster by Dylan Goodwin, Croquet Network Magazine
Posted October 17, 2010


---

CROQUET WORLD has never before devoted its main page to promote an upcoming local event, but we have an excellent reason for doing it now. This Pasadena event is a model that will be duplicated in many American cities and, we believe, in many other places where croquet is played around the globe. Croquet purists say that Golf Croquet is to "real croquet" what putt-putt is to fairway golf; or that "real croquet" is chess, and Golf Croquet is checkers. Croquet publicists are fond of telling readers that croquet is "chess on grass." Which is true, but how many people are willing to hang out with "real croquet" long enough to break the code, much less learn to use it? This much is incontrovertible: Golf Croquet, newly imported from Egypt, has a lot more in common with traditional sport than "real croquet," in the clarity of its rules, the transparency of the tactics, the pace of its play, and the entertainment value it quickly delivers to players and spectators alike. All of this will be obvious in Pasadena and in countless future local editions of this ground-breaking national Golf Croquet Exhibition Series.

---
The Pasadena Croquet Club is hosting a Golf Croquet extravaganza the weekend of 6-7 November 2010 - which happens to be the weekend before the Golf Croquet National Championships at the Mission Hills Country Club in Rancho Mirage, California, November 10-13.

The highlight of this exciting demonstration event is a Golf Croquet Challenge Match between Croquet pro Ben Rothman and Pasadena Croquet Club championship player Mohammad Kamal, on Saturday, November 6th at 1:30 pm at the Pasadena Croquet Club.

The event is free and is open to the public. And there's much more than the exciting challenge match. After the match, Ben and Mohammad will do a jump-shot demonstration, culminating in their selecting members of the audience to join their respective teams for an impromptu jump shot competition, after demonstrating some pointers - just to prove how easy and fun it is. The entire affair will take less than two hours.

Fast action, play-by-play, scoreboard

Do you think you might not be able to follow the action? Wrong! Golf Croquet is played as a hoop-by-hoop competition, with each player jockeying for position to score each hoop point in the order of the course. That will include blocking the opponent's ball, knocking the opponent out of position - sometimes as much as 90 feet out of position! - scoring very long and seemingly miraculous hoop shots, and jumping over the opponent's ball to steal the hoop point. (The jump shot is an invariable crowd pleaser, and it's not nearly as difficult as it looks, if you know how.)

If your attention should wander (not likely), don't worry, because play-by-play narration will make everything clear as it happens, and you can follow the players' progress on the scoreboard. Live TV is unlikely, but spot news coverage is a strong possibility, and a video crew will be on hand to record the breakthrough event for the U.S. Croquet Association. The video will be available through the USCA central office.

But wait, there's more!

Spectators and others can try their hand at the game the next day, on Sunday, November 7th at 10:00 am on the courts of the Pasadena Croquet Club. Experienced Golf Croquet players will pair with you and other novices to compete in a tournament for prizes. And it's all free.

Ben Rothman, overall top-ranked croquet player in North America, makes some flashy moves in "Battle of the Pros" at Mission Hills Country Club, Rancho Mirage, California, where the USCA Golf Croquet Nationals
will be played November 10-13.


Mohammad Kamal, top-ranked Golf Croquet player in the U.S., demonstrates the jump shot at the Beverly Hills Croquet Club in Roxbury Park. He mastered Golf Croquet in Egypt and now lives in Southern California.

Ben Rothman, 26, is the national champion and top-ranked croquet player in all of the Americas, ranked #7 in the world. Mohammad Kamal is the reigning national champion of Golf Croquet in the United States and the highest ranked American Golf Croquet player. Both Mohammad and Ben have represented the United States on various international championship teams. They hit hard, their hoop-shooting is amazingly accurate, and you'll see some unbelievable shots made in fast-paced competition - nothing like the images you carry in your head of the elite, laid-back, casual backyard game.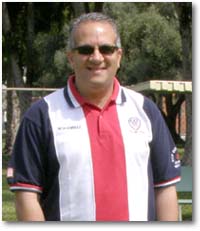 Mohammad Kamal

And in fact, you'll be free to scream and shout and even trash-talk - at appropriate times, of course - when the spirit moves you, just as they do in Egypt, where this exciting game was introduced and has been in development for more than 50 years. Egypt is still the dominant power in the game, but is currently being challenged strongly by top players in England, Australia, New Zealand, and the United States.

This is a rare opportunity to see players of the highest caliber compete against each other in a direct challenge match. Benches will be provided for spectators around the two-court facility, but it's likely the crowd will exceed 100, so to be safe, bring your own folding chair or stool. If you're in Southern California, you can come. If you're not, contact the USCA through their website to be notified of a similar event in your area.

WE WANT YOU!

The image the United States Croquet Association (USCA) has projected since I started playing croquet in 2000 is that of a bunch of older white men who hang out at opulent country clubs in Palm Springs and Florida, and play a game more complicated than the version I played when I was young. Woman don't seem to be very involved. Don't even bother looking for minorities. If you can't afford to join a country club, forget it.

That's the image, but it's not supported by the facts - especially now that Golf Croquet, which can be learned in minutes, is becoming a club staple everywhere. Croquet is much less expensive than golf, and there are more and more public clubs - like the ones in Pasadena's Central Park and in Beverly Hills' Roxbury Park.

If you're interested in a fun sport good for the heart and mind, we want you! Croquet is the ultimate social callisthenic, which men and women can and do play on an equal basis, so bring the spouse or friend and make a party of it. If you don't know how to play, we can teach you Golf Croquet in ten minutes. If you already play, we'll show you how to play better. Regardless of your age, sex, race, income level, whether you are a student, a full-time worker, or retired: We want you! And we're making it so easy! Most clubs in America - and in other countries as well - will be happy to put a mallet in your hands and teach you Golf Croquet. We're making a point of that in Pasadena, with a two-day event that's really a one-two punch. Come out to the Saturday event, the Sunday event, or both. You'll be amazed at what the experts can do, but you'll also be surprised at your own expertise, after just a few minutes with a mallet in your hand.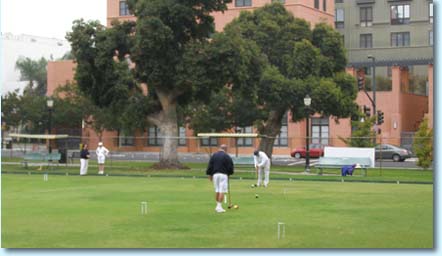 In Pasadena's Central Park, the Pasadena Croquet Club shares two excellent lawns with the Pasadena Lawn Bowling Club. Both sports call for close-cropped, fast and level turf.
THE PASADENA CROQUET CLUB is at 275 South Raymond Avenue, Pasadena CA 91105, in Central Park; the cross streets are Del Mar, Fair Oaks and Green Streets. From the 10 Freeway, take the 110 North, continue to the end of the freeway, which becomes Arroyo Seco Blvd. Turn left onto Del Mar and right onto Raymond. From the 210 freeway, exit onto Del Mar, turn left onto Del Mar, then left onto Raymond.
There's no need to reserve for Saturday's EXHIBITION MATCH, but do email me a note to reserve your place for the novice instruction and games on Sunday if you already know you're coming.
Eric Sawyer, ecsccs@sbcglobal.net
USCA District President, Southern California
EDITOR'S NOTE: If you don't live in Southern California, don't worry. There are USCA clubs all over the US and Canada country who are waiting to hear from you. See the USCA Website and look especially at the CROQUET CLUBS DIRECTORY to find the courts nearest where you live. Most of those clubs are waiting for your call.
---