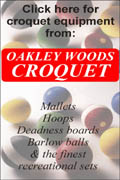 Patuxent Spring

Text and photos by Lee Hanna
Posted May 30, 2001
---

This is too soft a story for Croquet World Online Magazine: winter ends, the lawns green up, and you celebrate by having your first club tournament of the playing season. Lots of clubs do that. But Patuxent added a twist, played the tournament, took pictures, and sent us this little story. We're running it because it's our magazine, and we can publish whatever we please.

---
Saturday Morning, May 5, dawned beautiful on Peachwood in Howard County, Maryland, as some 24 croquet players from Delaware, New Jersey, Pennsylvania, Virginia and Maryland gathered for a Fun Weekend of Croquet to benefit the National Croquet Center. When Larry Moore, President of Patuxent Croquet Club, first proposed the idea to the club's Board in March it seemed that the first weekend in May would be a perfect time to have some fun and raise some money for the new national home of croquet in West Palm Beach, Florida.

The concept was pretty simple: Patuxent would host a hi-lo doubles, two-day weekend event. Patuxent would provide all of the meals for the two days and lodging for the out of town guests. The only thing asked of the players was to bring a blank check for a donation to the Croquet Foundation of America for the National Croquet Center.

As the spring wore on, with pretty lousy weather, we worried, "Would we be able to have such an event so early in the season?" The planning progressed and all 24 slots to play on the two courts at Polly and Larry Moore's beautiful home were quickly filled. Indeed, the azaleas blossomed right on cue and the lilacs and wildflowers began to burst their buds.

The four blistering hot days for the beginning of May turned into cool, sunny, gorgeous weather on Saturday morning and at 9:00 on Cinco de Mayo, play commenced. With handicaps ranging from 0.0 to 20.0 there was ample opportunity for the "hi" players to learn a lot and for the "lo" players to hone their skills at extracting themselves from unusual positions. The "lo" players were permitted only three wickets per turn, but "hi" player Ed O'Laughlin was able to exceed that number and practice his break play. Kenster Rosenberry seemed unable to lose, no matter his partner, whereas others seemed not to be able to buy a win.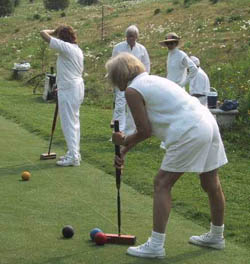 Thanks to Terry Cunningham's volunteer effort as "Director," everyone got in as many games as they wished. Most played at least four the first day, some as many as seven. Showing great unselfishness, Anne Morris and Linda Prickett opted out of one last game on Saturday to help prepare the dinner that evening. Day One ended with Sally and Bass Windmill taking on Polly Moore and Tom Hughes in a game that concluded with 12-ball deadness and no apparent winner.

Linda Moreau and Lee Hanna provided lunch courtside on Saturday. Virginia Million and Mark Goodwin put together a Saturday night barbecue. The entire group was treated to cocktails and dinner at Tillie Bayless's home, where she once again proved that she is the hostess with the mostess. All players adjourned to their various assigned sleeping quarters early, after a pretty full day. Barbara and Tom Hughes, John Oehrle and Polly Moore, however, seemed not to have played enough croquet to tire them out and stayed up until the wee hours playing bridge, winner and stakes not revealed. It can be revealed, though, that Maryann Curione won the Kentucky Derby pool.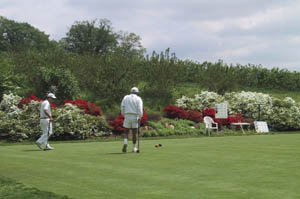 Sunday proved to be another beautiful, but very cool, day. Players seemed not to have gotten enough of croquet on Saturday and Bob Brotzman and Bo Menton arrived at the exceptionally early hour of 8:15, well in advance of the 9:00 start time. With the arrival of two other early birds, Rufus Bayard and Hope Browmwell, who seems only to play croquet at Peachwood, play commenced for Day Two. Once again, everyone got as many games as he or she wanted. People began drifting back to their home states after lunch, but play continued late into Sunday as well.

The Fun Weekend of Croquet raised $1,570.00 to support the National Croquet Center. Members who weren't even able to play during the two days, such as Chuck Walts and Marion Thorpe, contributed to the cause as well. It was a grand and productive way to kick off our 2001 croquet season. The members of Patuxent Croquet club hope that other clubs will follow our example and come up with creative ways to enjoy the game and support the building of the National Center.
---