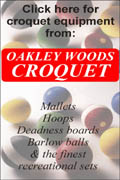 Purse tallies up in 2002


by Garth Eliassen
Posted January 29, 2003


---

Under the editorship of Garth Eliassen, The National Croquet Calendar has become the most faithful chronicle of croquet in America, year after year. Eliassen produces a detailed list and analysis of purse play annually. When he inaugurated his annual analysis of purse play in the mid eighties, confidence in the eminent growth of the sport was boundless - as presaged in purses totaling tens of thousands of dollars at Meadowood Resort in Northern California and other notable venues of the period. Since then, the ebbs and flows of the annual total have been pathetically insignificant. Nevertheless, we are fascinated. As we read the numbers, we ponder the future of organized croquet and dream of a breakthrough evidenced by televised matches and major corporate sponsorships, and measured by the universal constant of the consumer society: money.

---
Purse play rose last year to $25,197, the highest level since the big-buck salad days of 1988 and 1989 when hefty pro tourneys laden with sponsor support sent annual totals souring over $60,000.

The demise of the Sonoma-Cutrer World Championship takes a huge chunk out of the annual purse totals.

The purse news isn't all good, however. The annual totals could dive-bomb in 2003, unless the Wine Country World Singles Championship, given the boot by Sonoma-Cutrer Vineyards, can find a new home, maintain its sponsors, and continue to attract the Bay Area society that supported the annual auction and made the tournament into a showcase event. Last year the World Championship gave over $1 million to charities and paid out close to $10,000 in prize money to participating players who made it to the finals playoffs in the golf croquet warm-up and the main event.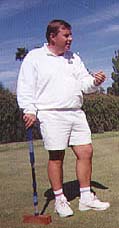 As the top player of the 90's, Robert Fulford reaped his fair share of the loot, to top the list of all-time purse winners.

Helping to buffer the effect if the World Singles is lost, however, Danny Hunneycutt of North Carolina is debuting a "Croquet Fever" competition offering purse play in eleven or more venues stretching from the National Croquet Center in West Palm Beach through the mid-Atlantic states.

The other big news this year is that Reid Fleming, who has topped the overall list of purse-winning players every year since 1988 when the Calendar began compiling the records, has finally been displaced to second place in the rankings. Robert Fulford of England - the past and now once-again World Champion - is the upstart who dumped him. Fulford has been climbing steadily, benefiting in recent years from significant wins in Sonoma's World Singles.

Fulford took second place the 2002 tally, winning $2,500 and boosting his overall winnings to $20,600 in eleven tournaments. Fleming's total remains - as it has for many years since he retired into recluseness back East - at $18,387 in fifteen tournaments.

Meadowood pro Jerry Stark stays at third place in overall winnings with $14,750 in fourteen tourneys, and former Sonoma-Cutrer pro Neil Spooner - another croquet recluse who fled Down Under years ago - maintains fourth place with $13,725 in eight tournaments.

Bamford hogs the cash in 2002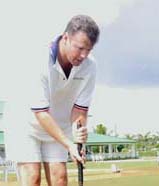 Reg Bamford ruled the world rankings in 2002 and won the biggest purse.

Reginald Bamford was 2002's top dog after taking first place and the $5,000 prize at Sonoma-Cutrer. Second was the aforementioned Fulford who lost to Bamford in the final. In third place for the year's winnings was Ken Rosenberry, who scurried hither and thither to pick up $1,810 in four tourneys; he was followed by another active purse player, Leo McBride of Canada, who picked up $1,550 in three tourneys.

Other top winners in 2002 were international-rules players Mark McInerney, Stephen Mulliner, Matt Burrow, Jacques Fournier, Martin Clark, and Mik Mehas.

In addition to Sonoma-Cutrer, top purse tourneys reporting to the Calendar were the Resort Invitational with $3,500 purse, Peachwood Classic awarding $3,000, the Minnesota Open with $1,450 purse, the Belvoir Open with US$1,300 purse, and the Delaware Association Rules Invitational offering $1,200.

Other tournaments awarding smaller purses were two Sarasota Invitationals, Dallas' Croquet Decathlon and St. Patrick's Day Tournament, the North Carolina Open, West Coast Classic, Seattle Open, International Rules Championship, Ottawa's Red-Black-Yellow Tournament, the Owensboro Open, the Country Boys, a Sonoma-Cutrer qualifier in November, and several PGA tourneys recycling entry fees.

Eighty-two players won prize money in 2002, up from 70 the year before.

Following the purse amounts in parentheses are the number of purse tournaments, if more than one, that were used to comprise the total. Asterisks indicate nine-wicket play. Amounts awarded in Canadian dollars were converted to U.S. dollars based on the exchange rate at press time of .65 American dollar to one Canadian.

Annual purse totals from 1987 through 2002

1987 $15,000.00
1988 $75,350.00
1989 $64,365.00
1990 $10,587.50
1991 $4,990.00
1992 $8,590.00
1993 $18,115.00
1994 $11,620.00
1995 $11,953.00
1996 $11,810.00
1997 $18,577.00
1998 $18,185.00
1999 $22,272.00
2000 $18,348.00
2001 $22,221.00
2002 $25,197.00

2002 purse winners

1.  Reginald Bamford $5,000.00
2.  Robert Fulford $2,500.00
3.  Ken Rosenberry  $1,810.00 (4)
4.  Leo McBride $1,550.00 (3)
5.  Mark McInerney $1,500.00
6.  Stephen Mulliner $1,000.00
7.  Matt Burrow $1,000.00
8.  Jacques Fournier  $900.00 (2)
9.  Martin Clarke $600.00
10. Mik Mehas $500.00
    George Parker $500.00
12. John Osborn $440.00 (2)
13. Brian Cumming $430.00 (2)
14. Mark Suter $400.00
    Doug Grimsley $400.00
    Mark Goodwin $400.00
17. Louis Nel $380.00 (3)
18. Curtis Drake $360.00 (2)
19. Jim Butts $300.00
20. Stewart Jackson $275.00 (3)
21. Jim Houser $250.00
22. Wayne Synan $200.00 (2)
23. Antony Whiley $195.00
    Wally Clark $195.00
    Mary Cahill $195.00
26. Tom Hughes $175.00
27. Aaron Kurtzman $125.00
    Roy Gee $125.00 (3)
29. Rory Kelley $100.00
    Mike Weimerskirch $100.00
    Carl Uhlman $100.00
    Danny Huneycutt $100.00
    Carolyn Danz $100.00
    Rich Curtis $100.00
    John Springer $100.00 (2)
    Bill Copeland $100.00 (2)
37. Paul Hall $97.50
    Ron Schuster$97.50
    Roger Tallentire $97.50
40. Wynand Louw $80.00
41. Howard Allison $75.00
    Rick Wilhoite $75.00
43. Matt Baird $60.00 (2)
    Emily Vosnos $60.00 (2)
45. Brian Coverly $52.00
46. Tom Krause $50.00
    John Oehrle $50.00
    Fred Keith $50.00
    Ray Stoy $50.00
    Sheila Davis $50.00
    Ted Roth $50.00
    Andy Short $50.00
    Cameron Guernsey $50.00
    Joe Yoder $50.00
    Blaine Davis $50.00
56. John Dill $45.00 (2)
57. Rob Currier $40.00 (2)
58. Britt Ruby $35.00
    Harold Menzel $35.00
60. Ken Shipley $32.50
    Peter Baker $32.50
62. Chuck Perry $30.00
    Dick Sullivan $30.00
    Arthur Dring $30.00
    Jackie Jones $30.00
    Josie Jackson $30.00
    Jeff Caldwell $30.00
    Johnny Mitchell $30.00
69. Lee Fitzpatrick $25.00
    Janet White $25.00
71. Ilse Goesmann $20.00
    Hedy Stoy $20.00
    Jack Scott $20.00
    Bill Hixon $20.00
    Susan Copeland $20.00
    Georgianne Zoro $20.00
    Fran Howland $20.00
    Ron Pollard $20.00
    Chris Christensen $20.00
80. Marco Maggio $19.50
    George Kouba $19.50
82. Bob Chilton $15.00


16-year overall purse standings


1.   Robert Fulford  $20,600.00 (11)
2.   Reid Fleming  $18,387.50 (15)
3.   Jerry Stark  $14,750.00 (14)
4.   Neil Spooner  $13,725.00 (8)
5.   Archie Burchfield  $13,407.00 (16)
6.   John Osborn  $11,952.50 (15)
7.   Chris Clarke  $11,300.00 (7)
8.   David Maugham  $10,500.00 (3)
9.   Jacques Fournier  $9,645.00 (10)
10.  Leo McBride  $9,497.05 (30)
11.  Harold Brown  $9,275.00 (4)
12.  Damon Bidencope  $9,070.00 (9)
13.  Ren Kraft  $8,589.25 (9)
14.  Mik Mehas  $8,347.00 (11)
15.  Reginald Bamford  $7,500.00 (3)
16.  Barry Chambers  $7,375.00 (4)
17.  Michael Watkins  $6,850.00 (3)
18.  Fred Rogerson  $6,375.00 (3)
19.  Stephen Mulliner  $6,000.00 (2)
20.  Teddy Prentis  $4,850.00 (8)
21.  Mark Avery  $4,787.50 (2)
22.  Lenny Karbo  $4,282.00 (5)
23.  Doug Grimsley  $3,850.00 (12)
24.  Tremaine Arkley  $3,800.00 (7)
25.  David Openshaw  $3,183.00 (4)
26.  Jay Hughes  $3,125.50 (9)
27.  Bob Kroeger  $3,069.50 (7)
28.  Jim Bast  $2,899.00 (4)
29.  Mack Penwell  $2,855.00 (6)
30.  Ken Rosenberry  $2,710.00 (6)
31.  Toby Garrison  $2,500.00 (3)
32.  Phil Cordingley  $2,450.00 (3)
33.  John Taves  $2,291.00 (4)
34.  Sal Esquivel  $2,250.00 (6)
35.  Simon Williams  $2,200.00 (3)
36.  Hans Peterson  $2,125.00 (4)
37.  Mark McInerney  $2,100.00 (2)
38.  Kiley Jones  $2,000.00 (2)
39.  Wayne Rodoni  $1,990.00 (8)
40.  Curtis Drake  $1,976.67 (4)
41.  Mike Weimerskirch  $1,933.33 (6)
42.  Ricky Wilhoite  $1,925.00 (6)
43.  Brian Cumming  $1,775.00 (10)
44.  Dana Dribben  $1,750.00 (1)
45.  Roger Tribe $1,625.00 (1)
46.  Harper Peterson  $1,600.00 (2)
47.  Patty Dole  $1,548.00 (4)
48.  Debbie Cornelius  $1,500.00
     Shane Davis $1,500.00
     Jeff Soo  $1,500.00 (8)
51.  Bill Berne  $1,475.00 (3)
52.  Merlin Karlock  $1,450.00 (2)
     Richard Reedy  $1,450.00 (2)
54.  Khaled Younis  $1,400.00 (2)
55.  Pat Jiggins*  $1,308.00 (7)
56.  Mike Gibbons  $1,262.50 (3)
57.  Colin Pickering  $1,250.00 (2)
58.  Jim Erwin  $1,200.00 (2)
59.  Louis Nel  $1,178.00 (8)
60.  Jim Woodall  $1,107.00 (2)
61.  Rich Curtis  $1,019.00 (5)
62.  Matt Burrow  $1,000.00
63.  Ron Lloyd  $941.00 (2)
64.  Wayne Stretch*  $935.00 (7)
65.  Greg Dowell*  $905.00 (6)
66.  Don Fournier, Jr.  $865.00 (3)
67.  Tom Coles $857.00 (1)
68.  C. B. Smith  $850.00 (4)
69.  Joe Koenig  $837.00 (3)
70.  Peyton Ballenger  $825.00 (3)
71.  Jim Hughes  $800.00 (3)
72.  Frank Estrada  $750.00
     Carl Von Schmieder  $750.00
     Harley Watts  $750.00
     Jim Houser  $750.00 (3)
     Rhys Thomas  $750.00 (3)
77.  Mark Cundy*  $733.00 (4)
78.  Merritt Jacob  $700.00 (1)
79.  Nelga Young  $675.00 (1)
     Brian Vecqueray*  $675.00 (3)
     Norman Graves  $675.00 (4)
82.  Leonard Ludwikowski*  $660.00 (4)
83.  Ellery McClatchy  $650.00 (2)
     Paul Scott  $650.00 (3)
     Stuart Lawrence  $650.00 (3)
86.  Ed Breuer  $640.00 (3)
87.  Chuck Passmore*  $605.00 (5)
88.  Martin Clarke  $600.00
     Carlton Mabee  $600.00
     Salah Hassan  $600.00
     George Parker  $600.00 (2)
     Harold Hayes*  $600.00 (2)
93.  Dave Lewis  $596.25 (6)
94.  Kermit Rosen  $585.00 (4)
95.  Gord Lunn  $572.00 (4)
96.  Chris Percival-Smith  $550.00
97.  Carl Uhlman  $545.00 (4)
98.  Tony Stephens  $500.00
     Jim Rule $500.00
     Chuck Reif  $500.00
     Ray Bell  $500.00
     Bubbie Grimsley  $500.00
     Dan Mahoney  $500.00
     Frank Hentic $500.00 (3)
     Joseph LaFauci*  $500.00 (4)
106. John McBride*  $496.20 (5)
107. Mike Zuro  $487.50 (2)
108. Rebo Rebuschatis  $480.00 (4)
109. Jack Osborn  $450.00 (3)
110. Roy Gee  $425.00 (4)
111. Kim Jiggins*  $418.00 (5)
112. Erv Peterson  $414.50 (6)
113. Mark Suter  $400.00
     Mark Goodwin  $400.00
     Archie Peck  $400.00
     Carolyn Danz $400.00 (2)
     Greg Shaffer  $400.00 (2)
     Rick Sheely  $400.00 (2)
119. Wally Clark  $389.50 (2)
120. Tom Hughes  $375.00 (2)
121. Fred Falk*  $360.00 (2)
122. Howard Kellogg  $350.00
     Bill Roche  $350.00
     Tony Waterer $350.00 (2)
     Rory Kelley  $350.00 (2)
     Neil Houghton $350.00 (2)
     Daley Craig  $350.00 (3)
     Michael O'Brien $350.00 (5)
129. Richard Pollay*  $346.20 (4)
     Ginger James*  $346.20 (4)
131. Pat Roach  $325.00
     Dean Nagata*  $325.00 (2)
133. Steve Johnston  $315.00
134. Don Taves  $308.00 (2)
135. Bill Martin  $306.00 (3)
136. Jim Butts  $300.00
     Susan Vecqueray*  $300.00
     John (Dorky) Dawson*  $300.00
     Walt Janitz  $300.00
     Lorne Stretch*  $300.00
     Rosemarie Taylor  $300.00
     Andy Kozusko  $300.00
     Aaron Westerby  $300.00
     Brian Dawson  $300.00
     Nick Gaza  $300.00
     Terry Cunningham  $300.00 (2)
147. Harold Allison  $295.00 (5)
148. Floyd Bolton  $292.00 (2)
149. Paul Hall  $286.50 (2)
150. Debbie Prentis  $275.00 (2)
     Bobby Willhoite  $275.00 (3)
     Wayne Synan  $275.00 (3)
     Stuart Jackson  $275.00 (3)
     Johnny Mitchell  $275.00 (3)
     Doug Sawyer*  $275.00 (4)
156. Joe Yoder  $270.00 (3)
157. George Latham  $262.50
158. Rufus Bayard  $250.00
     Matt Burris  $250.00
     Eric Corry  $250.00
     Elston Pearce $250.00
     Thomas Guthrie, Jr. $250.00
     Don Jardine*  $250.00
     Darcy Witham*  $250.00
     Mark Najarian  $250.00
166. Billie Jean Berne  $225.00
     Fred Jones $225.00 (2)
168. Phil Arnold $215.00 (3)
169. Tony Hall  $203.00
170. Jerry Ball  $200.00
     Steve Wain  $200.00
     Jeff Simonton  $200.00
     Cynthia Gibbons  $200.00
     Mohammad Kamal  $200.00
     Leon Parker  $200.00 (2)
     Dan Shepherd  $200.00 (2)
     Joe Morris  $200.00 (2)
178. Antony Whiley  $195.00
     Mary Cahill  $195.00
180. Paul Emmett  $194.00 (5)
181. Don Heerens  $187.00
182. Andy Short  $175.00 (3)
183. John Taylor  $172.00 (2)
184. John Destry  $165.00
     Dick Knox*  $165.00
     Mike Cardinal*  $165.00
187. Steve Dimond  $157.00 (2)
188. John Dill  $155.00 (4)
     Rob Currier  $155.00 (6)
190. John Batchelor*  $150.00
     Bill Watkins  $150.00
     Jackie Watkins  $150.00
     Dave Collins  $150.00
     Jeff Wallach  $150.00
     Ty Cobb  $150.00
     Rhoda Cobb  $150.00
     Andrew Aiken  $150.00
     David Barr  $150.00
     Art Park  $150.00
     Waled Salah  $150.00
     Tom Cooper  $150.00
     David Hannay*  $150.00 (2)
     Jim Hall  $150.00 (2)
     Britt Ruby  $150.00 (3)
205. Dean Chamberlin  $146.50 (3)
206. Paul Chan  $145.00
207. Matt Baird  $135.00 (2)
208. Hilton Lysons  $133.00
209. John Springer $130.00 (3)
210. Aaron Kurtzman  $125.00
     Paul Bennett  $125.00
     Richard Powell  $125.00 (2)
213. Ron Schuster $122.50 (2)
214. John Hunter  $120.00
215. James Hawkins  $115.50
216. Jim Nicklasson  $115.00 (2)
217. Bart Richardson  $112.50
216. Gordon Broom  $112.00 (2)
217. Chuck Passmore*  $110.00
     John Curington  $110.00 (2)
     Bob Chilton  $110.00 (2)
220. Michael Charrier  $100.00
     Danny Huneycutt  $100.00
     Michael Gibbons, Jr. $100.00
     Liz Thyssen  $100.00
     John Gibbons  $100.00
     Peter Atkinson*  $100.00
     Chris Jiggins*  $100.00
     May Abagi  $100.00
     Stuart Brodsky  $100.00
     Mike Jenner  $100.00
     Randy Synan  $100.00
     Ken Scroggins  $100.00
     Russ Hannay*  $100.00 (2)
     Bill Copeland  $100.00 (2)
     John Watson  $100.00 (2)
     Blaine Davis   $100.00 (2)
     Ray Stoy  $100.00 (3)
237. Ken Shipley  $98.00 (4)
238. Roger Tallentire  $97.50
239. Carl Hanson   $96.00 (2)
240. Chris Loat  $94.50
241. Al Heath  $87.50
     Valerie Heath  $87.50
243. June Gregory  $82.50
244. Wynand Louw  $80.00
245. Dave Dondero  $75.00
     Dick Loew  $75.00
     Brant Classen*  $75.00
     Robert Rusinek*  $75.00
     Jim Spoonhour  $75.00 (2)
250. Bob Brotzman  $70.00 (2)
     Ron Pollard  $70.00 (2)
     Louise Logan  $70.00 (2)
253. Malcolm O'Connell  $66.00
254. Jack Scott  $65.00 (2)
255. David Druitt  $63.00
256. Harold Menzel  $62.00 (2)
257. Aaron Cawley  $60.00
     Emily Vosnos  $60.00 (2)
     Sheila Davis  $60.00 (2)
260. Jackie Jones  $55.00 (2)
261. Karen Collingwood  $52.00
     Brian Coverly  $52.00
263. Charlie Mayo  $50.00
     John Oehrle  $50.00
     Fred Keith  $50.00
     Cameron Guernsey  $50.00
     Ted Roth  $50.00
     Glen Atkinson*  $50.00
     Doug Sanders  $50.00
     Ed Roberts  $50.00
     Hugh Barger  $50.00
     Bob Imhoff*  $50.00
     Art Parsells  $50.00
     Dave Welden  $50.00
     Duane Hull  $50.00
     Tom Krause  $50.00
     Mike Scher  $50.00
     Bob Hicks  $50.00
     Jim McGill  $50.00
     John Howland  $50.00
     Loren Berry  $50.00
     Jennie Connelly  $50.00
     Gordon Charlton  $50.00
     Jack Stevens  $50.00
     Chuck Walts  $50.00
     Norma Christie  $50.00 (2)
     Norma Shaughnessy  $50.00 (2)
     Fran Howland  $50.00 (2)
     Hedy Stoy  $50.00 (2)
290. Gary Bell  $45.00 
     Jim Taylor $45.00
292. Lyle Sorbie* $41.00  
     Mark Salmon* $41.00 
     Jim Carey* $41.00
295. Lisa Parsons  $40.00 (2) 
     Chuck Perry $40.00 (2)
297. Bob Cherry  $35.00  
     Chalmers Yeilding  $35.00
299. Nick Mitchell  $33.00
300. Peter Baker  $32.50
301. Chuck Anders  $30.00  
     John Harralson  $30.00 
     Gary Dunbar*  $30.00
     Ted Knopf  $30.00 
     Harold Stark  $30.00 
     Ross Selvaggi $30.00 
     Margot Leonard  $30.00 
     Emery Branscombe  $30.00 
     Bob Lyle  $30.00 
     Dick Tutwiler  $30.00 
     Dick Sullivan  $30.00
     Jeff Caldwell  $30.00 
     Josie Jackson  $30.00 
     Arthur Dring  $30.00 
     Diane Strachota  $30.00 
     Austin Connelly  $30.00 (2) 
     Darry Semple  $30.00 (2)
318. Murray Allen*  $28.00 
     Keith Butler*  $28.00 
     Peter Atkinson*  $28.00
321. Bill Helyer*  $25.00   
     Lee Fitzpatrick  $25.00 
     Janet White  $25.00
324. Ilse Goesmann  $20.00  
     Kelley Newton  $20.00 
     Judy Newton  $20.00 
     Bill Hixon  $20.00 
     Susan Copeland  $20.00 
     Georgianne Zoros  $20.00 
     Chris Christensen  $20.00  
     Joe Frice  $20.00  
     Luci Gorski  $20.00  
     Don Burrell  $20.00 
     Mike Springer  $20.00  
     Bob Philips  $20.00 
     Geoge Enochs  $20.00 
     Mike Preetorious  $20.00 
     Tom Taylor  $20.00 
     Hope Harmon  $20.00 
     Walter Fordham  $20.00 
     Dori Hicks  $20.00
342. Marco Maggio  $19.50 
     George Kouba  $19.50
344. Mark Janezic  $18.00
345. George Fegan*  $10.00 
Joe  MacDonald  $10.00
347. Derrick Robinson  $6.60

[This story is reprinted by permission of the National Croquet Calendar.]
---