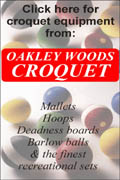 Croquet purses
fail to soar in 2000

by Garth Eliassen
Editor, National Croquet Calendar
Posted January 28, 2001

---

At the beginning of each year, we await Garth Eliassen's annual accounting of the croquet purse totals of the year just ended. We get every detail, backed up by tallies that stretch back to the beginning of purse events in the US, 14 years ago. Each year, we are unaccountably fascinated. Each year, like the perennial gridiron might-have-been, we say to ourselves, "Just wait til next year." Well folks, this IS next year. The sad and sobering truth is that the entire croquet winnings of everyone combined in 2000 would put you up for a year at Motel 6 and give you two modest meals a day at Burger King. Garth explains everything below.

---
The end of the year 2000 was marked by economic caution and millenarian concerns, with subsequent reductions in frivolous spending such as stock market investing and expensive cars, even though yacht sales and credit card debt inexplicably continue at an all-time high. Conceptually, that is bad news, reflecting the widening gap between the well-off and those not so well off, and the desperation of the not-so-well-off to live like the well-off.

At any rate, purse play, in turn, reflected that minor pessimism, with purse tourney totals reported to the Calendar dwindling a bit to a total of $18,348 compared to 1999's ten-year high of $22,272 - which was still meager compared to the bonanza salad days of the late-eighties when big-bucks purse tourneys abounded with the enthusiasm and a perceived certainty (not realized) that championship croquet was about to burst upon the masses (or at least the growing mass of yuppies) in a big way.

The big fourteen

Fourteen tournaments offering booty were reported in 2000, ranging from Sonoma-Cutrer's annual World Championship, which forked out $6500 to first and second placers David Maugham ($5000) and Johnny Osborn ($1500) and raised over $1,000,000 for charity, to small locals such as Winter Park's Club Doubles which paid $70 back to the players.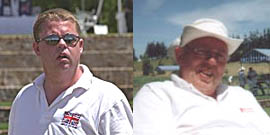 The year 2000's top dog David Maugham (left) was chased by hard-working bloodhound Leo McBride.

The year 2000's top dog Maugham was chased by hard-working bloodhound Leo McBride, who came in sixth at Sonoma-Cutrer (no spare change for him there) but won $3147.55 participating well in six other tournaments in the fledgling U.S. and Canadian pro circuit.

Osborn won a total of $2200 in two tournaments ($1,500 at Cutrer and $700 at the Delaware International Rules) to come in third in winnings, followed by the Resort at the Mountain's Shane Davis ($1500), Toby Garrison ($1000), and Mark McInerney ($600).

The fourteen tournaments reporting payoffs were the aforesaidmentioned World Championship, the Resort at the Mountain September 6-10 offering $3500 purse, Delaware International Rules Invitational August 26-27 offering $2000 purse, the Minnesota Association Laws Open July 1-4 with a $1600 purse, the new Belvoir Open held September 1-4 with Can$2000 purse, Owensboro Open August 18-20 with $1100 purse, West Coast Classic April 27-30 offering Can$900, the Country Boys Invitational November 9-12 with $450 purse, Aboyne Association Rules Invitational July 8-9 with Can$231 purse, Ottawa Open August 11-13 with Can$225 purse, Winter Park's Hall-I-Daze (held at the end of last December but reported in this year's totals) offering $150, the Georgia State championships held November 15-19 with $130 raised for its golf croquet winners, the aforesaidmentioned Winter Park Club Doubles with $70, and the venerable nine-wicket Parksville World Croquet Championship offering Can$960 to its enthusiastic and costumed teams.

Old pros still dominate overall standings

In the fourteen-year overall standings, Johnny Osborn crept up to sixth place, Jacques Fournier moved up one position to tenth place, McBride scrambled up six to fifteenth, and Cutrer winner Maugham jumped a whole page from relative obscurity in the lower rankings to seventeenth overall, putting him in contention for a top spot if he can win a couple of more big ones. Pat Jiggins, a perennial contender in the Parksville championship, holds the top purse position of the nine-wicket players, winning over a thousand bucks since the Calendar's been keeping track.

But the top of the list is still dominated by the old pros who were around in those salad days, and, of course, top world player Robert Fulford, who will probably take the lead when he competes again at Sonoma-Cutrer. Meantime, it's still cagey strategist Reid Fleming on top with over $18,000 bucks, Fulford close at second, Neil Spooner at third, Archie Burchfield at fourth, and Jerry Stark at fifth.

Would big purses bring them out of retirement?

Speaking of old-timers, by the way, it will be news to Bay Area players that Hans Peterson, thirty-second on the current winners list, might come out of retirement and take up the game again. Look for him - if he shows - in the New England Regional. It would also be nice if Fleming, Spooner, and Burchfield would rejoin the game and enhance our championship circuit. Spooner, a recluse Down Under who is gun-shy of croquet controversy and politics, last year announced his intention to come out of retirement and briefly rattled the anticipation of the croquet world, then disappeared again, apparently reconsidering. Maybe he'll raise his head and try again in four or five more years. We need him back.

Fleming, who always scampered back and forth on the sidelines chewing his fingernails whenever his opponent had the court, now hangs out at a gourmet restaurant in Boston. Fleming's nervous antics and horrendously awkward shooting style made him easy to underestimate. But he was the country's top strategist in the American game, and he never blew a break; many who misjudged him were doomed to lose.

Burchfield still plays occasionally, but doesn't travel much, preferring instead local games with his Kentucky friends, playing both six-wicket American rules on grass and nine-wicket Kentucky croquet on clay courts.

One who did return, if only briefly to schmooze at the Nationals at Sherwood, was C.B. Smith. Smith, who had the most bizarre method ever seen of aiming split shots, competed in tournaments with an entourage of courtside parrot puppets, controversial roque mallets of questionable merit, and a mystery fanny pack with tape player, headset, and motivational audio tapes. He made a tournament worth entering, elevating it to the status of an event.

We need them all back. If we can liven up this game, we might get more players, more enthusiasm, more energy, then maybe bigger purses.

Following the purse amounts in parentheses are the number of purse tournaments that were used to comprise the total. Asterisks indicate nine-wicket play. Amounts awarded in Canadian dollars were converted to U.S. dollars based on the exchange rate at press time of .66 American dollar to one Canadian.

Annual purse totals

 1987 $15,000.00
 1988 $75,350.00
 1989 $64,365.00
 1990 $10,587.50
 1991 $4,990.00
 1992 $8,590.00
 1993 $18,115.00
 1994 $11,620.00
 1995 $5,453.00
 1996 $11,810.00
 1997 $18,577.00
 1998 $18,185.00
 1999 $22,272.00
 2000 $18,348.00

2000 purse winners

 1. David Maugham
  $5,000.00
 2. Leo McBride
  $3,147.55 (6)
 3. Johnny Osborn
  $2,200.00 (2)
 4. Shane Davis
  $1,500.00
 5. Toby Garrison
  $1,000.00
 6. Mark McInerney
  $600.00
 7. Mike Weimerskirch
  $500.00
 8. Gord Lunn
  $462.00
 9. Joe Koenig
  $398.00 (2)
 10. Louis Nel
  $350.00
 11. Jeff Soo
  $325.00 (2)
 12. Rick Sheely
  $250.00
  Curtis Drake
  $250.00
 14. Carl Uhlman
  $231.00
 15. Doug Grimsley
  $200.00
 16. John Destry
  $165.00
  Greg Dowell*
  $165.00
  Dick Knox*
  $165.00
  Mike Cardinal*
  $165.00
 20. Johnny Mitchell
  $150.00
  Jacques Fournier
  $150.00
  Paul Scott
  $150.00
 23. James Hawkins
  $115.50
 24. Michael O'Brien
  $100.00
 25. June Gregory
  $82.50
  Paul Emmett
  $82.50 (2)
 27. Malcolm O'Connell
  $66.00
 28. Jim Hall
  $50.00  
  Jim Spoonhour
  $50.00
 30. Dean Chamberlin
  $49.50
 31. Rick Pollay*
  $46.20
  John McBride*
  $46.20
  Ginger James*
  $46.20
 34. Jim Taylor
  $45.00
  Jack Scott
  $45.00
 36. Bob Cherry
  $35.00
  Chalmers Yeilding
  $35.00
 38. Fred Jones
  $25.00
  Jackie Jones
  $25.00
 40. Geoge Enochs
  $20.00
  Mike Preetorious
  $20.00

Fourteen-year overall purse standings

 1. Reid Fleming  
  $18,387.50 (15)
 2. Robert Fulford
  $18,100.00 (10)
 3. Neil Spooner  
  $13,725.00 (8)
 4. Archie Burchfield
  $13,407.00 (16)
 5. Jerry Stark
  $13.250.00 (13)
 6. Johnny Osborn
  $11,375.00 (12)
 7. Chris Clarke
  $9,800.00 (6)
 8. Harold Brown  
  $9,275.00 (4)
 9. Damon Bidencope
  $9,070.00 (9)
 10. Jacques Fournier
  $8,595.00 (7)
 11. Ren Kraft
  $8,517.00 (7)
 12. Barry Chambers  
  $7,375.00 (4)
 13. Mik Mehas
  $7,247.00 (9)
 14. Michael Watkins
  $6,850.00 (3)
 15. Leo McBride
  $6,446.55 (22)
 16. Fred Rogerson
  $6,375.00 (3)
 17. David Maugham
  $5,500.00 (2)
 18. Teddy Prentis
  $4,850.00 (8)
 19. Mark Avery
  $4,787.50 (2)
 20. Lenny Karbo  
  $4,282.00 (5)
 21. Tremaine Arkley
  $3,800.00 (7)
 22. Doug Grimsley  
  $3,450.00 (11)
 23. Jay Hughes  
  $3,125.50 (9)
 24. Bob Kroeger
  $3,069.50 (7)
 25. Jim Bast
  $2,899.00 (4)
 26. Mack Penwell
  $2,780.00 (5)
 27. Toby Garrison
  $2,500.00 (3)
 28. Phil Cordingley  
  $2,450.00 (3)
 29. John Taves
  $2,291.00 (4)
 30. Sal Esquivel
  $2,250.00 (6)
 31. David Openshaw
  $2,183.00 (3)
 32. Hans Peterson  
  $2,125.00 (4)
 33. Kiley Jones
  $2,000.00 (2)
 34. Wayne Rodoni  
  $1,990.00 (8)
 35. Ricky Wilhoite
  $1,850.00 (5)
 36. Nate Weimerskirch  
  $1,800.00 (4)
 37. Dana Dribben
  $1,750.00 (1)
 38. Roger Tribe
  $1,625.00 (1)
 39. Harper Peterson
  $1,600.00 (2)
  Simon Williams  
  $1,600.00 (2)
 41. Patty Dole  
  $1,548.00 (4)
 42. Debbie Cornelius
  $1,500.00 (1)
  Shane Davis
  $1,500.00 
 44. Merlin Karlock
  $1,450.00 (2)
 45. Richard Reedy
  $1,450.00 (2)
 46. Bill Berne  
  $1,425.00 (2)
 47. Jeff Soo
  $1,325.00 (6)
 48. Pat Jiggins*
  $1,308.00 (7)
 49. Mike Gibbons  
  $1,262.50 (3)
 50. Colin Pickering
  $1,250.00 (2)
 51. Jim Erwin  
  $1,200.00 (2)
 52. Jim Woodall  
  $1,107.00 (2)
 53. Khaled Younis
  $1,000.00 (1)
 54. Wayne Stretch*
  $935.00 (7)
 55. Rich Curtis
  $919.00 (4)
 56. Greg Dowell*
  $905.00 (6)
 57. Tom Coles
  $857.00 (1)
 58. C. B.  Smith
  $850.00 (4)
 59. Peyton Ballenger  
  $825.00 (3)
 60. Don Fournier, Jr.  
  $810.00 (2)
 61. Jim Hughes  
  $800.00 (3)
 62. Frank Estrada
  $750.00 (1)
  Carl Von Schmieder
  $750.00 (1)
  Rhys Thomas  
  $750.00 (3)
  Harley Watts
  $750.00 (1)
 66. Mark Cundy*
  $733.00 (4)
 67. Merritt Jacob  
  $700.00 (1)
 68. Nelga Young
  $675.00 (1)
  Brian Vecqueray*
  $675.00 (3)
  Norman Graves  
  $675.00 (4)
 71. Leonard Ludwikowski*
  $660.00 (4)
 72. Ellery McClatchy  
  $650.00 (2)
  Paul Scott  
  $650.00 (3)
 74. Joe Koenig
  $648.00 (2)
 75. Ed Breuer  
  $640.00 (3)
 76. Chuck Passmore*
  $605.00 (5)
 77. Carlton Mabee  
  $600.00 (1)
  Harold Hayes*
  $600.00 (2)
  Mark McInerney
  $600.00 (1)
 80. Kermit Rosen
  $585.00 (4)
 81. Stuart Lawrence
  $575.00 (2)
 82. Gord Lunn  
  $572.00 (4)
 83. Chris Percival-Smith
  $550.00 (1)
 84. Brian Cumming
  $526.00 (4)
 85. Tony Stephens
  $500.00 (1)
  Jim Rule
  $500.00 (1)
  Chuck Reif  
  $500.00 (1)  
  Ray Bell  
  $500.00 (1)
  Joseph LaFauci*
  $500.00 (4)
  Bubbie Grimsley  
  $500.00 (1)
  Dan Mahoney
  $500.00 (1)
  Jim Houser
  $500.00 (2)
 93. John McBride*
  $496.20 (5)
 94. Mike Zuro
  $487.50 (2)
 95. Rebo Rebuschatis  
  $480.00 (4)
 96. Jack Osborn
  $450.00 (3)
 97. Dave Lewis
  $423.00 (4)
 98. Kim Jiggins*
  $418.00 (5)
 99. Archie Peck
  $400.00 (1)
  Greg Shaffer  
  $400.00 (2)
  Frank Hentic
  $400.00 (2)
  Rick Sheely
  $400.00 (2)
 103. Louis Nel  
  $377.00 (2)
 104. Fred Falk*
  $360.00 (2)
 105. Tony Waterer
  $350.00 (2)
  Howard Kellogg
  $350.00 (1)
  Bill Roche  
  $350.00 (1)
  Daley Craig
  $350.00 (3)
  Neil Houghton
  $350.00 (2)
  Michael O'Brien
  $350.00 (5)
 111. Richard Pollay*
  $346.20 (4)
  Ginger James*
  $346.20 (4)
 113. Dean Nagata*
  $325.00 (2)
  Pat Roach  
  $325.00 (1)
 115. Erv Peterson  
  $320.00 (5)
 116. Don Taves
  $308.00 (2)
 117. Bill Martin
  $306.00 (3)
 118. Susan Vecqueray*
  $300.00 (1)
  John (Dorky) Dawson*
  $300.00 (1)
  Terry Cunningham
  $300.00 (2)
  Walt Janitz
  $300.00 (1)
  Lorne Stretch*
  $300.00 (1)
  Carolyn Danz
  $300.00 (1)
  Rosemarie Taylor  
  $300.00 (1)
  Andy Kozusko
  $300.00 (1)
  Aaron Westerby
  $300.00 (1)
  Brian Dawson
  $300.00 (1)
  Nick Gaza
  $300.00 (1)
 129. Doug Sawyer*
  $275.00 (4)
  Bobby Willhoite
  $275.00 (3)
  Debbie Prentis
  $275.00 (2)
 132. George Latham  
  $262.50 (1)
 133. Carl Uhlman  
  $256.00 (2)
 134. Rufus Bayard  
  $250.00 (1)
  Matt Burris  
  $250.00 (1)
  Eric Corry
  $250.00 (1)  
  Rory Kelley  
  $250.00 (1)  
  Elston Pearce  
  $250.00 (1)
  Thomas Guthrie, Jr.
  $250.00 (1)
  Don Jardine*
  $250.00 (1)  
  Darcy Witham*
  $250.00 (1)
  Mark Najarian  
  $250.00 (1)
  Curtis Drake
  $250.00 (1)
 144. Johnny Mitchell  
  $245.00 (2)
 145. Billie Jean Berne  
  $225.00 (1)
 146. Joe Yoder  
  $220.00 (2)
 147. Phil Arnold
  $215.00 (3)
 148. Jerry Ball
  $200.00 (1)
  Tom Hughes
  $200.00 (1)
  Steve Wain
  $200.00 (1)
  Dan Shepherd  
  $200.00 (2)
  Jeff Simonton  
  $200.00 (1)
  Cynthia Gibbons
  $200.00 (1)
  Leon Parker  
  $200.00 (2)
  Joe Morris
  $200.00 (2)
  Mohammad Kamal
  $200.00 (1)
 157. Don Heerens
  $187.00  (1)
 158. John Taylor
  $172.00 (2)
 159. John Destry
  $165.00 (1)
  Dick Knox*
  $165.00 (1)
  Mike Cardinal*
  $165.00 (1)
 162. Steve Dimond
  $157.00 (2)
 163. John Batchelor*
  $150.00 (1)
  Bill Watkins
  $150.00 (1)
  Jackie Watkins
  $150.00 (1)
  Dave Collins
  $150.00 (1)
  Jeff Wallach
  $150.00 (1)
  Ty Cobb
  $150.00 (1)
  Rhoda Cobb
  $150.00 (1)
  David Hannay*
  $150.00 (2)
  Andrew Aiken  
  $150.00 (1)
  David Barr  
  $150.00 (1)
  Art Park
  $150.00 (1)
  Tom Cooper
  $150.00 (1)
  Jim Hall
  $150.00 (2)
 176. Paul Chan
  $145.00 (1)
  Harold Allison
  $145.00 (3)
 178. Hilton Lysons
  $133.00 (1)
 179. Richard Powell  
  $125.00 (2)
  Paul Bennett
  $125.00 (1)
 181. John Hunter
  $120.00 (1)
 182. James Hawkins
  $115.50 (1) 
 183. Britt Ruby  
  $115.00 (2)
  Jim Nicklasson
  $115.00 (2)
 185. Bart Richardson
  $112.50 (1)
 186. Gordon Broom
  $112.00 (2)
 187. Chuck Passmore*
  $110.00 (1)
  John Dill  $110.00 (2)
  John Curington
  $110.00 (2)
 190. Floyd Bolton
  $103.00 (1)
  Tony Hall
  $103.00 (1)
 192. Michael Charrier  
  $100.00 (1)
  Michael Gibbons, Jr.
  $100.00 (1)
  Liz Thyssen
  $100.00 (1)
  John Gibbons
  $100.00 (1)
  Peter Atkinson*
  $100.00 (1)
  Russ Hannay*
  $100.00 (2)
  Chris Jiggins*
  $100.00 (1)
  George Parker
  $100.00 (1)
  May Abagi
  $100.00 (1)
  Stuart Brodsky
  $100.00 (1)
  Ken Scroggins
  $100.00 (1)
  John Watson
  $100.00 (2)
 204. Paul Emmett
  $99.50 (3) 
  205. Carl Hanson   
  $96.00 (2)
  Bob Chilton
  $95.00 (1)
 207. Al Heath
  $87.50 (1)
  Valerie Heath  
  $87.50 (1)
 209. Dean Chamberlin
  $83.50 (2) 
 210. June Gregory
  $82.50
 211. Dave Dondero  
  $75.00 (1)
  Dick Loew  
  $75.00 (1)
  Brant Classen*
  $75.00 (1)
  Robert Rusinek*
  $75.00 (1)
  Matt Baird
  $75.00 (1)
  Wayne Synan
  $75.00 (1)
  Jim Spoonhour
  $75.00 (2) 
 218. Bob Brotzman
  $70.00 (2)
 219. Malcolm O'Connell
  $66.00 (1)
 220. Rob Currier  
  $65.00 (3)
 221. Aaron Cawley
  $60.00 (1)
 222. Karen Collingwood  
  $52.00 (1)
 223. Charlie Mayo
  $50.00 (1)   
  Glen Atkinson*
  $50.00 (1)
  Doug Sanders
  $50.00 (1)
  Ed Roberts
  $50.00 (1)
  Hugh Barger  
  $50.00 (1)
  Bob Imhoff*
  $50.00 (1)
  Art Parsells
  $50.00 (1)
  Dave Welden
  $50.00 (1)
  Andy Short  
  $50.00 (1)
  Duane Hull
  $50.00 (1)
  Norma Christie  
  $50.00 (2)
  Mike Scher
  $50.00 (1)
  Ron Pollard
  $50.00 (1)
  Bob Hicks
  $50.00 (1)
 237. Gary Bell  
  $45.00 (1)
  Jim Taylor
  $45.00 (1)
  Jack Scott
  $45.00 (1)
 240.  Lyle Sorbie*
  $41.00 (1)
  Mark Salmon*
  $41.00 (1)
  Jim Carey*
  $41.00 (1)
 243. Lisa Parsons  
  $40.00 (2)
 244. Bob Cherry
  $35.00 (1)
  Chalmers Yeilding
  $35.00 (1)
 246. Ken Shipley
  $34.00 (2)
 247. Nick Mitchell
  $33.00 (1)
 248. Chuck Anders  
  $30.00 (1)
  John Harralson  
  $30.00 (1)
  Gary Dunbar*
  $30.00 (1)
  Ted Knopf
  $30.00 (1)
  Norma Shaughnessy
  $30.00 (1)
  Harold Stark  
  $30.00 (1)
  Ross Selvaggi
  $30.00 (1)
  Margot Leonard
  $30.00 (1)
  Austin Connelly
  $30.00 (2)
  Fran Howland
  $30.00 (1)
  Emery Branscombe
  $30.00 (1)
  Darry Semple
  $30.00 (2)
 260. Murray Allen*
  $28.00 (1)
  Keith Butler*
  $28.00 (1)
  Peter Atkinson*
  $28.00 (1)
 263. Harold Menzel  
  $27.00 (1)
 264. Bill Helyer* 
  $25.00 (1)
  Ron Schuster* 
  $25.00 (1)
  Fred Jones 
  $25.00 (1)  
  Jackie Jones 
  $25.00 (1)
 268. Joe Frice  
  $20.00 (1)
  Luci Gorski  
  $20.00 (1)

[Reprinted by permission from the January 2001 issue of the National Croquet Calendar. Image of David Maugham used with permission of Adrian Wadley]
---