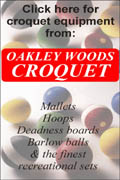 The 2011 Solomon Trophy in pictures

Photos by Eileen Soo
Photos selected and captioned by Jeff Soo

Posted July 04, 2011


---

Members of the American team insist that they were not underdogs in the 2011 Solomon Trophy test match against Great Britain. On paper - that is, on the basis of average world rankings of each of the teams - Great Britain far outranked the Americans. Explanations will be offered and pondered for a long time to come, from all sides. In the meantime, there's the 2012 Solomon Trophy to look forward to, in the United States. Jeff Soo's comments on the 2011 edition with the following photos are in large type, while the editor's more conventional captions appear in smaller type.

---
2011 SOLOMON TROPHY
Team USA: e pluribus unum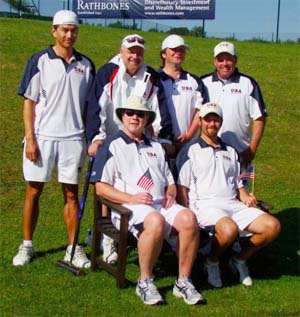 The American team, standing - Jeff Soo, Doug Grimsley, Chris Patmore, Danny Huneycutt; sitting - Jim Bast, Ben Rothman.
A slow start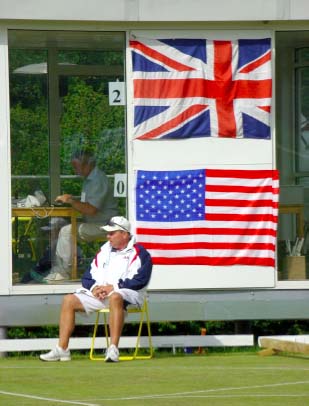 Team Captain Danny Huneycutt waits his turn.
lots of tight matches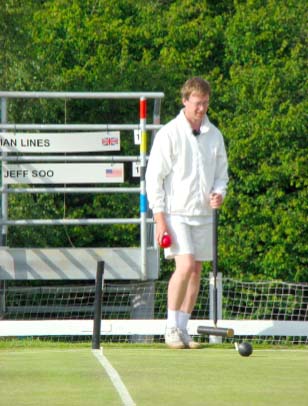 British team member Ian Lines prepares to position striker's ball for a croquet shot in his game against
Jeff Soo.
but then we started, in the words of the GB captain, "reacting to the interaction somewhat more successfully" than our esteemed opponents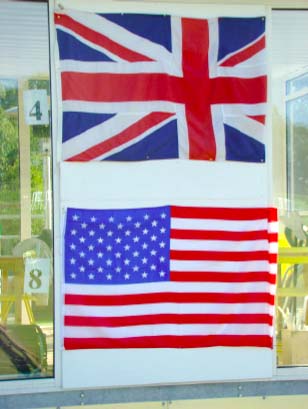 Stephen Mulliner, British team captain, has a way with words. He is referring to the variable characteristics of the Hamptworth courts, which produced more "interactivity" in the games than one would normal expect to encounter at this level of play.
and the Brits got that
sinking feeling again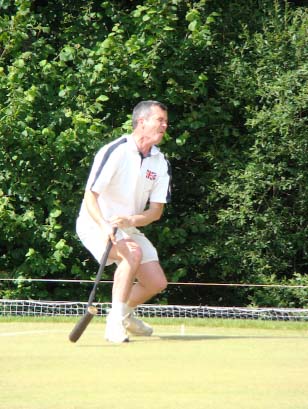 Veteran British team player Ian Burridge has long been famous for emotive body language on the court. This shot is among the best examples yet.
Jim rather enjoyed this.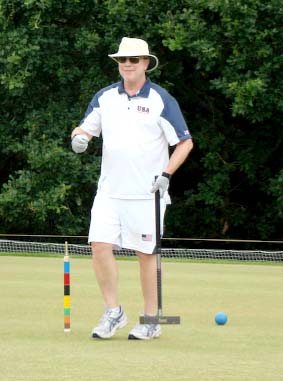 Jim Bast became a top-ranked player in the 80's in Arizona, reaching the finals in the Sonoma-Cutrer World Championships, and then dropped out of croquet to raise a family. Several years ago, he determined to once again qualify for the American team, and his 2011 match scores confirm a brilliant come-back.
In desperation, Mulliner offered to decide the test by single combat between the team captains. Here he gets in a good shot against our DH but our wily captain was too many for him, and delivered the knockout punch.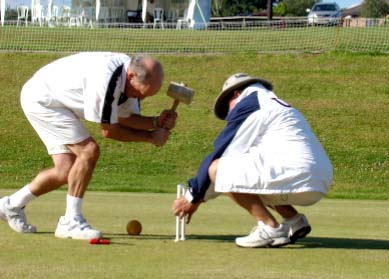 British team captain Mulliner is resetting a hoop with too much daylight showing between the ball and the jaws. This was done repeatedly throughout the Solomon - to what effect, no one can say. Danny Huneycutt helps steady the hoop. "DH" could possible refer to "designated hitter."
A very proud team ...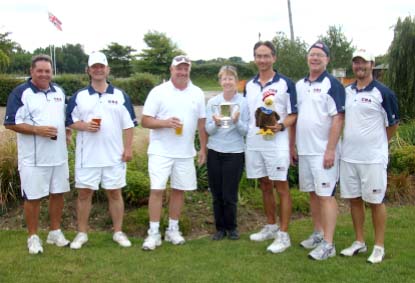 Photographer Eileen Soo holds the trophy. (We have no idea who was holding the camera.)
... victory tastes sweet.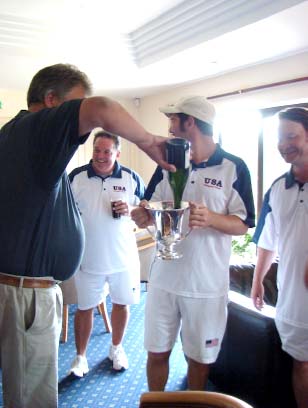 These three American team members are about to celebrate victory by drinking the champagne being poured by the owner of the Hamptworth Golf & Country Club: Huneycutt, Rothman, and Patmore.
---