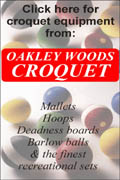 What any club needs most:
strategic planning

by Bob Alman
photos by Woodlawn Museum, Southwest Florida Croquet Club, Puget Sound Croquet Club, and West River Croquet Club
Posted April 26, 2009


---

Someone suggested several years ago in the annual USCA Planning Conference that the USCA might help spur the growth of local clubs by offering some kind of consulting for club organizers to support them in overcoming problems and achieving their aspirations. As the editor/writer of the CFA's three-volume Monograph Series on Club Building, Organization, and Management, Bob Alman seemed the logical choice to organize it. The USCA Club Organizers Workshop and Forum was announced, and the first one happened in April 2008, at the National Croquet Center. The Workshop became an annual event. This story reports some of the problems, solutions, and plans of four diverse clubs in the 2009 Workshop.

---
There's nothing wrong with making it up as you go along - and that may be the way most local croquet clubs operate, with comparatively little at stake. But you'll probably have more fun and be more successful in the long run if everything your club does is planned and managed within the context of an overall vision and a detailed Strategic Plan that all your members can support. (All of them, that is, except for the one perennial malcontent who opposes all change on principle and thus helps to forward the action by just being himself.)
Some useful notions on club development
Each club is unique in circumstances, needs, and opportunities.
Nothing lasts forever; the only constant is constant change.
All organizations either advance or decline; there's no such thing as standing still.
If you don't change direction, you'll eventually wind up where you're headed.
Creating an aligned vision of all your members on where the club is going, what the priorities are, and what needs to be done next can work miracles.
Responsible management requires developing and implementing a Strategic Plan refined and amended over time.
Strategic Planning organizes an orderly sequence of actions enabling the club to go from where you are now to where you want to get to in the foreseeable future.
Are you saying to yourself, "Why bother with formulating a Strategic Plan for a croquet club?" That's a little like asking, "Why bother with the trouble and expense of six-wicket croquet when you can play in the back yard with a $29.95 toy set?" The answer to both is, "Because it's more fun!" It's more fun to play with heavy mallets on smooth lawns, and it's more fun to be in a club that really has its act together. If you're the man or woman charged with organizing the club, it's definitely more fun to have all your members (except you-know-who) enthusiastically aligned in helping you to be successful in your job.

The USCA Club Organizers Workshop begins by exploring the circumstances of each club, in depth, as each of the participants - most of them club presidents - introduce themselves and their facilities to the group. It's a small group - no more than ten people representing no more than six clubs - to ensure that the issues can be thoroughly explored, so all the members in the group can share in the discussion, make useful observations from their own experience, and pick up some new pointers. The program is also an ongoing Forum conducted mostly by email, and much of the information in this article comes from the reports made by participants subsequent to the 2009 Workshop.

West River Wickets:
The fun comes first, on all five courts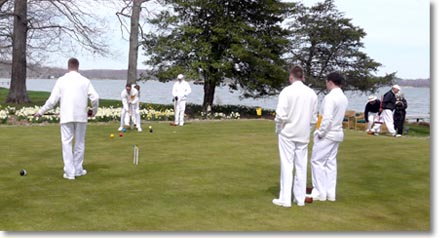 The West River Wickets club spreads the local popularity of croquet by playing with and against diverse groups on one or another of their five-plus courts. The 7/8 size court on the Gwaltney property, overlooking the Bay, is perfect for games against the nearby Naval Academy midshipmen.
West River Wickets is on the Chesapeake Bay in Maryland. Near both the Annapolis Naval Academy and St. Johns, the club hosts croquet-playing students from these famously competitive schools, leading up to an annual bash that is usually the biggest croquet party of the year, albeit on rough turf. (If St. Johns has a habit of winning the tournament it could be because St. Johns students have more leisure to play croquet than the Naval midshipmen, and spend more time practicing with their West River Wickets mentors.) Peter Oleson was the president of West River Wickets when he came to the first USCA Club Organizers Workshop, in April 2008, where in response to a call for creating a "united vision" for club development, he came up with a few major goals to propose to his board. "They were discussed by the board and then proposed to the entire membership and voted on in the club's post-season November Annual Meeting," he reported to the 2009 Workshop. "So far," he adds, "they have served us well." The four goals are:
Keeping the spirit of the logo on our stationery: "For the fun of the game"
Promoting croquet as a game and our members' skills, etiquette, and enjoyment of the game.
Supporting USCA membership and national programs
Maintaining a club based on: Volunteerism; Sound finances; An open door for all who wish to support croquet by playing, socially, or teaching.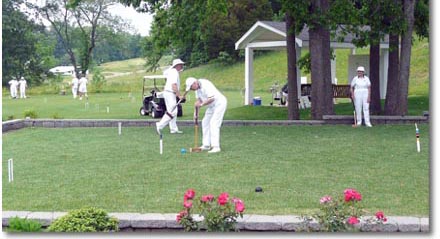 At the Wayson property, with one full-size and two smaller courts, the club takes on Ginger Cove, a retirement community.
West River Wickets could easily rest on its laurels - a court-rich club based on private lawns, with only 25 members and five full-sized courts, plus some smaller side-lawns. But private lawns have a way of going out of service unpredictably, so the board of West River Wickets intends to keep growing its membership as a hedge against any future loss of members, and to provide plenty of support for the private owners of the courts to maintain them.
Puget Sound:
Split personality, multiple opportunities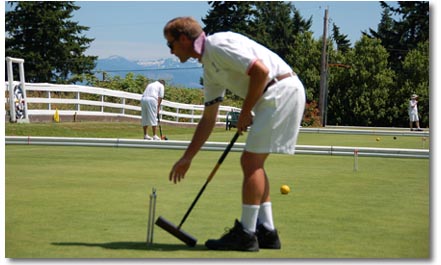 Members of the Puget Sound Croquet Club have established a beachhead on a bowling lawn across the sound, a half hour away from their three-lawn just-for-croquet facility.
Jan and John Westwater have inherited the co-presidency of the Puget Sound Croquet Club - a three-lawn facility with a player base that started with Ned Skinner's Seattle Seahawks on their training fields nearby. (Yes, that's right. Some of the footballers also played croquet.) After that venue was lost, a small group of players bought land and built courts for a club that now numbers only 30 members, who must pay all the bills. Their future is uncertain: Rezoning might be in the offing, which would open up the land for future development, putting pressure on the owners to sell. And it's difficult to recruit novice players into a croquet club with no clubhouse to speak of for annual dues of $500.
The Westwaters came to the Organizers Workshop with an impressive set of problems, but also with a bewildering collection of options and a large measure of optimism. Across Lake Washington, only 30 minutes away, croquet had taken root at Woodland Park, where the bowlers, under financial pressure, had agreed to accept croquet and bocce playing members. The croquet players share one lawn with the bowlers and the other lawn with the bocce players. The Westwaters and a few other Puget Sound Croquet Club members joined the bowling club to support the expansion of croquet there - and to ensure they will have playing space if they should lose their facility to real estate development.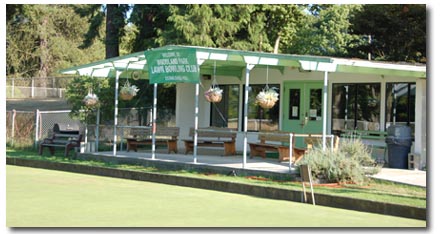 The contrast is stark: Three full lawns at Puget Sound and hefty dues; inexpensive dues on the single bowling lawn, but it can be split into two courts when needed.
But on the other hand, many development opportunities for the three-lawn club have yet to be fully explored. So where should the Westwaters most profitably invest their energies: in expanding croquet on the Woodland bowling lawn? In getting more members for Puget Sound? In marketing revenue programs? Reaching out to retirement communities and other nearby groups? Or all the above?
Before they retired, John Westwater was a mathematics professor and Jan was a massage therapist - "Mr. Equation and Mrs. Touchy-Feely", as Jan puts it. "We never had to follow a business model, so now we have some learning to do. However, I do think that the Workshop's insistence that each club make a vision statement and a strategic plan, just as any business would, is right on."
Jan Westwater clarifies the immediate direction of the development in a recent letter following the Workshop: "PSCC has decided that its efforts this season will go into marketing the lawns for rentals as a way of making up our projected deficit. You can check the website, www.pugetsoundcroquet.com, to see what's planned. We will hold a visioning meeting with the whole membership in the fall. We already have a general meeting scheduled for this spring. At that time we'll present a brief overview of the Organizers' Workshop and the need for developing a vision statement and a strategic plan that everyone can endorse and support."
Jan continues, "At Woodland our son Elliot has said that he will help us get a website together. There we have dues that are low enough that we should be able to gradually build up the croquet membership. The chief difficulty is that, despite its location in a well-known city park, the Woodland Park Lawn Bowling Club is hidden away in a little-frequented corner, and within the club itself croquet is hidden behind the signage that says, "The Sport of Lawn Bowling." We'll also make up a croquet flyer to be available in the bowling clubhouse and to post on the info board at the entrance. I'm also going to price a large "Croquet Today" banner to put on the fence on croquet play days.
"Your invitation to continue the dialogue via email over the next year and share with you and the Workshop the vision, goals and plans that we develop with our clubs makes us feel that there is solid and continuing support for our efforts. I only hope that more club organizers will take advantage of this opportunity in the future."
Woodlawn Historical Museum:
Croquet integrated with the parent institution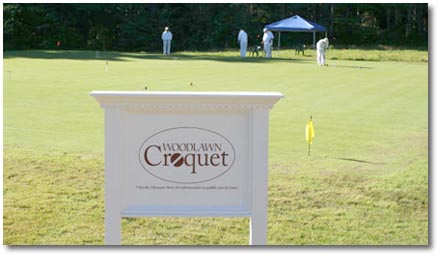 The space around the single regulation croquet lawn of the Woodlawn Historical Museum promises the possibility of expansion as membership grows, and the club already uses the adjoining areas for 9-wicket games.
Woodlawn is a fully accredited USCA club that isn't a club - it's an extension of the Woodland Historical Museum's programming, supporting the mission of the 100-acre estate. As the chair of the all-volunteer museum committee that manages the club, Perry Mattson was the main representative sent to the USCA Club Organizers Workshop.
Perry was careful to explain to the Workshop that the Croquet Committee was determined not to be a financial drain on its parent institution: "We raised enough revenue through membership fees, tax deductible donations, golf croquet fees, lessons, and tournament fees to cover our expenses and ended our first full year - 2008 - with a nice balance to be used for some capital expenses in 2009."
What about maintenance? Perry explains, "We contracted our court maintenance to a local golf club owner who did a great job in maintaining the grass," Perry explains. "He did all the necessary fertilizing, insecticide treatment, top dressing, verticutting, de-thatching, and the winter snow mold treatment. And we're fortunate to have four volunteers who take turns mowing three times a week."
The participants in the Workshop soon realized that Woodlawn has much to teach other developing clubs as perhaps the best available model of its kind. Because it's a one-lawn operation, meticulous management - especially careful scheduling - is absolutely required. (See the detailed summer croquet schedule on the Woodlawn website.)
The one-lawn club always presents a management challenge, simply because it's difficult to have lots of activity going on at one time on a single court. But Woodlawn turns that limitation into an advantage. For its forty-odd members, court time is carefully scheduled, and a detailed calendar of events assures that members in all classes have abundant opportunities for learning and competing in tournaments, as well as for casual play. And because Woodlawn is one of several single-lawn croquet facilities in the area, the scheduling of events can be done jointly - creating more activity choices for everyone. (An upcoming article on "Croquet in Maine" will say more about the advantages of integrated planning for croquet clubs in close proximity.)
Woodlawn croquet is built and operated from an aligned vision of its founders which, translated into a strategic plan, sounds at once very ambitious and at the same time, practical. Larry Stettner - the founder of the first club in the area and perhaps the guiding spirit of croquet development in Maine, states it succinctly: "We intend to make Maine the summer capitol of croquet instruction in America." And why not? It was Larry who taught America's currently hottest player how to hit a ball - 24-year-old Ben Rothman, who is marketing himself as a pro and Woodlawn as his primary teaching venue. (The Rothman/Stettner teaching program is one of many revenue sources that makes the croquet program self-sufficient, making croquet a financial and public image net gain for the museum.)
Through its croquet program, the Woodlawn Historical Museum is now able to expand its outreach to the public with activities for services clubs and many kinds of groups who rent the facilities for private events, staffed by volunteers from the croquet program. At the same time, this entertaining activity produces revenue for both the Museum and the croquet club-that's-not-a-club. It's a classic "win-win" situation that could be duplicated at countless nonprofit institutions across the country - if only there is a group of similarly dedicated croquet players determined to make it happen.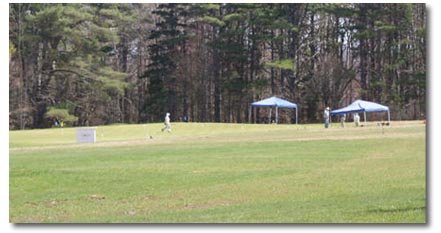 Strollers among the 100 acres of the Museum's forests and meadows are frequently treated to top-level croquet play or Museum groups being introduced to the game.
Perry's latest email to the Forum is full of enthusiasm: "We opened the court for play on Tuesday, April 21 and the grass is fantastic for this early in the season. Our first beginners' lessons will be held in mid-May. Both the Downeast Senior College in Ellsworth, Maine, and the Acadia Senior College on Mt. Desert Island have full classes that begin in a few weeks. Croquet is really taking off here on the Maine Coast. Our local weekly newspaper, the Ellsworth American, is doing a great job in covering croquet, and they're very receptive to doing a weekly article along with the croquet blog they already have on their website."
With this level of early success, it's easy to endorse Woodlawn's vision of becoming America's summer capitol of croquet instruction - because the lessons to be learned on planning and management are likely to be just as useful as the training on shot-making and tactics.
Southwest Florida Croquet Club:
Taking center stage at a golf club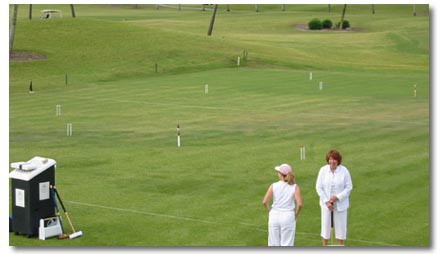 If the view from the clubhouse doesn't tell the complete story...
The court and croquet club at Southwest Florida Croquet Club is one of the newest in the country. Work on a miniature 50' by 40' court was started only in December of '08, with the first introductory class held in mid-January 09 on miniature court while construction continued to expand it to full size. In mid-March 2009, the club started using the full court, usually split into two half courts, with 6-wicket American Rules games on one court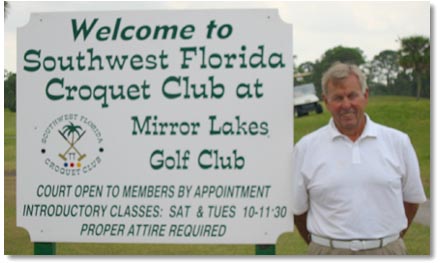 ...Dale's sign says it all, welcoming everyone to his twice-weekly Introduction to the games.
Dale Oakley made it happen. He's a senior golf pro whose marketing and management responsibilities at a semiprivate golf club in southwest Florida has led him to do something that would be hanging offense at many established golf facilities: bring croquet into the middle of the action as a permanent part of the golf club's outreach.
Croquet rarely takes center stage at a golf club, but Oakley's situation at the Mirror Lake Golf Club in Lehigh - 15 miles east of Fort Myers - shows that it ought to happen more often, and in fact, croquet fits his needs perfectly. "When I proposed the croquet club to the golf course owner," Oakley recalls, "he recognized the benefits to the golf club in increased patronage and revenue. The croquet club would increase activities and amenities for the existing club membership as well as draw new people into the club."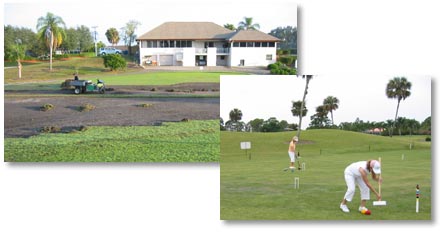 Golf and croquet pro Dale Oakley already knows how to promote croquet on one of America's newest regulation lawns. It really helps to build your court in the most prominent location possible - right outside the window of the clubhouse bar and restaurant. And you make sure there's abundant expansion space in the sea of rolling turf abutting the golf links, to accommodate spectacular growth in membership. Here are the "before" and "after" photos of the site.
Oakley's concise rap describes how he combines all his pro activities with marketing and promotion at this small golf club: "In addition to being Director of Croquet, I'm also the Golf Pro. Our croquet court is located adjacent the clubhouse which houses a full-service restaurant and bar, restrooms, men's and women's showers, a Pro Shop, free parking and a pleasant, relaxing environment. Our introductory classes are offered on Tuesdays, Thursday, and Saturdays from 10:00am to 11:30am, with singles and doubles games available from 11:00am to 1:00pm. Anyone interested may attend two free clinics to learn more about modern croquet and the various croquet games we play."
When Oakley started looking for activities to expand the programs of the golf club, he looked at bocce and lawn bowling and came to the decision that "croquet offered the greatest appeal to golfers as it required a club, a ball, a target for the ball and a competitive atmosphere. You know the other benefits, such as exercise, shorter time requirement than for a golf game, men and women can compete together, and socializing - to name a few."
Oakley has modest but solid expansion goals: He wants 30 paying members by 2010, and ten additional net members for each year following. All his players are novices now, so he can split his one court into two courts or even four courts when needed, and there is an adjacent golf putting green suitable for practice, teaching, and warm-up. He already has in mind the possibility of expanding the putting green into another full-size court, wisely proposing the project as a way to put the putting green in a "more favorable location" for golfers.
As a longtime golf pro, Oakley knows that the croquet at Mirror Lakes must never be seen by the golfers or the owner as a "takeaway" from golfing. As for his personal commitment to croquet, he doesn't mind admitting that, "Eventually, I would like to turn over the golf pro responsibilities to my assistant pro and focus all my energies on teaching and competing in croquet."
ENDNOTE:
The USCA Club Organizers Workshop takes place over part of three days each April at the National Croquet Center at the end of "Croquet Week." Overlapping the final knockout rounds of the USCA Club Teams National Championship, the Workshop includes about 10 hours of "forum" discussion of the specific plans and programs of the clubs represented, with frequent breaks for specialized presentations, social gatherings, and lawn events demonstrating new, interesting, or efficient formats for teaching or competitions. For more information or to be on the "notify" list for the Workshop, email the USCA at USCA@msn.com; or the facilitator of the Workshop and author of this article, at BobAlman@aol.com.
---