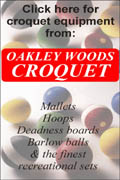 Can New Zealand mass produce
the croquet champions of the future?


by Bob Alman, thanks to Greg Bryant
photos courtesy of Greg Bryant
Posted May 2, 2015


---

Hard work, persistence and patience are the only path to good long-term results in many endeavors, and especially in the work of finding and developing young croquet players who become champions of the sport. Greg Bryant of New Zealand won the national championship of New Zealand after 30 years of playing and then repeated that feat twice more, consecutively. So when he took on the job of recruiting and training secondary school students, he was prepared to wait for a pay-off that might not be seen until a Shield contest in the 2020's.

---
When Croquet New Zealand formalized in 2012 their intention to increase membership with a mission statement aimed at having "more people playing better croquet more often," Greg came forward with the notion of conducting a national survey of croquet clubs to spot relevant trends.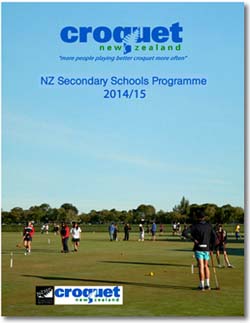 This Secondary Schools Programme brochure features a photo of the 2013 Second Schools Final held in Palmerston North, distributed through New Zealand's Regional Sports Trusts. The slogan, "More people playing better croquet more often," is taken from CNZ's mission statement.

With the results of that survey, Bryant could see exactly what was happening in the croquet population of New Zealand: baby boomers were predictably being recruited on schedule, to grow the overall numbers by about ten percent annually. But elderly players were just as predictably passing away or passing out of the sport. So the net result was growth of somewhere around one percent: a ten percent gain in recruitment yearly was accompanied by a nine percent drop-out rate from all causes, death included. So Bryant saw that "all that work of recruitment and training was being done just to keep the national organization standing still."

As the official Sports Development Officer of CNZ, Bryant thought a bigger investment in youth development in local clubs would have the greatest long-term positive impact on the overall health of the sport. "It's not too difficult to get a lot of kids on a croquet lawn, but what we need to do is provide the best of them with opportunities and support to get really good." According to Greg, they call that "kicking butt." Those are the kids that will continue and compete well in the annual national singles handicap event.

Like many national associations, CNZ has hosted an annual Secondary Schools Competition for many years, but the players in those events don't stick around for more play, competition and training, so it has not produced a noticeable result over time in the demographics of New Zealand croquet.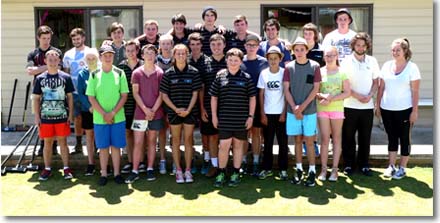 Most of these youngsters in the 2014 Youth Squad were selected from among the finalists in the Secondary Schools event.
Bryant realized that creating and encouraging an elite corps of players from the best of them just might do the trick--developing players who would have a croquet career of more than half a century, rather than just a decade or two--competitors who might even get onto the New Zealand Shield team within a few years of hitting their first Dawson.
The elite Youth Squad and the Secondary School competition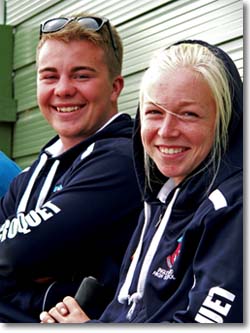 Adam and Mary-Kate from Taranaki are three-time doubles representatives at the national secondary schools finals, where they finished twice in third place.

The New Zealand Youth Squad was not tied to the Secondary Schools program in the past. Now the elite Squad absorbs, encourages, and develops the best young players in the Secondary Schools competition. After only two years, this method of recruiting and organizing seems to be working well. According to Greg, "Under 21 memberships in local clubs are over 200 percent up, and croquet is appearing more often in regional secondary school sports calendars; young players are becoming more evident in tournaments in both Association and Golf Croquet."

What's most different--and most challenging--about Bryant's approach is not just the creation of the elite Squads, but his personal commitment to sticking with the work long term and making sure the results are self-perpetuating at the local level. Greg explained to me, "I run the Secondary Schools program with up to four of our 20 regional croquet associations each season--which makes a five-year cycle for me to get around to all of them.
Hemi Mellars and Sam Trelor were winners of the 2014 NZ Secondary School event. Hemi is also "winning" as a local coach, with one of his teams making the finals in 2015.
Hemi Mellars shows the excellent form that allows him to coach other students in the elite 2015 Secondary Schools program that feeds selections to the elite Youth Squads.
"First I need to get the local infrastructure and relationships in place with the New Zealand Regional Sports Trusts--all 17 of them--and in local schools as well as local clubs. I think it may take a couple of cycles for some regions to take on the processes and have a sustainable programme they maintain on their own. By then, some of our current youth will be working-age club members."
But won't the young players drop out to begin a career?
Bryant fully expects the attrition rate to be at least as much as in other age group, as many of the young players will be away from the sport for a time, to do advanced education, perhaps to move to another town, to work hard getting a career started, to start a family. But he says, from personal experience, "Good players don't travel too far from the game at any age. People like to do what they know they're good at doing."
Inglewood High doubles representatives for 2013 don't repress their enthusiasm.
With his elite Youth Squads, Bryant hopes to create the kind of unforgettable experiences they'll want to resume even if they have to "drop out" of croquet for as long as a decade.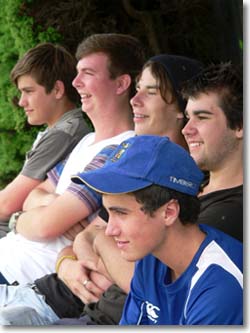 Cheering on their mates in the NZ U21 Squad in an event preceding the 2015 WCF Under 21 World Championship are Felix Webby, Liam Reeves, Lachy Hughes, George Coulter, and Jez Reeves.

Greg speaks from personal experience. He knew he was pretty good 30 years ago, when he first started out. He took the usual detours through other sports, including an obsession with sidecar motorcycles. But now he's at the top of Croquet New Zealand and consistently ranked in the top ten in the world. He never looks back. He still wants to win, and he is still able to win, in his 50's.

That's a huge selling point with the Regional Sports Trusts he works with, who are charged with promoting and supporting increased participation in all kinds of sports: How could you go wrong in a sport that's good for a lifetime, in which you can win major championships into what those teenagers consider "old age?"

The same kind of talking points can be used on the School Sports Coordinators in the individual schools Greg lobbies to get into the program. In meetings with those coordinators, Greg knows they get credit not only for having their school represented in an additional sports competition, but also for enticing into croquet the boys and girls not currently participating in other sports. It's a great sales pitch, and it's working to get the program started and supported locally.

Bryant has committed himself to getting his elite Squads established in four of the 20 regions each year--which makes a five-year cycle. By "established," he means with a healthy representation of young players in the local programs who continue and self-replicate. In some cases, the young players themselves are taking on the essential coaching roles locally. In most cases, the local clubs are also involved in that role.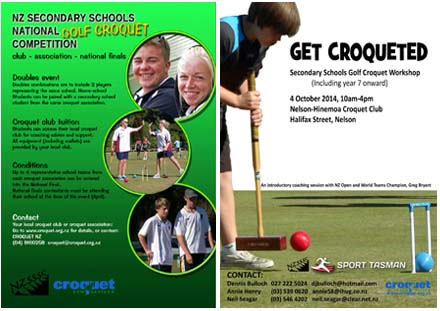 These posters are distributed to Secondary Schools via the 17 New Zealand Regional Sports Trusts.
Regular club play is an essential element of Bryant's program, and the standards he sets for advancing from Year One to Year Two in the Squad includes club and association participation.. "Where there are groups of young people," Greg says, "they naturally tend to spend more time together than with other club members, but the relationships they form in those local clubs are very important."
Bryant's long-term goal for the program--in ten years--is to have at least four doubles pairs from each of the regions eligible for squad selection out of the annual national competition. That adds up to an elite squad of 160 competitors each year.
| | |
| --- | --- |
| | |
| Jez Reeves has mastered the jump shot, always a popular feature of coaching and play and an entertainment for spectators. | Josh Freeth and Felix Webby contested the final of the 2014 NZ Under 21 Golf Croquet Championship and went on to become Gold and Bronze medalists at the 2015 WCF U21 Worlds Championship, also played in New Zealand. |
What that could mean to local clubs is an enormous shift in the demographics of the sport as well as the raw numbers of players in local croquet clubs. And such a shift could also become self-replicating, with a new "crop" of good performers each year: "The best encouragement young players can have," according to Greg, "is a group of new players coming through to challenge them."
Ideally, when the program is fully develped, there will be in many local clubs "cells" of younger players who compete with one another in either or both major codes, but also within the club as well as regionally and nationally.
Competition for Squad members begins locally but naturally expands to a grander national affair. "Our CNZ Under-21 Golf Croquet tournament used to be exclusively for the Squad, but now it's an open tournament on our national calendar. Golf Croquet is the first game they learn and our current training and development priority, but now they're wanting an Under 21 Association Croquet event as well."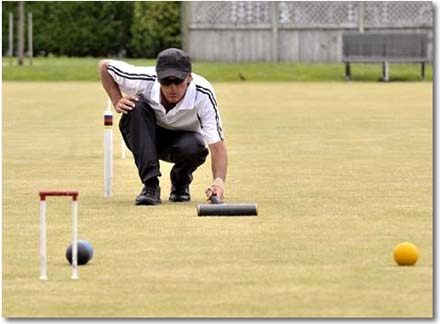 Greg Bryant started winning New Zealand's national championship of Association Croquet in 2012, repeating in 2013 and 2014, beardless throughout.
Like instructors of novice players everywhere, Bryant knows that using Golf Croquet works because the kids can be playing games within ten minute of picking up a mallet. To fit coaching into a school schedule, the format of the Secondary Schools competition needs to be built around Golf Croquet. But New Zealand's Bronze, Silver and Golf Development squads are open to the Youth Squad members after their first squad training event, and they're all about Association Croquet.
And it goes without saying (well, not really) that with such "youth power" going for it, New Zealand could well become the "expected" winner of the Macrobertson Shield by the 2020's, in the same way England held that distinction in most of the last half of the 20th Century.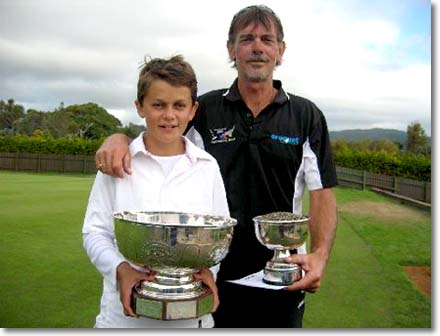 Bryant now sports a graying beard as he poses with Edmund Fordyce, a star of the Youth Squad program. Edmund holds the huge Arthur Ross Memorial Trophy, a handicap event named after one of New Zealand's star players of the past. He had just beaten Bryant, with the much smaller trophy, in the 2014 annual.
Young players in the past, in every country, have sometimes emerged from croquet-playing families--such as Jacques Fourier of the United States in the last generation, and the remarkable Fletcher brothers of Australia, whose "youth squad" was entirely in their own family, and the eldest of whom, Robert, is now the world champion.
If New Zealand can organize and "institutionalize" the kind of family spirit that drives healthy competition in croquet as in any sport, through even half of that country's regional associations, the Kiwis will set a standard that will eventually have to be emulated in other countries.
Bryant would not say it that way, but what he's really after is to permanently change the sport of croquet globally, and to give it a younger face everywhere.
Who would not wish him well?
WUNDERKINDER SURFACE IN MANY COUNTRIES
Sustained development programs like Bryant's in New Zealand are rare and maybe even unprecedented. The national "wunderkind" usually emerges as the son of a croquet player--for example, the remarkable Fletcher brothers of Australia, whose eldest, Robert, is now the world champion of Association Croquet.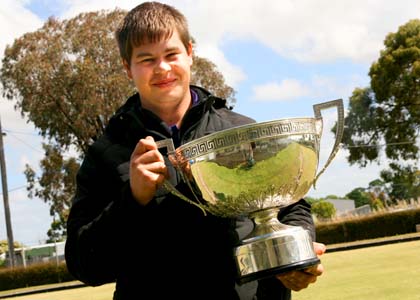 Jacques Fournier was the wunderkind of the last generation of American players, and many are pointing to 16-year-old Matthew Essick as this generation's. The North Carolinian surpassed his dad some time ago, capturing second place in the second tier of the 2014 USCA Selection Eights, with three triples to his credit. You can pick him out among the veterans below, only a few places away from being eligible to be selected on the next US International team competing for the MacRobertson Shield. Matthew got a fast start a few years ago in a North Carolina high school program started by a faculty member who was a USCA croquet enthusiast. In the United Kingdom, the annual croquet competition between Oxford and Cambridge has produced several of the top croquet of England's players, now in their 40's.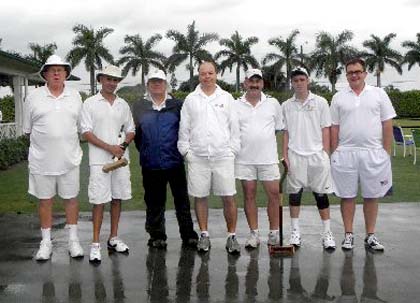 The "under 21" idea is about peer-level competition not just in skill level, but in age. It got its start in Egypt, where only adults are allowed to play in the major club and national championships. Very strong young players frequently emerge from the younger group after years of testing themselves against their peers in age. Their de facto "youth development program" helps to explain Egypt's continuing across-the-board strength in Golf Croquet. One such young Egyptian stand-out in the 2014 Golf Croquet world Championship in New Zealand was 23-year-old Hamy Erian, who had to beat Reg Bamford (the holder of the title) and many other strong players on the way to the finals. In a close final match, Hamy had to settle for second against veteran Egyptian player Ahmed El Mahdi.
ABOUT GREG BRYANT:
Greg is Croquet New Zealand's Sport Development Officer, a part time position created by CNZ in 2012. Among other things, he is the author/coordinator/coach of the CNZ Secondary Schools Programme and other youth development programmes. He now lives in Westport between the ranges of the Kahurangi National Park and the Tasman Sea, enjoying a very inspiring environment, motorcycling, year-round croquet, and a cost of living that accommodates all of that. His resume cites a career in transport, management and consulting, but croquet is clearly his main interest. Greg started playing croquet when he was 13 after taking his mother to a club open day advertised in the local newspaper. It took only 30 years for Greg to win his first New Zealand Open, but he has followed that win with two other consecutive wins. His 20-year campaign to get his name on the MacRobertson Shield was finally realized with the New Zealand team victory in 2014.
---