Pueblo Chieftain weekly column
by Chris Woodka, April 24, 2017
LIFE IN THE BUNKER
Wielding A Mallet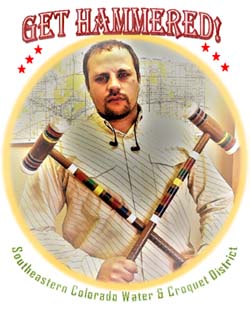 An engineer with the District posed for a "Get Hammered" poster. His slogan, "I'd hit that," was rejected because someone said it was street slang with sexual connotations. It hangs in Woodka's office.

Mallet madness! Now that spring has arrived, it can be revealed.

It's been about six months since my last update about my new job at the Top Secret Water Facility east of Pueblo. And what an exciting time it's been.

I won't bore you with details - they're classified anyway. But here's an excerpt from my next job evaluation:

"Mr. Special:

"Overall, your work has been quite adequate, but your imagination sometimes takes over and creates needless distractions and obstacles to progress.

"For instance, your repeated suggestions that we "weaponize" our top-priority project, including the idea that we frame its cost in MOABs and Tomahawk Missiles, does not appear to be improving the chances for receiving increased levels of federal funding. Your notion of renaming a pipeline project "Strategic Underground Defense System (SUDS) and casting it as a way to fight "Toxic Terror Water" is not gaining traction in Washington.

"Under internal affairs, equipping staff members with high-powered Nerf guns does not seem like a realistic security measure, and it is definitely not an avenue we need to go down.

"On the positive side, thanks for developing the Croquet Course."

Croquet Course?

That's right. It's been my major accomplish so far.

It started on a particularly balmy December day, after our conservation specialist had remarked that our turf, even though it is made up of low-water consumption grasses, was still ... well, turf.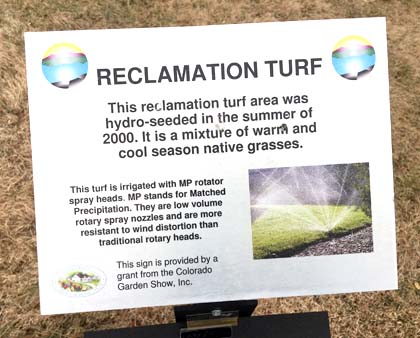 Consistent with the Water District's mission, this native grass turf of the croquet course demonstrates ecologically sound management of the water imported to the region across the Continental Divide.
"If you're going to have a lawn, you should play on it," she told me.
So, I dug the old croquet set out of the garage, wiped off the dust and built a regulation course on a neglected portion of the property.
Because I now work for a bureaucracy, there had to be justification.
So I told the Boss:
"I think this will be a way to expose more people to the Xeriscape gardens. We can sponsor tournaments to raise money. The posts and wickets will provide continuous aeration. It's a recreation outlet for staff. It will discourage helicopter landings."
He looked at me skeptically.
"Plus, it's just like golf, only the balls are bigger. And made out of wood. Plus, you get to play whenever you'd like without a green fee."
That got him.
So, about a week later, after I processed the "Vegetation Realignment and Reformulation Request" packet of forms, the Croquet Course was born.
There was a light snow on the day of the inaugural round, but that did not hinder play. The Boss was swinging his hammer in the air like some sort of crazed Viking warrior after successful shots, while the engineer was surreptitiously creating tunnels in the light snow when we were blinded by the blizzard.
Since then, there have been frequent games during lunch time, with visitors and even a few, um, "business meetings" on the course.
The Croquet Course is not Augusta by any means, but it has its charm.
There's an angelic fountain near the starting tee, a stone ring smack dab in the middle of the course and bunnies that scurry off in the shrubbery whenever players take the field. The occasional stick or root can create unforeseen misery and high drama.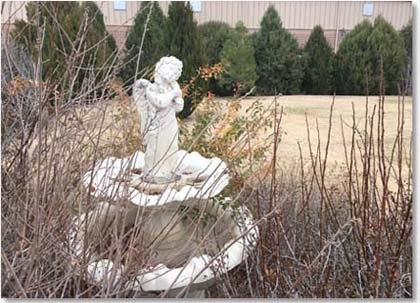 Another course hazard, the Croquet Angel, collects rainwater.
My favorite feature is the "dog ear." Where golf courses often will have a crooked dogleg to challenge duffers, the southwest corner of the Croquet Course dips off steeply into a drainage ditch.
"NO! NO! NO!" is often heard from that corner of the field as a ball rolls endlessly toward the abyss.
"Dog ear" just seemed appropriate for an organization grounded in paperwork.
The course is regulation size - yes, there are official regulations for these things. A game can take a few minutes or an hour, depending on the specific level of blood lust on any given day. Rapping an opponent's ball into the dog ear is a strangely satisfying experience.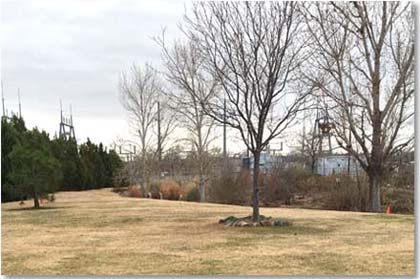 Shown here in November, the grass is going dormant on a course that couldn't be perfectly flat. The paper-pushers named the dreaded hazard behind the orange cone where balls are apt to roll into a gully "the Dog Ear."
I don't know if there are any other croquet courses in the Greater Pueblo Area, but our team with take out your team if you're foolish enough to challenge us. Please see me for the appropriate forms.
Croquet?
Don't knock it until you've knocked it.