New USCA handicaps pegged to World Rankings
by Bob Alman
Posted September 19, 2005
---

The United States Croquet Association takes another small step towards conformance to the worldwide standards of the sport as governed by the World Croquet Federation with the creation of an "International Rules" handicap based on the "Croquet Grading System" that forms the basis of the official World Rankings.

---
After decades of non-existent or inadequate "International Rules" handicaps set by committee, the U.S. Croquet Association has devised a way to bring the Americas into alignment with the "Association" handicaps used in other countries. Although the handicap system for American Rules play was established long ago under the guidance of Billie Jean Berne, there has been until now no objective system for setting an International Rules handicap for all USCA members.
Rich Curtis, president of the U.S. Croquet Association since April 2005, is the person mainly responsible for creating the USCA's Grand Prix, which ranks players according to their best recorded results in sanctioned tournaments. The Grand Prix, however, is more in the nature of a contest than a true national ranking. Because there has never been a completely objective ranking of players in USCA croquet, Curtis has encouraged the development of the new International Rules handicap, through a committee composed of Rory Kelly, Jeff Soo, and Leo Nikora. Curtis commented, "This handicap will make it easier for tournament directors to seed tournaments and will hopefully encourage more members to play handicapped games against each other."
Curtis echoes the opinion of many advanced American players (He has a Minus one-half handicap in American Rules) in favoring more play of International Rules: "Using bisques in a handicap game played under International Rules," he said, "is probably the best way for novice and intermediate players to learn break play and improve their overall skills." Bisques are seldom used in casual pick-up play of American Rules croquet, and handicapped tournaments are virtually unknown in the game. It is widely supposed that the American bisque is so "weak" that it does not, as a practical matter, adequately serve the function of equalizing play between opponents of different skill levels.
Instant headache relief for tournament directors
The value of the new handicap will be seen more immediately in fixing flight breaks of International Rules tournaments - without arguments and controversy. Now, for the first time, the flight divisions can be made fairly and objectively by rules that apply to everyone. Players with no track record in International Rules play no longer have to wonder what their handicap is or have it decided by the subjective standards of some committee or other.
If you are among the hundred-plus American players already listed in the World Rankings, all you have to do is refer to the Grading Table and Conversion Chart in the International Rules Handicaps page linked from the front page of CroquetAmerica.com to find your handicap. Usually, it will be two or three points above your American Rules handicap.
If, like the majority of the nearly 3000 USCA members, you are not in the World Rankings, getting your USCA International Rules handicap is even easier: All you do is add two to your current American Rules handicap. Until you appear in the world rankings, you can continue to use this method.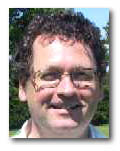 Chris Williams, who maintains the World Rankings, lives is a small village in South East Wales near the English border and plays croquet at the Dyffryn Gardens club outside Cardiff. Photo by Brian Storey.

The stability of the system is virtually assured, as it is pegged to the already well established international rankings originally created by Stephen Mulliner of England and now - for many years - managed by Chris Williams. The system has been adopted by the World Croquet Federation as the official universal standard. The rankings are meticulously maintained and frequently updated by Williams, and Williams has added sophisticated features including Interactive Rankings.

Games from all International Rules tournaments may be reported via email by the tournament directors - without any cost - to Chris Williams, through his personal website or the World Croquet Federation website. Only 10 games are required each year to maintain a player's listing in the rankings. Despite this, fewer than 900 players in the world meet this reporting standard. So if you make it onto the list by playing in tournaments whose results are reported to Williams, you are in a most elite group of players among the estimated 20 to 30 thousand people around the world who belong to national croquet associations.

And you don't have to be in the top rank of players in order to appear on the World Ranking list. America players with American Rules handicaps as high as six (and International Rules handicaps as high as nine) are listed in the rankings.

How American players determine their new handicap

Everyone in the world rankings has a "grade" which is dependent on the ranking of the players one has beaten, cumulatively, in sanctioned competition. If you consistently beat players with a higher grade than you have, your grade will rapidly increase. (This is a radical simplification; you can see a complete and rather mind-boggling explanation by following the links noted above.)

Here's an example: In other countries which have separate ranking lists, a player's ranking does not necessarily convert to a particular handicap. But since the USCA has never had a formal ranking of players, the handicap tables have been used as a guide for ranking players for all kinds of purposes, including placing them in flight divisions and seeding tournaments. So for the top players, little has changed by pegging the new handicaps to the official world rankings, which already includes more than 100 American players.

But for other players, at the lower ranks, the new handicap gives them a way to get into the system for the first time - even if they do not appear in the world rankings. Tournament managers will simply take their existing USCA "American Rules" handicap and add two. Thus, a player handicapped at 5 for American Rules becomes a handicap 7 in International Rules play.

How was the conversion factor chosen?

Inventing handicaps for American players in International Rules tournaments has always been a challenge for tournament directors in America, because it has become clear that no universal conversion standard is completely accurate. Players with equal skill in American rules might not remain equal when they play International Rules. The player with a superior grasp of International Rules tactics and strategy will probably fare better than the novice. And it could be argued that the player with better hit-in skills will be relatively more successful in the more wide-open International Rules game, which has no carry-over deadness and which allows either partner ball to be played in each turn.

At some events mixing English and American players in the same tournaments - most notably the annual "Association Croquet the English Way" played each February at the National Croquet Center Florida - directors have been especially hard pressed to assign equitable handicaps to the American players.

Over time and with experimentation, however, the convention of adding two points to the American handicap has seemed to be the most practical standard available for inventing an International Rules handicap for Americans.

For the present, the main de facto purpose of the handicap is to enable tournament directors to place players in fairly and objectively seeded flights. It is hoped that over time, the new handicap will adjust its relative values as it is used. As more Americans appear in the World Rankings, the accuracy of handicap system pegged to the rankings will increase in proportion.

In the opinion of Chris Williams, "The use of the Croquet Grading System for setting USCA handicaps is an interesting development, because for players in the UK the handicaps do follow CGS grades quite closely and so there should be a straightforward mapping between the two numbers."

Some examples of the new handicap

Leo McBride, with a "grade" of 2483, is the highest ranking American player. According to the handicap table published in the new conversion formulas, he must therefore be given an "International Rules" handicap of Minus 1 1/2 - a half point above the handful of world championship caliber players, who will have the lowest possible handicap in the system, Minus 2, when they play in America. (Those players, as ranked in the system in mid September 2005, are: David Maugham, England; Reg Bamford, South Africa; Robert Fulford, England; Chris Clarke, England; Keith Aiton, Scotland; Jonathan Kirby, Scotland; Peter Trimmer, England.)

Now let's look at the other end of the World Rankings and see how American Rules players stack up against their overseas counterparts. On the conversion table, you can see that players in the grading range of 1300 to 1350 are automatically given an International Rules handicap of nine. Three American players in this range are Carol Cherry, June Ryan, and Elaine Fong, each with a current American Rules handicap of six. Thus, on the basis of this small test, it would appear that American players not already on the list may be slightly overvalued - because these three players, if they were not in the World Rankings already, would be given automatically an International Rules handicap of 8 - two above their American Rules handicap.

But for anyone seriously interested in International Rules play, this shouldn't be a problem: As soon as 10 of their games are reported to the World Ranking list within the required period of time, they will have an official grade of their own on the list.
---