A personal album
of favorite photos
by Bob Alman
layout by Reuben Edwards
with thanks to a host of gifted and lucky photographers
---

Choosing the photographs of significant events and breakthroughs in the year was easy. I couldn't resist adding others--old and new--from many sources, including CROQUET WORLD's own summer contests and photos from postings of major 2011 events around the world. Inevitably, I have missed some truly great photos I wasn't sent, didn't see, or didn't notice. So now's the time to ask: If you have a photo I could categorize as "great" for any reason, do please send it to me for future reference; this feature should probably take the place of our annual summer photo contest. We recommend starting at the beginning and "walking through" the gallery, one photograph at a time.

---
Endings and beginnings in 2011
The year saw the death of World Croquet Federation president Charles Jones of New Zealand and Egypt's first ever loss of the WCF's Golf Croquet World Championship, won by Mark McInerney of Ireland. [better view]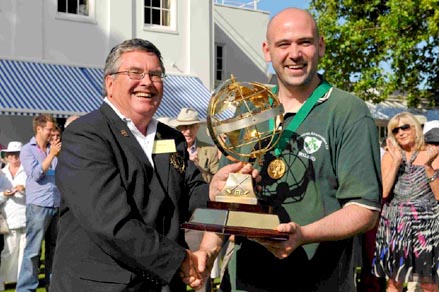 Golf Croquet Championship moves west
This is the jump shot that made Rachel Rowe the first non-Egyptian winner of the Women's Golf Croquet World Championship, in New Zealand. Alwen Bowker, the sole competitor from Wales, comments, "I was so engrossed in the match that I took no photos at all during most of the games, but suddenly realised that this might be the final shot of the match and a jump shot at that, so I grabbed the camera and started snapping. It was more luck than anything that I got the timing just right and I just love the intensity of the spectators at the back all keenly watching the shot. Though married to an Englishman, it is virtually unknown for me to support England in any competitive event (ancient rivalry and all that!) but I was very much in Rachel's corner during the final and cheering as loudly as everyone else." The close-up crop on the right is the cover photo on the year-end issue of England's Croquet Gazette. [better view]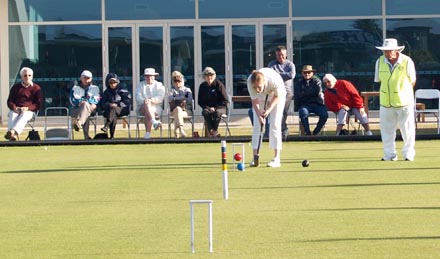 But where are the cheerleaders?
Paddy Chapman's superb Hurlingham panorama at the 2011 Golf Croquet World Championship reveals all sides of a spectator sport at a critical moment. [better view]

The theatre of croquet
Samir Patel has shot a series of engaging photos with Chris Patmore and Chris Farthing dramatizing the sport. Whether in gorilla suits or space gear, the figures are completely protected from public approbation for playing a game with an image far removed from that of football or hockey. Patel comments, "This series came from an annual tournament at Surbiton where whites started as not being compulsory. That turned into active discouragement, until some people took to fancy dress." [better view]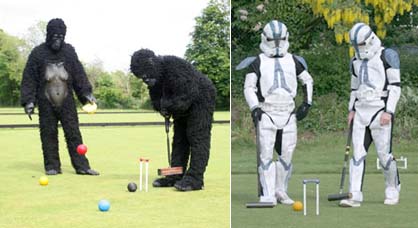 But was it a good shot?
| | |
| --- | --- |
| The self-expressive Ian Burridge has never been more eloquent in his body language than in the 2011 Solomon Trophy in England. Photo by Eileen Soo. [better view] | |
What could they possibly be doing?
| | |
| --- | --- |
| Keith Davis caught an unusual view of these players at the 2011 Mens and Womens. [better view] | |
Sharing space
Croquet shares with bowling, tennis, golf, cricket, and--sometimes--polo. The International Polo Club Palm Beach hosts one of the most prestigious purse events on the annual calendar. Here's David Openshaw and Sherif Abdelwahab in a block game in the February 2011 Golf Croquet Invitational, overlooking a polo field. [better view]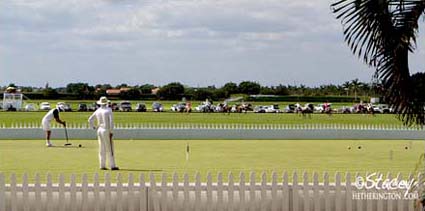 Exquisite balance
Paddy Chapman snapped Martin Murray at the height of his spectacularly fluid follow-through. [better view]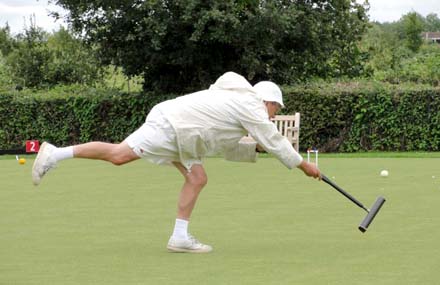 Generation gap
Johnny Mitchell caught this arresting image of youth versus age in a sport well known to be dominated by older players, as more youthful ones tend to win the major competitions. This study in contrasts shows Michigan's famously youthful "Mol mob" making the most of a late winter Florida getaway on the near side of the court by exposing lots of skin during the USCA's 2009 Club Teams, while the conventional crowd of elders on the opposite site of the lawn protect themselves from cancer-causing rays. [better view]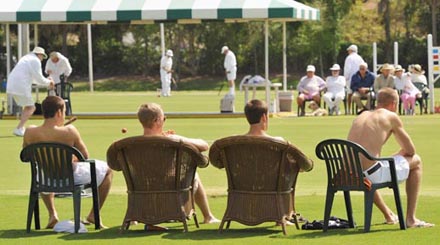 The male half-pointe at apogee
| | |
| --- | --- |
| Photographer Tim King does not identify the player, who on his follow-through achieves the half-pointe--often executed by ballet dancers, but seldom seen on the croquet lawn. [better view] | |
The Panther
Duncan Hector, with this prize-winning photo, demonstrates some of the ways you can transform an "ordinary" image into one you might created to hang with your favorite paintings. For the first stage, Hector made adjustments to the brightness, contrast and sharpness. The main effect was done using "edge enhance". Hector commented, "The composition is very satisfying, but I wanted it to be iconic, and I think the adjustments have been successful. I particular like the angles, jaw, elbow, knee all working together--and see how he is supported by his toes, finger tips, and wrist. No wonder they call him Panther." [better view]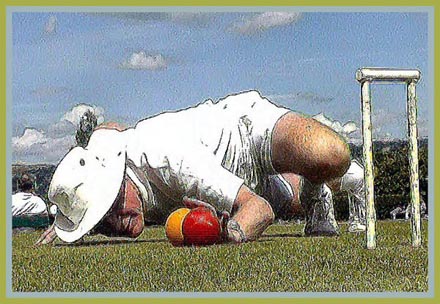 Dark clouds over the National Croquet Center
Joe Camosy hints at a troubled future for this South Florida mega-center in 2008, with dak clouds and just a few customers in the left-hand corner. The skies brightened considerably in 2011. (Camosy also shot the home page photo of the USCA website. [better view]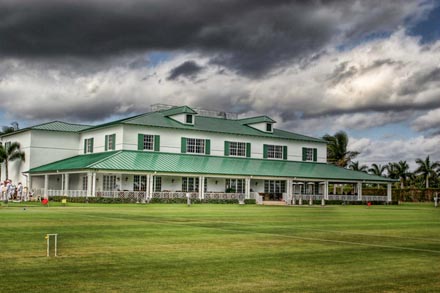 "Oh my god in heaven!"
The agony of missing a short roquet--the embarrassment and the shame--are touchingly photographed here by John Bevington, shooting the Wrest Park August 2007 tournament. He explains, "Tom Anderson had completely missed a short roquet. He does this from time to time." We all do it from time to time, and each time, it hurts. [better view]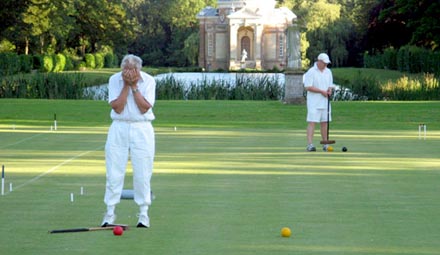 Choose your game
"The Meadows" is a large park near the center of Edinburgh. In the background, the Scottish Masters is being hosted by the Meadows Croquet Club, while picnickers entertain themselves with a garden set in the foreground. Photographer Ian Wright brilliantly juxtaposes two very different games, with the most popular "garden game" in the foreground. [better view]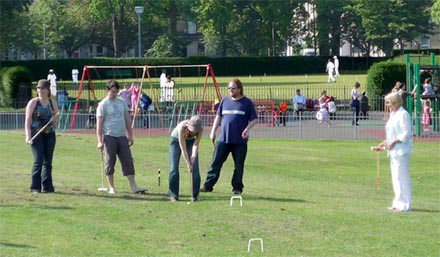 Sometimes it looks like a sport
Joe Camosy -- a friend of our American editor who was invited to take pictures at the National Croquet Center but who is not, himself, a croquet player--has given his close-ups an almost abstract quality, with an insight that may come more naturally to those with a fresh view of their subject. Though not a professional, he possesses a confident knowledge of digital image processing. All four of these pictures have undergone some enhancement to polish them to perfection. Camosy regards PhotoShop as the best friend of the modern photographer. We published his brief primer on PhotoShop at the end of the story on our 2007 photo contest. [better view]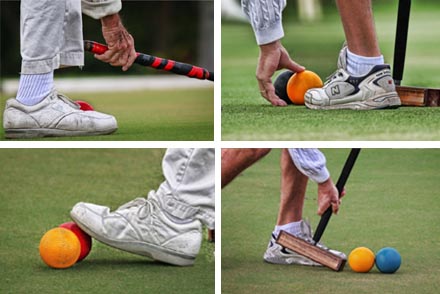 Lying Down
Tim King captures one of the game's absurdities in this cleverly cropped image. The frame is filled by the two figures down on the ground, leaving the viewer confused as to their purpose. But Tim explains, "John Spiers and Mark Hamilton get down low to see whether the ball has traveled all the way through a hoop." [better view]

Egyptian Style
| | |
| --- | --- |
| Max Murray photographs a World Golf Croquet Champion, Mohamed Nasr, from the side, clearly depicting the hard-hitting Egyptian style (notice Nasr's right ankle bent outward to avoid injury) in this shot from the 2006 World Championship in New Zealand. [better view] | |
Lifestyle or sport?
| | |
| --- | --- |
| Ken Pao took a sequence of high fashion photographs for Palm Beach Illustrated Magazine at the National Croquet Center, including this deeply strange but still beguiling image. [better view] | |
A busy day in the Crake Valley
According to photographer Gail Curry, "This gallery always shows up, rain or shine," whether they sit in plastic chairs, stand, or appear in a motorized scooter. [better view]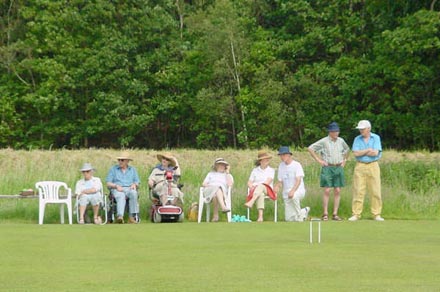 A sunny day at Ealing
Quiller Barrett snapped this picture on a warm day in August 2002 at the Ealing Croquet Club. No, it wasn't a bold new public relations initiative to change the sport's stodgy image, but a shoot for a breakfast food TV ad which never saw air time. [better view]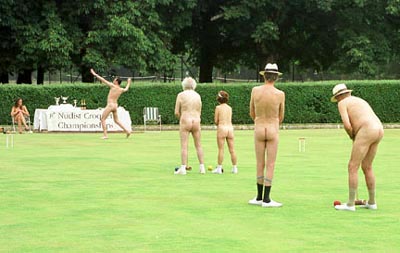 Referee, please!
| | |
| --- | --- |
| The mallet is raised to call the referee to watch what looks like a difficult hampered stroke at hoop 2. This is Adrian Wadley's shot of Johnny Osborn in the 2000 Sonoma Cutrer final. The background figures--part of what arguably might have been the biggest assemblage ever of "spectators" for a croquet match--are mostly interested in drinking, eating, and discussing the auction items upcoming in the Sonoma-Cutrer final rounds of 2000. [better view] | |
Pegged down and under water
The shimmering, richly patterned surface of this canvas compels admiration. By croquet equipment manufacturer and distributor Don Oakley. [better view]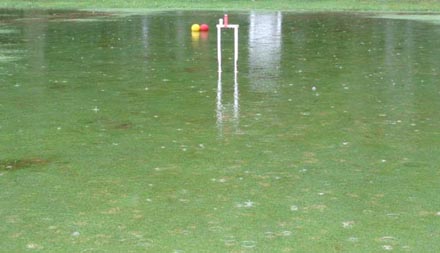 Best way to greet the New Year
This croquet photo, looking vaguely post-apocalyptic, suggests that the game can be played anywhere, anytime. It was shot on January 1, 2001 at Tynemouth Castle. [better view]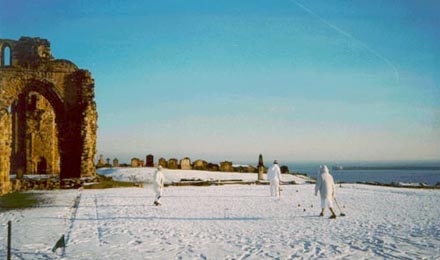 Croquet, anyone?
---