Short croquet videos worth watching


judged by Adrian Wadley, Bob Kroeger, and Bob Alman
posted March 12, 2010



---

Most of our nominating panelists and judges were reluctant to choose among thousands of videos with obvious flaws. Here are our collective and largely subjective notions of the best currently available, along with some brief descriptive comments from our judges providing clues as to why viewing their choices wouldn't necessarily be a waste of your time. You might like to know that neither the nominating panel nor the judges were allowed to nominate their own work; nevertheless, many of their videos are included, nominated by others. There was so little agreement among the three judges on what was "best" in each category that the editor has chosen to list all the judges' citations, indicating with an asterisk ( * ) which entries received two or three votes. Readers are invited to nominate their own favorites - with supporting commentary - in our new self-posting TALK-BACK letters feature.

---
MAINSTREAM MEDIA CLIPS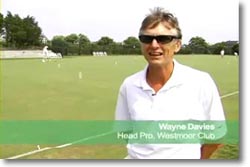 Nantucket Pro Wayne Davies came up with an idea that worked as both a croquet tournament and as an entertaining and informative clip for mainstream television.

*Nantucket Pro-Am, Association Croquet. In just four minutes of air time, this professionally shot and edited clip manages to convey both the fun and sophistication of the advanced game, intercutting court play with talking-head comments from croquet pros Ron Lloyd, Jeff Soo, David Bent, and others. All without as much as a touch of tongue-in-cheek or disparagement.

*1997 USCA National Championship on ESPN. In eight minutes, this old ESPN clips holds up well as the video story of Jim Hughes' triumph as one of croquet's oldest champions at the age of 67, first defeating Mik Mehas in the semi-finals, then Richard Powell in the finals in Palm Beach.

BBC South Today, with Georgie Palmer. Instead of making the sport look stodgy and stuck-up, this TV feature makes it look downright grubby. (And maybe that's a good thing!)

British National Trust Charity, origin of modern croquet. This is one of a series of shorts, this one on Chastleton House - a property of "eccentrics" who installed a croquet lawn.

Robert "Bob" Jackson, New Zealand, by Janette Heffernan. In less than four minutes the lion of New Zealand croquet is seen triple-peeling his way to another victory - this time against an extremely youthful opponent. The voice-over commentary almost makes the game comprehensible.

Laura Whittaker, Croquet Champion. This against-the-grain "athlete profile" with a very youthful champion shows youth and croquet in the same frame, and thus scores high for the mainstream media.

COMPETITIVE GAMES IN ORGANIZED EVENTS

*Golf Croquet. A succession of fast cutting shows spectacular hits and hoops.

Golf Croquet. Very short and very fast, shot on what must be the ugliest croquet court in Egypt.

Robert Lowe's straight rover peel and combination peg-out, by Bob Kroeger. A rare feat on lawn three at PGA in Palm Beach Gardens, silently captured by the Kroeger.

Croquet Wars, New Zealand Top Ten 2008, by Paddy Chapman. John Williams probably doesn't mind, and it might be okay with George Lucas as well.

Sophisticated British Comedy Gold, by Paddy Chapman. Paddy speeds up the action on Dave Maugham's break and borrows a catchy soundtrack.

DEMONSTRATIONS OF TACTICS AND SHOTS

*Association Croquet - 1st-person Triple Peel, by Paddy Chapman. Paddy Chapman describes this as "the world's first 1st-person TP," performing as both the actor and the photographer with a camera on his head and lots of heavy breathing as he runs from shot to shot.

Association Croquet - 1st-person TP (part 2). Paddy Chapman continues, with some commentary along with the breathing.

Association Croquet, Paddy Chapman. Paddy Chapman's 7-Minute Triple Peel is shot from a camera on Paddy's head, with no cutting at all, because Paddy and his shadow move very, very fast.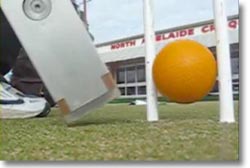 John Riches and Paddy Chapman team up to show how to get yourself out of tight spots, legally. (But be sure to call the referee - or a team of referees - to watch!)

Association Croquet - Wacky Shots with John Riches and Paddy Chapman. Not really wacky, but unusual. And instructive.

Association Croquet - The Art of the 2-Ball Break, by Paddy Chapman. Paddy Chapman - with the camera on his head - shows that you need only three skills to run an all-round two-ball break: precise rushes, controlled hoop shots, and (when something goes awry) well engineered rolls.

Extreme Croquet Amazing feats done with croquet equipment in rough turf. Is it croquet? Not really; it's eXtreme Croquet. (Maybe this one should be in the "whimsy" section.)

Jump over peg, by Paddy Chapman It's admirably short - only 11 seconds.

TECHNICAL, TRAINING, INSTRUCTION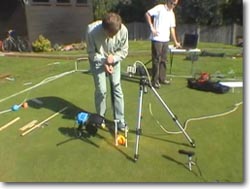 Bob Kroeger, with mallet in hand, was one of many producers of the 2006 series of shoots with the English Croquet Association that set the standard for technical videos that show clearly the difference between legal and illegal in many different playing situations.

*Series D Hoop Shots,
by Bob Kroeger. These technically excellent slow-mo depictions of hoop shots done for the Croquet Association in 2006 as one of a series of stop-action studies answers the question, "Was it a fault, or not?"

Series A Single Ball Shots,
Bob Kroeger. This beautifully photographed slow-mo shows you exactly how and when mallet and ball make contact.

*Series B Single Ball Shots, Bob Kroeger. How and when double-taps occur and how and when they don't.

Series C Croquet Shots. More of the 2006 Croquet Association's video shoot with Bob K.

*More Series D Hoop Shots, Bob Kroeger. This one shows ball, mallet, and hoop sometimes in simultaneous contact and sometimes not. Only the slow-mo can show you for sure. (Why do they say croquet is a slow sport if the critical actions are too fast to be seen by the naked eye?)

Croquet - Series E Hammer Shots. It's the 2006 slo-mo shoot again, which raises the question, "What, exactly, is a 'clean' hammer stroke?"

Association Croquet: The Delayed Triple Peel, by Bob Kroeger. This graphed triple peel is very clear, even without sound.

HUMOR AND WHIMSEY

*Pete Trimmer and the lady, by Duncan Hector. Artful, funny, very short, and unique, from one of croquet's few masters of video.

Ball and Mallet Magic, by Duncan Hector. You are shown not only the magic, but also how it's done.

One leg, one hand, one drink, by John Yarrall. This silent video shows how three different handicap methods may be employed in a single game. The pinkie covering part of the picture suggests a handicap, also, for the videographer.

*Synchronized Croquet Comedy, by Peter Wilson. Liz Wilson and Betty Bates make the most of their flooded laws at Fylde - now the best-drained lawns in the Northwest of England since drainage ditches were dug shortly after this video was shot.

Why do we play this game? by Paddy Chapman. The heart-rending combo of music and video is agonizing, but you can take it because it's over in less than a minute.

THE THREE JUDGES TAKE THE RAP

Bob Kroeger first encountered croquet in the back yard with his family in 1963 and has been a prominent figure in American croquet ever since the early days of the US Croquet Association in the late 1970's. He has developed and produced many coaching materials - books, DVDs, audio CDs, and online articles - and has been Director of USCA Instructional Schools for most of the last 20 years. He was a member of the inaugural US MacRobertson Shield Team in 1993. His technical videos cited in this article are uniquely polished and definitive.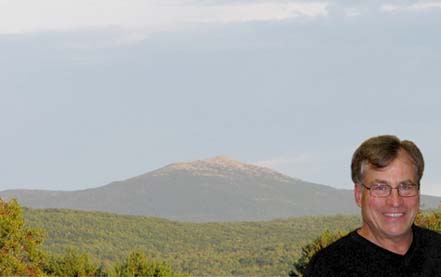 Bob Kroeger likes to produce composite images, and this one combines his visage with that of Mount Monadnock, near his New Hampshire home. He comments, "I love looking for interesting images to combine that either make sense or are disparate." It may be native modesty that prevents his saying which condition applies in this case.
Adrian Wadley lives in San Francisco and plays croquet there less frequently since his wife presented him with a child a little more than a year ago. He's kept a close eye on the croquet scene since leaving the United Kingdom twelve years ago - via the Notts List mostly. Adrian is a keen photographer, with several photo credits in mainstream media. His interest in croquet videos resulted in his starting 'CroquetOnFilm' as a way of sorting the wheat from the chaff on YouTube. He's still looking for croquet videographers to help post more up-to-date material.

| | |
| --- | --- |
| | Adrian Wadley is in Bath, England, in April several years ago, and the scary sandwich in front of him, called locally a "chip butty," consists of large, thick slices of white bread spread with butter with a pile of fried potato strips between. This photo was snapped by his fiance at the time (now his wife and the mother of their child). Adrian insists the sandwich was delicious but promised to consume no more than one "chip butty" a decade. |


Bob Alman put the US Croquet Association on the web in the mid-90's and continues to promote croquet nationally and internationally through CROQUET WORLD ONLINE, writing books on club-building for the Croquet Foundation of America, and moving to South Florida in 2000 to organize and manage the world's largest croquet facility for its first three years. Alman now volunteers at the National Croquet Center and facilitates an annual Club Organizers Workshop and Forum for the USCA at the Center each March. Around the July 4 holiday, he goes north to the Rutherford B. Hayes Presidential Center in Fremont, Ohio, to event-manage, with Mike Orgill and Don Oakley, their Wine, Wickets & Wheels fundraiser, including a Golf Croquet Pro-Am with a cash purse and the National Championship for SuperSize Croquet. Alman thanks Kroeger for shooting the 90-second promo at the top of the SuperSize Croquet website.

THANKS TO THE NOMINATING PANELISTS

Most of the well known croquet players we invited to nominate commented on the difficulty of producing a list, giving our limitation to "short" videos (ten minutes or less) and the poor quality of most of the existing sources on the Web - which, come to think of it, was the reason we wanted to offer some kind of guide in the first place. When anyone can point, click, record, and post to youtube, almost anyone does, it seems. No croquet video has yet gone viral, so we thank our panelists and judges for providing clues to where some entertainment or instructional value might be found in this vast wasteland.

Stephen Meatheringham modestly identifies himself as "Aussie, croquet player, computer geek, music lover and radio presenter." He manages the Croquet Australia website.

Paddy Chapman, a native of New Zealand now living and playing mostly in Australia, is one of the brightest young star players of the Southern Hemisphere. He has made himself famous as the croquet world's video spoofer, having spent countless hours spooling through the gigabytes of his own video footage, setting croquet to "found" music, and going wherever his muse leads him. He often releases an official video for big events, in the style of the Hollywood blockbuster (as an example, the 2010 New Zealand Open). He also pioneered First-Person Croquet - the idea of attaching the video camera to his head and filming TPs and SXPs in the first person. Many of his videos were chosen here by the judges.

Leo Nikora plays on the courts of his Maui Croquet Club in Hawaii and at tournaments around the country; he is also the diligent webmaster for the United States Croquet Association, and he has put up several other websites, including the Maui Croquet Website, packed with interesting and useful textual and photographic resources on the sport.

Jim Bast was one of several top-ranked American players to emerge in the eighties from the Arizona Croquet Club and in the last few years, he has worked hard to return to top form, achieving a major come-back goal in his selection for the 2010 MacRobertson Shield team, a task made more difficult by his relative isolation from the croquet scene, as a resident of Austin, Texas, where he works.
---