Fame is not enough
for the Hall of Fame

by Bob Alman
posted September 27, 2013
---

The lawnsports or croquet, tennis, and golf got a foothold on rough turf in Great Britain in the 19th century and matured rapidly after the Industrial Revolution made possible the machines that enabled close cutting and care of large expanses of manicured turf. Their halls of fame proclaim the glory of the best players, but also acknowledge donors, organizers, volunteers, and builders of hallmark facilities. But fame alone--as measured by TV and newsprint--is not enough to get you into any particular hall. In fact, the reports of your infamy, via newsprint or TV or courtside gossip--might utterly doom your chances. Major sports figures who are gamblers, adulterers, steroid abusers, and profiteers achieve a kind of infamy that might better qualify them for a Hall of Shame. But if they successfully promote a "nice-guy" image, they might eventually make it. And if they are genuine nice guys (as are the 2013 CFA inductees) and popular with the electors, so much the better.

---
The Hall of Fame of the World Croquet Federation is unlike any of the other halls in this article, in a couple of ways: First, the election must be UNANIMOUS--without a single dissenting vote--among the four voting members of the Hall of Fame committee, chaired by a single non-voting member of the Management Committee. Secondly, there is no element of money attached to this hall--it is entirely honorary, with no big-ticket dinner or awards ceremony attached. Ironically, however, the element of money has often excluded otherwise worthy nominees.

A case in point is Chris Hudson. His name has been proposed more than once, and more than once his nomination has been knocked down. This is the man who is credited with successfully getting croquet's worldwide organization off the ground and up and running in the 80's, after a successful stint in development which produced some of England's top-ranked players of today.

But there were two problems with Hudson's nomination. The first is that he was given a salary, albeit it by the government, in the form of a grant; and "getting paid" is a no-no in a game many top players are proud to proclaim an amateur sport. Another issue related to "profiteering" may or may not be accurate. The last time his name came up, more than one member nixed his election.

So in order for Hudson to be properly acknowledged during his lifetime for his huge contribution, an award had to be invented for him, which accounts for the creation of his "special award for meritorious service." Unlike the Hall of Fame nominees, Hudson received his credential personally from past president of the WCF Tony Hall in August of 2013.

Perhaps Hudson will make it into the WCF Hall of Fame after his death, as has the truly notorious "profiteer" Pritchard has justly called "the father of modern croquet"--Walter Jones-Whitmore, who took up croquet in the middle of the 19th Century as an entrepreneur. Jones-Whitmore is one of the 2013 inductees, in addition to David Openshaw, Walter Peel, Graeme Roberts, and Brice Jones.

Why fame is not enough in America

THE MEHAS LEGACY
IN BRONZE

It happened by accident. An impressive perpetual trophy was needed for the Corporate Croquet Challenge I started in 2001 which invited local corporations to put up $1,000 each to compete in Golf Croquet as a benefit for USCA youth development. I gave to the artist some photos of well-known players to inform her work. One of them was Mik Mehas, in his modified baseball outfit. I shouldn't have been surprised to find that she had copied one of the photos precisely, including the signature handkerchief hanging out of the back pocket, and the distinctive Mehas grip, stance, and swing. It looked sporty, all right, but it looked just like Mik Mehas, and that was a problem. "Could you at least disguise it in some way, so people don't immediately recognize it as Mehas?" I asked. We decided she could take away the handkerchief, which helped. The CCC was produced only three times, and subsequent management recycled the bronze casting as the perpetual trophy for the annual Steuber purse tournament, beginning in 2008. It rests proudly (some might say brazenly!) in the lobby of the National Croquet Center, beneath an oil painting of Chuck Steuber, atop two tiers of a walnut base, providing sufficient space to record the winners of the prestigious tournament for decades to come.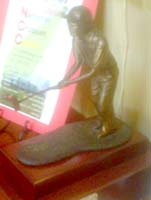 You have to be a "nice guy" or at least cultivate a "nice guy" image to be in the Croquet Foundation of America's Hall of Fame. Mik Mehas failed spectacularly on both counts. And yet, he deliberately created more press for croquet in American than any other single player in the last quarter century, with his sporty looks and behavior, and his "bad boy" image, which appealed to newspaper writers who are always looking for an "against-the-grain" hook to satisfy their editors. Mehas gave them that hook, in spades, and few could resist the image he prepared for them, although they may have seen through the act.

By labeling Mehas a "bad boy" in numerous articles (an appelation Rhys Thomas also claims to have invented) I was equally happy to use the Mehas image to create publicity for the sport in this magazine. He was an interesting guy, and his death from a brain tumor in 2009 could help to explain the fascinating contradictions in his personality--balancing his apparently insane outbursts against repeated and prolonged generosity with his time in coaching and encouraging new players.

If Mehas was a con man, so were USCA founder Jack Osborn and Hollywood entrepreneur Michael Romonoff, as well: all of them cultivated the image they thought they needed to succeed, and they crossed lines many of us--including the nice guys among us--would be loath to cross. Other contemporary players in America and on the world stage who are still alive could be mentioned in this regard--but to do so I would risk my own "nice guy" reputation!


Why money is important in an amateur sport

A major goal of the Croquet Foundation of America's Hall of Fame in the 21st Century is to raise money for the sport (as it was in the beginning) and less so to generate publicity. The publicity aspect was a major part of this hall in its beginning, in the late 70's, when most of the inductees were chosen because of their celebrity. Most of them were not members of Jack Osborn's fledgling US Croquet Association, but were well known for their celebrity exploits in well-publicized croquet matches which, by today's standards, would be ludicrously primitive. Some of them were inducted after they had died, and many never heard of the USCA. Most never were USCA members, although a few--including Louis Jourdan--became fairly good players and helped to burnish the reputation of croquet in the US as "a sport for the elite class," as the USCA founder Jack Osborn liked to describe it.

Today, the CFA's Croquet Hall of Fame Ball, as a fund-raiser, is expected to net at least $30,000 with a ticket price of $200.00, and the inductees are encouraged to buy entire tables of eight or ten. Each inductee is asked to supply the CFA secretary with a list of invitees, encouraging them to come and celebrate the induction of their friend. If the revenue seems paltry by corporate standards, you're right, it is. But it's a hefty chunk of the amount needed annually to keep afloat the CFA's principal assent and main liability--the National Croquet Center--until the Center generates enough members to pay the bills. And compared to the standard Palm Beach ball, it's a bargain, with a genuinely good dinner, a fine band and dancing, and entertaining presentations along with an auction.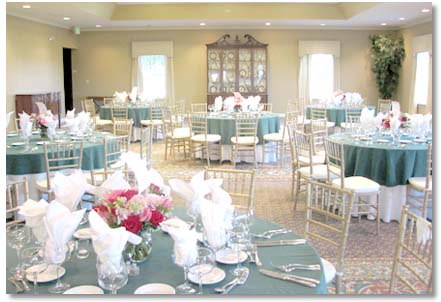 The huge upstairs ballroom of the National Croquet Center overlooking the world's largest croquet lawn is the site of the annual Hall of Fame Ball, on December 6, 2013, complete with live band and dancing, auction, dinner, and ceremonies. For information on tickets, contact beachtwobeach@yahoo.com. Photo courtesy of the National Croquet Center.
Nowadays, the inductees are much more likely to have earned their place than in the last century, and that is certainly true of the "class of 2013."
Rhys Thomas is one of the most valued contributors to this magazine, with several published articles and others slated for publication--including "Croquet's Hollywood Years," and "Ink Grade Memories," about long-time CFA president and croquet booster Ellery McClatchy's remarkable annual invitational.
The editor of this magazine is trying to persuade Anne Frost-Robinson to publish here a memoir of her years at the first (and the only successful) executive director of the USCA, whose term started with Jack Osborn and bridged the critical period of transfer to a new era of USCA management with Foxy Carter's presidency.
And the huge donations of Toys 'R Us founder Charles Lazarus to the CFA for the Center is cause enough alone to include him in the trio.
Tennis and croquet are twin sports, in many ways
Croquet enabled the rapid development of tennis as we know it today at Wimbledon, whose pristine grass courts were found to be, in the 1870s, perfect for the new game--so perfect that tennis soon took over the entire complex, while croquet survives there in the Wimbledon Museum and on a single grass court tended by a small local club.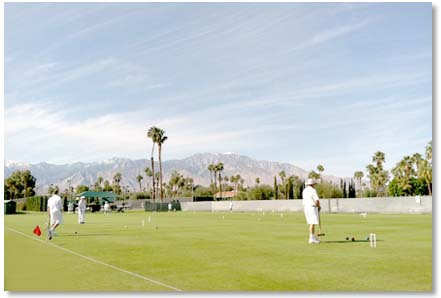 Beyond these lawns of the Mission Hills Croquet Club in California are grass tennis courts, in the background. By using some of the tennis lawns, Mission Hills can host an event on 10 courts--enough to produce the USCA's American Rules National Championships in November, 2013. Photo by Ben Rothman.
The Newport Casino in Rhode Island that houses the International Tennis Hall of Fame returned the favor to croquet by hosting many of croquet's big events in the late 70's and early 80's, on their grass courts. Croquet survives there now with a small club on a single lawn set up only by demand of the members, or for corporate or private croquet outings.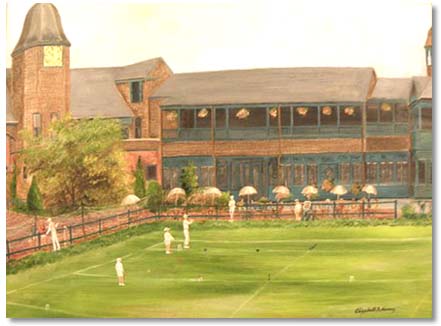 The lawn in the Elizabeth Harvey painting "Newport Casino, Center Court" displayed at the National Croquet Gallery in the upstairs hallways of the National Croquet Center is now referred to at the Casino as the Horseshoe Court. Note that the tennis lines are used to quickly and perfectly align the croquet hoops. In the 80s, it was okay to substitute an 18-foot basic measure for croquet's regulation 21-foot standard.
At the International Tennis Hall of Fame Croquet Club (formerly called the Newport Casino Croquet Club), there are usually only four or five annual members who, however, play regularly as they are not likely to be members of the private clubs in the area at the homes of the local wealthy elite essential to Jack Osborn's development of the new sport in the 1970's in America. Among the most ardent members is Sherif Abdelwahab, who needs his practice to compete in national tournaments.
David Cahoon, who has various duties at the International Tennis Hall of Fame, directs about 20 Golf Croquet events annually at the Casino as well as bocce and lawn bowls, all ideal for the corporate and private parties held at the facility. " They typically play Golf Croquet for about an hour as a team building exercise or for fun and relaxation. I maintain the USCA club membership largely for historical continuity," Cahoon told me.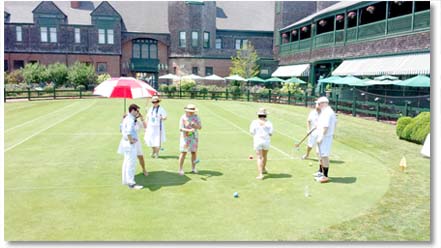 Part of a group of the 200 attendees in the tenth anniversary gathering of the International Interior Design Association of New England in July 2013 used eight croquet courts at the Newport Casino, managed by four pros. Photo by Sean Schuette, courtesy of the IIDA NE.
The Casino once housed the Croquet Hall of Fame and Gallery, managed by the late Theo Holcomb, later moved to the Newport Gallery of Art, and still later to the National Croquet Center, where the gallery pictures are displayed in the upstairs hallways. The only semblance of a "hall of fame" at the NCC are the trophies and other historical memorabilia in the glass-covered displays in the Trophy Hall downstairs at the Center, the prominent hub of everything that happens downstairs. (The CFA and the USCA are considering options for expanding the Hall of Fame and Museum displays.)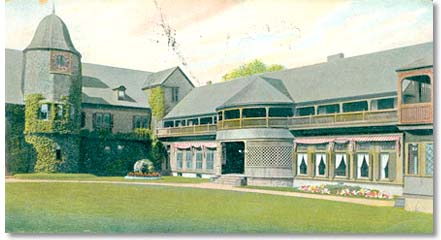 A postcard of the Horseshoe Court, circa 1903. Courtesy of the International Tennis Hall of Fame & Museum.
The heyday of croquet at Newport Casino was in the late seventies and early eighties, when there was a scarcity of lawn space for national championships, which the 13 grass courts at the Casino provided admirably. The last USCA national championship was held there in 1987. The club was once managed by Fred and Jackie Jones, who organized and now run the largest facility on public turf in the country, with three lawns in Sarasota, Florida.
Comparing the tennis and golf halls of fame
Although the golf and tennis halls of fame both include contributors as well as players, in tennis the "Contributors" are distinguished in a separate list, while in golf the nature of their contribution, noted in the overall list, includes writers, agents, presidents of golf organizations, builders of facilities, and anyone else who helps the sport advance, including Bob Hope and Dinah Shore, in the category of "lifetime achievement." Competitive excellence is not a requirement.
The "Veteran" category is for golfers whose careers ended at least 30 years ago. (Perhaps former "bad boys" who played well can be belatedly acknowledged in this category!) In 2013, all three inductees were male British players.
Election to the World Golf Hall of Fame in St. Augustine, Florida, requires 65 percent of the voters, and inductees are from one of five categories: PGA Tour/Champions Tour, LPGA Tour, International, Lifetime Achievement, and Veterans. In the first two categories, inductees must be at least 40 years old.
The first Tennis Hall of Fame members were inducted in 1955; as of 2010, there are about 220 inductees from 19 countries, of which more than 120 are Americans; the second largest number is 25, from Great Britain. The only inductee into the Tennis Hall of Fame in 2013 is Martina Hingis of Switzerland, who was born in 1980 but retired from injuries early in this century. Pete Sampras was inducted in 2007. Age is not an explicit condition for inclusion in the International Tennis Hall of Fame, but retirement from competition apparently is.
The Croquet Hall of Fame does not cite requirements for age or competitive excellence, but nominees must be voted by at least two-thirds of the Board of Directors of the Croquet Foundation of America. No more than three may be inducted in any one year, and in a recent year, there were no inductees at all. The "class of 2013" includes a major contributor to the National Croquet Center, an extraordinarily effective salaried executive director of the USCA, and a long-time player, volunteer, and international ambassador of American croquet. They're all nice guys. Here are their official biographies.
CHARLES PHILIP LAZARUS
On every count, Charles meets the numerous qualifications to be a Hall of Fame member. He has had an extensive community and worldwide service that reflects the importance of etiquette as a lifestyle, which also permeates the croquet court, our play, and our behavioral presence.
Charles Lazarus served our country in World War II in the OSS, developed the famous "Toys R Us" company, was an early member of the Young Presidents Organization, and served on numerous corporate boards such as Walmart, ADP, Loral, and others. He raised millions of dollars for children around the world, instituted employee assistance programs, and guided many children's charities. Charles Lazarus is not an absentee philanthropist, nor an absentee croquet promoter. He has been a committed member of USCA for over 30 years, and croquet has benefitted greatly from his business acumen.
Shortly after Charles began playing croquet, he wanted to spread the joy of his new found sport, and installed a croquet court at his home in Quogue, NY. This personal court was not merely for his enjoyment, but for the playing improvement of others. The likes of Hall of Fame members Don Degnan, Bob Clayton, Ned Prentis, Al Heath, and others all enjoyed, learned and promoted croquet there and at their local croquet clubs.
Over the years, Charles himself became a champion croquet player. In 1991 he was a First Flight Singles winner at the Meadow Club Invitational. In 1993 Charles won the A Flight Doubles at the Quantuck Bay Croquet Club (QBCG). He followed those victories with a QBCG win as the A Flight Singles winner, and took First Flight 3rd place in the USCA Mid-Atlantic Regionals. In 1995 he expanded his croquet prowess by winning a First Flight Doubles championship and taking a Singles 3rd place at the Westhampton Mallet Club (WMC) in 1995. In 1997 he won a First Flight Doubles championship, a Singles First Flight championship, and a third place Doubles championship. In 2001 and 2002 Charles won consecutive Singles club championships at the Westhampton Mallet Club.
Charles Lazarus supported and promoted the Westhampton Mallet Club by giving his time, talent, wise counsel and financial support. He also served as a WMC Board member for many years and its treasurer for seven years. Charles frequently opened his home for traveling tournament contestants, fed them, and hosted numerous parties and functions that many of us take for granted during tournaments. Charles also was a founding member, supporter, and sustainer on many levels of the Quantuck Bay Croquet Club in Quogue. Charles supported regional and national events that strongly benefited the USCA, CFA, and the National Croquet Center, enriching newcomers and advanced players.
When croquet has been in financial straits, Charles has more than matched his emotional efforts of time and talent. Learning of the building of the National Croquet Center in West Palm Beach, he immediately joined the founding supporters, by counseling, contributing his business expertise, and making considerable donations. This emotional, spiritual, and substantial financial support to our unique national croquet center continues today. Many of his financial contributions include the hosting of large, private croquet dinners, parties, and functions at NCC in a deliberate effort to yield new members and develop awareness of croquet and its pleasures. His guests are always introduced to playing croquet, the beauty of the clubhouse, and the benefits of membership.
Each year, the annual Hall of Fame Induction Gala is substantially underwritten and attended by Charles and his wife, Joan. Charles is a true ambassador of croquet, and one who has demonstrated the highest regard for the spirit and etiquette of the game, resulting in the greater enjoyment of all.
ANNE FROST ROBINSON
Anne's involvement in croquet began when she was 24 years old in 1987 when she was recruited as the Membership Director of the USCA by founding president, Jack Osborn. While she held that position, the USCA experienced the greatest growth in its history. In 1988 alone, a record 67 new croquet clubs joined the USCA.
From 1990 to 1994, Anne served as the Executive Director of the USCA. She was responsible for the fiscal and administrative operations of the USCA. She also negotiated and administered a multi-year $150,000 sponsorship with Jaguar Cars. From 1989-1994, she was the Editor of more than twenty issues of the USCA Croquet Bulletin. Working with then President, Foxy Carter, she was the Tournament Manager for the World Croquet Federation's 1992 World Championships in Newport, Rhode Island, the first WCF event held in the United States.
Anne was the Administrative Director of the Croquet Foundation of America from 1989-1994, during which time she created the CFA's Friends of the Foundation fundraising program and served as a liaison for Hall of Fame events and Palm Beach Balls. She also edited the "CFA Monograph Series on Club Building" written by Bob Alman, and oversaw the production of the promotional video "Serious Sport, Serious Fun", both of which played significant roles in the growth of the sport of croquet in America.
Anne served on the USCA Management Committee from 1997 through 2008 as Secretary, Treasurer, Second Vice-president and First Vice-president. She was the Editor of the US Croquet News from 1999-2003. She worked closely with former USCA Presidents Dan Mahoney, Dick Brackett and Rich Curtis who nominated her to the Hall of Fame in recognition of her insight, dedication and guidance in dealing with the considerable challenges faced by the USCA during those years.
Anne also served as a member of the Board of the Croquet Foundation of America from 1995 to 2001. She was the CFA's Secretary from 1996-1998.
In addition to her contributions to the growth of croquet in the United States, Anne also served in volunteer roles for Croquet Canada, the national governing body for croquet in Canada. She was a member of its Board from 1995 to 2001, and President from 1996 to 2001. She was also a founding officer of the Niagara-on-Lake Croquet Club in Ontario and served as club instructor.
Anne's on-court accomplishments are also notable. In 2005, she became the first woman to win the U.S. National Singles Championship in First Flight in Mission Hills, California. Anne placed third (with partner Bill Hoy) in the 2008 USCA National Club Team Championships. She was the 2012 New York Croquet Club Osborn Cup First Flight Singles winner, and has also had numerous high finishes in regional, invitational and club tournaments.
Anne's contributions to croquet in North America over the past 25 years are extensive and have had a significant and lasting effect on our sport.
Rhys Thomas
Rhys Thomas has worked diligently in numerous aspects of croquet for many years, particularly concentrating his efforts towards establishing and developing the USCA's role in the international croquet community.
Rhys first found American six wicket croquet in Aspen, Colorado, in the summer of 1981. Seven years later, ensconced in Hollywood, he discovered the manicured lawns of the Beverly Hills Croquet Club in Roxbury Park. Learning quickly under the tutelage of national seniors champion C.B. Smith, Rhys rose to championship caliber, launching a long career playing, managing and promoting croquet events, both nationally and internationally.
Rhys was a member of two USCA Solomon Trophy teams and represented the United States at five World Championships, WCF and WCC. He was also the coach and manager of the 1996 USA MacRobertson Shield Team. That year, he relinquished his USA team eligibility to accept the chairmanship of the USCA's selection committee, a position he held until 2003, when he was appointed chair of the USCA's International Committee.
Between 1996 and 2011, Rhys worked with others to improve USA's performance in international croquet competition. This included the creation of the Selection Eights, inspired by Jerry Stark and dedicated to W. Ellery McClatchy. Throughout that period of time, Rhys also acted as the United States representative to the World Croquet Federation, serving on the WCF management committee from 2003-2011. In 2005, he was instrumental in establishing the WCF Hall of Fame.
Among his most important international achievements, Rhys lobbied tirelessly on behalf of the USCA for equal representation and improved player allocations at all WCF World Championships. This resulted in a deepening of the USA player pool and directly contributed to the first USA test match victories in the MacRobertson Shield. The culmination of these efforts came in 2009 when a USA team defeated Great Britain to win the Solomon Trophy for the first time in croquet history. USA repeated in 2011.
Domestically, Rhys managed four USCA National Championships, in American and Association rules. In 1997, he organized and managed the Solomon Trophy at Sherwood Country Club, where he served as Director of Croquet for 17 years. In 2003, Rhys helped organize the first MacRobertson Shield held on United States soil and served as the Tournament Referee. He is also a USCA National Class I Referee.
Notably, Rhys' volunteer management accomplishments were achieved while he played at the highest level of championship croquet and worked full time as a professional writer. He is the author of one published non-fiction book, three unpublished novels, numerous newspaper articles, several screenplays, and hundreds of hours of documentary films for which he has garnered a handful of awards, including an Emmy nomination.
---