My game with Louis Jourdan


by Catherine Tankoos Barrett
photos courtesy of Catherine Tankoos Barrett and LouisJourdan.net
Posted December 24, 2012


---

Louis Jourdan was inducted into the Croquet Foundation of America's Hall of Fame in the eighties, along with a host of other Hollywood figures who loved the game and whose widely publicized enthusiasm gave the sport more glitter and glamour than it probably deserved, as the game they played then--although they did it with the best English-made hoops, mallets, and balls--we would recognize now as primitive. Our author, also a Hall of Famer along with her late husband Joe Tankoos, helped to bridge the gap between the "ordinary" Palm Beach croqueters and the Hollywood crowd, throughout the early formative years of the USCA in Palm Beach and New York. Cathy remains a significant force in the USCA today, playing at the National Croquet Center and now living year-round in nearby Lantana. This story is about a single unforgettable game, long ago, which ended (as all such stories should) in triumph and glory.

---
Jack Osborn called one afternoon in early 1993 and asked if I would be Louis Jourdan's partner in a match at the Breakers Hotel in Palm Beach the next day. I had been in love with Louis Jourdan since I saw him in the movie "Gigi" in 1958, and now, some 35 years later, I said I would be very happy to play. How could I not by thrilled?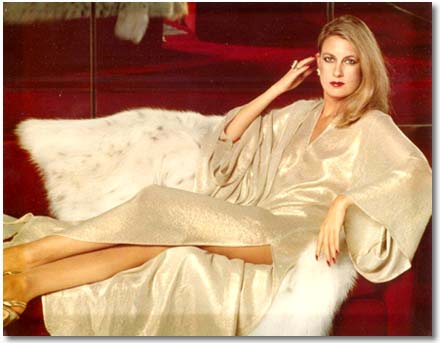 As one of the first American runway models in Europe in the 60's, Cathy "graduated" to a position with Town and Country Magazine as fashion editor and continued to appear as a model in fashion publications. This photo was part of a spread in Harper's Bazaar featuring the women the renowned designer Halston most liked to see wearing his creations.
Louis Jourdan wasn't so happy. He really didn't want to play with "a woman," but there was no one else around at the moment to partner him, and he was anxious to compete at the headquarters of the USCA and have a shot at beating its founder and perennial doubles champion, Osborn.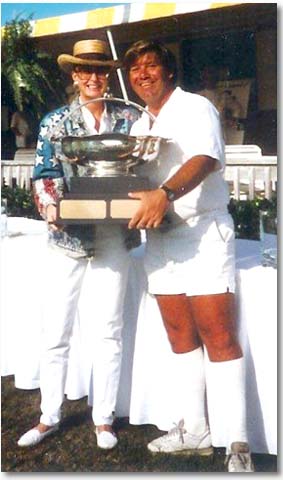 Cathy and pro Teddy Prentis with the "Tankoos Trophy" awarded to the singles winner of the Palm Beach Invitational, the oldest continuous croquet competition in the US, begun in the early 60's at the Colony Hotel. Cathy's late husband, S. Joseph Tankoos, Jr. (Joe) owned the Colony, founded the Palm Beach Croquet Club (as well as the New York Croquet Club), and built at his hotel the first "regulation" croquet lawn in Palm Beach. The trophy is on permanent display in the Trophy Hall of the National Croquet Center (NCC), where the tournament is now played annually.

USCA president Jack Osborn and Herbert Bayard Swope, Jr. were to play Jourdan and me in doubles. Herb was the son of Herbert Bayard Swope, Sr., the first American to win the Pulitzer Prize as Executive Editor of the New York World but even more renowned among the croquet crowd for sponsoring the Algonquin Round Table, a fabulous group of creative writers who mostly worked for him at the paper at various times, including literary giants such as Dorothy Parker, Alexander Woollcott and Robert Benchley, the Editor of Life Magazine.

In the 20's and 30's, the nine-wicket croquet played on Herbert Sr.'s enormous lawn in Great Neck, New York, (and later at Sands Point) almost every weekend established New York as croquet's intellectual capitol, enlived by frequent visitors from the West Coast. Playwrights Moss Hart and George Kaufman, and others such as Alexander Woollcott, Harpo Marx, Samuel Goldwyn, Gig Young and Daryl Zanuck tasted the sport at Herbert's place, and when many of the original Algonquin group moved to Hollywood in the 30's to write screenplays, an aggressive Hollywood croquet contingent came together as well, to challenge the East Coast supremacy. Ultimately, Daryl Zanuck brought Jourdan into the Hollywood group, and thereafter Louis developed his strict "French Resistance" competitive style of play.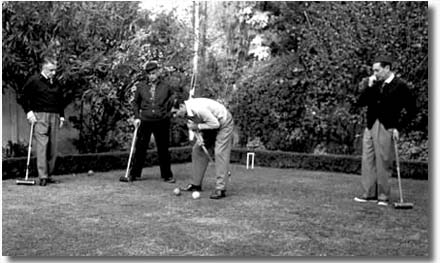 Louis Jourdan playing croquet in Hollywood on a private lawn, circa 1954
Jordan had actually been a member of the French Resistance as a young man, and his "don't lose at any cost" reputation fit in well with the Hollywood crowd. The New York players boasted of being the best in America. The competition between the two coasts was so intense that an 11-hour tournament was held in 1946 between the East coast team, led by Tyrone Power and Moss Hart, against the West cost team led by Zanuck. The East won--but nobody considered that victory final.
So I found myself deeply involved in a rivalry still very much alive in 1993. Louis was determined to hold up the honor of the West Coast--and for that matter France as far as I knew. Jourdan's reputation among the national croquet crowd was already widespread. He was most known for his excellent, tough play and his de Gaulle-proud style. Before eviscerating his opponents, he would light up a cigarette, place it next to the stake, and then unleash his deadly strategy. When he had done the deed, he would pick up his cigarette and finish the smoke--which in those days was a fitting celebration of any victory, especially on screen.
But this was not a movie, this was real! Osborn didn't have to tell me of the pressure he'd put me under, as a woman playing as Jourdan's partner. Jourdan had asked Osborn to provide a partner who was "the best male player" in Palm Beach. I had heard Jourdan had turned down a number of movie roles casting him as a classic Continental lover-- a French ladies' man--simply because he didn't like being beholden to "the weaker sex".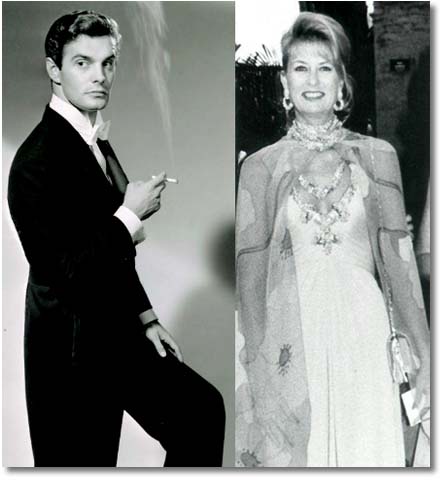 These black-and-white photos from approximately the same period show that Louis Jourdan and Cathy Tankoos were actually better matched than either of them imagined.
Nevertheless, Jourdan could not refuse Osborn's choice as a last-minute partner. And Osborn may have thought he was doing me a favor. I had been president of the New York Croquet Club, and actually had won a number of doubles championships, but that didn't matter now. The last thing Osborn told me before the game was not to worry that Jourdan was unhappy because I was…a woman.
The match began at 2:00 PM at the Breakers croquet court, a full sized regulation court, and one of the most renowned venues of the time--the court for the featured finals of the venerable Palm Beach Open until just a few years ago, when the finals began to be played at the National Croquet Center instead. Our game was 6-wicket tournament croquet, known as the American Rules game as codified by the USCA, as opposed to the English or International game.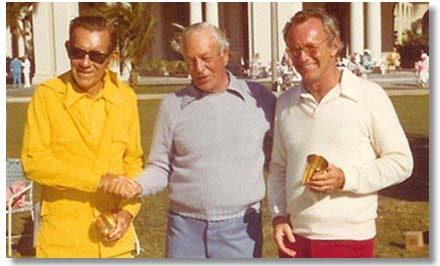 The Palm Beach Invitational Tournament was moved to the Breakers in the late 70's, after the sale of the Colony but before the institution of the white clothing code. Joe Tankoos (left) congratulates Andy Fuller and Jack Osborn.
Jourdan was indeed a handsome figure on the Breaker's court, on a beautiful day in Palm Beach. I was politely and briefly introduced to Jourdan, and the game began immediately--no time for small talk. Osborn won the toss and went right through the first hoop. Osborn's opening move was then to take Corner One, where Swope could join him. The war had begun.
I cleared the hoop on my first shot and went out-of-bounds in Corner Four. Swope then shot #1 and joined Osborn's ball on the South line, giving Jack a perfect potential "rush" to my ball.
It was then Jourdan's turn. We were already in trouble. To make Jourdan feel better, I said to him, "Don't worry, come out over near me," pointing my mallet to a spot about five feet from my position in the corner.
Jourdan's French Resistance cold stare then emerged, directly at me. General Jourdan stopped everything, and with his index finger held up to his mouth, said in the loudest possible secretive voice, "Shushhhh". In other words, "Keep quiet, lady". I slid into the grass, but timidly responded, "It's only the first hoop".
Jourdan went through the wicket and shot out-of-bounds about five feet from my ball on the line, where I had pointed.
Osborn then opened up all the cannons with the most aggressive move possible at this stage, beginning the second rotation of the game. He rushed Swope's ball perfectly, and managed with very precise boundary play to put both of our balls into the game, rushing Jourdan to #2, two-balling through #3, and with my ball on the court near #4 bringing together his four-ball break. He just pounded forward, going through all the hoops and leaving his partner, Herbert, with a perfect "rush" to #2 for Swope's own 3-ball break. He had left me a very long shot for my next move, and a risky one at that. If I missed, I would probably deliver a game-winning fourth ball to Swope, instead of making him work for it.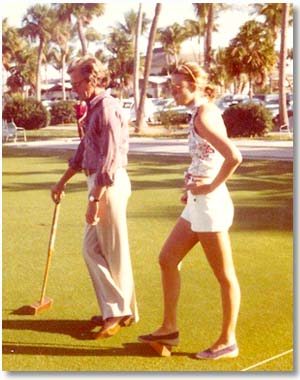 Archie Peck with Cathy as partners circa 1975 on the Breakers court in Palm Beach, where she and Jourdan partnered against Osborn and Swope in 1993.

What was a lady to do? I gave Jourdan a Hollywood look, and shrugged my shoulders. Jourdan and I nodded to each other as if all was lost.

I decided to adopt some of the Jourdan bravado before my next move. (What could I lose at this point?) So I lit a cigarette, took two puffs, and put it down, smoking, next to the peg. I then walked back to my ball, stalked it, stepped to the ball, kept my head down, swung the mallet, and, miraculously heard the distinctive Jacques click as my red ball hit the enemy's distant black ball! It was a "Hail Mary" play that even Doug Flutie of Boston College would respect.

I proceeded to turn the tables with my own 4-ball break, going all the way around the court and even peeling Jourdan through a few hoops along the way. I had surpassed all the hoops Osborn had accumulated, staked him out, presented Jack his black ball, and finished my turn by setting up Jourdan and placing Swope's ball where he had virtually no shot at all.

Even though Jourdan was a proud Frenchman, and a world-famous movie star, and good looking, I couldn't resist. I walked to the stake, picked up my cigarette, took a few puffs, walked over to Louis and asked, "How was that?"

He didn't say anything but I think he liked it. With his coy French visage, he just smiled.

Herbert shot and missed. That was the end of the game. Vivre l'Américain.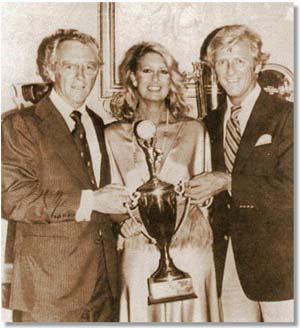 Cathy Tankoos, Jack Osborn, and Archie Peck in 1984 in Cathy's Manhattan apartment on Park Avenue, when Cathy and Archie, (along with Bermuda's Dick Pearman) were inducted into the Croquet Foundation of America's Hall of Fame. The Bellows Cup is another Palm Beach Croquet Club trophy also on display at the National Croquet Center.

We had dinner that night at my home in Palm Beach with Jourdan and his wife Kiki, along with Hillie and David Mahoney, their Palm Beach hosts. The pressure was off, and even though I was a woman, Louis Jourdan didn't mind. All he wanted to talk about was our croquet match. Whenever he came back to Palm Beach, he said, he would have no one but Cathy as his partner.

I haven't seen Jourdan or Kiki since that storied game, but I think of it often, and hope he still remembers it too as a triumph. I suspect he doesn't play croquet any longer, and I seldom play the 6-wicket game myself, preferring the faster pace and sociable character of Golf Croquet.

Not everyone carries out cutthroat competitiveness these days with the fun and panache of a Louis Jourdan. Golf Croquet was not yet discovered in the era of our game, but the fact is that this great little game provides the foundation for the kind of ease and civility I remember characterizing the early days of USCA croquet. I'd like to see us all return to that style of being together and playing together.


Catherine "Cathy" Tankoos Barrett is past USCA Doubles Champion, club doubles champion in New York City, Palm Beach and Bermuda, past president of the New York Croquet Club, and a member of the Croquet Foundation of America's Hall of Fame. She is known for introducing croquet to the resort of Acapulco, Mexico and as an avid player in Monte Carlo with Prince Albert and the royal family. Catherine Barrett is also founder and past president of the Bar Harbor Historic Preservation Trust. The New York Times in 2007 referred to her as the "Grand Dame" of croquet in the United States. She now lives with her husband in Lantana, Florida.
---