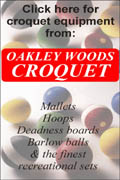 Canada's Cumming
Wins 2005 Grand Prix


by Rich Curtis
photos by Johnny Mitchell
and Arthur Bagby
Posted February 23, 2006


---

The fast-rising star of Brian Cumming has eclipsed at least temporarily the croquet career of long-reigning Canadian champ Leo McBride. We managed to elicit some reaction quotes from the sporty Cumming on the fly as he raced off to a skiing adventure. Avoiding any pretense of over-weaning modesty, Cumming attributes his consistent success not to strategic wisdom, but to the good shooting skills demanded by Association play at the highest level.

---
Brian Cumming became the 2005 USCA Player of the Year by narrowly beating two-time winner Jeff Soo. Cumming, the 2004 USCA Singles Champion and the 2005 USCA Doubles Champion, had 22,480 points. Soo, who won his third USCA Singles Championship in 2005, was a scant 115 points behind. Both players were well off the single-season Grand Prix points record of 25,600 set by Soo in 2002.

The new champ with his trophies at the National Croquet Center in West Palm Beach and with doubles partner Carl Uhlman.
Over the past few years, Cumming has developed into one of the top players in the game in both American and Association rules, displaying great shooting skills and a calm confidence on the court. He placed fifth in the 2004 Grand Prix after a 29th place finish in 2003.
Cumming and Soo were joined in the top five by Mik Mehas, the 1999 Player of the Year (fourth in 2004); Leo McBride, also from Canada; and the 2005 USCA International Rules Singles Champion, Danny Huneycutt (third in 2004). Bill Berne, Rich Curtis, Carl Uhlman, Ron Lloyd and Johnny Mitchell rounded out the top ten.
Cumming comments on his
Grand Prix triumph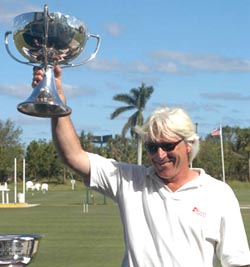 "I find it quite amazing. A canon of American croquet has always been, to quote Archie Peck, 'A better tactician will always beat a better shooter.' My ascent in the Grand Prix competition should help debunk that long-held myth. I hardly remember the rotation in American rules. You may even catch me looking at the peg to see which ball plays next. My advice to players who want to improve, is to learn how to shoot first and then the strategy will fall into place later. American Rules croquet is a fine game in it's own right, but I strongly believe it should not be taught to new players. For beginning players it promotes tentativeness and even can reward timid play; which in turn stunts the player's development. I wouldn't play any dead croquet ball tournaments if there were more Association Rules tournaments in North America. As illogical as it may sound, my success in America Rules comes from belonging to a Canadian club that plays only Association Croquet. The Grand Prix formula includes doubles competitions, so I would be remiss if I didn't acknowledge my doubles partner, Carl Uhlman. Carl dragged me to the winners' circle of the USCA American Rules Doubles Championship."

Editor's note: The Grand Prix formula rewards successful competition in both American Rules and Association play.
The Grand Prix competition tracks the performance of players in all USCA sanctioned tournaments over the course of the year. Points are awarded based upon the strength of each tournament, the type of tournament (i.e. national championship, regional, invitational, etc.) and a player's order of finish. Results from both American and Association Rules are included. However, only the five best singles and doubles results for each player are counted towards the total for the year.
The winner of the Player of the Year award in the three to five handicap range was Russell Brown. Brown, a lawyer from Buffalo, New York, was the 2004 USCA Rookie of the Year. Second was Janet Hamilton of Indian Shores, Florida. Anne Coco was third, followed by Len Lyon and Don Mathieson.
The six to eight handicap competition was won by another New Yorker, Nancy Reynolds. Reynolds lives in Cooperstown during the summer and Palm Beach when its too cold to play croquet in upstate New York. Three more women placed in the top five with Sheila Davis second, Margaret Cramer fourth and Ann Nolte (yet another New Yorker) fifth. Bob Bozeman from Baton Rouge, Lousiama, placed third.
Last year Dan Mol, Jr. proved he was a player to watch when he won the twelve and over handicap range. True to form, he won the nine to eleven category in 2005 and he won it going away. Be forewarned: Dan and his whole croquet playing family will continue to improve in 2006. Alison Streight of Quebec was second and Keppy Babcock of Bald Head Island was third. Tied for fourth were Helen Jones and Carol Neves.
Lee Taylor of Arkansas was the winner in the twelve and over handicap group. Taking second place was Susan Morgan. Third place went to Roger Hudson in a demonstration of consistency since he also finished in third last year. Richard Carlstrom was fourth and Betsy Atkins was fifth.
The 2006 Grand Prix is underway and you can follow the competition as it unfolds by logging onto the USCA website at www.croquetamerica.com or linking directly to the 2006 Grand Prix tabulations, updated weekly. At whatever level of playing skills, you can compete in the 2006 Grand Prix by entering any USCA sanctioned tournament. Your results will be automatically tabulated and entered throughout the year.
---