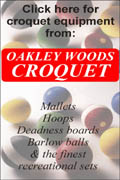 Croquet's Wimbledon Years
by David Drazin
Posted November 29, 1997
---

David Drazin uses some of the images in a special Croquet Association Centenery Exhibition at the Wimbledon Lawn Tennis Museum in London, England, to trace the early development of the sport up to and beyond the founding of the present Croquet Association in Britain - the mother of all croquet associations - one hundred years ago.

---
The Croquet Association of England, the first effective national governing body of the game, was founded in 1897. As part of the ongoing centenary celebrations, the Wimbledon Lawn Tennis Museum (telephone +44 181 946 6131) is staging a special exhibition, With Mallets Aforethought, covering the history of croquet from its early beginnings to the present day. The exhibition is due to run until 28 February,1999.
That the All England Lawn Tennis and Croquet Club should have chosen to honour the association in this way is especially fitting because the club, originally the All England Croquet Club, was the first body which made a serious attempt to bring rigour and organization into a sport which had hitherto been derided by enthusiasts and the general public alike as a risible mess. No two clubs played according to the same rules, so open tournaments and inter-club matches were fraught with difficulties. ("Alice soon came to the conclusion that it was a very difficult game indeed," says Lewis Carrol in Alice's Adventures in Wonderland, 1866).
Wimbledon abrogated its law-making role by default in 1882, when it abandoned croquet in favour of lawn tennis and changed its name to the All England Lawn Tennis Club. Croquet then fell into almost total eclipse. From its revival in the mid-1890s, Wimbledon gave the game every support, but responsibility for law-making was assumed by the new United All England Croquet Association (later renamed the Croquet Association), the brain-child of Walter Hayward Peel.
We may count ourselves fortunate that, since its infancy, croquet has attracted the attentions of the finest artists. Take a look at some of the more spectacular works now on display at Wimbledon. Let us proceed in chronological order, absorbing the historical background as we go.
John Leech, one of the leading graphic artists of his day, was the principal cartoonist of Punch magazine. Here we see one of his best known images, which was widely reproduced after his death. Few players took croquet seriously. It was no more than a bit of summer afternoon fever for the well-to-do.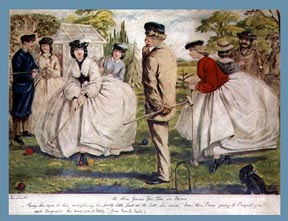 John Leech (1817-64). 'A Nice Game for Two or More ...' Punch, 17 August, 1861. Enlarged and tinted reprint. On loan from a private collector. [better view]
Croquet clubs soon mushroomed throughout the land. Though the present club at Cheltenham, which hosted one of the MacRobertson Shield test matches in 1996, was actually founded in 1869, a club of sorts had flourished there a few years earlier. A sketch by a little known contemporary artist gives some impression of the previous foundation.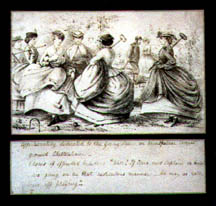 A StC Purnell. 'Affectionately dedicated to the young ladies in Montpellier croquet ground, Cheltenham ...' Pencil drawing, ca 1865. On loan from Roger Croston. [better view]
As the game was taken up by the media, it filtered into local clubs and private gardens throughout the developed world. A sumptuous family portrait by the Scots artist, William Crawford, is the centre-piece of the exhibition. For 'Nana', read 'au pair'!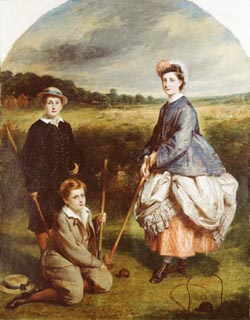 William Crawford ARSA (1825-69). Eliza Anne Lochart (Nana) (born 23 August 1848), William Frederick (Bill) (born 15 November 1852), and John Henry (born 1 June 1855) Middleton, playing croquet in a garden before a cornfield. Oil on canvas, ca 1867. On loan from Gail and Tremaine Arkley. [better view]
The sound of croquet was soon celebrated by the pop music business. Sheet music for piano, voice, and assorted instruments then served much the same function as the CD single does today. This charming cover packaged a catchy little number which was specially recorded by the Space Chicks to supply background music for the current exhibition. But be warned, it's heady stuff: two minutes at all of 20 db could be a lethal dose!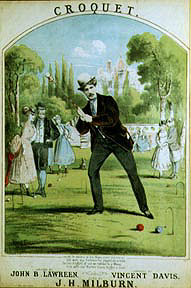 Alfred Concanen. 'Croquet: Tempo Schottische' by Lawreen and Davis. Sheet music cover, 1870. On loan from a private collector. [better view]
The 1870s saw the game of croquet in full flower. On 19 January, 1870, a General Conference of clubs held at the Charing Cross Hotel, London, cobbled together a universal code of laws, and all was set fair for earnest competition. Open tournaments proliferated and artifacts with a croquet theme were in wide demand. Nothing, not even the domestic teapot, was so sacred as to escape the imitative genius of the craftsmen who served this trade.
Anon. Teapot with stand and spirit burner. Silver-plate, 17 October, 1871. On loan from a private collector. [better view]
Croquet was now going great guns, and many of the finest images date from this period. Here we see a powerful social scene painted by the celebrated French artist, Louise Abbema, then only 14 years old.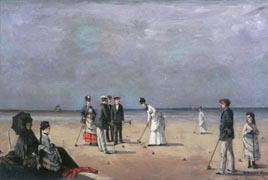 Louise Abbema (1858 - 1927). A Game of Croquet. Signed and inscribed 'A mon ami Blaret, Triport'. Oil on canvas, 1872. On loan from Gail and Tremaine Arkley. [better view]
Shortly before World War I, Horace Francis Crowth Smith ('Crowther') opened his account as croquet writer and caricaturist extraordinary with his 'A Croquet Alphabet', a collection of 26 caricatures in line and watercolour. And between the wars his wit with word, pen, and brush continued to amuse the world of croquet.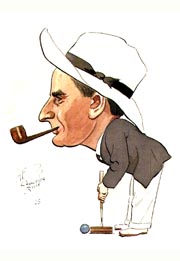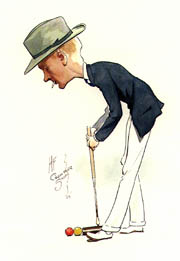 HF Crowther Smith. William Longman, from The Best Ten 1925. Unpublished volume of artwork, presented to Longman, winner of the Champion Cup. From the archives of the Croquet Association. (Not on exhibition, but could be!) [better view]
Croquet enjoyed a period of maturity in the Edwardian era which extended through the 1930s. But in the public imagination it never quite lost its character as a target for fun. William Heath Robinson, a sensitive book illustrator, is perhaps best known as a caricaturist of machinery.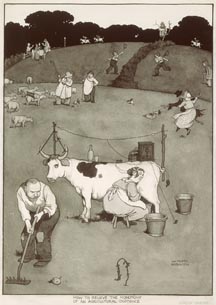 William Heath Robinson (1872-1944). How to Relieve the Monotony of an Agricultural Existence. Pen and ink and monochrome watercolour, signed and inscribed with title. Illustration for The Sunday Graphic, London, 2 June, 1928. On loan from Gail and Tremaine Arkley. [better view]
As an inspiration to the modern world of art, croquet may have lost much of its earlier appeal, but happily the game itself has continued to attract artists of rare talent. The work of Liz Taylor-Webb is in much demand today. The exhibition has a typical example of her work, noted for its evocation of the ambience of the game as enjoyed at club level.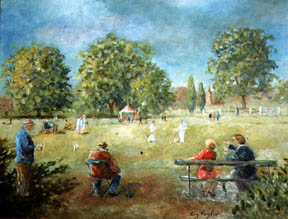 Liz Taylor-Webb (1942-). A Summer Party. Acrylic on board, 1997. On loan from the artist. [better view]
---

[CROQUET WORLD is most indebted to David Drazin, the British Croquet Association, the Wimbledon Lawn Tennis Museum, and the private collectors who gave permission for this online showing of their art. Coming soon: another online exhibit from a major collector of croquet art.]

---
---