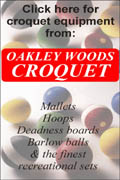 Country Club Croquet
spreading like wildflowers
in the Carolina mountains

by Bob Alman
photos courtesy of Lynn Delgado and the Highland Falls Country Club
layout by Reuben Edwards
Posted June 23, 2012


---

USCA Croquet began in the 1970's as "a sport for the affluent class," successfully promoted by founder Jack Osborn to his buddies at lush resorts and country clubs--the people and places with the power and the purse to get the lawns built. The mainstream press in America still bill croquet as a pastime for the wealthy elite, although the cost of croquet is only a tiny fraction of playing golf on vast expanses of manicured terrain. A local croquet club membership usually costs no more than several hundred dollars a year for membership, with no court fees. If it took a couple of decades to create a "croquet craze" at golf-centered country clubs, where typically no more than half the population actually play golf, the reason may have been the game of American Rules Croquet--the most complex of all varieties played in the world. In the last few years, the much simpler, faster and more social game of Golf Croquet has achieved growing popularity, as savvy organizers in the US and other countries are successfully promoting it as the croquet game of choice for novices. That's what is happening in the mountains of western North Carolina.

---
It started no particular place and everywhere at once. Jason Macaulay, general manager of the Highland Falls Country Club, became aware of the sport when the nearby Highland Falls development built a croquet lawn for their members, and a couple of other nearby communities followed suit.
Bill McClanahan and the Highlands Country Club were important catalysts for everything that happened next. Invited to Highlands and Toxaway to get a taste of "real croquet," Macaulay admits that "none of us thought we would enjoy croquet as much as we did. It was a delightful surprise."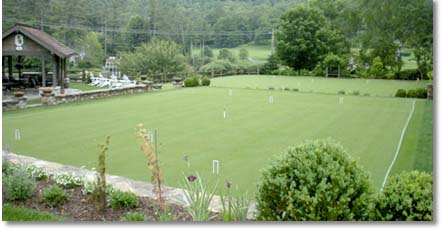 The Highland Country Club and its enthusiastic Highland Strikers Croquet Club were major catalysts of the spreading croquet craze in the North Carolina mountains. Don Oakley photo.
In midsummer 2011, his club's Long Range Planning Committee found a likely spot for a court and started to talk about building a facility, and then contacted the USCA for information on court-building standards. But the Board of Directors, with a nod towards general economic conditions, told the small core of interested members they would have to raise the money themselves.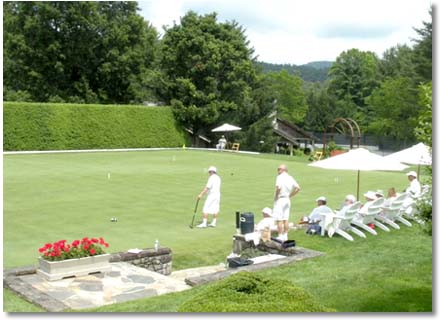 The Chatooga Club, with two lawns barely ten miles east of Highlands, has hosted a popular annual invitational for many seasons past. Don Oakley photo.
Country club members take the initiative
Highland Falls is a member-owned facility, so a few members decided to test the waters by soliciting some of their friends. President Ned New generated the first email over the signatures of Sam Gassaway and others. Encouraged by a positive result, a letter was then sent to the entire membership of 400-odd homesites offering them a chance to be a Founding member with a donation of $5,000. "It wasn't a pledge we were asking for," Sam recalls. "We told them to sent a check."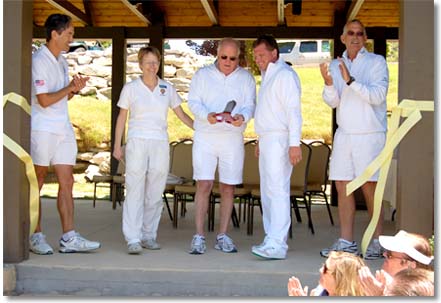 Everyone applauds Sam's cutting of the ceremonial ribbon in the handsome new pavillion between the two lawns. Left to right: Jeff Soo, Eileen Soo, Sam Gassaway, Golf Course Superintendent Fred Gerisch, Gene Young.
Within a few weeks, $170,000 had been raised in $5,000 increments. Ultimately that amount grew to $280,000 before ground was broken for a full size court and adjacent half-court, flanked by a handsome pavilion with restrooms, storage, a wet bar and a fireplace. (The season for the club's full operation is May through October, but 50 residents get snow tires and stay all year.)
North Carolinian Gene Young was president of the USCA while all this was happening and recalls the beginning of Highland Falls in a different way: "I think the story starts with George and Jane Enochs of the Toxaway Club. They were members at Bald Head Island on the coast of North Carolina and then moved to Toxaway. When they first came to the mountains they played at Etowah, North Carolina, which is at the base of the mountains where I was also a member. For a number of years George tried to talk the management at Toxaway Resorts to build a lawn. He finally convinced them, and the rest is history."
Starting with Golf Croquet is a no-brainer
Young believes with many other organizers that Golf Croquet is the most productive way forward for the sport in the Carolina mountains and throughout the Americas. After the Toxaway lawns were built, Young proposed to the general manager of Toxaway the concept of a high-profile "Toxaway Mountain Challenge" as a joint venture between the USCA and Toxaway Resorts. Two editions have been held with great success, and a third is planned for September 2012, pairing the US National Champion against another highly ranked player in a high-voltage game to demonstrate not only the fast-paced potential of Golf Croquet as a spectator sport but also the simplicity of the rules and transparency of the tactics.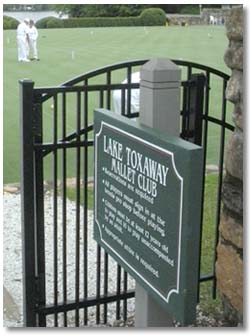 Lake Toxaway, at the foot of the mountains, plans to host its third annual Golf Croquet Exhibition in September with major Golf Croquet competitors. Don Oakley photo.

Golf Croquet has made croquet a spectator sport, ideally suited for public display with stadium seating, expert commentary, and (someday, perhaps) televised play-by-play analysis. The Toxaway exhibitions move a long way in that direction, as did the biggest such exhibition of the kind held in the US to date, last February, between the world champion Mark McInerney of Ireland and three-time world champion Khaled Younis of Egypt at the National Croquet Center in West Palm Beach, in conjunction with the International Polo Club Palm Beach's prestigious annual Golf Croquet invitational. (The event will be repeated on an even bigger scale in February 2013.)

If Golf Croquet is the ideal recruitment tool for novices, what does its popularity bode for the other forms of the sport? Both Gene Young and Jeff Soo are pretty sure their coaching will concentrate on Golf Croquet rules and stroke work in the first season, but Young acknowledges that there are deadness boards in storage in the pavilion, which, however, haven't yet been used to date.

According to Young, "The vast majority of the players at Highland Falls have no experience with croquet other than backyard croquet. Starting with Golf Croquet was a no-brainer. This is a common theme throughout all these country club programs, and an integral part of their success. I know teaching them Association Croquet before American Rules is heresy, but it's a personal preference of mine, and Jeff Soo is in agreement. We discussed doing American Rules without the deadness boards, but why not just do Association Croquet? And I will be fine if all they play is Golf Croquet. I donít consider the game a poor step-child of six-wicket croquet. I believe the advanced players who say this are misinformed about the best way to make development happen."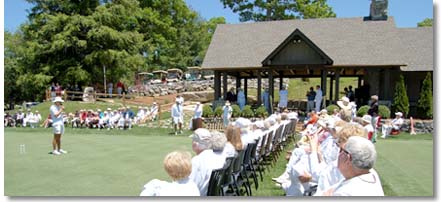 Jeff Soo welcomes more than 125 Highland Falls Croquet Association members at the Grand Opening of their new facility in early June, 2012.
The "which game" debate rages in other countries in the second decade of the 21st Century. It all started with Egypt, which still plays only Golf Croquet; the United Kingdom now reports that a slight majority of players in UK clubs play only or mostly Golf Croquet; and the same movement is happening in New Zealand and Australia, where more people play Golf Croquet exclusively than Association croquet in this most populous croquet-playing nation in the world, according to our informed source.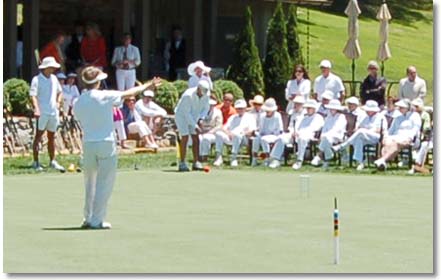 Eileen Soo explains how and where the trial games will be run, pointing to the half-court beyond the seated crowd.
"Which game" debate is over in the US
Many influential voices contend that the rapid rise of Golf Croquet is endangering the future of "competitive croquet," while others maintain that this apparent imbalance is temporary, due to the rapid growth of Golf Croquet in too short a time to allow the emergence of new top-level players.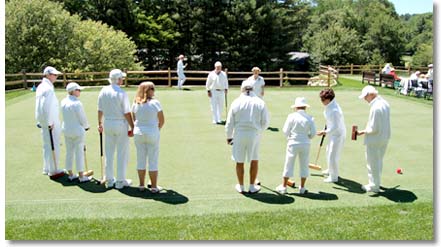 Two double-banked games prepare to begin on the half court.
The ultimate decider on the efficacy of emphasizing Golf Croquet in novice programs in America will be the long-term effect it has on US Croquet Association membership. So far, the results in the North Carolina mountain clubs are encouraging. The croquet group at Highland Country Club, in existence for several years, now numbers 95 USCA members. The Highland Falls Croquet Association, beginning with 152 paid members, may soon outstrip its close neighbor. Interclub activity among all these new groups, within a few miles of each other along US Highway 64 between Highlands and Rosman, will only encourage growth through a multiplicity of events and programs.
Gene Young himself has a summer home in a the Lonesome Valley development about 20 minutes away from Highlands, and sees a big potential for croquet there, too. "I'm talking to the general manager at Lonesome Valley about a lawn there, so his development can keep pace with the others."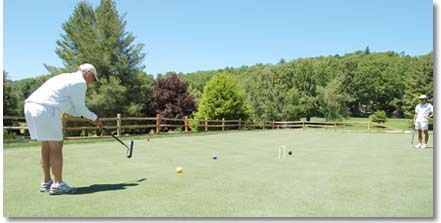 Gene Young shoots for a long hoop in a demonstration game of Golf Croquet against Jeff Soo.
Country clubs already provide some of the biggest venues for major events around the country, including Mission Hills in California with an 11-court capacity, and Long Island's Meadow Club--both situated on flat land. If there are, so far, no huge facilities in Western North Carolina, you can count the mountainous terrain at elevations upwards of 4,000 feet as one reason. Macaulay explains, "Golf course superintendent Fred Gehrisch and his staff took over part of a practice hole for some of our croquet space, and dynamite blasting was needed to level the rest of the site for the full size court."
Once the Highland Falls Country Club courts were a reality in the building, many members of the group wanted to learn about croquet over the winter: "So we made arrangements to go to PGA National in Palm Beach Gardens and booked their croquet lawns for lessons and play," Macaulay reports. "Over 90 people who had no previous experience with croquet attended the three-day event. It was so popular, we booked the resort again for 2013."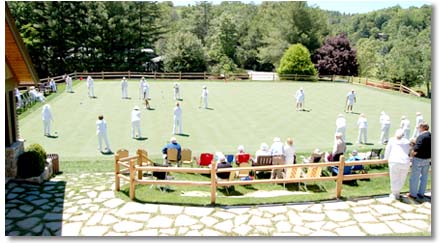 Stroke practice precedes trial games on the full size court.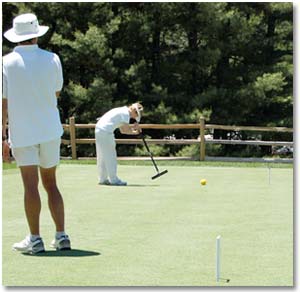 As Jeff talks about Golf Croquet, Eileen approaches the first hoop.

To keep the interest high over the 2012 summer and advance the skill of the large club playing on three half-courts, Jeff Soo and his partner Eileen have agreed to travel from their home in the middle of the state to spend four days each month at Highland Falls, giving courses, coaching strokes, and running games. Soo comments, "The primary goal is to keep it fun and game-focused, teaching just enough technique, rules, and tactics to get players playing independently as soon as possible. Clinics and private or dual lessons have so far been a mix of about 50-70% technique, followed by game play. As players gain experience, we'll shift the emphasis further toward game play."

As to the overall state of USCA club development in the North Carolina Highlands, Soo says, "From my perspective, it is simply amazing. I think the essential element here is the support and assistance from club management, like Jason Macaulay, along with a core of at least a few exceptionally dedicated members to drive the program."

If you're interested in getting croquet started at your community in or near the North Carolina highlands, contact Gene Young at efyoung@carolina.rr.com. For anywhere in America, contact the USCA's VP for Membership, Don Oakley, at inquiries@oakleywoods.com.
---