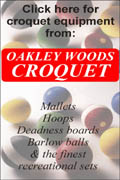 Picture perfect
at International Polo, Palm Beach

Photos by Stacey Hetherington
Posted February 24, 2010


---

We weren't planning to do a picture story on this event, only to report it daily on our Bulletin Board because it's the annual tournament with the biggest purse in the northern hemisphere. On the first day of play I noticed an attractive young lady moving around the edges of the lawn wielding a camera with obvious expertise, so I introduced myself. She was testing her ability to regulate and control the whites balance with a new camera - always a tricky issue when players are wearing brilliant whites under a strong sun. I asked if she'd let me see the results. She did. I was impressed and asked a question I hesitate to ask a professional photographer: whether I could use them one time online, with credit. The question was justified, just barely, I thought, because Stacey is a member of International Polo, and we could both use the occasion to show something of the magnificence of the croquet facilities at this internationally acclaimed polo venue. We're grateful to Stacey for permission to share them with our readers, because this professional photographer seems somehow to have captured, in just a few images, some universal aspects of top-level croquet at its best.

---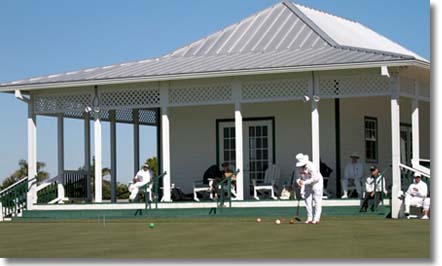 The porch of the south-facing Sports House, separating the croquet lawn from the tennis courts, and overlooking a vast expanse of polo fields, affords ideal viewing for players and spectators alike. Englishman Chris Patmore reveals his unique shot-making profile in preparation for an on-court rush.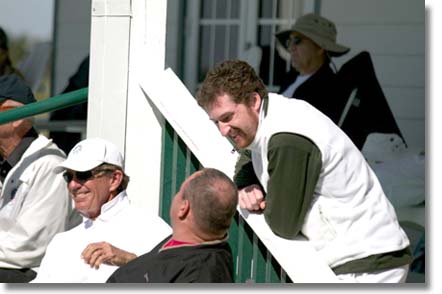 On the steps of the Sports House, American David Bent (left) and Rutger Beijderwellen (right), native of the Netherlands now living in England and ranked at #4 four in the world, exchange pleasantries with Tournament Director Ron Lloyd.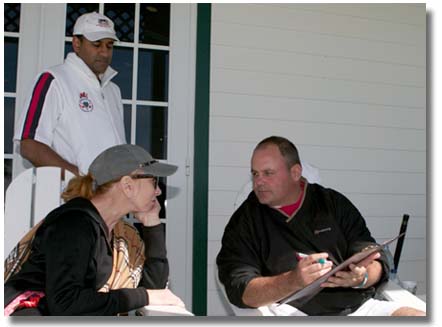 Englishman Samir Patel stands by while Polo International member Mary Pat Pace discusses with Ron Lloyd the timing of the luncheon buffet on finals day.
| | |
| --- | --- |
| | Stuart Lawrence, a New York attorney with a nonprofit, watches the action from the top steps of the Sports House porch. Like everyone else, he's wearing insulation from the wind on an unusually cool and windy February day in South Florida. (The last two days of the event were played in more typically idyllic winter weather.) |
| | |
| --- | --- |
| Chris Patmore appears to have just rushed the black ball with green, but it's not so. The photographer has snapped a ball in motion from the other game being played on the lawn, while Chris considers his next move from the jaws of Hoop #3. | |
| | |
| --- | --- |
| | Carolinian Danny Huneycutt, preparing for a roll shot, reveals the focus and concentration he needed to win the top cash prize in the tournament. |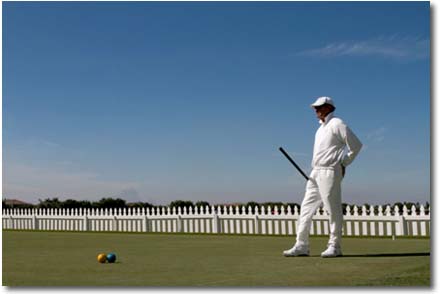 South Florida croquet pro Dave Bent was fully the equal of Huneycutt in sustaining a high level of play throughout, to earn their finalist positions. Here Bent studies the ball placement before taking a stance for his croquet shot. Huneycutt had snatched victory from the jaws of rover in their round-robin face-off and won that game by the narrowest of margins in a spectacular comeback, and it was Huneycutt who came out on top in the third game of their best-of-three finals match. At this level of play, winning is sometimes just a matter of whose number has come up.
These photographs show the variety of activity around the broader setting of the croquet court near the center of the "island" in the midst of polo fields at International Polo. The area accommodates tennis, croquet, swimming, and other member services for bar and dining, as well as the entrance to the stadium for main events. During the croquet finals match, shouting players on polo horses rushed past the croquet lawn at frequent intervals, separated only by the court's higher elevation and a picket fence. These 14 photographs by Richard Graulich of LILA PHOTO capture much of the Finals Day action.
---