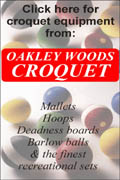 How to light
the croquet courts

by Bob Alman
with plenty of help from Harold Denton and Carl Mabee

---

When the members club at the National Croquet Center started play on December 7, 2000 with about 80 members, night lighting wasn't the issue it became over the next decade with a constantly growing local membership, now well above 300. But it wasn't until 2017 that lights were actually financed and installed at the NCC, thanks largely to Harold Denton, the Croquet Foundation of America board member who came forward to take on the project after fellow board member Victoria Albrecht had started a fund with her now-annual Flamingos and Snowbirds fundraiser. Harold's on-site work contributed to the technical report the USCA had asked Carl Mabee, longtime USCA adviser on courts and grasses, to complete. If you need some nut and bolts for your own project, consult Carl's excellent compilation.

---
Many facilities around the world--most notably, the Victoria Croquet Center in a Melbourne suburb--light all their courts. The original design for lighting only three courts at the National Croquet Center, based largely on considerations of economy, called for 18-foot wooden poles. Denton decided to start from what was ultimately needed and work backwards.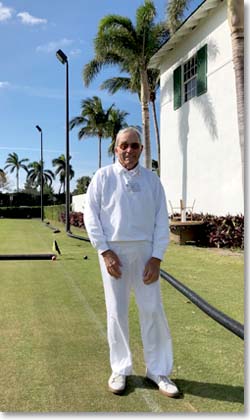 Harold Denton stands on the north boundary of Court #1 at the National Croquet Center, in front of two of the 12 lighting standards needed to light the three courts: "I ran every element of the project after I assumed responsibility and redid the design. I raised additional money, acquired the poles and fixtures and oversaw the installation. The pole and fixtures were designed to meet the Palm Beach county wind code, which may not be as stringent in other local governmental districts." Photo courtesy of Harold Denton.

Denton makes it all sound easy: "We developed new job specifications after dealing with the county's updated wind code requirements and then set out to raise the additional funds necessary. Then we proceeded to update the permits and to plan and execute the installation. A lot of people worked very hard, as this was by necessity all hand work. We couldn't get any machinery on or near most of the court areas. We had some speed bumps along the way but everyone was committed to our succeeding."

We should note here that a private court owner would have few of the costly and time-consuming considerations that channeled the NCC project's development. In your own back yard, your main goal would be to supply enough light to play by. With a modest level of electrical expertise, home courts lighted ad hoc and elevated no more than eight feet above the court can serve perfectly well--especially for Golf Croquet.

But the goal at the NCC in 2017 was night lighting that would work for both players and spectators and, especially, for the county commissions. It can be more complicated than it sounds. Under artificial light, for example, some of the colors may almost merge--not only for the four "first colors" but also for the second and third sets of colors internationals like to use use for double-banking.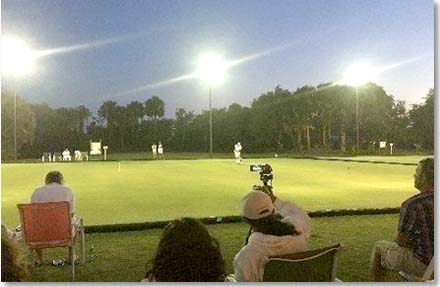 The new lights at the National Croquet Center proved themselves at the 2017 World Championships when the final match--between American David Maloof and Brit Stephen Mulliner--went to a fifth game following all-day play between the champions. Travel plans didn't need to be adjusted, players and spectators wouldn't have to come back the next day, and the entire facility could be available to the members the next morning. Marie Sweetzer photo.
The long-term economy of LED lighting had already been well-established. It was clear that wooden poles wouldn't work well for the long term, so the choice narrowed to a variety of other materials. Ultimately Denton chose fiberglass poles low enough to allow the maintenance staff to replace burnouts with a long ladder.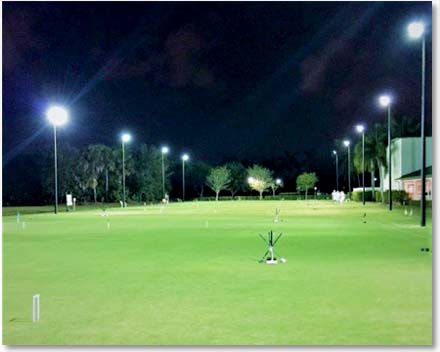 Nine of the 12 lighting standards for the NCC's three courts illuminate the six half-courts Rick Landry, Director of Croquet, has prepared for a corporate group. Marie Sweetzer photo.
The poles Denton ultimately selected were initially designed for parking lots; these poles are not generally considered for tennis or other spectator sports because those sports are active and three-dimensional; croquet takes place in only two dimensions. Croquet court lighting must be elevated just enough to prevent glare that would interfere with players' and spectators' viewing of the play; but the "action" requirements of other sports simply are not there, in the two dimensions of croquet. You never have to see clearly anything higher than seven feet above the playing surface.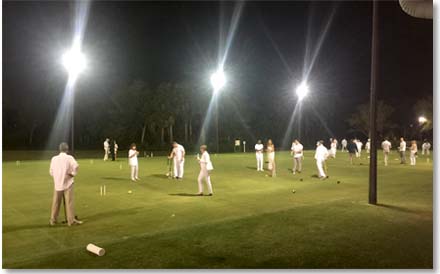 The lighting poles at the National Croquet Center are high enough to prevent excessive glare for both players and spectators. The slight unevenness of coverage is tolerable for croquet--a slow-action two-dimensional sport--allowing economies not available to faster sports like tennis or football. SandyJames photo.
At large facilities, night lighting may prove most useful when major events run late--which happened at the National Croquet Center at the world championships when American David Maloof and Brit Stephen Mulliner tied the finals match at 2-2 near sundown of the last day. The two sixty-somethings, who had been playing all day, were asked whether they'd rather play the fifth under lights or the next morning. The two consulted briefly and decided to give the spectators the show they came for: the final game would be under lights, on Court #2.
Such a need--in an important event--had already happened several years ago at the Victoria Croquet Centre, which lights all 12 of its courts. Fortunately, the final rounds of a major event will have likely wound down to just a few players, so only the champions need to be inconvenienced by the requirements of the event manager and the lust of the crowd for spectacle.
Denton's checklist for the NCC lighting project
True to his experience in contracting complex work for restoring pre-Revolutionary manor houses in New England, Denton make a comprehensive checklist for the NCC's court lighting project, as follows, which we've augmented to some extent for clarity in this article:
Check the county and city codes for special requirements

weather and wind speed
neighbors in residential areas

Be sure the quality of the light allows distinguishing ball colors, etc. (lighting requirements are different for different sports)

Consider how installation machinery might impact existing lawns, (Ideally, lights are installed before the courts are completed.)

What kind of lights would be best?

for intensity
for longevity
for long-term economy

How best can the lights be changed when they burn out?
Requirements for private courts will be much less stringent
For most home courts the only serious "environmental" consideration to apply might well be the potential impact of night play on neighbors. This consideration might actually argue for lowering the poles substantially--which would be tolerable for private play although far less than ideal for spectators.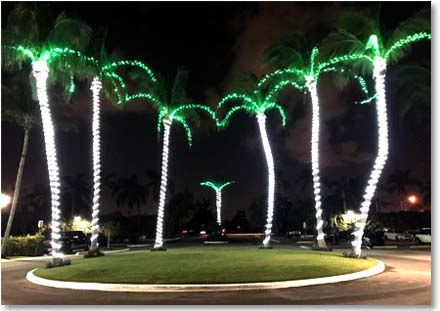 Note the comparatively low parking lot lighting standards in the background of this photo of decorative lighting for the holidays at the entrance to the National Croquet Center. Photo by Marie Sweetzer.
Such a court--lighted by several eight-foot-high fixtures--has been reported to work well for top-level play at a private court in Wellington on the residential property of a member of the National Croquet Club.
For truly casual play, Golf Croquet can be enjoyably--and romantically--enjoyed with no more than battery-powered wicket lights. This was done early in the history of the National Croquet Center, when Bob Alman organized a series of events limited to younger corporate people after hours, adjacent to the members lounge. A little moonlight was useful for half-court Golf Croquet off the South Veranda, but not essential. Without string boundaries, the only possible injury would come from stepping on a ball, so partners were advised to stay close to their balls at all times.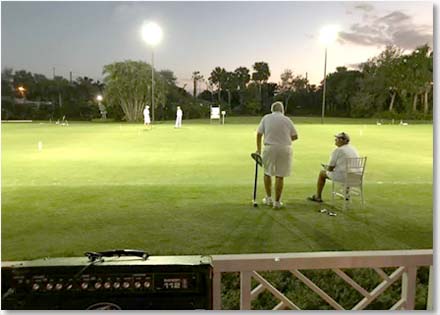 Regular night play for members happens every Tuesday and Thursday night at the National Croquet Center, just off the South Veranda, adjacent to the Members Lounge that is the focus of social events. You can see here the last vestige of twilight in the western sky. Yen Sullivan photo.
The permanent lighting at the NCC allows the caterer to offer prices to many private parties that would be prohibitive with rented lights. If you enjoy croquet and like to give parties at home, you may want to combine the two on your croquet court, under any kind of lights that work.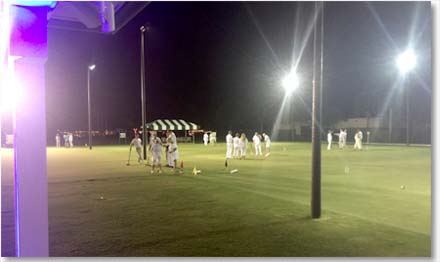 The glare on the left is from a rented light--expensive and sometimes noisy, but necessary for the size of this corporate group at the National Croquet Center. SandyJames photo.
Town and County Ordinances
Most local governmental jurisdictions have an "Outdoor Light Ordinance." The Ordinance in Carl Mabee's New England town, titled "Control Of Glare-Luminaire Design Factors" is summarized below:
A. Any luminaire with a lamp or lamps rated at a total of more than 1800 lumens and all flood or spot luminaires with a lamp or lamps rated at more than 900 lumens shall not emit any direct light above a horizontal plane through the lowest direct light-emitting part of the luminaire.
B. Any luminaire with a lamp or lamps rated at a total of more than 1800 lumens and all flood or spot luminaires with a lamp or lamps rated at a total of more than 900 lumens shall be mounted at a height equal to or less than the value 3 + (D/3) where D is the distance in feet to the nearest property boundary.
The maximum height of the luminaire may not exceed 25 feet.
The designers of your system need to have this kind of information to be certain that local codes are met and that your neighbors will not legitimately complain. Many jurisdictions will require for residential districts a specific time--midnight, for example--when the overhead lights must be turned off.
Harold Denton joined the board of the Croquet Foundation of America in 2013 because, he said, "there was a lot of work to be done at the National Croquet Center and not enough hands to do it." Among the projects he chose were "beautification" and the court lighting initiative already sparked by longtime board member Victoria Albrecht. Denton perfected the existing plan by balancing practical and efficient alternatives with code requirements. Denton's marriage 52 years ago has so far produced two sons and three grandchildren. His very sporty life has included skippering races on both sides of the Atlantic in his Blue water sailboat. On the advice of his cardiologist, he reduced his activity level, and his wife's life-long equestrian interest led them both to a winter abode in Wellington, where he met CFA board president David McCoy and took up croquet, quickly achieving a respectable rank through frequent competing. Denton is an ideal board member, taking his assignments seriously, doing them completely, and even funding some of them. In his spare time, he rescues pre-Revolutionary manor houses, several in New Jersey and two in Maryland, where he now lives with his wife in the summer. Supervising those projects has produced the ideal resume for the board member responsible for all the facilities at the NCC, including some beautification projects he has personally funded.
---