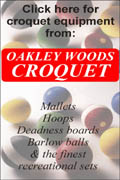 Croquet takes root
in central Liverpool

story and photos by James Hawkins
layout by Reuben Edwards
Posted August 21, 2011


---

The abortive first attempts of James Hawkins in his quest for croquet turf in Liverpool in 2006 and 2007 are reported in the first two links above. Hawkins wrote, "Season One promises to start with everything we need: grounds, maintenance, a nucleus of players, a functioning and growing club, storage, and the good will and support of the community and the Council. Fingers crossed." You know what happened then, because it was reflected everywhere in slashed governmental budgets and shifted priorities. If anything is expendable in a budget crisis, it's the cost of constructing of a croquet club. And if any croquet club is expendable, it's a club that's new, undeveloped, and hardly off the ground. Hats off to Hawkins for persisting at a new site in another park in 2011, despite unexpected travails reported in the story below.

---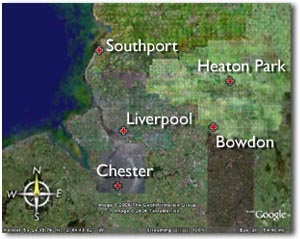 The croquet map shows that the nearest clubs of Chester, Bowdon and Heaton Park (the Commonwealth Games venue and satellite to Bury Croquet Club), each with four lawns, are at least a 40-minute drive from Liverpool. Further to the north are clubs at Southport and Pendle.

Up here in the North of England, the distribution of croquet clubs has always been patchy. The number of clubs in the North West has doubled over the last 25 years, and the number of players has increased to a healthy level, but there are still large areas where people have no access to croquet. I live in one of those croquet-free deserts.

Back in 2006, I announced my plans to launch a new croquet club in Liverpool. Iíd grown tired of the 30-mile drive to Southport or Bowdon in order to play a game. Mutterings among friends-of-friends had indicated that the demand was out there, so I set about trying to find a venue closer to home.

I contacted the City Council, found a receptive Parks Manager, and negotiated the use of a neglected spot in one of the cityís underused parks. He accepted my outline proposal to adopt an area large enough to accommodate six lawns in Clarke Gardens. All seemed good.

Quickly, it became apparent that the absence of any off-lawn space was going to be a deal-breaker. There was no opportunity for a clubhouse Ė no shelter from the rain, no storage for hoops, no toilets, no kettle. If anyone wanted to play, they would have to phone me, hope I was available, wait for me to drive to the club, unload the equipment from my car, and walk 200 yards to the lawns.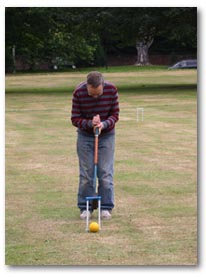 An earlier attempt at a Liverpool club start was sited in Clarke Gardens, where Hawkins practiced on this converted soccer pitch.

I tried in vain to organise taster days for new members. I canceled my first weekend because of bad weather. I rescheduled, and was rained off again. After eight attempts and eight cancellations, I packed up for the season and gave up hope until the following year.

I suffered a second waterlogged summer Ė still no influx of members, and still no opportunity to stabilise the project. The Council discovered a £60 million black hole in their accounts, and asked me to take on the maintenance of the lawns. It was time to pack up and look elsewhere for a venue.

Well, yes, but not immediately. Iíd a book to write, a contract to fulfil, and a deadline looming. I half-heartedly printed out maps of the cityís parkland, and drove around looking at grass. I tentatively approached Liverpool Cricket Club, and got a vaguely positive response: come and use a corner of our pitch, but donít expect to play at weekends or in the evening. This was clearly not going to be a workable plan. I decided to give up hope.

Then, in February 2010, I went for a walk in Sefton Park, the largest and grandest of the parks bequeathed to the city by its 19th century benefactors. Until 2009, it was undergoing a multi-million pound refurbishment, so it hadnít even made it onto my shortlist of possible venues. Now that the bulldozers have gone, the stagnant watercourses and rusted fencing have been restored, and itís suddenly a pleasant place to be once more. Everything looks lovely, except for that fenced off area of derelict grassland by the tennis courts. Strange.

The Mersey Bowmen Tennis Club has occupied the park since the 1880s. Originally an archery club founded in 1781, the Bowmen is the worldís oldest surviving lawn tennis club. Since the Council withdrew maintenance of their championship-standard grass courts, the club has fallen on hard times. The clubhouse and the tarmac courts each need some love and attention, so thereís no chance of anyone finding time to focus on the grass. No chance of grass-court tennis, but my measurements show that thereís just room to squeeze four croquet lawns onto the unused grass.

I send an email to my guy at the Council, who gives me the address of Alison, the tennis club chairman. With one email to her, I have an agreement to renovate the grass and set up my club. Two full-sized lawns (in Phase One), a huge brick clubhouse, licensed bar, kitchen, flushing toilets, electricity, and a pool of tennis players who are happy to help me spread The Gospel of Croquet. Easy. All it takes is a two-line email. But it took five years to find who to send it to.
The excellent clubhouse fronting the two new croquet lawns is much larger than it looks, extending back into the trees. It is shared with Mersey Bowmen, the second oldest lawn tennis club in the world.
Equipping and mobilizing Liverpool's one-man maintenance squad
But what have I done? Iíve committed to undertake the restoration of these courts, buried as they are under an inch of moss and 15 years of neglect. Iíd managed, back in the ancient past when the city was European Capital of Culture, to secure a grant for setting up the club, and I still had £1,200 available to buy a nice new lawnmower. I spent a couple of months hiring rotary mowers, and wading through a foot of long grass and weeds. Only by May 2010 was I able to push a cylinder mower across the surface.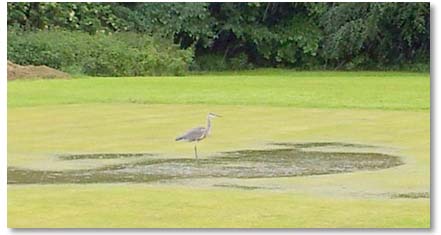 The "before" surface was mercifully flat but covered with long grass and moss that had to be cleared and maintained by Hawkins himself.
Anyone looking for a new club mower should know that £1,200 doesnít go a long way. My shiny new purchase was in the repair shop after a week, with a shattered gearwheel and a warped chassis. A month later, two cables snapped. Then, in July 2010, the whole thing went up in flames. Some might argue that this is evidence of a design flaw in the mower. Now, after several months of increasingly irate letter writing between me and the manufacturer, I acknowledge that they had no responsibility for the incident in question, which may have resulted from some (unspecified) failing on my part. I received an out-of-court settlement, but another year passed - another year without croquet in Liverpool.
I refuse to be beaten. Iíve bought a replacement mower on eBay. I know this oneís sound: itís made by Dennis, the people who used to make fire engines, so Iím optimistic that itíll be flameproof. A year-and-a-bit after taking on the maintenance of the grass, Iíve single-handedly killed the moss, fertilised, reseeded, weedkilled and scarified.
This isnít a small job. Itís taken 250 hours of trudging up and down with mowers, aerators and spreaders. But now Iím ready. By the start of the 2011 season, Iíd revived two full-sized, more or less flat, more or less playable lawns. Iím ready to turn my attention to welcoming my first paying customers.
Who will volunteer to do the work?
There will come a time in the not too distant future when I lose the energy to do all the jobs that need doing. My main priority isnít for fast but indiscriminate growth; itís to recruit the sort of people whoíll help me cut the grass, paint the clubhouse, and spread the word to recruit new members.
Thereís an orthodoxy among established clubs that the core market for croquet is the generation of active retired people. They have the enthusiasm and opportunity to take up new pastimes, and the financial freedom to volunteer for projects like this. There are hordes of potential croquet players, so people tell me, and all I have to do is contact adult education groups. Iíd have recruits hammering on my door.
But that is a very suburban mindset. What might be a fruitful recruiting tactic in smaller communities just wonít work in a city like this with so many competing activities. My club is just a couple of miles from a city centre. In this urban setting, affluent and educated seniors are thin on the ground. Their territory is the outer suburbs; my catchment, on the other hand, is full of young, Bohemian twenty-somethings. How do I get them into croquet?
Working the press and the corporate events market
My first step was this: Decide on a recruitment weekend; get press coverage in the local papers; wait for people to arrive for a free taster session. I placed links to the club website on corporate intranets (an untapped, but fertile and cost-free advertising method). I had full-page features splashed across both of the local papers, the Liverpool Daily Post and the Liverpool Echo ("Croquet no longer a game for Southern toffs, says James Hawkins, 43"). Saturday came, and it rained. No one showed up.
Well, not exactly no one. Ears pricked up among local PR companies looking for eye-catching events for their clients. While this remains a tantalising prospect rather than a firm ongoing relationship, business cards have been exchanged, plans made and opportunities uncovered for a valuable corporate market. Maybe it wonít be the golden egg that solves all my recruitment problems, but it could just give me the cash inflow to pay my annual fertiliser bill. The corporate door is wide open for next yearís season.
Meanwhile, I decided to start courting local schools. Just round the corner is the local independent school. Unlike the state sector, they have some flexibility in their timetable, so I emailed their Head of Physical Education to suggest croquet. My proposal was to introduce croquet to the children in 2012, but to train some teachers in 2011 as a precursor.
Children are a useful target group. They wonít cut the grass, bake the cakes, manage the bank account or run the coaching sessions that keep any club going. But theyíll recruit parents and teachers. For each group of eight 13-year-olds, I might persuade four adults to join. In a yearís time, my original eight might continue, and another eight might start. And again the next year. And the next.
My tentative email produced an immediate response. Forget the precursory training for teachers Ė a group of eight youngsters were lined up for the following Tuesday afternoon. But when Tuesday came, it was raining. Another Tuesday, and a mix-up with timings. Owing to what I might diplomatically describe as ďproblems out of my controlĒ, some further disappointment over the coming weeks.
The summer term came and went, and I wasnít able to get a single attendance from my new school disciples. Further disappointment, yes. But the contact has been made, positive noises continue to be voiced, and it looks like my schools programme may still be on schedule for a 2012 start.
It all feels like a long hike up a steep mountain path. Iím still some way from the summit, but Iíve climbed a long way from ground level. All in all, itís been a year where recruitment has happened in a trickle rather than a torrent. Membership is (just) in double figures, but itíll only get easier from here as word of mouth spreads.
Croquet is being played in Liverpool for the first time. Iíve entered a team in the North West Advanced League, and my team of scattered expatriot Merseysiders has just played its first match on home soil. The next challenge is to maintain the momentum. After several years of false dawns, Liverpool Croquet Club is now a reality.

The first official event was the North West Advanced League in July of 2011. (L to R) Liverpool Team: Jerry Guest, John Haslam, James Hawkins (Capt); Bowdon Team: Ian Lines, Mark Lloyd, Ken Cooper (Capt).
If you want to play croquet in Liverpool, visit www.liverpoolcroquet.co.uk for details and contact information.
---