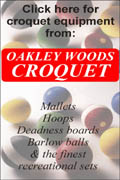 The brightest croquet stars
of 20th century America


by Bill Grandey, from his book "Murder, Mystery and Croquet"
croquet photographs Rodrigo Pena
layout by Reuben Edwards
Posted December 20, 2014


---

Chapter Nineteen of Bill Grandey's book is all about the greatest American croquet champions of the 20th century, and it should come as no surprise that both of them were popular show business personalities, on both coasts. Although they did not directly influence the development of the American game in that era, the publicity they generated for the sport had much to do with its popularity, especially because they knew and played with so many other stars of the same period, and because they featured the game in many of their vaudeville acts and movies. The author and his friends are recreating the freewheeling sporting spirit of one of those stars in their remarkable club in the Coachella Valley.

---
In putting together "Murders, Mystery and Croquet," it was easy to determine who were popularly regarded as "the croquet champions" of the 20th century. They promoted the sport of croquet more widely and prominently than anyone else. And you already know them, yourself.

William Dukenfield was born in 1880 in Pennsylvania and championed croquet until his death in 1945. He was also known as Charles Bogle, Eustace McGargle and Otis Cribblecobble. In 1895, at 15, he got a job in vaudeville as a juggler and used the name W.C. Fields because it fit better on a small theater marquee. He traveled America and Europe as a vaudeville headliner and became known as "the world's greatest juggler."

Fields also played British music halls, but was billed there as William C. Fields because "W.C." means water closet (toilet) in England .

Shortly after his first Broadway show--a musical called The Ham Tree--Florenz Ziegfeld hired Fields as the featured act in the launch of the Ziegfeld Follies that ran in distinct annual editions from 1907-31. Fields dazzled audiences at Manhattan 's Amsterdam Theatre for six years before going on to films and radio. The lavish spectacular was a cross between an elaborate Broadway show and the finest of vaudeville. (Bob Hope, Joan Crawford and Barbara Stanwyck also played the Amsterdam .)

Croquet saved Field's career in 1908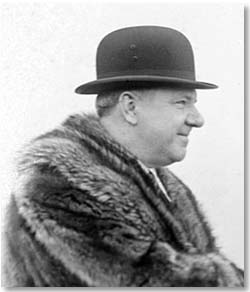 W.C. Fields earned his "croquet champion" title with hard practice, but his stage act of miraculous croquet shooting was all show-business trickery.

So how are croquet and W.C. Fields linked? Well, croquet actually saved his career in 1908, as the answer to a serious problem the 28-year-old vaudevillian encountered in his starring Follies act. He was playing a sophisticated bum, complete with top hat, spats, and an open dress coat. At the climax of his act he was to make spectacular shots on a pool table using crooked cue sticks—shots that miraculously always zipped right into the pockets.

But after a while, the trick pool table became too well known and his act was failing—and besides, those miracle shots were really impossible for the audience to see from their seats. So he needed a new schtich for the act, and croquet turned out to be the perfect solution. Field worked on his croquet technique until he could predictably shoot like an expert the wickets projecting from the Ziegfeld stage floor.

Unfortunately, being expert enough to shoot one distant wicket after another wasn't impressive enough for the vaudeville stage of the time. So instead, he found a way to demonstrate sufficient hand-eye talent to shoot his croquet ball through all the wickets in one shot! It was a seemingly impossible act that fans came back to witness again and again. Naturally, they tried to figure out how he did it. They never did. And neither have we.

W.C. Fields earned his "croquet champion" title with hard practice, but his stage act of miraculous croquet shooting was all show-business trickery. It was generally thought that Fields put grooves in the stage floor, but on inspection the floor was reported to be smooth, with nothing the dancing Ziegfeld chorus girls might trip over. There was a rumor of a "trick" croquet ball with metal inside, and a man running around under the stage in the order of the course using magnets. People tried by various means to duplicate the trick on their own backyard croquet courts, to no avail. Fields' no-fail scheme is still a mystery. Of course it was some kind of trick. But Fields' vaunted croquet talent nevertheless earned him the vaudeville title of the "World's Best Croquet Player."

Fields squeezed in a few silent movie parts while he was busy with the Follies and vaudeville. One of them was Poppy in 1923, and it was so popular it was later redone with the vaudeville star in 1925 by D. W. Griffith , re-titled Sally of the Sawdust. Fields' croquet prowess was featured in both movies.

By 1934, W.C. Fields was a major "croquet playing" movie star. On radio he starred with Mae West and went on to be known as the dummy Charlie McCarthy's nemesis, in numerous broadcasts of Edgar Bergen's popular ventriloquist show.

SOME W.C FIELDS CROQUET QUOTES

"The game of golf would lose a great deal if croquet mallets were allowed on the course."

"A wicket worth having is a wicket worth cheating for!"

"I never hold a croquet grudge! As soon as I get even with the son-of-a-bitch, I forget it!"

"If at first you don't succeed on your jump shot, try, try again. Then quit. There's no point in being a damn fool about it."

"What a gorgeous day for croquet! What effulgent sunshine! It was on a day of this sort that the McGillicuddy brothers murdered their mother with a croquet mallet."

In 1936, Paramount produced a sound version of Poppy with Fields playing his role of Eustace P. McGargle on the croquet lawn for the third time. Fields' character tries to impress a wealthy lady with his croquet prowess, a game of which his character, presumably, had never heard.

Countess De Puizzi: "Do you croquet?"

Eustace: "Ah, no I don't. I used to do a little tatting on the train."

Fields then trips over a croquet wicket and falls on his face, and it upsets him.

"What lazy lout left all these wires all over the place?"

Fields is then bonked on the head with a croquet ball when one of the carnival suckers he had cheated earlier knocked him cold. But by the end of a game in which he miraculously succeeds, he is declared "Croquet Champion of the World."

Fields reprised his amazing croquet skills in 1933's Alice in Wonderland with Cary Grant. His grumpy Humpty Dumpty, one of the highlights of the movie, depicts live flamingoes as croquet mallets on the Queens of Hearts' croquet court, as described in the Lewis Carroll classic. In 1941's Never Give a Sucker an Even Break, Fields used a croquet mallet as a weapon to knock a man out cold with his perfect swing.

All sold out of croquet sets

His most devoted fans were shop owners selling croquet sports equipment. Whenever Fields appeared with croquet on Broadway, croquet set sales soared. Wherever in America he played on vaudeville stages, the local stores quickly sold out of croquet equipment. Sports equipment stores soon learned to order extra croquet sets wherever Fields was to appear locally.

When his croquet movies came out--you guessed it!--croquet set sales went off the charts nationally. So it's no wonder the popular actor was given the vaudeville and movie title of "The World's Best Croquet Player." He earned that title because he was, in fact, "Croquet Equipment Salesman of the Century."

Enter the Marx Brothers

The other croquet champion of the 20th century, born in 1888, lived in New York City with his parents, Frenchie and Minni. He was named Arthur, but was known locally as "Ahdie" (Artie) until a poker game in Galsburg, Illinois with a man named Art Fisher. Fisher was dealing cards to Arthur and his three brothers and decided to give them nicknames ending in "O" just for fun. Arthur was first, and since he played the harp, Fisher called him Harpo. His name would later be changed, legally, to Arthur "Harpo" Marx.

Fisher gave Brother Julius the name of Groucho, because he was moody. He called brother Leonard Chicko, as he was a ladies man and liked chicks. (Later, in the movies, the spelling of his name was contracted to Chico, but still pronounced Chick-o.) The last sobriquet was for Milton, nicknamed Gummo, because he wore silent rubber sole shoes backstage and snuck up on people like a gum-shoe detective.

Herbert Marx was later nicknamed Zeppo. Groucho said the name was a take-off on Zeppelin aircraft.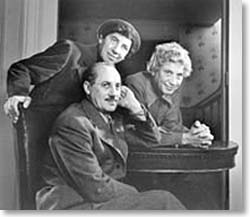 Harpo is the brother on the right, circa 1950.

Harpo Marx was the brother who became known as a "croquet evangelist," but he described himself as a "croquet maniac." His long-time love affair with the game created many other croquet maniacs. His brothers learned croquet from Harpo, as did many of Harpo's friends, both in Hollywood and on the East Coast. New York Herald critic Alexander Woollcott, one of the regulars in his editor's well-known croquet group known as the Algonquin Circle, invited Harpo to visit his mansion on Neshobe Island in Vermont , where he had installed an eXtreme croquet field. They played in brush, under maple trees, and around a lake that ate croquet balls.

In 1930, Harpo competed in one of the longest tournaments of that era with New Yorker editor Harold Ross at the home of Kathleen Parrish on her Long Island estate. They played croquet at nine in the morning, four in the afternoon and again after dinner, for ten days straight.

Harpo traveled to Soviet Russia to entertain stage audiences as a single in the 1930's, where the Russian Cyrillic alphabet laid out Harpo's name as "Exapno Mapcase." He became a renowned Russian pantomime comedian under the name Exapno. Harpo tried sending some croquet references home by Russian cable. Most of his cables were censored, including this remarkable one to Alexander Woollcott:

"Have gone through toughest wicket. No longer dead on red. Everything Buckety-Buckety. Exapno Mapcase."

The Algonquin Round Table was a changing group which greatly influenced the development of the modern game in America. Midtown Manhattan's Algonquin Hotel, built in 1902, attracted martini-oriented playwrights, authors and croquet players. Its participants were nick-named "The Vicious Circle," as they took delight in sharing and spreading gossip, often in print.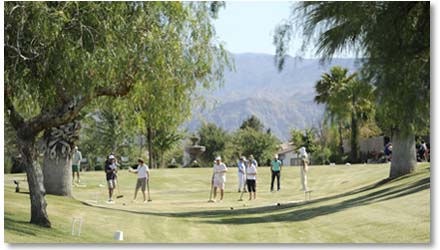 The free-wheeling spirit of Harpo Marx is still alive and well in California. Harpo would have loved playing in the "ditch," a favorite site for Bill's club, now growing beyond 100 members. It's actually a very wide median four or five feet below the street level with a drainage grate at the lowest point, necessary in areas prone to flash flooding. Note that the equipment is all "serious," and the eccentric course makes maximum use of obstacles and terrain--just as Harpo would have preferreed. The surprisingly smooth surface is a variety of bermuda grass that flourishes in the American Southwest, used in many public parks. The game is usually a variety of golf croquet--which makes it easy for many games to be played at simultaneously on one course, golf style. A common sight is five groups of four players each, quintuple banked, in the "ditch."
The Algonquin Round Table played regularly in the summers on Herbert Swope's eXtreme croquet lawn at his Long Island estate. Regulars were Harpo Marx, Dorothy Parker, Edna Ferber, George Kaufman, Averell Harriman, Ogden Phillips and Robert Benchley. The house guests would put on their cars' headlights to illuminate the field so that they could play into the late evening hours after dinner.
The rule books of that time in America were not yet standardized, the sport was not officially organized, most lawns were not level, and often the boundaries were not designated. To make matters more muddled, Harpo was bi-coastal. He had a home in Beverly Hills and adapted to rules on both coasts. His West Coast partners included Tyrone Power, Howard Hawks, George Sanders, Louis Jourdan and Moss Hart. In Hollywood , Harpo built a room in his house that featured a climate controlled temperature, to keep his growing croquet mallet collection free of humidity.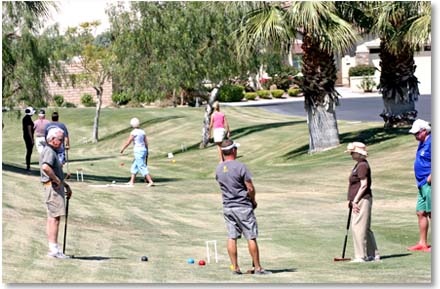 Both Harpo and Groucho enjoyed playing croquet in the nude (as did, famously, Dorothy Parker of the East Coast Algonquin Circle .) Understandably, the nudity made quite a ruckus on the lawns at the Flamingo Hotel in Las Vegas . Much of the humor in the Marx Bros movies was centered around the brothers suddenly becoming comically maniacal. Harpo was known to his friends as a genteel and serious croquet player who occasionally went zany to keep humor in the game.
According to Harpo's son, Bill Marx, Harpo went to great lengths to win at croquet when he was playing with his friend Alexander Woollcott. In one game, Woollcott positioned his ball behind a palm tree to prevent Harpo from hitting it. Harpo told him he would be right back and returned with a freshly cut half tire and nailed it to the tree. He then shot his ball into the tire so it would to come out on the other side and hit Woollcott's ball.
Bill Marx, in an exclusive interview for this book (author of Son of Harpo Speaks), said "The only mean thing Harpo ever did was play croquet! My dad was an unusually kind man, until he held a croquet mallet."
Harpo never talked in his pantomime movie roles, so Groucho was often his spokesman. Those Harpo-inspired quotes from Groucho include:
"Before I speak, I have something important to say." "I cannot say that I don't disagree with you." "No-one is completely unhappy at the (croquet) failure of his best friend." "Who are you going to believe, me or your own eyes?" "I sent the (croquet) club a wire stating, 'Please accept my resignation. I don't want to belong to a club that would accept me as a member.'"
Together at last?
In January of 1915 Fields appeared on the same bill as the Marx Brothers at the Orpheum Theater in Columbus , Ohio . His act was to follow the brothers. Fields later wrote about it. "They sang, danced, played harp and kidded in zany style. Never saw so much hilarious laughter in one act. It was the only act I would never follow. I told the manager I broke my wrist and quit."
That Harpo never spoke in film was a certainty to the public. Harpo Marx and W.C Fields, who knew each other from early days of vaudeville, decided to put together a joint speech for movie theater audiences to celebrate their time in vaudeville. They performed together as key speakers for the newsreel premier of MGM's The Great Ziegfeld in 1936. Harpo and Fields marched up to the mike. Harpo took the mike, and to the delight of the audience, he actually spoke, "getting a good laugh, he said to W.C. Fields, "You gotta do the talking."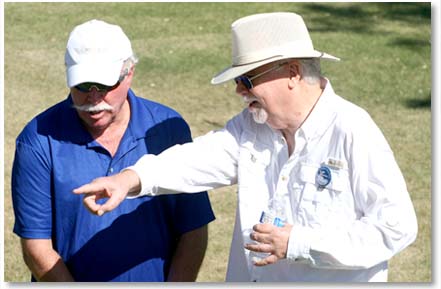 Bill Grandey points to a particularly difficult challenge on the "ditch" course. He and his club board have some pressing problems to address in their next meeting, all good. Because of all the publicity they get in local media, partly as a result of such photos as these, their club needs to find bigger playing spaces. Although there are no dues for the club, money is never a problem. "Members donate everything," Bill reports, "including the balls, mallets and wickets."
Fields gave a speech about the Ziegfeld Follies full of side-splitting Field-isms; after he finished, Harpo took the mike and spoke once again to a well entertained audience and clearly enunciated, "Honk! Honk!."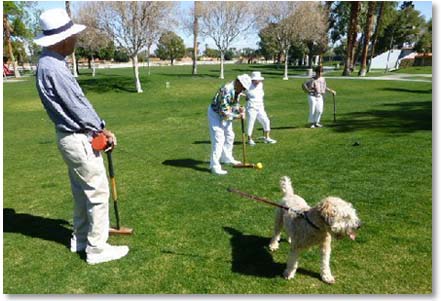 For big parties including food, dogs, and socializing, Bill's club uses this park in the city of Rancho Mirage, near Palm Springs. The city is redeveloping the park and considering partnering with the croquet club, where Grandey thinks up to 500 members might be accommodated.
When Croquet Foundation of America's Croquet Hall of Fame was established in 1979, just a few years after the formation of the United States Croquet Association, Harpo Marx was soon after inducted posthumously. The Hall of Fame recognizes those who "bettered the sport either through playing skill, or contributions off the court." It sounds as if they were also talking about the croquet contributions of W. C. Fields. But, as you may have guessed, W. C. Fields can only be found enshrined in the Juggling Hall of Fame.
Grandey's group has all the potential of a club development model for the 21st Century. The action is public and visible; the croquet equipment is heavy, allowing for the ergonomics of the sport--for stroking the ball instead of "clubbing" it, golf-style. And the Golf Croquet game is fast-paced, easy to understand at first acquaintance, and suitably seductive.
Croquet was trendy with the Hollywood set in the 40's and 50's. List-makers would have an easier and shorter list to compile of Hollywood personalities who did not play croquet than of those that did. Croquet was so in style that young Shirley Temple successfully held a widely reported news conference with Orson Welles, while playing croquet at her Hollywood home in 1939. Many sports have strongly-focused and temperamental stars. Croquet in every era has had its share of serious players who sometimes lose themselves in the pursuit of perfection. Being "well rounded" is not part of their act, but self-adulation definitely is. Fred Allen might have been describing Harpo Marx or W.C.Fields when he said on his radio show in 1940, "The last time I saw him he was walking down lover's lane holding his own hand."
ABOUT THE AUTHOR: William Roy Grandey was born in Ketchikan, Alaska and lives in Palm Springs, California and Vila do Condo, Portugal. He has lived 37 years with his wife Kathy and a mysterious cat who disappears for days at time. He is a member of the Pasadena Croquet Club and also participates in outings with the Palm Springs Area eXtreme Croquet Society. To him "Murder, Mystery and Croquet" is more than a book. Three years ago Bill was diagnosed with terminal kidney cancer. As a result of treatments, many of his usual activities became difficult if not impossible. He focused on writing this book. When the doctors offered the usual anti-depressant medications, he turned them down. They were surprised when Bill explained that his morale was already high, and he needed to keep sharp to research croquet murders and mysteries and had deadlines to meet. Additional information on the book "Murder, Mystery and Croquet" can be found at www.grandeymysteries.com.
---