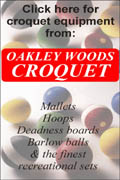 Centennial Open at United

by John Prince
photos courtesy of Paddy Chapman and the United Croquet Club
Posted November 22, 2012


---

With six established courts and a seventh in its first season, United maintains a central position in Christchurch in both geography and importance, an obvious and favorite pick for major world events. The centennial celebration in late January 2013, promising a stellar lineup of major players, is for the club itself, not the Open, which was interrupted for several years during the world's last "total war," in the 40's. Among the competitors is Chris Clarke, who has regained the top spot in the world rankings just as New Zealand's top six have surpassed, just barely, the top six of the Kiwis' main traditional rival, England. One of the past champions of the New Zealand Open, the legendary John Prince, sketches the exploits of other notable winners, beginning with the first Open champion, Keith Izard.

---
With the New Zealand Centennial Open Championships due to start on January 19th, 2013, one may well ask who was the first New Zealand Croquet Champion? The answer is Keith Izard. Keith was the son of C.H. Izard, a very successful Wellington Company Director and Member of Parliament. Born into privileged social and financial circles, Keith was able to devote himself to all the fashionable pastimes, including Croquet. In the early 1900ís croquet was enjoying a revival and clubs were being formed all over New Zealand and, indeed, throughout the British Commonwealth.

From the other side of the facility, with the tree in the center and clubhouse in the background.
View of United from the clubhouse, showing large tree amidst the courts.
Canterbury was one of the early New Zealand associations, and with the United club centrally situated in Hagley Park, Christchurch tournaments were soon underway. Izard was invited down from Wellington to compete in the first Canterbury Championships in 1910, where he triumphed in singles as well as doubles, partnered by one his pupils--a Mrs. Pearce, also from Wellington. (Mrs. Pearce won the Ladies Championship as well.)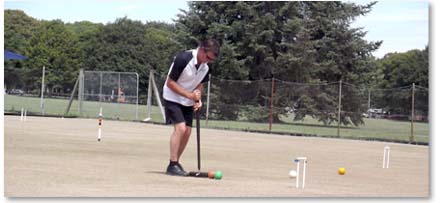 Greg Bryant, Open winner in 2011 and 2012, on lawn one. Paddy Chapman photo.
When Izard won again the next year, the question arose about "outsiders" competing in the Canterbury Championships. A compromise was reached, and in 1913 in addition to the Canterbury events for local players only, national titles, including Open Singles, Championship Doubles, Ladies Singles and Handicap Singles, were added. The new national events were to be open to all comers. So Izard became the first New Zealand Champion, a feat he was to repeat in 1914 and 1915, in singles as well as doubles in partnership with a young Miss Rutherford from the United club.
John Prince on lawn five, with gazebo and equipment shed in background. Paddy Chapman photo.

The tournament was held at the United club on five lawns. Although most of the club's priceless archives were lost in a fire, our guess is that the lawns on those events were current lawns 3 and 4, the two bowling greens and the fifth on the first row of tennis courts, which may have become a permanent croquet court at that time.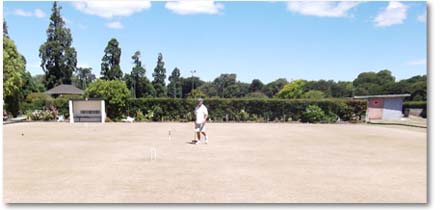 Lawn six. Paddy Chapman photo.
First Open champion labeled an exhibitionist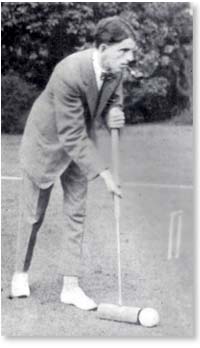 Keith Izard, 1913, 14, 15

Ashley Heenan commented on Izard's playing style in the New Zealand Croquet World issue of March 1954: "He was by all accounts an exhibitionist and perfectionist by nature. He had perfected his game playing in tournaments in England, where he was accorded a mixed reception by many of his contemporaries. To some he was a dashing player who indulged in the all-too-rare finesse of croquet, to others he was a conceited egotist given to exhibitionism. Admittedly he had a quick temper which tended to make him short in manner and perhaps a little intolerant--particularly when others did not display the same partiality to the more risky maneuvers of croquet. His reaction to R.C.J. Beaton, a leading player of time is a case in point."

A reporter wrote, "I can remember when he [Izard] first came here, he was to play Beaton in the Open Singles at the Brighton tournament. A greater contrast in these two players could hardly be imagined. Beaton elderly, bearded like an apostle and of the same placid, gentle nature; Izard, very young, almost defiant in expression and manner on the court. When the crowd, for in those days there were many spectators, heard that Beaton was to play Izard, picking up their chairs they rushed to get a good place by the court. It was the days of playing the balls in sequence. Izard had laid a break, Beaton fourth cornered. Izard with eyes flashing, instead of taking the 3 ball break, turned and hit Beaton in the fourth corner. His expression was as much as to say "You canít try that sort of thing on me!"

Arthur Ross excels in the 20's and 30's

In 1915, a 20 year old, Arthur Ross was runner up to Izard and won the Doubles. Arthur, the youngest son of E.J. Ross (the first President of the NZCC) was to become one of the country's greatest players. In 1922 he won the first of his eleven New Zealand Open titles, and during his long career held every office on the New Zealand Croquet Council. Ross wrote "Croquet and how to play it," which ran to five editions including a translation into German.

Ross was the first winner of the New Zealand Menís Championship in 1934. At his best he was a wonderfully stylish player, and crowds would gather to watch whenever he played. He was captain of the New Zealand team when they won the MacRobertson Shield for the first time, in 1951. He was a great doubles player, often taking a junior as a partner in the New Zealand Championships; while this generosity of spirit limited the number of titles he would win, it demonstrated what a great and unselfish sportsman he was.

In 1938 Mrs C.A. "Rene" Watkins from the Hastings club won the first of her 4 Open Singles titles. In later years Ashley Heenan described her as the best woman player New Zealand had produced. Playing with an upright side stance, similar to present day player Stephen Forster of Australia, she was an extremely determined competitor and with husband Clem won the Doubles Championship three years in succession, 1953, 54 and 55.

Heenan impacts post-war image of the sport

Ashley Heenan caused quite a sensation when in 1946 at age 20 he won the Open Singles. Croquet was by then considered by many to be exclusively an elderly personís game. Heenanís win and front-page photo on the Wellington Sports Post heralded a slight change in attitudes amongst sports followers, but perhaps not the general public. Other young players of the time included Margaret Claughton (later Rowling) who with Ivy Wainwright played in MacRobertson test teams. Each won the ladies singles and doubles titles at various times.

Ashley, who was at one time Arthur Rossís son-in-law, made a big contribution to the game both as an administrator and player. He was to become the first President of the World Croquet Federation. He won the Open Singles five times, twice playing side stance and later playing center stance--perhaps our sport's most successful "switch hitter."

In 1960 Heenan, the defending Champion, entered the Championships with 16-year-old Tony Stephens as a partner. This time it was young Tony who caused the sensation by winning all four events he entered--Open and Menís singles, doubles and handicap singles. Stephens remains the youngest winner of the Open and the only player to win all four titles, although Clarrie La Roche came close in 1947. (With 3 titles secure, Clarrie was unexpectedly defeated by Albert Saalfield in the final of the Handicap Singles.)

A few seasons later another youngster named John Prince emerged from the NaeNae club in Lower Hutt. With virtually no tournament experience, although he had been coached by Heenan, he was added to the 1963 New Zealand MacRobertson team along with fellow youngster Ralph Browne late in the series. John upset all odds when he defeated the legendary John Solomon from England in the test series, although Solomon was to gain his revenge in the New Zealand Open--a title Solomon won for the second time. Prince, however, captured the Menís Championship, a feat he was to repeat with a run of seven consecutive titles from 1966 through 1972. Prince played in nine MacRobertson series and won the Open singles eight times.

Jean Jarden was the mother of sensational All Black winger R.A. "Ron" Jarden, although he would say he was the son of a famous croquet player. Jean won the Open Championship in 1966 and was runner up twice. To date she is the last woman to win the Open, although Susan Wiggins (nee Grigg) came close in 1983 when she was runner up.

Jackson and Hogan rise in the 70's and 80's

In 1975 following his debut in the 1974 MacRobertson series, Bob Jackson won the first of his remarkable haul of 13 New Zealand Open titles. He became the first player in the world to complete an octuple peel, and he even did two on the same day, A former New Zealand Table Tennis Champion, Bob at his best was a match-winning machine, his single ball shots simply outstanding. His main rivals were two youngsters, Joseph Hogan and Paul Skinley.

Joe Hogan won with Jackson eight Open doubles titles. Hogan was also an Open singles winner, and in 1989 became the first ever winner of the WCF World Championship Singles. Paul Skinley was dubbed "The Earl of Elegance". Skinley and Jackson remained unbeaten as a doubles combination through two MacRobertson campaigns. Skinley, like Hogan, has won the Open three times.

In more recent times new Champions have emerged, including overseas stars: Robert Fulford four times, Chris Clarke (now living in New Zealand), Rutger Beijderwellen, Stephen Mulliner. Local winners include Steve Jones, Dennis Bulloch, and youngsters Toby Garrison and Paddy Chapman. After some 20 years of striving for New Zealand's "Holy Grail" of croquet, Greg Bryant was successful in 2011 and again in 2012.

It's quite possible that a resident Kiwi will win the Centennial event in late January 2013. You'd have to give odds to Chris Clarke, who regained the world's top ranking in November, but half a dozen other New Zealand players have a good shot at the title, as well as visiting overseas players from Australia, England, Ireland, and the United States. As we go to press nearly 60 players are already registered. The Centennial Open will be well reported by croquet media all over the world, including this magazine.

Paul Skinley
1980, 81, 85

Bob Jackson
1975, 78, 79, 82, 83, 84, 89, 91, 92, 95, 97, 98, 99, 2003

Joe Hogan
1986, 88, 90

Aaron Westerby
1994

Robert Fulford
1993, 2000, 05, 06

Toby Garrison
2001

Dennis Bullock
2004

Chris Clarke
2007

Greg Bryant
2011, 12
---