My life in croquet: Part Three


by John Prince
layout by Reuben Edwards
Posted October 29, 2006


---

John Prince returned from the first trip to England with his New Zealand teammates in 1974 at the age of 28 after losing the MacRobertson Shield to a powerful British team. Despite periodic bouts of self-doubt, he continued to pile up impressive personal victories and was soon to lead New Zealand in the most sweeping world team series triumph in its history. He virtually dropped out of serious competition for long periods to raise a family and pursue his art interests. In this third and concluding portion of the Prince memoir, one of the winningest players of croquet history recounts an often difficult journey towards a balanced life - a life whose ultimate satisfaction does not necessarily depend on beating the best players in the world on a croquet court. These days, John Prince's love of the game embraces both competition and coaching - both, still, at the highest level.

---
In the seventies a number of promising youngsters emerged in New Zealand, quite a few of them from the Barry Memorial Club in Gisborne - including one Joe Hogan, who on his first appearance in 1976 was overshadowed by the diminutive Peter Adsett, who won the New Zealand Men's title, defeating Bob Jackson in the final.

Finals day was not a good one for Bob that year, as he also failed to take croquet against me in both of our games in the New Zealand Open Singles. Interestingly (like the Neal vs Solomon final around the same time), despite being a great shot he elected not to take a lift shot in either game but placed a ball in corner one; however, like Neal, I was able to go round both times. No doubt I was spurred on by the presence of my three-month-old son Nick sleeping in his pushchair near the sideline with my wife Sue.

Winning the Shield in New Zealand as player and captain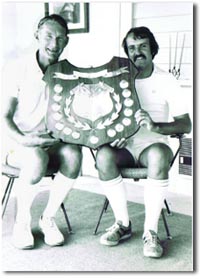 Bernard Neal (Captain of the Great Britain Team) with John Prince (New Zealand Captain) holding the MacRobertson Shield, at Wanganui, New Zealand, during the 1979 Test Series, in which New Zealand defeated both England and Australia three tests each to nil.

I recovered the Open title the next year, again defeating Bob Jackson in the final, but during the following winter I damaged the tendons in my forearm. I still played well enough to make the 1979 MacRobertson Team for the series held in New Zealand, but I'd lost a lot of power and confidence in my swing. I couldn't rush with the same accuracy of old, nor could I run hoops very hard to finish up down the other end of the court.

During the series I played fairly well - all the croquet strokes were still there - but I knew my technique was limited at times. It was nevertheless a great honour to Captain such a fine bunch of guys in winning the Shield for New Zealand. Some of the proudest moments of my life were being presented with the Shield, first by Bernard Neal and later by the Governor-General for New Zealand, Sir Keith Holyoake.

Time out for the family

I did not play much for a couple of years while I was enjoying family life. My second son Jonathan had been born just before the 1979 series, so we were kept busy at home with two young fellows. Nicholas became very keen on playing football and cricket, and was a representative player in both codes for Hastings, the Hawkes Bay town where they both grew up.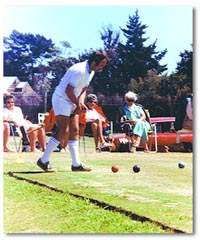 Prince plays a rush shot near the boundary during the 1979 MacRobertson Series at Wanganui in a victorious match against Great Britain.

Jonathan had a great curiosity for how things worked and understood many things electronic and mechanical. He converted my lawnmower into a go-cart, but of course had no intention of returning it back to a lawnmower, so I had to buy a new one. Later when we moved to Christchurch he got his drivers license the day he was old enough to sit the test, although he had already bought his first car, a Morris Mini. The car was never roadworthy, despite his attempts to modify it. It still sits there partially hidden behind my glasshouse, although Jonathan lives in Germany. I haven't the heart to get rid of it because he always checks to see that it is there when he comes home for a visit. Nick continues his interest in sport, and American readers will be interested to learn that he currently plays baseball. My wife Sue is very active in musical theatre and is at present involved with "Seussical the Musical," based on the Dr Seuss stories. My family have been hugely supportive of my involvement with croquet.

Time for a collective shock

By the time of the next MacRob in 1982, I was ready to jump back into competition, and was runner-up to Bob Jackson in the New Zealand Open. Despite my best efforts to convince the other selectors, they wouldn't pick the same team that performed so well in the victorious series against England in 1979. I finally persuaded them to pick five of the six, but sadly my doubles partner Alan Anderson missed out. Later Bob Jackson withdrew for business reasons, but there was no way a guy like Alan Anderson would now accept a place even if they had asked him - and they didn't!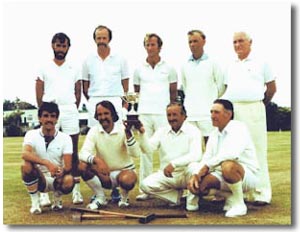 Past winners of the Open Singles Championship at Wanganui in 1982 with the New Zealand Open Cup: (Back row, left to right) Roger Murfitt, Richard Clarke, Tony Stephens, Bob Jackson, Ashley Heenan. (Front row, left to right) Paul Skinley, John Prince, Cliff Anderson, Keith Woollett.

We still had a great bunch of guys, but we just couldn't establish the dominance needed and never won a test, although several were lost 4-5. I had a good match with the Australian Neil Spooner at Chatswood, determined to avenge my loss to him in 1974. I quickly won the first game with a triple and started the first break in the second. I made hoop one and decided to stop at 1 back, but in playing a shot near the boundary my mallet just touched the bank on my backswing. I played the croquet shot short and although I hit the roquet to continue it quite unnerved me, so decided to go to 4 back. Neil hit the lift, went round, I missed, and he tripled. He completed another triple in the third game.

Neil was in really impressive form in the early stages of that series. I felt for him when it all came down to his match with the Englishman Keith Wylie at Warleigh to decide the winner of the series, between Australia and England. Keith proved to be a very cool customer under pressure, while Neil didn't produce his best. Keith claimed that his win was no different from the rest of the team's success, but coming when it did, I would have felt it was pretty special had it been me. (I can't help thinking of Dave Maugham, who 18 years later had to make a triple peel to win the last game in the last match of the 2000 MacRob, wresting the Shield from New Zealand's grasp with a magnificent, prolonged display of control under the greatest pressure imaginable.)

Quite disenchanted by my lack of form as the series had progressed, I nevertheless decided to accept an invitation to play in the 1982 "Best 8" late in the year. Using a somewhat beat up old boxwood mallet, it was an all-or-nothing approach. The change of mallet ensured I focussed on the mechanics of playing the immediate shot, and it worked, I was in the zone. On day two I completed two sextuples and a TPO, going on to win the event with just one loss.

A long and intense excursion into painting

JOHN PRINCE BOOKS AND ARTWORK

The following booklets are authored by John Prince and published by Croquet New Zealand.
The Delayed and Straight Triple Peel
Fun Games for Croquet
Playing the Four Ball Break
Practice with a Purpose: A Self Help Guide to Better Croquet
Standard Leaves
The Standard Opening and Variations for Championship Play
Prince made contributions and created artwork for "Play Better Croquet: An Introduction to Today's Game" by Geoffrey Naylor. Published by Hazard Press.
The artwork of John Prince can be seen at www.brycegallery.co.nz
But it turned out to be just one of those purple patches, because disenchantment soon set in again. I couldn't produce my best, and when that happened my self-esteem, which was never high, took a tumble, and I seemed to be stuck in a pattern of doubting myself. If I made a mistake I seemed to dwell on that rather than forget it and be ready to capitalize on any opportunity. Perhaps it was a form of "performance anxiety." I wanted to play perfectly, and when I didn't, I hit rock bottom.
My response to the croquet crisis was a decision to put some real effort into painting. I received good critical encouragement through a night-school class and was soon exhibiting my work in commercial galleries. I had become fascinated by a little rural property at the end of our road. The elderly owner, Martin O'Neil, was of Irish origin. He was quite happy for me to turn up any time and make drawings around his farm and later gave me a free run to make drawings inside his cottage as well as outside.
The resemblance to Andrew Wyeth's world of places and things outside and apart from the normal flow of time was then, as it is now, unmistakable. (Andrew Wyeth is one of the most famous living artists in the U.S.A.). I was drawn to objects like O'Neil's mother's old sewing machine, which had sat covered in layers of dust untouched for years. Every time I went there, something would catch my eye. I could still make detailed drawings of it now, it is so vivid in memory.
Using the extensive drawings done on site, I created numerous water colour paintings, in which the minute detail was suggested rather than fully explained; the viewer was then free to play his part. Such is the value of knowing and absorbing your subject. Because I worked for a salary during the day, I painted one or two nights a week into the small hours while my family slept. Seldom have I become so fully absorbed in bringing an artistic vision to life on the canvas, and this work, I feel, is among the best in my on-again, off-again painting career.
Once more: Heenan returns to croquet
But it was around this time that Ashley Heenan, now retired from a distinquished musical career as, among other roles, a composer and a conductor of the New Zealand Symphony Orchestra, once again began to take a large hand in running the sport in New Zealand. He effectively ended the era in New Zealand when elderly ladies ran the Council and made all the decisions.
Following the lead from the Hillary Commission (a Sports and Recreation body created by the New Zealand national government) Ashley signed croquet up and with Roger Murfitt in mind to success him as the croquet council president, enabled our sport to take its place alongside the big national sport bodies, with an Executive Director (a role Ashley covered for several years) and an office in New Zealand's national Sports House. Other sporting bodies suddenly realised Croquet was for real, no longer subject to ridicule centered around a "vicious game" for bashing opponents' balls into the shrubbery.
When Roger came into office, he said to the Hillary Commission, "Tell me what you want us to do." And an amazed Alistair Snell, C.E.O. for the Commission, replied, "You are the first sports organization that hasn't come through that door making demands." Croquet thus became the Commission's model sport, and others were encouraged to follow our example.
England revisited and history recreated
1986 was the next test match year, and the venue was England. Ashley was obviously keen to manage a team, but not just any team - a team good enough to stand a chance of winning the Shield and creating history by doing so on English soil. He seemed to think I should be part of it - in fact he thought it would be most fitting if I were also the Captain, in light of our long association from my schoolboy days playing at NaeNae under his guidance.
Feeling somewhat pressured, I went so far as to tell Ashley he shouldn't select anyone not fully committed, so why pick me? No doubt he replied that he would be the judge of that. Acquiescing, I played in and won the "Best 8" and saw my self-confidence resurgent, with Ashley's prompting. Joe Hogan proved his worthiness for the team by winning the New Zealand Open, but it took some real pressure from Roger Murfitt and me to convince him he had to come with us to England. Thankfully, he did!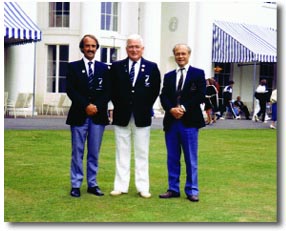 John Prince, Ashley Heenan and John Solomon at the Hurlingham Club, London, during the 1986 MacRobertson Series.

Playing the series in England, Jacko [Bob Jackson] and Paul Skinley maintained their unbeaten record in doubles from the 1979 series and Roger and Joe featured in crucial doubles wins. Rookie Graham Beale won a crunch match against Colin Irwin at Cheltenham, so we won our first test against Great Britain 5-4.

This was the last time the "old" format was used, in which each nation plays each other nation 3 times, making a total of 9 tests for a three-nations series. We had beaten Australia twice, so when Roger Murfitt struck the winning blow on an intensely dramatic day at Parkstone against Great Britain, the MacRobertson Shield was ours. Ashley's confidence in us had turned out to be fully justified.

Joe Hogan burnished New Zealand pride by staying on and winning the British Open Singles, with Bob Jackson the runner-up.

For me, playing through the series was extremely difficult. Although I found the off-court activities very enjoyable, I was disappointed with my own indifferent play. I was thrilled that we won despite my relatively poor play, but I have always felt that as Team Captain I should lead by example no matter what, and clearly, the results show I didn't do that. To win only 4 matches (2 singles and 2 doubles) from 12 played is not a good result for a member of a winning team.

However, I have two very fond memories. With Bernard Neal's encouragement John Solomon came out of retirement to partner Bernard Neal in an afternoon of playing doubles against Ashley and me during the Hurlingham Club picnic. The champagne flowed, and so did the play - although at one stage Ashley was convinced there were two yellow balls on the court!

At the farewell dinner at the end of the series held at Hurlingham Club I was presented with a very special book to mark my having created a record by playing in six MacRobertson Series. Bernard Neal had devoted considerable time and enterprise to get handwritten messages from all my MacRob opponents, and then a skilled member from Cheltenham Croquet Club had bound them into a book. David Openshaw, captain for Great Britain, made the presentation. To be saluted in this elaborate and public way by one's peers was almost overwhelming. Nothing could mean more to any sportsman.

Another first for me: playing croquet in the U.S.A.

Much to my surprise, on returning to New Zealand, I won the 1987 New Zealand Open Singles, defeating Hogan in the semis and Jackson in the final. Around this time I played in America for the first time at Sonoma-Cutrer and Meadowood in the Wine Country International. I won a block and lost to Mark Avery in the knockout by trying to be too clever with a leave after a TPO. I found the sand based courts didn't really suit me, although they were very flat and at Meadowood quite fast.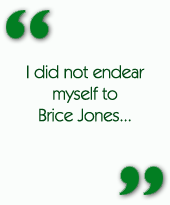 I did not endear myself to Brice Jones when at a player's meeting I opposed his idea of naming the tournament the World Championship. I objected to a World title being decided on a single-game format. Also, I was aware that the World Croquet Federation was about to get off the ground and would use a more satisfactory best-of-three match format. I took quite a bit of flak from a number of Americans and for a time even wondered if I'd be asked to leave. I was happy to sneak off the following day to Meadowood, where Tom Lufkin made me feel welcome. He didn't agree with my stand, but he admired me for standing up to Brice.
Despite saying I wouldn't return to the Jones tournament in California, I did. The World Croquet Federation did organize itself, and Brice Jones did rename his event as a World Championship. At that point, I realised I'd over-reacted. I now know that issues from my childhood surface when I'm faced by someone who is at first pleasant but then becomes authoritative and demands or attempts to dictate my response or behaviour. Later I came to admire Brice for not only what he did for the American players and the Association game, but far more important, for the wonderful things he helped achieve for disadvantaged kids. So I was content to swallow my pride, return to Sonoma-Cutrer, and acknowledge Jones' contribution to young people.
The first WCF World Championship
The New Zealand selectors chose me to play in the first WCF World Championships, combined with the British Open. The winner, in addition to receiving the Wimbledon Cup (the WCF trophy), would also become the British Open Singles titleholder.
The tournament was held during what turned out to be a very dry 1989 English summer. Several of the Kiwis played their first matches at Surbiton. The courts at Surbiton were very challenging, and care had to be taken with hard shots, as some imperfections on the surface caused balls to bounce over their expected targets. I recall sending thunderous looks in Hogan's direction as he kept blazing away unsuccessfully attacking Eddie Bell and feeding Eddie's cautious attempts to make breaks. I partnered Paul Skinley in the doubles and recall losing a long, drawn-out match on the cricket ground at Hurlingham. No doubt the drought and restrictions on watering took their toll on the courts, even court 4 situated in front of the house at Hurlingham and normally one of the best, became impossibly fast especially around hoop one.
Late one afternoon, I watched a couple of rising young English stars play a doubles match. We'd heard a bit about Chris Clarke, but his partner Robert Fulford was pretty much unknown to us. I was very impressed by their precision play and was given another example when late on another day Robert completed a very tidy triple against me in the first game of our singles match.
The next morning as I rode to Hurlingham by bus, I contemplated my fate, figuring my only chance was to do something a little different to forestall the possibility of a repeat performance by my youthful opponent. I think I did something like hitting with the second ball and rolling both to the peg, stopping at 1 back on my first break. Whatever I came up with, it was enough to break the pattern and win game two for me. Then I matched Robert's effort from the night before and took the match.
Alas, my success was short lived, for I had play Colin Irwin in the next stage of the elimination. I won the first game, but played poorly in the next two. Five games in one day had been a bit much for me!
Joe Hogan did New Zealand proud by winning the World Singles title. Hogan and Jackson also took the doubles title, fully redeeming New Zealand pride. Our islands stood tall in the croquet world in 1989!
The end of a golden era
New Zealand hosted the 1990 MacRob., and we used the 21-match format for the first time. Of the play I don't remember a lot, apart from nearly completing a sextuple against Greg Bury at Kelburn, losing a tight match against Fulford and gently (I'd have missed if I'd hit hard!) hitting the peg from the sideline to win a doubles match in the third game late in the day by one point. It had been a good day for the Kiwis, but it was short lived. Although the outcome wasn't decided until the final day, it happened quickly. Great Britain and Ireland needed to win just one of four singles matches, and Stephen Mulliner obliged in record time.
I'm fairly sure I was in the running for the 1993 team, but during the New Zealand Championships, just before the team was to be announced I told the selectors I wasn't available. I felt I wasn't up to another series at the time. Moreover, I suspected that the selection could be controversial, and that made me feel sad - sad for New Zealand Croquet, and also somewhat annoyed that some people believed I had some influence regarding the team about to be selected - which wasn't true.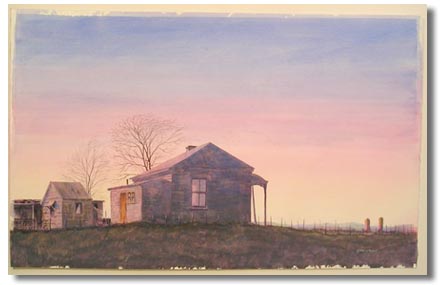 "A Winter's Evening at O'Neil's" illustrates an intense retreat from competition and into drawing and painting.

But that is all in the past now. Selections are rarely made without some degree of controversy, and I have observed that the choice between player six (who is in) and player seven (who is not) is often an extremely fine one. I think compatibility within a team is a factor that has to be taken into account, and while difficult players can be managed, they can also be draining on the rest of the players' energy.

I somehow was persuaded to take on the role of Manager and non-playing Captain of the 1996 team for the tour to the UK, but it was not a position I really enjoyed. However, I was extremely proud to be made an Honorary Life Member of the [English] Croquet Association at the opening ceremony, especially as the presentation was made by my old friend John Solomon, the Croquet Association President. Of the play, about all I remember was Robert Fulford's remarkable consistency, but I was not surprised because I observed that he was the first out and last back from practice every night. His dedication to eliminating all errors from his game greatly impressed me - and still does.

I did play in the Team Managers and Coaches event, won the singles and with George Latham the doubles. The MacRob ROT [referee] Richard Hilditch kindly presented me with models of a London cab and double decker bus to mark my success - a nice gesture from a nice guy.

Just one more time

I experimented a bit with the Solomon grip to overcome the forearm and wrist problems, but it never felt that comfortable so I abandoned that and put up with the discomfort of my familiar standard grip. It was helped somewhat by doing a series of exercises using hand weights, and I managed to win the Best 8 late in the 1990's and was selected for the 2000 MacRobertson, played solely at United, my home club. Free from any responsibilities apart from playing, I rather enjoyed this series, and playing lower in the order went through undefeated in the singles. The team gelled really well, and the "Jones" boys, Charles as Manager and Steve as Captain, did a great job and we came oh so close to causing a major upset.
A recent triptych of Prince's entitled "Petrouchka" recalls the powerful impact upon him of Stravinsky's ballet, introduced to him as a teenager by his mentor Ashley Heenan, an accomplished musician as well as renowned croquet player.
We beat the Americans and Aussies reasonably comfortably, but nothing like the margin the Poms beat them by. I was pleased to win with two triple peels against the rising young Australian star Trevor Bassett. I'm sure the Brits expected to coast home by a large margin against us, but they didn't; they only sneaked home 11-10 on the last day of the series.
I rather enjoyed the American team captain John Taves having described my partner Brian Wislang and me as the New Zealand team's weakest doubles pair; admittedly we probably were on the day we played him and Don Fournier, but we finished up with 6 from 9, including a straight games defeat of Clarke and Fulford; the latter I thought wasn't too bad, given our description as the "weakest team." It all goes to show what can be done by a team with a solid internal support system in place and a strong belief in themselves.
Much to my amazement, in the same year I received a New Years Honour, becoming a Member of the New Zealand Order of Merit for my services to Croquet - a rare distinction for someone playing a minor sport. The investiture at Government House was a special day shared with my family, and I enjoyed chatting over a glass of wine with the Governor-General Sir Michael Hardie-Boyes about their art collection.
The past is revisited and an era ends
Around 2001 I was asked to coach a local youngster who had impressed me during the Croquet New Zealand School Age Tournament. Paddy Chapman was around 13 or 14 - much the same age as I was when I started. Although extremely shy at first, he was a delight to help, and his dedicated enthusiasm quite inspired me.
I experienced another purple patch at the New Zealand Opens in 2002, where I won the Doubles with Terry Walker and also the Open Singles title, finding the TPO a winning tactic that week. I'm sure I was also spurred on by the presence of Ashley on the last day. Now rather frail, he watched from the clubhouse windows at Wanganui. Hearing him comment when it was over, "That was very good John, well played, just like in the old days," in some ways I felt I was that young lad again and at long last I'd earned Ashley's praise, and that was so rewarding and so important to me.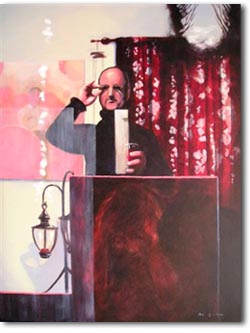 "Self-portrait with reflections," by John Prince. The artist sees his visage in the glass doors leading from his study to the garden mixed with images of trees and sky. Could this be a metaphor for an expanding worldview beyond competition?

On reflection - as suggested by a comment made by Jack Kelliher (a croquet player and former New Zealand journalist) - I feel I have passed on a symbolic baton to Paddy. It was a baton that started with Arthur Ross, moved on to Ashley Heenan and then to me, with others supporting it over the years It is fitting that Paddy, like Arthur Ross, started playing his croquet here in Christchurch and plays with a left handed standard grip, just as Ross did. Paddy has a smooth swing, and great powers of concentration. He is quick to identify any slight imperfections in his play and has the drive to work hard to remedy them.

At the age of 19, he already has an impressive record, winner of the WCF World Championship Plate 2005, winner of Croquet New Zealand's Best 10 in 2005, and "Player of the Series" in the 2006 Trans Tasman Test Series, (NZ v Australia), where he was undefeated in both doubles (with Jane McIntyre) and singles. His singles victories against Trevor Bassett, Ken Bald and Bruce Fleming suggest Paddy will be a very formidable opponent in the MacRobertson Test Series to be played at Rich River in November/December 2006.

I played in the WCF Worlds in Wellington, and although I qualified out of the blocks, my form was below my best. I never feel comfortable being back in the area where I was brought up: too many ghosts! I did enjoy the cocktail reception, a beautiful evening on the lawns and terraces at Government House meeting our new Governor-General Dame Sylvia Cartwright. Ashley was there, but now even more frail. It was to be the last time I would ever see him alive.

Florida, but I don't find the key

I went to Florida for the 2003 MacRob contest and was very impressed with the facilities at the National Croquet Center. I couldn't help being a bit saddened that Jack Osborn - who virtually invented the sport in America - didn't live to see the magnificent lawns and clubhouse. Again as at Sonoma, I didn't feel comfortable on the sand-based courts. Although flat and fast, that was where the comparison with my favourite court ended. The lawn at NaeNae had a very hard, compact surface and my stroke making is 'hardwired' from all my early learning days. I never did and never will be at ease playing on soft sand-based courts of any quality.

As a team, we didn't fire until the last week, when we again ran the holders Great Britain to the narrowest margin, 10-11, mainly through the inspired effort of our Captain Toby Garrison, who won all his five matches. But it was all far too late. For me it seemed like I was playing one long continuous match day after day, just the faces of the opponents changing from time to time. Was the magic that is the MacRob fading for me? I think it had. The old desire to just get out there and win the next match proved elusive, I just could not recapture the drive to rise above the negative feelings, I was just going through the motions.

For example, I'd looked forward to my match against Jerry Stark and started well, going around off the third ball, but it was short lived; I couldn't slip into the relaxed rhythm that produces my best play. The big fella was on a roll, playing a very tidy game, and when you're playing well, luck runs with you - as exemplified by his peg-out from several yards south of the rover hoop. I managed just the two singles wins from six matches, one against John Taves that went to three games, and a straight games win over Chris Clarke.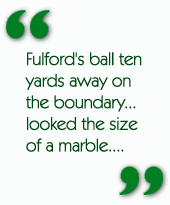 A highlight was winning with Brian Wislang a doubles match against Clarke and Fulford, to add to our victory over them in 2000. And I became the first player ever to notch up 100 matches in the MacRobertson. To mark the event, all the team players in a kind gesture formed a 'guard of honour' as I went out to play match number 100.
It was rather nice that my 100th match, a singles, was against Robert Fulford, the World No.1. But I made no contest of it. Early in the first game I was faced with a position very similar to the one against Solomon 40 years earlier, when I had astonished the gallery by hitting my opponent on the first rotation. But now, I looked at Fulford's ball some 10 yards away on the boundary, and it looked the size of a marble. I knew I would never hit it!
In that match, I felt the entire 40 years past as a player pressing down on my shoulders like a ton of weight. I knew without doubt, history was not going to repeat itself here, this was never going to turn into a purple patch, just a big black hole!
Summing up to the present: October 2006
Currently I am enjoying the far more relaxed role of Team Coach for the 2006 New Zealand MacRobertson team. It should be quite straightforward, and if in doubt I'll just repeat the quote from Maurice Reckitt, "Don't do as I do, do as I say!" After our first Team Practice I was pleased on the second day when the players started an earnest discussion over lunch about tactics. I just sat back as they one by one became totally engrossed. The ownership for what lies ahead was being taken into their own hands, exactly what I hoped would happen. Like passing the baton to Paddy, this new-look team are the future for New Zealand on the international croquet stage.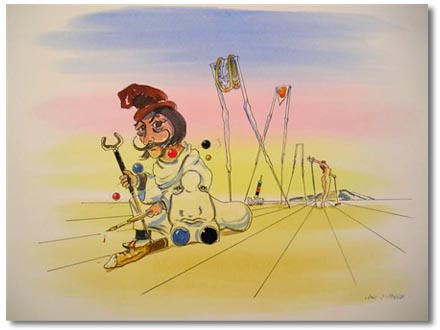 John Prince imagines croquet as Salvador Dali might paint the game.
There is a tinge of sadness that I'm no longer a player in the team but a great sense of pride in having been there, and there with some great New Zealand players and great friends. I'm sure I'll keep playing for a bit longer. The drive to keep winning has diminished over the years, but the love of the game has not faded. I still feel a sense of satisfaction when I play some precise turns, and am encouraged by the words of the late Keith Wylie, who wrote in my presentation book, "To my mind the important task of a great player like yourself is to keep playing so that newcomers can see for themselves how it should be done."
So in October, I'm lining up for the New Zealand "Best 10," played this year as an all-play-all best-of-three match format; while I favour the usual double round single game format in this event, this format should be a good shapeup for the New Zealand test team players prior to the MacRob series in Australia in mid November.
I hope our team won't be too tough on their old coach! Of course, I won't go easy on them.
This concludes the third and final part of this new John Prince croquet memoir, published exclusively in Croquet World Online Magazine. Link here to Part One and Part Two.
---