My life in croquet: Part One


by John Prince
Posted September 3, 2006

---

Croquet World urged the near-legendary John Prince of New Zealand to write his memoir while still in his relative youth at the vigorous age of 61. The few who have attained the top of the world rankings may recognize the combination of self-doubt, surprise, awe, and elation that comes with beating the best in the sport at an early age and then having to acknowledge that it wasn't really an accident; and the stress that comes from the expectation of repeating those feats again and again! To spare the feelings of the rest of us, such a champion should try to achieve a reasonable balance between the justifiable pride of achievement and the humility of the champion who knows in his bones that his golden time at the top will not last forever. John Prince, according to all accounts, always maintained that balance. Here is Part One of his memoir, which properly begins at the beginning.

---
In the beginning: the NaeNae Club and Ashley Heenan
My introduction to croquet started when I was still in my pram. My mother would often sit in Riddiford gardens in Lower Hutt next to the croquet lawns before setting out on her journey home after a visit to the shops. Of course I have no recollection of these outings, but I am sure I lapped up any attention the croquet ladies paid to me.
This idyllic start in life took an abrupt turn when my mother, who had never experienced good health, required hospitalisation; and then my father was diagnosed with terminal cancer. The resulting turmoil turned me into an extremely timid, anxious and vulnerable child. I retreated into a world of my own.
A few years following the death of my father I "rediscovered" croquet in my early teens, on a chance visit to the NaeNae Bowling and Croquet Club in the Hutt Hospital grounds. Two ladies - Melba Miller and Muriel Palmer - saw me watching and kindly invited me to have a go. When my sister purchased my first mallet for me, I was all set to play regularly.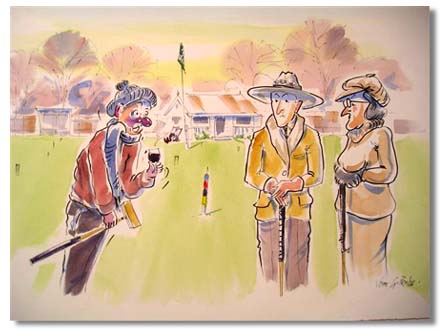 John Prince has painted this fond memorial to the kind ladies who invited him to "have a go" at the Nae Nae club in his 16th year. If Melba Miller and Muriel Palmer, who both enjoyed a drink after a days play, had not encouraged the awkward youth, he likely would not have won the New Zealand Championships in his 17th year.
NaeNae was a very small club. The positive attention I received from the few members did much to build my self confidence.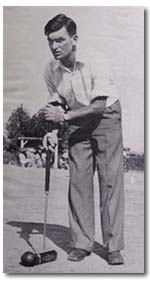 This photo of Ashley Heenan from the 1940's from "Croquet and How to Play it" shows him playing side stance; he later changed to the more modern centre stance but always maintained his accuracy was best from the side. Prince credits Heenan's rigorous coaching as a major factor in his rapid advancement in the sport.

Within a few weeks of starting I saw the game played by experts when local players Ashley Heenan and Herbert Ford were joined by Jack Tucker and Ralph Browne from Dannevirke for some exhibition games at the NaeNae club. Towards the end of the day I was invited to join in as Ford's partner. I was extremely self conscious and couldn't do anything, not even easy shots. My partner wasn't helpful and I felt somewhat intimidated by him; he soon gave up on helping me.

Feeling somewhat disheartened after my poor effort, I was later surprised to learn that Ashley Heenan was willing to give me some coaching. Although somewhat fearful, I was keen to learn, and Ashley became a very positive influence in my young life, for which I remain eternally grateful. I learned from him not only all the basics of shot making but also some of the history of the development of the game in New Zealand, including details of the MacRobertson Shield, the ultimate croquet competition. What was even more exciting, Ashley knew all the people pictured in Maurice Reckitt's book, "Croquet Today" which I had on virtually permanent loan from the public library.

Ashley Heenan also encouraged my early interest in classical music. I attended a number of concerts and a spellbinding performance by the New Zealand Ballet Company under his tutelage. To an arrangement of Offenbach's operatic music, orchestrated by Ashley himself, the company performed some dazzling pieces. But when Desmond Kelly and Denise LeCompte danced to the waltz music from Le Belle Helene, I thought it the most romantic thing I'd ever seen - art in its purest form, colour, movement, romance and sound. The final ballet was Stravinski's "Petrouchka" with Jon Trimmer dancing the tragic puppet's role. This simple Russian folk story set to a ballet has both haunted and fascinated me all my life. But this is a croquet memoir, so let's get back to croquet...

Coaching by a master of the sport

Ashley started our sessions with a game of Golf Croquet, and then we played proper Association Croquet. If I played a shot poorly, rather than take a bisque, I would replay the shot with some advice from the "Master" and if I still didn't get it right, he'd ask me to do it again, perhaps up to three times, and then Ashley would take his turn. I think it was an excellent way to learn, because the replay allowed me to get it right and then to continue the sequence of shots required to make a break.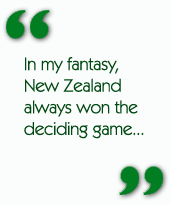 I spent hours and hours practicing croquet on that beautiful court at NaeNae. I still believe it is the best lawn I've ever played on, and John Solomon made a similar comment when he recalled practicing on it during the 1950 MacRob series. My solo practice was fueled by a childish fantasy in which I replayed the New Zealand "test matches" against England. I had read some accounts from the 1950 series contained in old Gazettes in the clubhouse. In my fantasy, although England (led by Hicks and Hamilton-Miller) were allowed to win the odd game, New Zealand (with Ross and Heenan) always won the deciding game of the match.
As my skills developed, I received invitations to play at the neighbouring club "Waimarie," where there were four lawns set amongst beautiful flower gardens. Everyone was very welcoming. I remember players like Lill Simpson who, although she was blind in one eye, was an amazingly good shot. Mrs. Mouat had spindly, thin legs beneath a large upper body and always wore a huge hat tied on with a scarf, making her look she for all the world like Toad disguised as the washerwoman from "Toad of Toad Hall."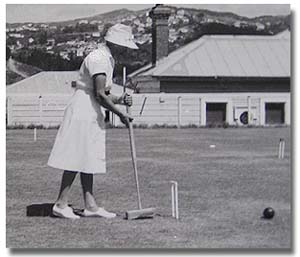 Jean Jarden, photographed here playing at Wellington, was one of the strongest female player in New Zealand in the 1950's and 60's, an era when women were relatively much greater a factor in top-level croquet than they are today. In one his first serious games, in the early 60's, Prince managed to take one ball all the way around against her, bolstering his confidence that he might someday become a respectable player.

I recall being well and truly beaten in one game by N.Z.'s leading lady player, Jean Jarden. The next time we played I got one ball around and figured that if I could get one around then one day I might get both against her. The Lower Hutt City Council's director of Parks and Reserves Monty Reicthesen, a keen player himself, was able to place a full-time groundsman at Waimarie, to keep the courts in prime condition. I enjoyed many games with Reicthesen, and he was my partner in my very first tournament - the North Island Championships, where we finished second in the handicap doubles.

During the same tournament, playing singles on a very uneven court in a strong wind, I found my bisques and confidence both disappearing at an alarming rate. A kindly spectator offered a few words of encouragement, to which my opponent took exception. Some years later I again faced the same opponent, who took some delight in reminding me of this incident, to which I replied, "Oh, come on, the poor old dear is probably long gone." "Oh, no she isn't, I check every year in the Annual" came the thunderous reply from my forthright opponent. I am pleased to report that this time I won, and without any "advice."

Ashley was a very precise player and expected the same accuracy from me. He was a hard taskmaster. Sometimes, following a series of inaccurate shots, I would be left with a long hoop which I'd invariably run. Instead of being praised for making the long hoop, I would hear from the sideline, "That's all very fine, but you won't last five minutes against Solomon if you play like that!" He later told me he sensed I didn't like being criticised, so he did just that. He believed I had the tenacity to stick to it and that I would succeed.

Around this time Australian Eddie Hunt arrived in N.Z. as a member of the cast of "My Fair Lady." Eddie was something of a croquet celebrity in my eyes, as he'd been a member in his late teens of the Australian croquet team who had won the MacRobertson Shield Series against England and New Zealand in 1935. When the theatrical company didn't have matinees he was able to come out to NaeNae and have a game or two with me after I finished school. I well remember him with two yardline balls just up the boundary from corner four playing a cut rush into the second corner. The striker's ball hit the wall of the ditch around the court and finished up across the other side of the adjoining bowling green. Playing side stance he could generate amazing power.

Later Pat Rudolph from Nelson was famous for having his striker's ball, in playing a cut-rush, cross five courts, and on another occasion he sent a ball across two courts through the hedge and across the road into the carpark at the Globe Tavern - a unique way to disguise a quick visit to the pub!

A huge leap from local rookie to full international player

JOHN PRINCE
COMPETITION HIGHLIGHTS

National Events

New Zealand Open,
Winner 1967, 1968, 1969, 1971, 1976, 1977, 1987, 2002; Runner up 1982 & 1989 to Bob Jackson.
New Zealand Men's Singles,
Winner 1963, 1964, 1967, 1968, 1969, 1970, 1971, 1972, 1999; Runner up 1975 to Alan Anderson.
New Zealand Doubles Championship,
Winner 1964, with Ashley Heenan;
1967 & 1968 with Jean Jarden;
1970 with Keith Woollett;
1975 with Richard Clarke,
1977 & 1978 with Alan Anderson;
1992 & 1993 with Greg Bryant,
1999 with Graham Beale,
2002 with Terry Walker.
New Zealand Best "8" or "10",
Winner 1964, 1967, 1969, 1970, 1973, 1974, 1983, 1997.
New Zealand Plate,
Winner 1972, 1995.
New Zealand Gold & Silver Mallets,
Winner 1974
New Zealand Silver & Bronze Medals,
Winner 1990, 1995.
New Zealand Handicap Singles,
Winner, 1964.

Overseas Events

Open Championship Doubles (England),
Winner 1974 with Gordon Rowling.
Sonoma-Cutrer,
Silver Medalist (Block winner), 1987, 1993.

International Test Series for the MacRobertson Shield,
New Zealand team member,
1963, 1974, 2000, 2003
Captain and team member,
1969, 1979, 1982, 1986
Non-Playing Captain/Manager,
1996

During the Christmas holidays in 1962 I was invited by Herbert Ford to play a match against Tommy Regan of the Wellington club. Ford had taken Ashley's place as the Captain of the N.Z. MacRobertson Shield Team for the forthcoming matches against Australia and England to be played in New Zealand early in 1963. Ashley had to withdraw from the side after receiving a UNESCO grant to travel overseas for musical study. I performed well in winning the match but was nevertheless surprised to receive shortly afterwards an invitation from the New Zealand Croquet Council to play with the North Island team against the visiting Australian team. In addition to the New Zealand six who were to play for the MacRobertson Shield, Croquet NZ had picked two other teams, one representing the North Island and the other the South Island of New Zealand, organized to play the visiting teams to give them extra match practice.

So I headed off to Wanganui for the match against Australia. I was extremely nervous, but under the kindly eye of my partner Edna Hight, we had a win in the doubles and I prevailed in my singles match against Olive Lewis, who graciously complimented me after the match on my good play. All Ashley's insistence on playing precision croquet had paid dividends. Under the pressure of playing for my country there was nothing to feel anxious about when my precise positioning shots enabled me to run my hoops from only six inches out, straight on.

To my huge surprise, then, I was promoted into the New Zealand team. The format for the MacRobertson Shield Series was for each of the three nations' six-member teams to play the other two teams, three times - nine test matches in total. Each test match comprised nine individual matches - three doubles and six singles. Each test match was played over three days, with day one for doubles, then three singles matches on each of the remaining two days.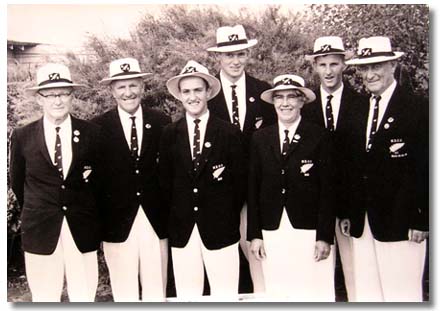 The meteoric rise of John Prince placed him at the age of 17 and largely untested in the sport's major event, as a member of the 1963 New Zealand MacRobertson Team, shown here at the Claudelands Croquet Club, Hamilton, N.Z., venue for the third test match between New Zealand and England. Left to right: Les Middlemiss, Herbie Ford (Captain), John Prince, Ralph Browne, Jean Jarden, Tony Stephens, Arthur Ross.
Since New Zealand was now extremely unlikely to win the series, having already lost three of their tests, it had been decided to give Ralph Browne and myself further experience, an investment in the future; so we joined Tony Stephens, another youngster who had been in the team from the outset, for the remaining three tests.
Match wins against the British
My first test match was against England, so far undefeated. I was partnered by Les Middlemiss, whose wife had been dropped from the side! However, he bore me no grudge, although my selection was not popular with some. Fortunately we played well enough to win against David Curtis and the colourful Bryan Lloyd-Pratt in the doubles, and I beat David in the singles. They were the only matches New Zealand won.
New Zealand had lost the test 2-7, but the main highlight, for me, was meeting John Solomon, who was kind enough to tell me about a variation on the triple peel he and Pat Cotter had been working on.
New Zealand then scored their only test win in the entire series, beating Australia at New Plymouth. I was promoted in the singles order to number 3 and faced Merle Day, who had already defeated Arthur Ross twice and William Ormerod, so I knew she would be very formidible. Perhaps fortunately for me, it rained heavily overnight and as Merle was even more slightly build than me, she found the heavy conditions difficult. I won in straight games quite easily, and then it was on to Hamilton for our final encounter.
England, in no mood to relax and no doubt determined to win the Series undefeated, quickly won all three doubles matches, whereupon two busloads of spectators turned up to watch the play after all the scheduled play for the day was over. Hastily, exhibition games were organized for the crowd, as the singles were not due to start until the next day. I got to partner John Solomon against Tony Stephens and Pat Cotter. John went round to 4 back straight away with the usual hoop one peel, and following the lift being missed I completed the first triple peel I had done in anything resembling a "match."
I was delighted to have performed so well in such august company. Whether this display from a "dark horse" slightly unnerved John I don't know, but on the next day I caused something of a sensation by defeating him in the test match singles.
The night before my sensational victory over arguably the best player in the world at the time, Arthur Ross had taken me aside and said, "Now forget all the usual tactics tomorrow, my advice against the world's best is to shoot at the nearest ball." Despite feeling both very nervous and excited, I felt I had to play as well as I could, because I was playing against John Solomon. And sure enough, an opportunity came right at the start, with his ball in corner one. I remembered Arthur's advice, turned around, and hearing gallery's gasp, I hit John's ball from some ten yards away for the first break. I won the first game by 26.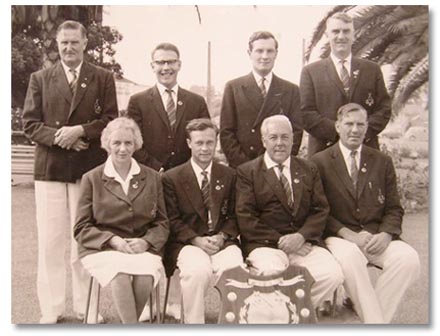 Although the 1963 English MacRobertson Shield team handily defeated New Zealand that year, the young John Prince nevertheless covered himself in glory with a famous match win over John Solomon. (Left to Right) Back Row: Humphrey Hicks, William Ormerod, Bryan Lloyd-Pratt, David Curtis; Front Row: Joan Warwick, John Solomon, Patrick Cotter, Bobby Wiggins.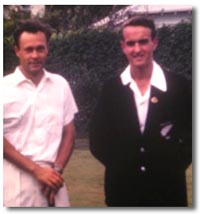 John Solomon and John Prince in 1963, when they split victories in the MacRob and the New Zealand Championships. Like Prince, the young Englishman John Solomon had risen quickly to the top of his country's rankings. He was widely acknowledged to be the best player in the world in his day.

In writing the match report for 'Croquet', Bryan Lloyd-Pratt wrote, "The sensation of the match however, was provided by the truly astonishing play of young John Prince. This short, slight and quietly modest lad of seventeen, who plays with a steady and unspectacular centre style, with his feet close together only just admitting the width of the mallet head, gave a masterly display of class croquet. The first game was the only occasion when this correspondent can recall John Solomon's having had 'no chance,' apart from two lift shots; and has there ever been a player who can be guaranteed to hit the crucial lift when under pressure? In the second game John got to 4 back and the peg, but John Prince hit the dying lift shot and that was the end of the story. It is only too easy to be envious of the seemingly facile success of the occasional young, talented, but inexperienced player; but what an excellent thing for the good of croquet that, once in a while, a young lad of exceptional talent takes up the game and challenges the established hierarchy! Perhaps John Prince, like Tony Stephens and our own John Bolton, may experience a slight loss of confidence and reversal of fortune in the years to come, but of one thing all croquet players who have seen him are certain - a player has arrived."

My first nationals

As the 1963 New Zealand Championships were held a week or two after the MacRobertson Series, most of the overseas test players stayed on and took part. John got his revenge when he defeated me in the NZ Open Singles semi-finals. In the first round I'd played Edna Rudder from Australia, perhaps the most tidy break-maker in their team. We had three games with very few errors apart from the odd missed lift shot. In a subsequent round I completed my first quadruple against the delightful Australian Peggy Harrison, but I have to be honest, the victory came after my mistake in not making 3 back in the previous turn; it was not by design!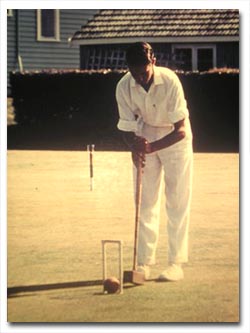 John Prince playing his way to the top trophy in the the Men's final of the New Zealand Championships in 1963.

At that same tournament I had the privilege of playing the legendary Humphrey Hicks in the semifinals of the Men's Championship. We played on a court at Mount Hobson on the second level of courts, which had a large patch of uneven ground running from the near end of "A" baulk towards the fourth corner. At the end of each break it was a great place to set up, as there was little chance of the opponent hitting a short lift.

In the third game of a fascinating match against Hicks I attempted an ambitious straight triple but ran into my peelee after running rover. In trying to croquet both balls back through rover in a desperate attempt to peg out I committed a fault. Humphrey's clips were on 4 back and hoop 2. Playing with his forward ball he went to the stick and cross pegged me, retiring to the absolute safety of corner 4. Faced with this strange situation I pegged out one ball and hoped for the best. Humphrey set sail on a three-ball break but was unlucky when he stuck attempting to run hoop 6 with control, with my ball on the other side. As he commented afterwards, "The spirit was willing but the flesh was weak." I was very lucky to get away with the win, but I know he'd didn't begrudge me the victory for a minute.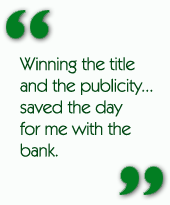 In the final against England's Bryan Lloyd-Pratt, after waiting a day and a half for my match I lost the first game 21-26. I returned to my hotel feeling somewhat despondent, knowing I had played somewhat indifferently. Not only had I lost, but I was meant to be back at work the next morning at the Bank of New Zealand, some 400 miles away where I had only just started to work! What is more, my employers had been kind enough to give me leave in advance in order to play in the Championships, after only one week on the job! I might lose my job, but far more important, I did not want to lose this match.
The next morning I stepped onto the court with a very determined attitude and secured my first national title, completing the match against Lloyd-Pratt 26-0, 26-1TP. I didn't lose my job, but it was probably the winning of a title and the subsequent publicity in the press that saved the day for me with the bank.
That summer of '63 will always remain a cherished memory. It was as though the sun shone brightly every day.

---
COMING SOON: Part Two of the Prince memoir
---
A NOTE ON THE AUTHOR: John Graham Prince, 61, lives in Christchurch, New Zealand. He is married to Sue with two adult sons, Nicholas and Jonathan. He works part-time for both the Bank of New Zealand at Christchurch International Airport; and the Male Survivors of Sexual Abuse Trust as an Administration Assistant and Advocate. He also paints and currently exhibits his work with Bryce Gallery in Christchurch. John is a Life Member of Croquet New Zealand, Canterbury Croquet Association, and the United Croquet Club; and an Honorary Life Member of the English Croquet Association.
---