Stephen Tarrant Badger
5/2/40 ­ 14/11/97
Stephen Tarrant Badger was born in Dorset and maintained close involvement in the county of his birth, playing regularly for it in the Inter&shycounties Championships. He was educated at Sherbourne and Pembroke college, Oxford, where he read Mods and Greats and where his love of ancient and medieval history of the church had its beginnings. He joined Morgan Grenfell after leaving Oxford, and his critical faculties and ability to quickly grasp the salient points of an argument won him the respect of his colleagues and clients alike.
Having started croquet at the age of 7, playing and always beating his sister, he joined the Croquet Association in 1985 and within 6 years had been elected to Council. Almost immediately his banking skills were made use of, for he became the chairman of the F&GP committee in 1992, which position he held until 1995, when he became Vice&shyChairman of Council.
He joined Dulwich Sports Club initially as a squash and hockey player, and then as a croquet player. For the major term of his membership, he was president of the croquet section of the club, and gently but firmly encouraged the ascendancy of Association croquet over golf croquet. He had the great ability of identifying people's strengths and then involving them in the administrative or practical tasks involved in running the club. Not the greatest handyman in the world, he would nevertheless throw himself enthusiastically into the essential maintenance works that we regularly carried out at Dulwich: nobody could apply creosote with quite the panache that Stephen did!
In addition to Dulwich he became a member of the Cheltenham Club some three years ago when he bought a house adjoining the club and was closely involved with the SE Federation, of which he was Hon. Secretary for five years until 1995.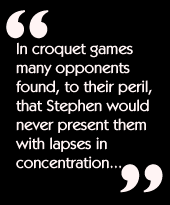 Stephen's croquet playing was characterised by his intense and consistent concentration. Most people's concentration during a croquet game follows a cosine curve pattern: improving as the game develops, peaking, dipping and then rallying again as the game draws to its conclusion. Stephen's concentration, however, was consistent throughout, and many opponents found, to their peril, that Stephen would never present them with lapses in concentration in which they could nip in and wrap up the game. He viewed triple peels as an unnecessary risk, and if a game was progressing as he believed it should, with neither side making unforced errors, such displays of precocious ability were inappropriate.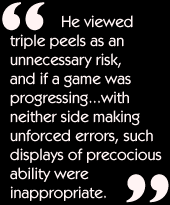 Stephen was essentially a quiet person and it was almost a surprise when he became Chairman of Council in October 1996 to find he could be very firm. Waffling discussion in Council was not tolerated and he would swiftly move on to the next item on the agenda as soon as he thought no more useful debate would ensue, but always with the greatest tact and courtesy.
An extra chore for Chairman of Council ­ a busy enough job under normal circumstances ­ was the Centenary year, and he convened and chaired the committee which organised a number of events. It was enlightening that within only a day or two of each meeting detailed minutes were received listing everyone's involvement in any particular project. One of the last things he did was to produce a report to Council for its meeting on 6th December of the work of the Centenary Committee which is one of the finest ever to be put before Council. [It is published separately in the January/February 1998 issue of The Croquet Gazette.]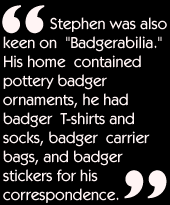 Stephen was also keen on the "cult of the personality", in this case "Badgerabilia" as we referred to it. Stephen's home contained pottery badger ornaments, he had badger T&shyshirts and socks, badger carrier bags, and badger stickers for his correspondence. Some while ago, he heard of a property for sale in Shropshire: Badger Hall in the village of Badger, and briefly considered acquiring the property to complete the badger image.
We at Dulwich knew he was a man of many interests, most especially with the Confraternity of St. James, whose library he was instrumental in expanding. However, the depth of his involvement in this and his other interests was largely unknown to us. He was never one to boast of his contributions to the welfare of these organisations, the extent of which became apparent to the croquet playing fraternity only after his death.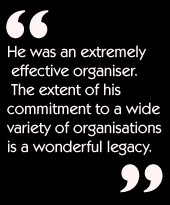 Stephen was essentially a private man, but his commitment to his family and friends was always evident. He was an extremely effective organiser and could analyse and solve a problem directly and efficiently. He had a unique way of cajoling people into contributing to a venture, be it financially, physically or administratively and he would not expect others to do things that he would not do himself. It goes without saying that he will be sorely missed, but the depth of feeling for him, shown by the numbers attending the thanksgiving service for his life, makes us realise how much his life touched us all. The extent of his commitment to such a wide variety of organisations is a wonderful legacy.
We extend our sincere condolences to Katherine and their children Penelope and Benedict.
­ Sue Best, Dulwich Croquet Club
­ John Solomon, (British) Croquet Association Chairman of Council
[This obituary is published by permission of The Croquet Gazette. Stephen Badger's report on the Association's centennial year of 1997 is published in the January/February issue of The Croquet Gazette.]
---