Archie Burchfield: an icon of the sport passes into history


by Garth Eliassen, Bob Alman, and Damon Bidencope
photos courtesy of Damon Bidencope and Bert Myer
layout by Reuben Edwards
Posted March 10, 2005


---

Archie Burchfield was that rare hero of American sport who always lived up to his legend. He was a tobacco farmer who lived his entire life on a farm near the tiny town of Stamping Ground, Kentucky. He was a fearsome and wily competitor, an unfailingly loyal and generous friend, and a great gentleman. After suffering from stomach cancer for more than a year, he died at his home on February 16, 2005, and was buried nearby.

---
It seemed tailor-made for the movies; combine the cross-class hi-jinks of the Marx Brothers in "High Society" with the triumphant come-from-behind dark horse spirit of "National Velvet", and what have you got? It's the Archie Burchfield story, played out on 6-wicket USCA croquet courts. And that's half the problem. When the Archie Burchfield movie was actually being considered in the eighties, America wasn't ready – and still isn't ready – for any kind of a hero wielding a croquet mallet. And besides, the story wouldn't be believable for the sophisticated movie audiences of the late 20th century. It was too much of a cliché. It couldn't have happened like that.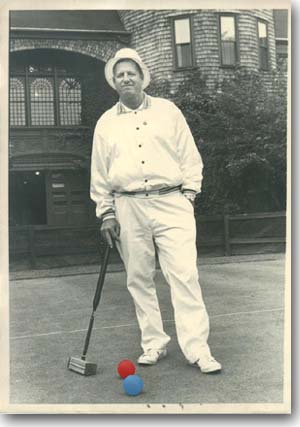 Archie Burchfield – 1937 - 2005

But it did, pretty much. The facts, as nearly as we can determine them, match closely the legend as it was reported and portrayed in every kind of media. After an appearance on the "Pat Sajak Show" in the early 80's, Burchfield became the media's favorite croquet celebrity. He appeared in "On the Road Again" with Charles Kuralt, "Lifestyle on Sports", and "Portrait of America." Articles about him were published in People Magazine, the New Yorker, Sports Illustrated, and Connoisseur Magazine.

This American icon proved, in the oft-reported words of Jack Osborn, founder and then president of the U.S. Croquet Association, that in USCA croquet, "you don't have to be rich and from Palm Beach to be accepted." True – but only after Archie broke through the stereotype.

Here's how the legend goes: In the spring of 1982, a lettuce truck rolls up to the gates of Palm Beach Polo and Country Club, and a guy with a hayseed accent in overalls pokes his head out of the window and says to the guard at the gatehouse, "I've come for the croquet," and they won't let him in – but finally they do, and he wins, beats the high society types at their own game, the first time he ever plays it. A few months later, with hardly any practice in the newly adopted game, he goes to New York and wins the National Championship with his son, also a neophyte in the game.

Pretty close, but just for the record, some facts can be corrected. Actually, it was a tractor-trailor carrying twenty-two tons of lettuce, such a big rig it couldn't easily get through the country club gate if it tried. According to Archie (as reported in a Karen Kaplan interview in a recent issue of the USCA Croquet News), he parked across the road and walked in, and somebody directed him to Teddy Prentis, then the best-known croquet pro in the country. Teddy showed him the game, they played a couple of times, and Archie won, with the 18-inch Kentucky mallet that was his trademark in the early years of his playing career. (Later, he switched to the more conventional length, but he could always duplicate the action of the short mallet by lowering his grip on the shaft.)

Of that day, Archie told the Wall Street Journal in 1986, "We won some and we lost a few more, and I guess getting beat made me mad because I went home and told my wife I was now going to play proper croquet."

Also present that historic day was Archie Peck, president and chief pro of the Palm Beach Croquet Club (now Director of Croquet at the National Croquet Center). Peck recalls, "When Archie finally got onto the courts, I didn't quite know what to think about that short mallet. But then, when he bent down and hit a fast ball toward a distant wicket and it went right through, I knew instantly this guy was good. I wasn't going to be fooled by that funny-looking mallet."

Nevertheless, four-times national champion Archie Peck was an early victim of Burchfield's unorthodox playing style just a few months later. Just as the legend says, Burchfield and his son Mark beat Peck and Jack Osborn in the finals of the USCA National Championship in New York in September of 1982 – actually their second USCA tournament. (Archie and Mark had learned the fine points of the rules in the Southern Regional at Pinehurst in August.)

For the next decade and more, Burchfield was a force to be reckoned with in American croquet and a darling of the mainstream media who never tired of reporting the story of a country bumpkin who beat the high society dudes at their own game.

Burchfield was a master of cagey tactics in the American game

After learning the six-wicket game, Burchfield quickly became a master of its strategy. He would win games not necessarily by strong shooting but more often by cagey tactics - adjusting the positions of his balls, shooting corner-to-corner and intimidating his opponents, or simply staying behind them and waiting patiently for them to make mistakes. At a time when British-style break play was considered the only way to go, Burchfield's tactics weren't always appreciated; but they were usually triumphant. He competed in the early Meadowood Classics when big purses were being offered, and to this day he remains at fifth place in the National Croquet Calendar's overall cash-prize rankings.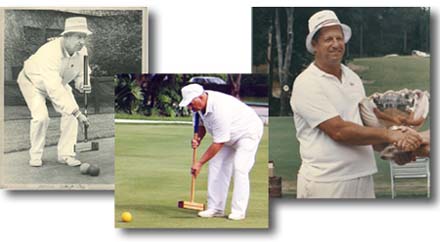 Although he was never a "game snob" or any kind of snob, Archie always preferred the American version of the game. "I don't think [Association Croquet] will ever be as good as the American game," he said, "because the guy that can hit the [long] ball is the guy who is going to beat you. And I don't think he should have all that much advantage."

He had no doctrinaire approach to the game, but a wide-ranging appreciation of all tactical possibilities, much of it learned well on the fast clay courts of Kentucky. When Archie discovered grass USCA croquet, he already understood deadness and sequence as well as anyone in the country. (The spotty records of American croquet history show that deadness was first codified in print as part of the game in the 1935 rulebook for Kentucky Croquet.) Long breaks were a standard part of Kentucky Croquet on fast clay courts. "They didn't play breaks until after we played them," he said of the USCA players of the early 80's.

Beating a path to Archie's ranch

Archie eventually built four regulation grass championship courts on his ranch and would occasionally hold small tournaments, host foreign players such as world champion Robert Fulford, and tutor up-and-coming notables who made the pilgrimage to Stamping Ground just to play with Archie. Among them were close friend Harold Brown of Georgia (recently deceased) and Canadian champion Leo McBride.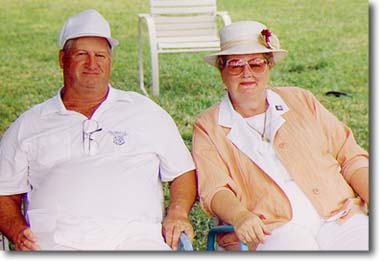 Betty Burchfield, the high-toned and much admired queen of courtside conversation, was her husband's frequent companion on the tournament trail. (Photo by Bert Myer)

One of the many players Burchfield introduced to the game, coached, and took under his wing was Kenny Horne of Lexington, Kentucky. He recalls, "Archie was the fairest person in the world - he could make a snake laugh." In 1993 Horne was invited to the Burchfield's ABC Ranch (Archie, Betty, and Croquet) off Locust Fork Road in Stamping Ground, where he learned the six-wicket game. Horne also recalled that Burchfield was pleased to take anyone - no matter how high their handicap - as a doubles partner, and usually win.

Archie was not a wealthy man, and his ability to play in tournaments was often determined by the fortunes of the tobacco market. His wife Betty was always with him at tournaments, quietly sitting courtside and watching his games. Usually she wore Archie's white embroidered croquet champion jacket. She reigned as queen of courtside gossip, and her good humor was greatly appreciated.

Archie's involvement with croquet had begun in 1962, when he was introduced to Kentucky clay-court croquet behind Stamping Ground's Christian Church. As Archie used to tell the story, the other players laughed at him the first time he played. He went back to his ranch, scraped out a court with his tractor, and began to practice. The next time he played at the church he won, and no one laughed any more.

Kentucky nine-wicket clay-court croquet is played on a 50- by 100-foot court with a diamond-shaped layout similar to backyard croquet with steel hoops firmly imbedded in concrete. At the center of the court is the "basket," a double-wicket in the shape of a cross, dating from the earliest versions of croquet in the middle of the 19th century. Because of the speed of the balls and the finesse involved, many players use short-handle mallets as in roque, gently swinging it with one hand.

Credentials of a champion

Burchfield is a member of both the Kentucky Croquet Hall of Fame and the Croquet Foundation of America Hall of Fame. He held sixteen clay-court titles, nine as Kentucky singles champion and seven as doubles champion. In 1982 Burchfield won the Nationals Doubles Championship in New York City with his son Mark, and he and Damon Bidencope won the National Doubles Championship at Newport in 1987. Twice he won the Club Teams National Championship with Ren Kraft of Arizona.

In addition to his national titles, Archie's other major six-wicket wins included the 1984 Central Region Championship singles and doubles with Bobby Willhoite, the 1985 Southern Regional singles and doubles with Merlin Karlock, the 1993 Midwest Regional singles and doubles with his Kentucky buddy and frequent partner Leon Parker, and the 1995 and 1996 Midwest Regional singles and doubles, also with Leon Parker.

His last major win was the Kentucky State clay-court doubles with his partner Lonnie Goodrich on Labor Day weekend, 2004.

Archie Burchfield was born September 20, 1937, the son of Archie Gray and Juanita James Burchfield Sr. He was a Kentucky Colonel, a member of the Masonic Lodge, and a congregant of the Minorsville Christian Church where he served as a Deacon. Burchfield died of stomach cancer Wednesday, February 16, at his home.

He is survived by his wife Betty; sons David Gray Burchfield and Mark Coleman Burchfield of Stamping Ground, and daughters Reba Carol Lewis of Frankfort and Shari Elizabeth Coleman of Stamping Ground. There are twelve grandchildren: Jennifer, David, Markus, Travis, Justin, and Ashley Burchfield; Jami and Jimmy Lewis; and Joy, Hope, Buddy, and Kacey Coleman.
---
REMEMBERING ARCHIE BURCHFIELD
by Damon Bidencope

Archie Gray Burchfield, Jr., was laid to rest under a bright, sunny, cloudless blue sky against a backdrop of the rolling hills of Kentucky, on February 19, 2005.

Fully in evidence was the high esteem in which Archie was held in this rural community of Scott County. At Friday's visitation, the line of people paying their respects stretched throughout the funeral home, along the corridors to the front door for six hours. The parking lot was overflowing with people whose life had been touched by Archie.

Even in their sorrow and loss, his devoted wife Betty, daughters Reba Lewis and Shari Colman, and sons Mark and David Burchfield were as gracious as Archie would have been in their warm greetings and welcomes. This was always the hallmark of a visit to Stamping Ground, Kentucky.

The funeral service on Saturday afternoon was standing room only. Archie's friends and family heard resounding accounts of the values that defined this gentleman: his devotion to his wife Betty, his love for his family, his faith and spiritual commitment, and his love for croquet. Brother Wayne Smith, a church minister and close friend since meeting Archie at a camp during his teenage years, traveled from Tennessee to speak. He remarked that anyone would be delighted if even half the number of the assembled group attended their passing.

It was also my honor to speak briefly and relay to the mostly local attendees the enormous contribution to the sport that Archie had made, and the respect he was accorded among the "grass court" croquet world. Tributes were many, including a telegram from Tony and Colleen Stephens of New Zealand, whose family had been frequent visitors to Stamping Ground.

The funeral procession then traveled the short drive from Georgetown to Stamping Ground, along the road that all of us are familiar with who were fortunate to visit Stamping Ground and experience the Burchfields' hospitality. In keeping with the importance that Archie placed on family, he was laid to rest beside the right hand of his father, whom he adored, at the Masonic Cemetery in Stamping Ground.

The procession of vehicles arriving for the interment stretched around the length of the graveyard and back down the road across the rolling hills as far as the eye could see. Archie now rests on the high ground atop the embankment at the foremost section of the graveyard, as if to welcome the passing traffic.

Following the interment, refreshments were served for an estimated 200 people at the Stamping Ground School. The simple but elegant croquet centerpieces on every table featured a photo hung from a hoop of Archie playing croquet. In the photo, Archie was fidgeting with his wedding band as he always did. This was a typical nervous mannerism similar to when he would tap the croquet balls to knock the clay off even when he played on grass.

Whether you knew him well or had only peripheral contact with Archie, there was no doubting the love and affection that he had for the sport of croquet. His impact on our game from his earliest exposure in the USCA was tremendous. The media often fabled his trip to Palm Beach Polo in a truck delivering lettuce. Dressed in blue jean overalls he was initially denied entry to the country club. Archie was not to be put off. He managed to gain access, and affect an upset defeat of Teddy Prentis, the resident professional.

In 1982, after selling some livestock to raise the monies for travel to New York, and partnered with his son Mark, who was by all accounts a novice player, he won the USCA National Doubles title in his first appearance. All were surprised—with possibly the exception of a small band of supporters from Stamping Ground.

Many USCA players never knew that Archie had been playing croquet since 1961, when he used to practice behind the Stamping Ground Christian Church. The version of croquet that was played in Kentucky differed from the USCA rules. The surface is clay, the ball is slightly smaller, the wickets are rigidly buried in concrete, and the mallet has two different faces (one hard and one rubber). The most important features of the Kentucky clay court game was that there were forced plays, and the understanding of the rotation of play was paramount to being successful.

It was this advanced understanding of the rotation of play and the use of deadness in the American game that I believe was Archie's area of greatest influence on the USCA game. He would often tie an opponent down with the use of deadness and decline running 1-back to avoid the clearance of the opponent. The impact of these plays at the top levels lessened with the advancement of the ball skills of the top U.S. players and as importantly the improvement in lawn surfaces and equipment which continue to tilt the balance towards the in-player in our game.

While deadness theory may have been a significant contribution to the sport we all share, it was Archie's infectious enthusiasm for the game and his dry but elegant humor that was worth the price of admission to any tournament he played. Whether in victory or defeat, there is not another player that I have enjoyed more and been more privileged to partner with and play against than this fine gentleman from Kentucky.

On this bright, sunny day the Burchfield farm on Locust Folk Road was silent. The courts that Archie built, where many games had been played and happy memories created, lay overgrown and had obviously not been played for some time. It was clear that the battles he fought in recent years were not as we would have wished for our friend. As was typical understatement for Archie, his battles were greater than Archie would ever acknowledge. It was with a heavy heart that I left Stamping Ground on Saturday evening. I was sad for the loss of a true friend, and I know many players all over the world share this feeling.
---
THE ARCHIE BURCHFIELD MEMORIAL FUND
In memory of Archie and for the direct benefit of his surviving family, I invite you to contribute to the Archie Burchfield Fund. Through the generous efforts of many it is my hope that we can ease the burden of those he loved so much and that remain after Archie lost the final match that could never be won. With this fund, we may also establish a fitting permanent memorial for this icon of our game. Please send contributions to: Archie Burchfield Memorial Fund, Bidencope and Associates, 1400 Harding Place, Suite 200, Charlotte, NC 28204.
---