---

A COURTSIDE CHAT WITH WORLD CHAMPION CHRIS CLARKE
The 25-year-old Briton on the rules, the sport, and the winning edge

---

At 25, Chris Clarke was the youngest of a team the British sent to meet the Americans in the Solomon Trophy test in Southern California in April, where I interviewed him under an oak tree overlooking the courts at Sherwood Country Club in Thousand Oaks. He works full-time as a cost analyst and contracts manager for a transport firm in Britain and plays a lot of croquet.

Believing in the future of croquet as an amateur sport, he would rather see the limited resources of croquet organizers invested in grassroots development than on attempts at professionalization and commercial exploitation. He speaks his views quietly and modestly, but with the passionate conviction that befits his youth and idealism. Although he has won the official world championship, he attracts little attention from the press who regularly show up to interview teammate Robert Fulford, known to journalists as "the world's best croquet player." Thus begins our chat.

--Bob Alman

---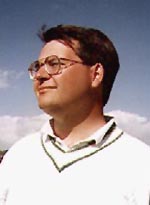 INTERVIEW WITH
CHRIS CLARKE
---
WHAT DOES IT FEEL LIKE LIVING AND PLAYING IN THE SHADOW OF ROBERT FULFORD, WHEN YOU KNOW THAT ON ANY GIVEN DAY YOU CAN PLAY JUST AS WELL, AND OFTEN DO?
I have no problem with that. I always say Robert's the best player in the world, but that does not stop me beating him, and occasionally regularly beating him. But he's more accomplished than I am, though he doesn't always play his best.
I GUESS WE NEED SOME MEASURES, SO WE HAVE THE W.C.F. WORLD RANKINGS, WHICH BASICALLY RANK YOU AGAINST OTHER PLAYERS ON THE BASIS OF WHO YOU BEAT. AND ON THAT BASIS, YOU'RE JUST A FEW PERCENTAGE POINTS BELOW FULFORD.
Well, at the moment, I'm probably about 15 points below, which correlates to a two-to-one difference, so if we play three games, he's probably going to win two of them. Which is quite a difference. I'd say I'm probably ten points below him, on average. He had a very good year last year. He hasn't lost a match in 12 months, and I've probably lost half a dozen.
HE'S PLAYED MORE THAN YOU, PROBABLY.....
No, we've probably played a similar amount. He just wins more than me, it's that straightforward. His best is very good and his worst is not bad. Whereas, my best ia very good, and my worst is....bad.
WHEN YOU BECAME WORLD CHAMPION, YOU BOTH PLAYING FOR THE TITLE. WHAT HAPPENED? DID LIGHTNING STRIKE?
No. In that particular tournament, Robert wasn't playing particularly well, and I was playing well - I wasn't playing VERY well, just well - and basically that meant that I could just play consistently well and that would be good enough. In many tournaments I play in, you have to play VERY well, or you lose. In the British Open last year, I played a best-of-five match and made one mistake and lost.
HOW DO YOU GET TIME TO PLAY? IT'S KIND OF A MYSTERY HOW THE TOP PLAYERS GET TO PLAY SO MUCH. IS IT THAT YOUR JOBS ARE NOT DEMANDING, OR...?
I would regard my job as VERY demanding. I would say I work about a 55-hour week - certainly in the winter - and in the summer I probably work a 45- or 50-hour week.
THIS MEANS YOU DON'T HAVE MUCH OF A LIFE, OUTSIDE WORK AND CROQUET, JUST MATHEMATICALLY....
That's true. I play a bit of bridge, I used to play ten-pin bowling, I used to play golf. I don't have time for those things any more.
YOUR BRIDGE BACKGROUND MIGHT GIVE YOU A LITTLE BIT OF AN ENTRY INTO UNDERSTANDING AND APPRECIATING THE AMERICAN RULES GAME, WHICH YOU'RE GOING TO PLAY SATURDAY IN THE PRESIDENTS CUP. I THINK MAYBE YOU'RE NOT ONE OF THE MORE EXPERIENCED OF THE BRITONS IN THE AMERICAN RULES GAME, ARE YOU?
No, I'm definitely the LEAST experienced. I've played two competitive games, one of which was doubles, and I.... I hate the game.
YOU HATE IT?
I think it shouldn't be allowed to be played.
CAN YOU EXPLAIN THAT?
Yes. My main reason for disliking it - and i've got two reasons really - if you look at an American Rules game between two of the top ten players in the world, one of the players will get the first break, they'll run it around to the peg, and they'll make the leave which means that if the opponent doesn't hit the 30-yard shot making sure the ball doesn't go over the 9-inch boundary line, then he's lost. That isn't a game, in my mind. In our game [the International Rules version] the opponent at least gets a chance.
WELL, BUT THE SAME FACTORS OF REFINED PLAY APPLY IN BOTH GAMES, YOU MUST ADMIT - REFINEMENTS OF A LITTLE DIFFERENT SORT. IN FACT, FOR TOP LEVEL COMPETITION, OUR UNITED STATES CROQUET ASSOCIATION RULES COMMITTEE HAS CONSIDERED IN THE PAST MAKING THE RULES MORE DIFFICULT, BUT IN OUR TOP TOURNAMENTS, AS A MATTER OF RECORD, WE DON'T HAVE VERY MANY GAMES SUCH AS YOU DESCRIBED BEING SEEN IN THE FINAL ROUNDS OF PLAY.
Without wanting to be...disrespectful... (laughter) ...the level of some of the players playing in your top tournaments really isn't very high.
THAT'S A BIT DISRESPECTFUL...
Okay, well...
OR IS IT JUST A HARD TRUTH? I THINK WE CAN ALLOW THE TRUTH. BUT I THINK YOU WOULD AGREE THAT THE STANDARD OF AMERICAN PLAY IS IMPROVING...
Absolutely, very much so. But the reason for that is that they're playing more International Rules. When you play International Rules the penalty for breaking down is less severe. You've got no "deadness." People play more aggressively. You've got bigger shots, more adventurous shots. And by doing that, by practicing that, you get better.
THEORETICALLY, THEN, AS MORE OF OUR TOP AMERICAN PLAYERS PLAY INTERNATIONAL RULES AS WELL AS AMERICAN RULES, THEY WILL LEARN TO BE MORE ADVENTUROUS AND AGGRESSIVE IN THE AMERICAN RULES GAME, THE LEVEL OF AMERICAN RULES PLAY WILL ADVANCE, AND THE RULES WILL HAVE TO BE ADJUSTED TO PREVENT JUST SUCH A SCENARIO AS YOU HAVE SUGGESTED - BECAUSE OF A CRITICAL ADVANCEMENT IN THE LEVEL OF TOP-LEVEL PLAY...
That's a possibility. What's probably happening at the moment is that your top players are getting better and when they get to a certain standard they go, "Well, all right, I don't want to play American Rules any more, I'll play International Rules." I can't blame them.
I WANT TO CONFIDE IN YOU A NASTY SUSPICION I HAVE THAT WHAT THEY REALLY WANT TO DO IS "PLAY WITH THE GUYS." AND "THE GUYS" ARE THE BRITS, THE BEST IN THE WORLD, AND THE BRITS PLAY THE INTERNATIONAL RULES GAME. COULDN'T THERE BE A LITTLE BIT OF...LET'S SAY "ELITISM" IN THIS NOTION THAT THE AMERICAN RULES GAME REALLY ISN'T A VERY GOOD GAME ON IT'S OWN TERMS, DO YOU THINK?
No...(hesitating)...I mean, it just ISN'T, once you get past a certain level. It's just not a very good game. So I've said my first reason for not liking the American game, which is that at the top level it's not a very good game. My second reason is that at the BEGINNER level, it's not a very good game, either. Because you go around the lawn with YOUR two balls, and the opponent goes around the lawn with THEIR two balls, and there isn't really much interaction....
OKAY, OKAY, ALL RIGHT, I MIGHT GRANT YOU THAT. WHAT ABOUT THE MIDDLE LEVEL THEN? (chuckling) MAYBE UP TO THE TWO-HANDICAP LEVEL...?
The middle level is not too bad.. Again, it's too defensive. Now, my criticism about OUR game [International Rules] is that at the top level it's too one-sided - my same criticism as YOUR game. It's just too one-sided. I admit that.
THAT'S RIGHT. WE AGREE ON SOMETHING...
And basically the best level of play in our game is between about a scratch handicap and an eight handicap.
BECAUSE YOU GET INTERACTION.
Interaction! And they can play good, aggressive croquet, but not good enough to be perfect all the time. You'll get four or five errors in the game...
LET ME GIVE YOU MY EQUIVALENT ESTIMATION OF HANDICAP TWO THROUGH EIGHT AS THE BEST LEVEL FOR THE AMERICAN RULES GAME.
Yeah, sure. The difference is, our guys will have a nice, aggressive, competitive game, whereas your guys will have a more defensive, tactical game.
WHICH CAN STILL BE FUN...
Yes, there's nothing wrong with that, but while you're having a nice, fun, tactical game with a bit of physical skill involved, our guys are playing at a much higher, more demanding physical level, and consequently they're improving quicker.
RIGHT. AND MY QUESTIONS IS, "FOR THE GROWTH OF THE SPORT IN AMERICA, WHAT DIFFERENCE DOES IT MAKE?" IN ASKING THAT QUESTION SERIOUSLY, I CONFESS THAT I AM ENDLESSLY FASCINATED WITH THE AMERICAN RULES GAME, I DON'T PRACTICE, I CAN BEAT JUST ABOUT ANYBODY ON A GIVEN DAY IF I CAN GET THEM DEAD, AND THE TACTICAL INTRICACIES OF THE GAME ARE SO DIVERSE, SO MULTI-FACETED, SO NUMEROUS, THAT YOU HAVE SITUATIONS THAT DEVELOP PERHAPS ONLY ONCE IN A LIFETIME, THAT YOU REMEMBER. PERHAPS THAT HAPPENS IN THE INTERNATIONAL RULES GAME AS WELL - I'M SURE THEY DO, AND I'M JUST NOT WELL ENOUGH ACCLIMATED TO THE GAME TO APPRECIATE THEM, BUT... DO YOU REMEMBER THE POINT I WAS MAKING? (pause)
HERE IT IS: I DON'T SEE THAT LEVEL OF "CHESS", OF INTRICATE BOARD-GAME STRATEGY IN THE INTERNATIONAL RULES GAME, AND I'VE ALWAYS LIKED GAMES LIKE THAT, AND IT'S A MARVELOUS AND UNIQUE THING THAT A SPORT CAN INCORPORATE THOSE INTELLECTUAL ELEMENTS. AND PERHAPS BECAUSE I'VE ALWAYS ASSOCIATED THOSE ELEMENTS WITH CROQUET AS ESSENTIAL TO ITS ENJOYMENT, I SIMPLY CAN'T MAKE MYSELF ENJOY THE INTERNATIONAL RULES GAME NEARLY TO THE EXTENT THAT I ENJOY AMERICAN RULES. IS IT BECAUSE I'M BECOMING OLD AND STUCK IN MY WAYS, OR JUST BECAUSE I HAVE THE KIND OF TEMPERAMENT THAT IS DRAWN TO...CHESS, AND BRIDGE - EXECUTING A "DOUBLE VIENNA COUP" IN BRIDGE, FOR EXAMPLE - YOU KNOW, SOMETHING LIKE THAT, WHICH I SEE SO ABUNDANTLY IN THE AMERICAN RULES GAME, AND NOT IN YOUR GAME...?
I fully understand what you're saying here. I've got to talk about it from my perspective as a top player and also look at it from a beginner's point of view. And both beginners and experts are better at the International version. The American Rules game is an interesting variant of the game. But what you've got to avoid is people totally playing the American game.. They're not going to improve as quickly as they ought to. But, you know, it's not a "bad" game. It's got its moments of interest. The International Rules game can have the more tactical side to it also. You get pegged-out endings, and that can turn into a very tactical game, and the other time where it can be become tactical is when you have a very, very difficult lawn, basically a very quick running lawn with absolutely rock-firm hoops in it - which is what we have at Nottingham - which is great, I mean it's a pure test of skill, at top level, and the top players can play it incredibly well. But the "top players" might only be two or three people in the world; and then you have the next level of players, who can have a tactical battle on this lawn - which is sort of what you get in the American game.
SINCE WE'RE HAVING A TWO-SIDED CONVERSATION, I'D LIKE TO GIVE YOU MY PERSPECTIVE AS AN ORGANIZER. GIVEN OUR AMERICAN CULTURE, I PROMOTE GOLF CROQUET TO THE PUBLIC. I THINK THAT'S WHERE YOU GET THE BEST RESULT THE QUICKEST, CASTING A WIDE NET OUT INTO THE PUBLIC. AND AS AN ORGANIZER WHO WANTS TO GIVE PEOPLE WHAT THEY WANT AND ENJOY, I DESPISE THE ELITISM THAT SAYS, "THIS IS THE GAME YOU MUST PLAY," OR "THERE IS ONLY ONE WORTH-WHILE FORM OF CROQUET." I TRY TO GIVE BEGINNERS A CHOICE AND LET THEM KNOW THAT THEY CAN PLAY ANY FORM OF THE GAME THAT PLEASES THEM, AND I BEGIN THEM WITH GOLF CROQUET.
WHAT WOULD YOU SAY ABOUT, FOR EXAMPLE, OTHER FORMS OF THE GAME - INCLUDING THE AMERICAN RULES GAMES - AS CONTRIBUTORS TO THE BROADER DEVELOPMENT OF THE AMERICAN CROQUET CULTURE, IN THE VARIETY OF WAYS THAT DIFFERENT INDIVIDUALS MIGHT RESPOND TO DIFFERENT GAMES AND DIFFERENT STYLES OF GAMES?
I have no problem with people playing American Rules or Golf Croquet. I mean, I've been Golf Croquet Champion in Britain, so I'm probably more favorably disposed towards it than the average top player.
WOULD YOU FAVOR PROMOTING GOLF CROQUET MORE AGGRESSIVELY THROUGH THE PRESS AND THE PUBLIC AS A STRATEGY FOR PROMOTING CROQUET IN GENERAL?
No.
YOU WOULD FAVOR PROMOTING INTERNATIONAL RULES CROQUET AT THE BEGINNING LEVEL.
Yes. But once we've got them in there, the best way to give them a game straight away is to play a game of Golf Croquet, and I have no problem with that.
I SUPPOSE IT'S A DIFFICULT PROPOSITION TO PROVE FROM EITHER SIDE, BUT WE HAVE THE ALREADY EXISTING AMERICAN CROQUET CULTURE, AND WE COME INTO IT FROM AMERICAN RULES CROQUET, AND WE'VE DONE PRETTY WELL IN 20 YEARS, AND YOU HAVE YOUR OWN CROQUET CULTURE IN THE BRITISH COMMONWEALTH, WITH THIS EVOLUTION OF 120 YEARS OR SO, AND THERE'S NO DOUBT THAT YOU'VE DONE PRETTY WELL...
But the difference is, I think....Okay, we've been playing it longer. But a person who starts in Britain gets better quicker than a person who starts in America.
YOU'RE SURE ABOUT THAT?
In general. Of course there are exceptions. What happened is that when your guys have started playing International, they have not been able to compete with us, and when our guys have started playing American, they've been better that your best American Rules players. And that has to say something about the fact that our actual physical skills level is much higher. And that's because we START by playing the right game
LET ME COUNTER THAN ARGUMENT. I PROFILED THE ENTIRE BRITISH AND AMERICAN SOLOMON TEAMS - AS TO AGE, HOW LONG THE PERSON HAS BEEN PLAYING CROQUET, ETC, ETC. FOR YOUR BRITISH PLAYERS, THE AVERAGE NUMBER OF YEARS THEY'VE BEEN PLAYING CROQUET IS 14 YEARS, AGAINST LESS THAN EIGHT YEARS FOR OUR PLAYERS. ARE YOU BETTER SIMPLY BECAUSE YOU'VE BEEN PLAYING CROQUET SIX YEARS LONGER ON AVERAGE? I MEAN, THAT WOULD CERTAINLY BE A LEGITIMATE WAY OF LOOKING AT IT, WOULDN'T YOU SAY?
It is. Your young players - let's take someone like Kiley Jones, who started when he was a young teenager, and who's been playing probably 15 years now. He's been very good, but again...not quite as good as we are. Now, if I were to start arguing that it's because he's played too much American Rules....
I COULD SAY IT WAS BECAUSE HE JUST DIDN'T HAVE THE PEER LEVEL COMPETITION OVER HERE THAT HE NEEDED TO GET BETTER...
Yes, that's your other main problem. You're beginning to overcome that now.
BUT I HAVE TO ASK, AS AN ORGANIZER, HOW YOU GET STARTED AS YOUNG AS YOU BRITS GET STARTED - AT 14 or 15? WITH RARE EXCEPTIONS, WE DON'T HAVE 14- AND 15-YEAR-OLDS WHO WANT TO PLAY CROQUET.
Unfortunately, neither do we...
BUT JUST LOOK AT THE STATS FOR YOUR TEAM!
Yes, but for the last seven or eight years - yes, there have been juniors that have come through, there have been 20-year-olds - but they're only scratch or minus 1/2. There's no one who has come through and really looks like they're going to be an international player.
BUT TELL ME WHAT HAPPENED WITH THIS GROUP, THIS CURRENT TEAM, WITH AN AVERAGE AGE OF 32, WHO HAVE BEEN PLAYING CROQUET FOR AN AVERAGE OF 14 YEARS, AND MOST OF THEM STARTED AS TEEN-AGERS? WAS THAT A FLUKE? HILDITCH HAS COMMENTED TO ME THAT GETTING THE YOUNG INTELLECTUAL CLASS IN FROM THE UNIVERSITIES MADE A DIFFERENCE IN BRITAIN - WAS THAT A TEMPORARY PHENOMENON?
My feeling as to why this group is good is that there was a school program and interschool tournaments, and my school starting playing...
THIS WAS AT THE SECONDARY SCHOOL LEVEL?
Yes, when I was 14. And I became very good, and two or three other boys became very good.
IS THAT SCHOOL PROGRAM STILL GOING ON?
Yes, but less successfully. Much less successfully, mainly because the teacher who taught us is no longer there. Now as a pure coincidence, while my school was carrying on, it got not only three or four good players but eventually nine or ten minus players - which is phenomenal in one place. This was mainly due to the teacher who was teaching us, who was a 2-handicapper. We just got much better than he was.
BUT IT SHOWS A PHENOMENAL OPPORTUNITY FOR ORGANIZING, BUILDING CROQUET STARTING WITH SECONDARY SCHOOLS EVERYWHERE...
Absolutely! Once you get someone who's really good, the rest of the guys will get good at the game. And while this was happening, we had another school going - that was down where Robert [Fulford] was - and the fact that you just randomly had these schools producing all these very good players at once is rare.
BUT THERE MUST BE PEOPLE IN THE CROQUET ASSOCIATION - BILL LAMB AND OTHERS - HAVING MEETINGS AND LOOKING AT THIS AND SAYING, "WHAT WE NEED TO DO IS DEVELOP PROGRAMS IN THESE SCHOOLS! BECAUSE WE'VE ALREADY SEEN IT WORKS!
About three months ago we [the Croquet Association] hired a Schools Liaison Officer [David Haslam] who we pay....
TO BE RESPONSIBLE FOR DOING THAT JOB.
Absolutely. He's retired from his job, we pay him three thousand pounds a year, he picks out eight or nine schools, and if he can get a GROUP of schools, particularly let's say in a 50-mile-square area, four or five players in each school, you get them to a level, maybe even to a seven or eight handicap, and then you throw all those schools together than let them compete.against each other.
SO INSTEAD OF JUST A SCATTERSHOT NATIONAL CAMPAIGN, YOU CONCENTRATE ON A LOCAL AREA AND GET SOME INTER MURAL ACTIVITY GOING. THAT'S A GOOD STRATEGY.
Yes, and we've got now, in the Southwest of England, a schools area which is promising. What you never know is, of these four or five people at each school, is one of them, somewhere, going to be really talented? And then you've got to be very, very lucky to have another one in another school who is very talented, and getting them competing against each other, and just rapidly improving. And then the rest of them will come along and won't be sevens and eights, they'll be ones and twos. And the two good ones will be minus twos.
IT'S A GOOD STRATEGY FOR GETTING SOMETHING GOING. NOW I'D LIKE TO SHIFT TO THE AREA OF 'TALENT' THAT YOU BROUGHT UP. WHAT MAKES TALENT IN CROQUET, WHAT ARE THE SIGNS OF NATIVE CROQUET ABILITY? DO YOU HAVE TO BE NOT TOO TALL, A LITTLE BEEFY LIKE YOU AND FULFORD? OPENSHAW AND BURRIDGE WOULD PUT THE LIE TO THAT THEORY.
Basically, you need to be single-minded. You need to want this enough. And you need to be very....talented.
WHY DID YOU WANT THIS? DID YOU SEE VERY EARLY THAT THIS WAS SOMETHING YOU COULD EXCEL AT, OR...WHAT HAPPENED?
I started playing croquet when I was 13. At that time, I was a handicap 18 golfer. I have no doubt that I would have got down to a low single figure handicap in golf.
THERE'S MONEY IN GOLF...
Yes, but I also thought that at no stage would I become anywhere near good enough to become a professional golfer. Added to which, I never really wanted to be a professional sportsman.
AND YOU STILL DON'T, EVEN IF THE CROQUET ESTABLISHMENT COULD SUPPORT THAT?
It would have to be really big money, so that I could earn enough money in ten years to retire on. So, if there were really big money like in other sports, yes, I would. Because you'd be silly to turn your back on two million pounds in ten years, wouldn't you?
HOW MANY OF YOUR TEAMMATES HAVE THE SAME ATTITUDE? WELL, BASICALLY, THEY MUST ALL, OTHERWISE THEY WOULDN'T BE IN CROQUET, WHICH WOULD BE A FOOLISH PLACE TO INVEST YOUR FINANCIAL ASPIRATIONS...
Absolutely. My main enjoyment comes from the fact that I can play the sport at the highest level and compete against anybody in the world and probably win.
THAT'S A GOOD ENDING.
---
---