Near the midpoint of the Sonoma-Cutrer World Singles Championship, I interviewed many of the players at courtside. Among the many fine players for whom this most elaborately produced tournament was a one-week stopover on the way to England and croquet's ultimate player experience, I have chosen these four, in loosely edited transcript, to represent the thoughts and opinions of the top practitioners of the sport, their diverse interests and motivations, and their assessment, in 1996, of where the sport is and where it's going.

Because this is not a movie script, I can't represent the atmosphere, the facial expressions, the backgrounds, the nuances of tone which made these interviews such a delight to conduct and record. Suffice to say that Sonoma-Cutrer is an incomparable week-long croquet party, with 28 of the best players on the planet converged around only two lawns. There's plenty of time for courtside food and drink of the highest quality, for idle chatter of equal vintage, horseplay, outrageous gossip, and irreverent remarks on just about everything - all in the spirit of good fun.

As you read these interviews, bring yourself to the party, engage in the banter with a light heart, don't take anything more seriously than it merits, and enjoy getting to know just a little better these croquet stars, and their sport.

--Bob Alman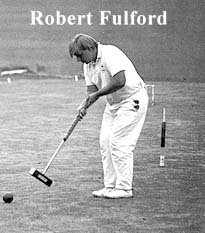 ---
INTERVIEW WITH
ROBERT FULFORD
---
WHAT'S YOUR RECORD SO FAR IN BLOCK PLAY, ROBERT?
Three out of six.
AND THREE SEXTUPLES IN SIX ATTEMPTS.
Yes.
AND YOUR GOAL FOR THE TOURNAMENT IS....
Oh well, I'm still trying to get out of the block (chuckling) so I need a lot of results to work out in the right way.
ARE YOU GOING TO GIVE UP THIS INTENSE CONCENTRATION ON SEXTUPLES AND JUST GO FOR THE WINS FROM NOW ON? I GUESS THAT'S A LOADED QUESTION.
Yes, it's a VERY loaded question. I'm going for sextuples as a serious tactic.
YOU'RE NOT BEING ARROGANT OR PRESUMPTUOUS OR SHOWING CONTEMPT FOR YOUR OPPONENTS....?
No. In a way, it's only a reasonable tactic. It is debatable, I'll grant you that. I don't necessarily think it's definitely right. It definitely in more fun.
IT"S MORE FUN.
Yes, it requires more concentration as well. I've been a bit unluckly in this tournament, where in two games I failed in the sextuple, but I've gone on and not made any mistakes. But my opponent happens to have played well in both games as well,
WELL, YOU KNOW, ONE HAS TO WONDER WHAT KIND OF STANDARD YOU'RE PLAYING AGAINST, BECAUSE BY NEAR-UNIVERSAL AGREEMENT, YOU'RE THE BEST PLAYER IN THE WORLD. SO, IF THERE WERE SOMEBODY UP THERE ABOVE YOU IN THE RANKINGS THAT YOU WERE TRAINING TO "GET", THAT WOULD MAKE IT MORE UNDERSTANDABLE. BUT AS IT IS, GIVEN THE TROUBLE YOU'VE GOTTEN INTO IN YOUR BLOCK, GOING FOR THE SEXTUPLE EVERY TIME DOESN'T SEEM TO MAKE SENSE, WATCHING FROM THE SIDELINES....
It does take a bit of working out, where you're going to go.
WHEN YOU'RE ALREADY THE BEST, WHERE ARE YOU GOING TO GO? THAT'S THE QUESTION.
I don't know what you mean by that.
YOU'RE THE BEST PLAYER IN THE WORLD....
Yes....?
SO HOW DO YOU PLOT OUT WHERE TO TAKE THE LEVEL OF YOUR GAME FROM THERE? YOU DON'T HAVE ANY STANDARD OUT THERE TO MOVE TOWARDS.
Well, I've certainly made some mistakes this week, the same as everyone here, really. You try to make less and less mistakes.
SO WHAT'S YOUR ULTIMATE GOAL, THEN? IS IT TO MAKE EVERY SINGLE SEXTUPLE?
Pretty much, yeah. In a way, I'd like to change to the 14-point game, but that's another issue. But you see, these are very unusual conditions here. Tactics very much depend on lawn conditions. And I wouldn't go for the sextuple every time elsewhere. I've only played in about four events in my life where I considered going for the sextuple a reasonable tactic. But I've certainly played in events where in the first couple of games I've been trying to do them, and then I've decided it's not suitable.
WHAT'S YOUR MOST SIGNIFICANT ACCOMPLISHMENT IN CROQUET? SEEMS KIND OF SILLY TO ASK YOU THAT QUESTION.
Winning the OTHER world championship. But obviously, my goal is to win it over and over again. So, in a way, it's winning the world championship THREE times. And in a few years it'll be how many ever times I've managed to win it.....
TONY STEPHENS TOLD ME HIS MOST SIGNIFICANT ACCOMLISHMENT WAS GETTING ON THE MACROBERTSON TEAM THIS YEAR 33 YEARS AFTER HE DID IT THE FIRST TIME. DO YOU HAVE ANY SUCH LONGEVITY GOALS IN CROQUET?
Not particularly. I don't know what would happen if I reach a point where I'm not playing anything like as well as I have done. I don't think you can ask that question before it happens. But I certainly don't see myself retiring from croquet unless I stop playing well. At the moment, I have lots of time to practice. I imagine eventually I'll probably get married, and pretty well have a lot less time. And I don't know whether my playing would drop off very much. But at the moment, I don't see why I shouldn't be playing when I'm sixty.
WHICH PLAYER DO YOU MOST ADMIRE?
Probably Bob Jackson. He has a phenomenal longevity record. And partly because of the incredible record he's got in the New Zealand Open. He's been in the finals of something like 21 out of 24 Opens he's played in, and he's won about 11 of them, at a time when, particularly in the late seventies and eighties, New Zealand was at least as strong as Britain. Possibly stronger, at the very top, with England being strong in depth. But not just because he's won things. It's the way he plays, which is really quite unique.
IF YOU GO FURTHER IN EXPLAINING WHY, I'LL PROBABLY BE OUT OF MY DEPTH.
No, I don't think so. People used to try and run breaks as tightly as possible. But Bob just didn't care, he would just leave five-yard roquets all over the place, and was very successful doing it. And that was a bit of a revolution, then. And there are lots of players now who are very comfortable doing that, leaving five-yards roquets in the middle of a break....
BURRIDGE DOES THAT. YOU DON'T HAVE ANYTHING TO SAY ABOUT 'BURRIDGE ABUSE", DO YOU? I DON'T WANT TO HEAR IT!
(chuckling) No, I've been playing with Mr. Burridge since he was eleven, so I've got a whole different attitude on....
YOU'VE BEEN PLAYING CROQUET SINCE YOU WERE ELEVEN?
No, I went to school with him.
TOO BAD ABOUT HIS FORM, WHICH I'VE BEEN READING ABOUT ON THE NOTTINGHAM BOARD...
He's playing fine....
IF YOU WERE TO CHANGE THE GAME IN ANY WAY - THE GAME ITSELF, THE CULTURE, THE PEOPLE WHO DO IT - WHAT WOULD YOU DO?
The first thing I'd change is to go do the 14-point game.
AT THE TOP LEVEL OF COMPETITION?
Yes, PURELY at the top level, the very top level.
I THOUGHT THE SENTIMENT WAS TO OPEN UP THE GAME AT ALL LEVELS.
But the game at lower levels is already pretty open.
IT TAKES FOREVER....
Yes, it may, but it's in-and-out. In THIS game (the long game), the slower player can take 35 minutes on the lawn in one turn. It's a bit boring, I think. And also, they're not demanded to do anything very difficult, really. Certainly for me, here, doing a triple-peel is absurdly easy. For many of these players, it's just a waste of everyone's time.
SO THE CHANGE YOU'D LIKE TO MAKE IS TO HAVE THE 14-POINT GAME AS THE STANDARD IN TOP-LEVEL TOURNAMENTS ONLY?
Yes For everyone else, the long game is fine. .
DO YOU ASPIRE TO MAKE A LIVING FROM CROQUET?
No. There's no money in playing. I'd love to play full-time professional croquet. But you can't do that, there's no money in that. To make a living in croquet you'd have to coach.
CLEAR ENOUGH. SO, TO END JUST TELL ME WHAT QUESTION WOULD YOU LIKE TO ANSWER, IF ONLY I'D ASK IT?
(huhmmmmmmm...) Well, one of the most important pieces of information I think some people in American don't get is....basically, just to tell them to try and play breaks. (chuckling)
WE DON'T PLAY BREAKS IN AMERICA...?
Well, on the West Coast maybe you do, and I think they've been told on the East Coast, but I don't think they've been told enough. Beginners. People who just picked up your Web page, and they want to know something about playing croquet, they can find out about rules, but you don't have much about three-ball breaks, four-ball breaks. The object of the game, REALLY, is to learn to score several hoops in one turn. That's how you get started, as far as I'm concerned. That's basically the first think I knew about the game. We didn't know very much about the ending, but we DID know that you were supposed to start off playing breaks.
GOOD ADVICE! THANK YOU, ROBERT.
---