Debbie Cornelius is the only female competing in the 1996 MacRobertson Shield. By most accounts, she is the best woman player in the world, perhaps in all the history of the sport. She was a bit off her game at Sonoma-Cutrer, and by the time I spoke to her she was obviously not going to make the cut to the knock-out ladder. When I sat down next to her, she looked up from her paperback novel to greet me. She remembered well, she said, our game of Guerilla Croquet some years ago in San Francisco on the rough grounds of the Palace of Fine Arts. Playing as partners, we had managed to win without injuring any of the swans with a croquet/roquet or losing any of the balls in the lake.

--Bob Alman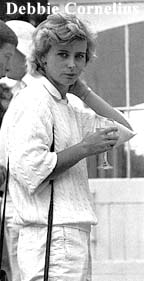 ---
INTERVIEW WITH
DEBBIE CORNELIUS
---
WHY DO YOU PLAY CROQUET?
I grew up playing croquet. My dad and my older brother played, and I've just always played.
A FAMILY THING.
Yes.
BUT YOU MUST HAVE REJECTED A LOT OF PARENTAL ADVICE AND GUIDANCE AS ALL HEALTHY YOUNGSTER DO, SO YOU COULD HAVE REBELLED, YOU COULD HAVE REJECTED CROQUET, COULDN'T YOU?
(giggling)
DIDN'T YOU SNEAK OFF TO SMOKE AND DRINK AND DO STUFF LIKE THAT?
Drink, yes. Smoke, no.
SO THERE'S SOMETHING ABOUT THE GAME THAT MADE YOU STICK WITH IT. WHAT?
Oh, I just liked the competition. I'm quite a competitive person.
THAT'S QUITE UNLADYLIKE, YOU KNOW.
Being competitive? No, it's not. It's just unusual for a woman to be competitive in a SPORT. Most women ARE competitive, they're just not competitive in sports.
NO, THEY'RE COMPETITIVE IN HEARTH-KEEPING. IT OCCURS TO ME THAT YOU ARE IN A UNIQUE POSITION TO BE A ROLE MODEL FOR WOMEN IN COMPETITIVE SPORTS. YOU AREN'T A BIG PERSON, YOU WEIGHT LESS THAN 100 POUNDS, YOU'RE A LIVING PROOF THAT MUSCLE MASS AND POWER AREN'T NECESSARY TO COMPETE IN THIS SPORT. OR ARE THEY?
No, they aren't.
ARE YOU PHYSICALLY EQUIPPED TO BEAT ANYBODY ON THIS COURT?
(laughing out loud)
I'M ASKING A SERIOUS QUESTION. DO YOU HAVE THE PHYSICAL EQUIPMENT TO....
Yeah, there's no power needed to play croquet.
WHAT'S YOUR ULTIMATE GOAL IN THE SPORT?
To win all my matches this year in the MacRobertson Shield and the British Open.
ISN'T THAT A BIT AMBITIOUS?
No.
HOW OFTEN IS THAT DONE? WHAT ABOUT IAN BURRIDGE, THE SHIELD MEMBER WHO DIDN'T WIN A SINGLE MATCH AGAINST THE AMERICANS IN THE 1994 SOLOMON? DO YOU HAVE ANY ABUSE TO HEAP UPON THIS POOR MAN?
Not really. I think he's been harshly treated.
YOU"RE SAYING HE DOESN'T DESERVE ALL THIS "BURRIDGE ABUSE?"
He doesn't deserve it. He always starts every season badly, and this year is no different.
LOTS OF PEOPLE DO THAT. WHICH PLAYER DO YOU MOST ADMIRE? DON'T TELL ME IT'S BURRIDGE.
John Prince.
WHY?
When I saw him back in 1990, I just thought he had a really....that his style is really nice, his whole attitude to the game, his concentration level....He's really nice to watch.
HE LOOKS GOOD ON THE LAWN.
Yes, and to play at that standard for so many years is wonderful.
THAT WAS AFTER YOU WERE WELL ON YOUR WAY AS A STAR PLAYER, WASN'T IT?
I was already a scratch player in 1990, yes....
SO HE WASN'T REALLY AN EARLY ROLE MODEL....?
No. An early role model would have been Keith Aiton (coach of the 1996 British MacRobertson team).
I DON'T KNOW HIM. WHAT DID HE DO?
He just had a really precise style. He's a real precision player. And I had come into the game as a very aggressive player in those days, and just watching Keith pick up breaks by RUSHING the balls and never having to do the big croquet strokes was quite an education.
DO YOU CONCENTRATE A LOT ON STYLE AND PRECISION AND THOSE ELEMENTS OF THE GAME, ON THE MENTAL....
I think the mental aspect is all wrapped up in the style. You have to play to your strengths, and you have to play at a high level of concentration. So the game is ALL mental.
SO YOU DON'T CONCENTRATE MORE OR LESS THAN OTHERS ON STYLE, ROTE PRACTICE, VISUALIZATION, AND ALL THAT STUFF....
No, I think style is the end product of concentration, in anyone.
YOU THINK THE STYLE IS NOT "PUT ON." IT'S SORT OF A "FORM FOLLOWS FUNCTION" THING.....
Ths style is something you tend to pick up when you start. It's just accidental what style you get. Whatever is around you when you start, you tend to copy.
MY STYLE IS HIDEOUS. WHAT CAN I DO?
Well, if you have a REALLY, REALLY bad style, you can try and fine tune it. But most good players have decent styles to start with.
DO YOU THINK I COULD BE HELPED BY INTENSIVE PSYCHO-THERAPY?
I haven't got a clue! (giggling)
DID I ASK YOU WHAT YOUR MOST SIGNIFICANT ACCOMPLISHMENT HAS BEEN?
Becoming an accountant.
SOMETHING THAT WILL KEEP YOU WHEN YOUR GLORY DAYS ARE DONE.
No, in croquet, getting to the semi-finals of the British Open last year was my best result, ever. The British Open is the strongest event I play in every year. And the format is such that if you're at all off your game, you go out early on.
IF YOU COULD CHANGE THE GAME IN ANY WAY, WHAT WOULD YOU DO?
I think the game is fine as it is. Except when you play here (Sonoma-Cutrer) it's too easy, because the conditions are so wonderfully good you could almost try to make the game more difficult.
WOULD YOU LIKE TO PUT SOME HILLOCKS ON THOSE PERFECT SURFACES?
No. You could have it so you can't run hoops off the lawn, maybe.
A LOT OF PEOPLE HAVE BEEN TALKING ABOUT THAT - THAT IT'S THE ONE RULE THEY WOULD CHANGE IN THE 'ASSOCIATION' GAME.
I don't really think it's necessary. I think the game is fine as it is. It's a bit long.
YES, EVERYONE SEEMS TO AGREE WITH THAT, TOO. SO: WHO DOES THE DAMAGE IN CROQUET?
What damage?
IN THE GROWTH OF THE SPORT, THE PROMOTION OF IT, THE EVOLUTION OF IT, WHATEVER DAMAGE IS BEING DONE....
I don't think there IS any damage being done, really. If I had to say something.,...I think some of the policies of the WCF....
DAMAGE? WHO'S GOING TO PROMOTE THE SPORT INTERNATIONALLY WITHOUT MAKING CERTAIN CONVENTIONS REGARDING COMPETITION, AND....
Well, I think you need a WCF, but I'm not sure current leanings are what I want to see for the game.
YOU'RE TALKING ABOUT THE POLICIES OF THE WCF. WHAT POLICIES ARE THOSE?
I just think that some of the things they're doing are not good for "A" class croquet.
IN THE DEVELOPING CROQUET COUNTRIES, YOU DON'T START WITH 'A' CLASS CROQUET...
Yes, I'll grant you that. But if you look at other sports, you don't get five-handicap players in the world championships. In the croquet world championship, you get some very, very rough players, and some very, very good players don't get to play because there aren't enough spaces....
IN THE NAME OF BROAD INTERNATIONAL REPRESENTATION....
Yes. But I think the world championship should just be the best players in the world. If it's for 48 players, they should be the BEST 48 players in the world, no matter where they live. If one country doesn't get anybody, that's tough.
ISN'T THERE ROOM FOR A NUMBER OF INTERNATIONAL COMPETITIONS, FOR TEAM PLAY, FOR MATCH PLAY BETWEEN COUNTRIES...?
Well, yes, you could have the world championship with just the top players, and you could have another event for the "B" class players, or the up-and-coming countries.
SO IF THERE WERE A COMPETITION WITH THE SELECTION BASED ON HOW GOOD THE PLAYERS WERE, RATHER THAN WHERE THEY'RE FROM, THAT WOULD BE FINE WITH YOU, AND THEN THERE COULD BE THIS OTHER EVENT, THAT SENDS THE BEST OF EACH COUNTRY....
Yes.
IN A WAY, THIS EVENT (Sonoma-Cutrer) IS FOR "THE BEST OF EACH COUNTRY," BECAUSE THERE ARE SOME WEAK PLAYERS HERE...
No, this event is probably a lot stronger than the WCF world championship, because this event can just say, "Well, there's nobody worth inviting from so-and-so, so we're not inviting them." But the WCF has players from France and Egypt and all sorts of rough countries. There's an argument for saying, "Well, they're not good enough to play. When they're good enough, yes they can play, and that should be incentive to them. Because they don't have any fun out of it. They turn up at the WCF championship, and they get crunched up...
THEY GET ANNIHILATED....
They're not getting any benefit out of it at all, apart from being able to say, "I represented my country in a world championship." It's not helping those countries develop.
WE HAVE HEARD THAT YOU WANT TO PLAY IN THE MEN'S CHAMPIONSHIP IN ENGLAND.
No, I don't.
WHY DID YOU APPLY, THEN?
The British selectors at the beginning of last year wanted to see all the possible MacRobertson Shield selectees play as much as possible and they also said that the Men's was one of the events that they would be using to select from. So I thought, well, I'll play in the Men's for this year, just for the fun of it. I don't WANT to play in it every year....
SO AFTER YOU FOUND OUT THAT THE MEN'S OPEN WAS GOING TO BE USED TO EVALUATE THE RELATIVE STRENGTHS OF....
No, it's not quite like that. We were playing bridge one night, two or three of us, with our selectors. And we were just talking, and one of them said, "You really ought to try and play in the Men's, Debbie, because the more we can see you play, the better." So, just for the fun of it, I thought, "Well, if they want to see the selectees play as much as possible...."
SO YOU GOT AN APPLICATION FOR THE MEN'S OPEN, FILLED IT OUT, AND...
No, I didn't do that. I just wrote a letter to the tournament committee saying that I'd like to have a one-year exemption to play in the Men's Open. But as it turned out, I got an invite to play HERE last year, and the two events clashed anyway, so it was really irrelevant. The Sonoma-Cutrer in America and the British Men's and Women's always clash, every year.
SO THE MAIN OBJECT WAS TO BE SELECTED FOR THE MACROBERTON?
I've always wanted to play in the MacRobertson Shield, but I never thought I'd be good enough to be picked. It's the premiere croquet event that you can possibly play in.
SO, DO YOU THINK YOU'LL EVER APPLY AGAIN TO PLAY IN THE MEN'S OPEN?
No.
YOU HAVE NO QUARREL, THEN, WITH THE STRUCTURE OF HAVING AN OPEN, A MEN'S, AND A WOMEN'S AS SEPARATE TOURNAMENTS IN BRITAIN?
I think that's fine. I think one separated event is fine. I've written articles in the past that the Ladies Eights events that we have in England are pretty much pointless. But the Men's and Women's championships I have no quarrel with at all.
WHY ARE THE OTHER WOMEN'S EVENTS POINTLESS?
Croquet is a game men and women can play on equal terms, and as such, we shouldn't need to have separate events. Now, it's fair enough to have one separate event, because men and women ARE different, and there's some justification for having ONE event each year that says who's the best of which or whatever, but you don't need more than one such event.
BUT ISN'T THERE SOME SPECIAL EXPERIENCE AVAILABLE IN PLAYING IN AN ALL-WOMEN'S EVENT, THAT IS.....
It's an experince (laughing) but it's not a good one...
MAYBE YOU'RE TOO GOOD, BUT I'M TALKING ABOUT MOST WOMEN CROQUET PLAYERS. ISN'T IT GREAT FOR THEM TO HAVE THESE SPECIAL EVENTS?
Why should they? What benefit can they get from playing each other that they can't get from playing men?
THEY GET TO WIN MORE OFTEN.
I mean, in England we have handicap tournaments, we have "B" level tournaments, and we have open level tournaments. So the women can play against competition of their own standard, whether they're male or female, in ten tournaments each year. They don't need separate tournaments to play in.
THAT'S THE REASON, I GUESS, THAT WE DON'T HAVE ANY WOMEN'S TOURNAMENTS IN AMERICA. ON THE SUBJECT OF MEN AND WOMEN, HAVE YOU EVER MET A MAN ON A CROQUET LAWN WITH WHOM YOU'VE BEEN ROMANTICALLY INVOLVED?
Yep!
IS IT A GOOD PLACE TO MEET MEN....CROQUET?
Well, there are a lot of men to women at top level, but...(laughing) if somebody is contemplating taking up the game to meet men, I wouldn't recommend croquet to them. Same as any place, there are men you like, and men you don't like....
YOU PROBABLY CONSIDER IT AN IRRELEVANT QUESTION, RIGHT?
Yeah.
DON'T YOU THINK IT WOULD BE A LOT BETTER FOR EVERYONE IF THEY GOT RID OF THOSE HORSES IN THE ROYAL FAMILY, AND THEY ALL PLAYED CROQUET INSTEAD?
(laughing) Well, the queen is the patron of croquet...
BUT DOES SHE WIELD A MALLET...??
I don't think so.
WHAT ABOUT PRINCE ANDREW AND PRINCE EDWARD AND PRINCESS ANNE. DO ANY OF THEM PLAY CROQUET?
Not that I know of. Real Tennis, more likely.
THAT'S REALLY TOO BAD.
---
---