Rich Curtis takes the helm of the USCA

Inverview by Bob Alman, editor of Croquet World Online Magazine
layout by Reuben Edwards
Posted April 25, 2005
---

Rich Curtis took the reins of the USCA as its sixth president on March 23, 2005. Curtis, 52, is an attorney with a Rochester, New York firm with 26 other attorneys. As a championship flight player, Curtis follows the pattern of most of the other USCA presidents, competing frequently and well at a handicap of minus one-half. Like other presidents, he comes to the job with a long inside working knowledge of the USCA and its principal issues and challenges. Unlike some of the other presidents, he has ably taken responsibility for managing some of the most difficult projects on the agenda of the USCA Management Committee and seeing them through to a successful conclusion. Unlike most of the other presidents, he has solid credentials as an effective but easy-going negotiator. With a non-confrontive style, he has earned a reputation for saying what he'll do and doing what he'll say. All of this makes him look like the odds-on best-qualified president to come to office since Jack Osborn formed the association in 1977. His term is for two years, but precedent virtually mandates a second term, so barring unforeseen circumstances, Rich Curtis will be the president of the USCA and the public face of American croquet until the second quarter of 2009. We chatted in my office overlooking the lawns of the National Croquet Center in West Palm Beach.

---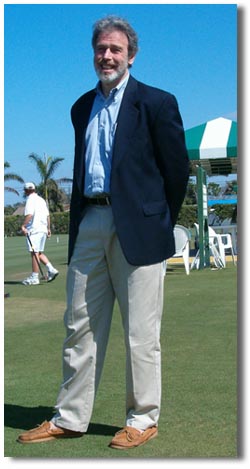 Curtis stands between the two main tiers of courts at the National Croquet Center in West Palm Beach. He will visit the USCA offices in the clubhouse several times a year and conduct most USCA business over the phone from his home in New York.

Bob Alman: I'LL BEGIN WITH A KIND OF INTELLIGENCE TEST: WHAT COMES AT THE END OF THIS SERIES – OSBORN, CARTER, BERNE, MAHONEY, BRACKETT….?

Rich Curtis: Apparently, Curtis.

GOT IT! TELL ME, HOW DID THAT HAPPEN?

Well, I think I kind of fell into it, Bob. Somebody told me the other day that the toughest job in the USCA is picking your successor as president. At the Annual Meeting [held March 18 at the National Croquet Center] we talked about the fact that we don't elect presidents, we don't have campaigns for the office, we try to have an orderly succession, and I guess over the last four years, I was involved in most of the decisions, and so I seemed to be the logical candidate.

I WOULDN'T ARGUE AGAINST THAT. AND YOU WERE WILLING TO DO THE JOB. IT DOESN'T PAY ANYTHING, IT COULD BE DESCRIBED AS 'THANKLESS,' SO…

Yes, I was willing to do the job.

NOW YOU MUST REALLY HAVE YOUR ACT TOGETHER, BECAUSE YOU HAVE AN ACTIVE PROFESSIONAL AND PERSONAL LIFE UP THERE IN ROCHESTER, AND YOU HAVE TAKEN ON THE JOB OF RUNNING AN ORGANIZATION HEADQUARTERED IN FLORIDA.

Well, we think we're pretty well prepared for doing that, and there's plenty of precedent for it. I'll go to Florida a few times a year for tournaments and other business and there will be regular phone calls with the staff. And we have a good, solid, well-trained staff.

AND I'D JUST LIKE TO NOTE THAT YOU HAVE BEEN INVOLVED IS SO MANY MAJOR DEVELOPMENTS OVER SUCH A LONG PERIOD OF TIME, MUCH PRE-DATING THE LAST PRESIDENT'S TERM OF OFFICE…YOU'VE CREATED THE NEW GRAND PRIX…

"Recreated" the Grand Prix.

YES, THE NEW GRAND PRIX. AND PEOPLE HAVE NO IDEA WHAT A TOUGH JOB THAT WAS AND HOW WELL DONE IT WAS, AND THE REASON THEY DON'T KNOW IS THAT THERE HAVE BEEN NO MAJOR GLITCHES! I KNOW THIS BECAUSE YOU AND I WORKED TOGETHER WITH THE PROGRAMMERS AND THE WEB DESIGNERS TO MAKE IT ALL WORK ONLINE. IT WASN'T EASY, IT WASN'T SIMPLE, EITHER IN CONCEPT OR EXECUTION, AND IT WORKS BEAUTIFULLY. ANOTHER MAJOR ONE WAS THE RULES, YOU WERE THERE WHEN SOMEBODY NEEDED TO TAKE THE LAST EDITION IN HAND AND MAKE LOTS AND LOTS OF ADJUSTMENTS AND CORRECTIONS AND UPDATES, AND ALSO GET IT ONLINE, AND YOU WERE RIGHT THERE, QUIETLY GETTING THE JOB DONE. SO I CAN'T LET YOU SELF-EFFACE TOO MUCH HERE…

Well, it's nice of you to say, and I have to say that Mike Weimerskirch had a big hand in helping me with the Grand Prix, I can't take credit for that by myself.

YOU WERE IN CHARGE, YOU WERE RESPONSIBLE FOR IT…

I was responsible for it, I thought it was a good idea to reinvent it – and I must say by the way that you've been a big supporter of it and that helped it become a fixture of the United States Croquet Association again, and it wouldn't have happened without a lot of people's help. And I must say Bill Berne was the one, at the time I suggested it, who encouraged me to work on it, during his term of office.

AND HIS WIFE BILLIE JEAN HAD JUST FINISHED DOING A MAJOR JOB ON THE HANDICAP SYSTEM, AND THEY'RE RELATED OBVIOUSLY.

Yes, I like to say that the handicap is intended to reflect the player's ability, while the Grand Prix is intended to reflect what kind of success a player had in his or her tournament play during a particular year. Somebody could clearly win the Grand Prix and not be the best player in the country, but we hope it will indicate who had the best croquet year in competition.

I HAVE HEARD SOME SPECULATION WITH REGARD TO THE USCA CLUB TEAMS, FOR EXAMPLE, THAT THE EVENT, ALTHOUGH HUGE, IS NOT AS BIG AS IT WAS YEARS AGO, WHEN JACK OSBORN'S GRAND PRIX GAVE PEOPLE LOTS OF POINTS FOR PLAYING, EITHER SINGLES OR DOUBLES. SO WHEN THE POINTS WENT AWAY, SOME OF THE PEOPLE WENT AWAY….

And that's one of the reasons I thought the New Grand Prix would be a good idea. I know when I started playing croquet, I was excited about the prospect of going to tournaments and accumulating points for having played…..Even if it didn't mean much, it was exciting to see your name in the top 200 or maybe even the top 100.

YOU ARE PROBABLY A BIT TOO MODEST IN DESCRIBING WHAT YOU'VE DONE AND WHAT YOU'VE BEEN RESPONSIBLE FOR. I HAVE BEEN INVOLVED IN SOME PROJECTS WITH YOU GOING BACK MAYBE TEN YEARS OR MORE, AND OUT OF THAT EXPERIENCE WE HAVE SEEN AGAIN AND AGAIN THAT PEOPLE HAVE BEEN CHOSEN AS COMMITTEE HEADS TO BE RESPONSIBLE FOR MAJOR FUNCTIONS OF THE USCA, AND THEY MAY HAVE BEEN NICE PEOPLE, WELL-INTENTIONED PEOPLE, INTELLIGENT PEOPLE, WELL-CONNECTED PEOPLE, BUT FOR WHATEVER REASON, NOTHING HAPPENED WITH THE PROJECT, OR ALL THE WRONG THINGS HAPPENED. AND THE ONLY ISSUE I EVER HAD WITH THE USCA – AND I HAVE THE SAME ISSUE, I GUESS, WITH EVERY NON-PROFIT VOLUNTEER-BASED ORGANIZATION – IS THAT THE MANAGEMENT COMMITTEE AND THE CHIEF EXECUTIVE HAVE NOT PROVIDED ANYTHING LIKE THE KIND OF GUIDANCE AND OVERSIGHT THAT WOULD BE REQUIRED IN ANY MEDIOCRE PRIVATE ENTERPRISE OUT THERE… AND OF COURSE I AM ESPECIALLY AWARE OF THE FALURES IN THE AREAS OF MY OWN PROFESSION, IN CORPORATE COMMUNICATIONS, MARKETING PROJECTS, MEMBERSHIP INITIATIVES, THINGS THAT ARE REALLY FUNDAMENTALLY IMPORTANT, RATHER THAN MERELY 'NICE.' AREAS THAT THAN MANAGEMENT REALLY NEEDS TO BE RESPONSIBLE FOR…

Well it's a big question and a big problem. But this IS a volunteer organization, and if you're earning a living and there's a conflict between earning a living and doing the croquet project, you're going to have to earn your living first. And so, we rely on the good graces of people to do a lot of important projects. And you're right, a lot of the time it just slips through the crack or doesn't get done. And the Management Committee has to try to find the right people – the people with both the time and skill – to take on these projects. And that's a real trick.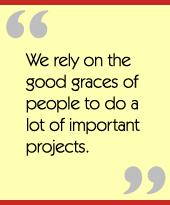 MAYBE THAT'S THE MAIN CHALLENGE, UP FRONT: FINDING THE RIGHT PEOPLE. OTHERWISE…YOU KNOW WHAT HAPPENS. I'M PROBABLY THE ONLY PERSON IN THE WESTERN WORLD WHO KEEPS A RECORD OF THE MINUTES OF THE ANNUAL MEETINGS – WHAT THEY SAID THEY WERE GOING TO DO LAST YEAR, AND WHAT THEY ACTUALLY DID, AND THE PEOPLE WHO WERE APPOINTED, AND…. SOME PEOPLE, YOU KNOW RIGHT UP FRONT ARE NOT GOING TO GET IT DONE. YOU SAY "WHAT?" YOU KNOW THAT PERSON IS NOT GOING TO DO THAT JOB, SO WHY IS THAT SLOT BEING FILLED? JUST BECAUSE IT'S EMPTY? I SAY THAT TO FILL A SLOT WITH SOMEONE WHO CAN'T DO THE JOB IS A DISSERVICE TO THE ORGANIZATION, TO THE MEMBERS, TO EVERYONE, INCLUDING THE PERSON WHO'S WEARING THE HAT AND MAYBE GIVING THE ILLUSION THAT SOMETHING IS HAPPENING. I SAY WHAT'S WRONG WITH LEAVING THE SLOT EMPTY? ISN'T THAT MORE HONEST AND PRODUCTIVE IN THE LONG RUN?
Well, I don't disagree with what you're saying. But because of the nature of the organization, there are going to be failures…
BUT DO YOU HAVE TO FILL A SLOT JUST BECAUSE IT'S EMPTY? I KNOW THIS IS A RADICAL VIEW. I SAY, LEAVE IT EMPTY.
That's an interesting question that I haven't thought about in detail. I think doing less than what's expected is usually better than doing nothing. Although I think if you know you're going to be doing less than is expected, you shouldn't set those expectations in that particular area.
AS ONE OF 3,000 USCA MEMBERS, I GIVE YOU MY PERMISSION NOT TO PUT THE HAT ON SOMEBODY'S HEAD UNTIL YOU FIND A HEAD THAT'S BIG ENOUGH TO WEAR IT… (chuckling)
An interesting suggestion.
YOU, BY YOUR PERSONAL EXAMPLE, GIVE THE LIE TO THE NOTION THAT A PERSON CAN'T DO A GOOD JOB AS A VOLUNTEER AND AT THE SAME TIME MANAGE THEIR PRIVATE AND PROFESSION LIVES. YOU HAVEN'T STARTED EDGING INTO RETIREMENT YET, HAVE YOU, AT THE AGE OF 52?
No, not at all. Believe it or not, I'm a practicing lawyer, I'm a partner in a law firm of about 27 lawyers, and I have a more than fulltime job as a lawyer. And it just so happens that because of the nature of my profession, I can structure time to enable me to play in a croquet tournament or work on a croquet project and make up for it by working a little later in the office. And as a civil litigator in the firm, I have a great deal of leeway about which cases I will take on and which I will pass on.
BEING THE USCA PRESIDENT HAS NOT BEEN A FULLTIME JOB FOR ANYONE SINCE THE ERA OF JACK OSBORN…
People have asked me, it's true, "How are you going to have the time to do this?" and my expectation is that it's not a fulltime job, in fact I'm counting on the fact that it's not a fulltime job, I've witnessed what has been done in the past, and I'm hoping I can delegate responsibilities to members who DO want to do the work…
YOUR EXPERIENCE IN NEGOTIATION AND CIVIL LITIGATION MIGHT STAND YOU IN GOOD STEAD, I THINK YOU'VE ALREADY BROUGHT SOME OF THOSE SKILLS TO BEAR IN THE USCA, UNTANGLING KNOTTY ISSUES IN A QUIET, DELIBERATE WAY, THINGS THAT COULD HAVE GOTTEN PEOPLE INTO MAJOR UPSETS, AND YOU'VE QUIETLY TAKEN ON THESE THINGS AND…..I'VE EVEN HEARD YOU SAY, RICH, "HEY, IT'S ONLY CROQUET!" (both laughing) WHICH IS AN OUTRAGEOUS THING FOR THE HEAD OF AN ORGANIZATION TO SAY, ISN'T IT….? EXPLAIN YOUR ATTITUDE.
My attititude is that this is an organization, it's a not-for-profit business, we employ people, and it's an important thing to most of our 3,000 members, but my general attitude is that you don't accomplish more by getting all panicked about something, you have to take everything in stride, and some people think that everything they're doing, if it doesn't' work out it's the end of the world, and I don't think that engenders intelligent and efficient effort.
WELL RICH, I'M NOT SURE I KNOW WHAT YOU'RE TALKING ABOUT, I'VE GONE THROUGH ABOUT FOUR OR FIVE ENDS-OF-THE-WORLD IN DEALING WITH THESE ORGANIZATIONS…(laughing)
I only wish I could have the same attitude on the croquet court that I have off the croquet court, and be able to say, "This doesn't matter that much," and if I could do that, I'd actually play better…
YOU BROUGHT UP IT UP, SO IT'S OKAY TO TALK ABOUT. YOUR FAMOUS EQUINIMITY REALLY DOES SOMETIMES DESERT YOU ON THE COURT, (both laughing) AND IF THERE'S ANYTHING BAD I HAVE TO SAY ABOUT RICH CURTIS, IT'S THAT HE JUST GETS TOO PRICKLY, TOO INTENSELY INVOLVED IN THE GAME, TAKES IT TOO PERSONALLY, LIKE A LIFE-AND-DEATH SITUATION, AND YOU'RE A ONE-HALF HANDICAP, RIGHT…??
I'm a minus one-half…
OH MY GOD, YOU'RE A MINUS HALF….
I don't take any offense. I probably play like a one.
YOU HAVE TO BE ABLE TO PRETEND THAT THE GAME IS IMPORTANT, OR YOU WOULDN'T BE AT THAT LEVEL, BUT WHAT DO YOU HAVE TO SAY ABOUT THAT? GIVEN YOUR ELEVATED OFFICE, ARE YOU NOW GOING TO HAVE TO BE A LOT MORE POLITE AND LOW-KEY IN THE HEAT OF COMPETITION?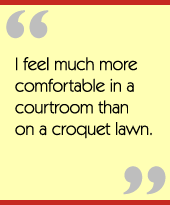 Well, I think the assessment is partly true, but I don't think that most people on the court will think that I'm impolite to them, I think they'll think I'm impolite to myself, I'm very intense, but I try to maintain civility with other players. I've been known to cry out or scream when I make a bad shot and unconsciously affect another player, and…. I'm trying as I get older to tell myself this game isn't that important, because I think that will actually make me play better, compete better. I'll tell you, I feel much more comfortable in a courtroom than I do on a croquet lawn.
AND MUCH MORE IN CONTROL…
Much more in control, and much more confident of my ability.
INTERESTING. I GUESS THAT'S REASON ENOUGH TO PLAY CROQUET, RIGHT?
I guess so, for the challenge. (laughing)
YOU DON'T WANT TO GET TOO COMPLACENT.
Well, I can't afford to be too complacent in a court of law; I'm just a little more at ease.
YOU'RE PROBABLY MORE LIKELY TO GO 'ALL THE WAY' IN THE COURTROOM THAN ON THE LAWN, BECAUSE, WITH THE LEVEL OF COMPETITION HERE, YOU MAY GET TO THE QUARTER-FINALS, SOMETIMES MAYBE THE SEMI-FINALS…
Once in a while, I even win 'em.
LIKE WHAT?
Gosh, that's a good question, Bob. A couple of years ago I won Piping Rock and in 1998 and 2000, Doug Grimsley and I won the national doubles championship.
AND OF COURSE, WITH YOUR PROFESSIONAL COMMITMENTS, YOU ONLY PLAY IN HIGH-LEVEL TOURNAMENTS…
For the most part, but really, I play in the tournaments where I'm likely to be with close friends, because I think one of the great things about croquet is that you establish these friendships, and because of the small croquet population, you go to a tournament anywhere and there are people you know from all over the country.
IF YOU COULD LEARN SOMETHING FROM THE EXAMPLE OF OTHER USCA PRESIDENTS, WHOM WOULD YOU CHOOSE?
Actually, the more I look at the things Jack Osborn did – although there were things that I think he had the wrong perspective on – I think that he knew a lot about how to grow the game. There are many good things about Jack, he did a better job of anybody of marketing the game and getting more people and more kinds of people involved in the game.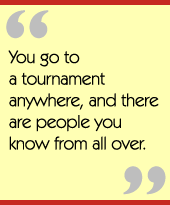 IT ISN'T MERELY A QUESTION OF RIGHT AND WRONG IS IT? ISN'T IT PARTLY A MATTER OF TIMING? ORGANIZATIONS HAVE A CYCLE OF GROWTH, LIKE ANY OTHER ORGANISM, AND IF YOU TAKE A LONG LOOK AT THE USCA, YOU MIGHT SAY THAT IT HAS NEVER SHUFFLED OFF THE NEGATIVE ASPECTS OF THE OSBORN LEGACY, SPECIFICALLY, THE KIND OF PATRIARCHY THAT THE USCA WAS UNDER HIS LEADERSHIP. THAT'S THE WAY HE PUT IT TOGETHER, AS THE CENTRAL COMMANDER, WITH THE REGIONAL VICE PRESIDENTS OUT THERE TO DO HIS BIDDING LOCALLY. AND THEY WERE GLAD TO DO IT. THEN FOXY CARTER TRIED TO CONSOLIDATE THE RESOURCES OF THE USCA, AND MAYBE LOCALIZE A BIT, I DON'T KNOW, AND FOXY AND BILL BERNE BOTH TRIED TO FIND EXECUTIVE DIRECTORS TO KIND OF RECREATE WHAT JACK OSBORN PROVIDED, AND OF COURSE THEY NEVER WHOLLY SUCCEEDED. JACK OSBORN WAS ONE OF A KIND. BUT THIS IS THE QUESTION: THERE REALLY HASN'T BEEN A CONCERTED EFFORT TO LOCALIZE, TO TAKE THE ORGANIZATION TO THE NEXT LEVEL OF GROWTH, WHICH HAS TO HAPPEN IN THE REGIONS, AT THE CLUB LEVEL, NOT JUST CENTRALLY.
I think you're right, corporations grow and evolve, and of course there's a demand for a centralized organization, but it IS important to get more grass roots. And a lot of people don't know that we have tried, and Dick Brackett tried, to move this out into the grass roots by empowering the district presidents, beyond the regional vice presidents, and some have taken this on, and some haven't. For example, there's a very healthy grass-roots organization in North Carolina, from Jeff Soo as the Regional VP on down, to Gene Young who is taking over as….
WELL, TO BE HONEST, THAT HAPPENED AS A FUNCTION OF THE PEOPLE IN NORTH CAROLINA GETTING THEIR OWN ACT TOGETHER, AND THE ROOTS OF THAT GO BACK A LONG WAY, NOT JUST IN RECENT HISTORY…
And in other areas, there are officers who have the title and assume it doesn't carry with it any particular responsibility, and we get back to what you talked about earlier….What do you do if you can't find anybody there in the region to take on the work?
AND SOMETIMES THERE ARE GREYBEARDS, PEOPLE WHO HAVE THESE OFFICES AS KIND OF AN HONORARY THING…
But on the other hand, I think there has been a quiet revolution. If you had said 12 years ago that Rich Curtis was going to be the president of the USCA, that Garth Eliassen was going to be the second vice president on the Management Committee, nobody would have believed that, because Garth was, in many respects, the black sheep, the outcast. Only about 10 years ago the headline in the National Croquet Calendar was something to the effect that "The USCA Pulls a Switcheroo" with regard to the election of regional vice presidents. So now, today, the guy who writes those headlines has this office, and I think that says something about where the USCA is going. It's a sea change.
NONE OF THAT HAS MADE A DIFFERENCE IN THE NUMBERS, RICH. THE CLUBS LOOK THE SAME AS THEY DID 10 YEARS AGO…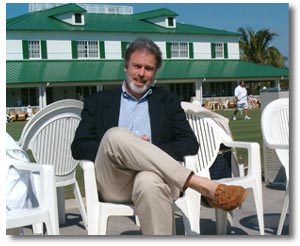 Rich Curtis began his term as sixth USCA president in March, 2005.

One of the things we need to do is figure out how to get more members, more people playing croquet. Surely far more than 3,000 people would be interested in playing USCA croquet if only we make it happen, get the word out there. How do we make the organization meaningful for them to join? That has to be done on a grass-roots level.

THE NORTH CAROLINA GRASS-ROOTS ARE, WITHOUT QUESTION, THE BEST NOURISHED AND THE MOST VITAL AND THE MOST PROMISING FIELD OF GROWTH IN THE USCA RIGHT NOW.

Yes.

AND THERE'S A LOT OF ACCESSIBILITY TO THE PUBLIC THERE, THERE ARE A LOT OF YOUNGISH GUYS THERE PLAYING WHO HAVE OTHERWISE KIND OF NORMAL LIVES – I MEAN, EXCEPT FOR PLAYING CROQUET! – AND I THINK THERE'S SOMETHING TO BE LEARNED FROM THOSE GUYS….

Absolutely!

THEY GET TOGETHER – THIS IS A CLASSIC DEVELOPMENT MODEL – AND HAVE "VISION" MEETINGS TOGETHER, AND WHEN ONE OF THE NORTH CAROLINA PEOPLE TOLD ME THIS, I SAID, 'MY GOD, THAT'S WHAT WE DID IN THE EARLY EIGHTIES IN SAN FRANCISCO, WHEN WE HAD NOTHING, AND WE SAID, WE WANT THIS, AND THIS, AND THIS, AND THIS, AND IT SEEMED IMPOSSIBLE, BUT WE LAID IT OUT THERE, AND OVER THE COURSE OF A DECADE, WE WATCHED IT ALL HAPPEN, AND A LOT MORE. AND THIS IS NOT THAT UNUSUAL. THERE'S NOTHING AIR-FAIRY ABOUT THAT, THAT'S THE WAY ORGANIZATIONS BEGIN AND GROW – FROM VISION, TRANSLATED TO PURPOSE, TRANSLATED TO SPECIFIC GOALS, PUT INTO TIMELINES. THAT'S WHAT THEY DO IN CORPORATE AMERICA, AND THEY'RE DOING THAT IN NORTH CAROLINA…

The task is really empowering the district presidents – that is, the ones closest to the grass roots. Let's take an area I know something about, where I live. There's a New York State district president, and a Long Island district president. If you look outside of Long Island and Manhattan, there's not many croquet clubs out there, and it's a large area. So obviously the district president has to empower the clubs that already exist and try and help those clubs grow, but it's pointless to say, 'Well, what are we going to do about Syracuse?" and "Why don't we have a club in Syracuse?" If the district president lives far away in Albany, how do you make something happen without having somebody "on the ground" so to speak? We almost have to wait for someone to come to us and say, "Hey, I'm interested in playing croquet in Syracuse." Then we've got somebody that we can help…

ABSOLUTELY. PEOPLE ARE ALWAYS WRITING TO THE WEBSITE SAYING THAT, OR "WE'RE HAVING A CROQUET FUND-RAISING PARTY, CAN YOU HELP?' AND SOMETIMES THOSE CONTACTS CAN TURN INTO A CLUB…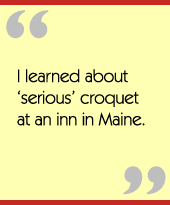 Yes, and there are some people who think of croquet as no more than a one-time, cute thing to do, and the trouble is, you never know whether there are going to be four or five people who come to this event without necessarily any interest in croquet and see it played and say, "Wow, this is something I'd like to do more of!" And I'll use myself as an example. I first learned about "serious" croquet at an inn in Maine that I still go to – the Claremont- and they have an annual 9-wicket tournament, and I happened to be there when the tournament was just ending up and there was a display in the lobby, and tbey had Jack Osborn's book, and I read the book and called up the USCA and said, "Where can I play around here?" And there wasn't a place anywhere around Rochester. So I had to wait four years until a friend of mine put together an event called "Cameras, Croquet, and Cars" at the George Eastman House (George Eastman being the founder of Eastman/Kodak) and so there were antique cars and the historic house and then as a further attraction was a croquet exhibition between Johnny Osborn and Jim Erwin on a long-grass side lawn, but with real wickets. This was published in the paper, I went over to watch in the afternoon, and I was amazed. My friend John Gorsline had seen croquet played down on Long Island, and he put this together - he's a member of the USCA now - and he had the foresight to put a sign-up list at this Eastman House event asking if anyone was interested in playing croquet in Rochester, and so that's how those of us in Rochester got started, and after a while one of the members built a croquet club in their back yard, and that's how it got started.
IT ALL HAPPENS BEGINS LOCALLY. I OFTEN USE AUSTRALIA AS 'BIZARRO WORLD', YOU KNOW, UPSIDE DOWN-UNDER, WHERE EVERYTHING IS DIFFERENT BUT THE SAME, AND THE CROQUET IS LIKE THAT, THEY STARTED LOCALLY INSTEAD OF CENTRALLY AS CROQUET WAS STARTED IN THE USA, AND THE STRENGTH OF THAT WAS THAT THEY HAD TO DO EVERYTHING LOCALLY. THIS WAS IN THE 19TH CENTURY, AND THERE WERE VAST DISTANCES, AND THE BLESSING WAS THAT IF THEY DIDN'T ORGANIZE LOCALLY TO GET IT DONE, IT DIDN'T GET DONE, AND EVEN TODAY, THE SEVEN STATE ORGANIZATIONS ARE WHERE THE POWER AND DIRECTION LIES IN THE SPORT IN AUSTRALIA. THEY HAVE SOMETHING LIKE 20 CLUBS IN THE SYDNEY AREA ALONE, AND RELATIVE TO THE POPULATION, AUSTRALIA HAS TEN TIMES AS MANY AFFILIATED MEMBERS AND CLUBS AS WE HAVE IN THE USCA. I NEVER TIRE OF TELLING PEOPLE THAT WE SHOULD HAVE TEN TIMES THE MEMBERSHIP THAT WE HAVE, AND AUSTRLIA IS THE PROOF OF THAT.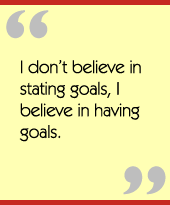 I think that's true, but I think a reachable goal is twice the number we have now in the next…whatever.
ARE YOU PUTTING THIS FORWARD AS AN EXPLICIT GOAL FOR YOUR TERM OF OFFICE?
No, I don't believe in stating goals, I believe in having goals.
WELL, A TARGET THEN….
I think to state what your ultimate goals are is counter-productive. I think if you accomplish your interim goals constantly, as a way of life, your ultimate goals fall into place. But I think a reachable number would be 6,000 members – twice as many as we have now, and that would make…
A HUGE DIFFERENCE. BUT YOU WON'T PUT THAT OUT THERE EVEN AS A TARGET? (chuckling)
No, not at this point, not in this interview. I want to say to the members of the management committee, "Look, we need to grow the membership. Let's talk about the ideas we all have about how that can come about." I see myself as a facilitator, and as somebody who has some responsibility to lead, but in order for this to be successful, we have to empower people – excuse the corporate words – and get everybody involved. One of the things I've learned from Dick [Brackett, outgoing USCA president] was to actually run things by a number of different people and solicit their opinion on it, and he was very good at soliciting my opinion on a lot of things, and we had a number of disagreements, as people will. There are a lot of very bright and very talented people in this organization, and to assume that I or any individual has "the answer" to the exclusion of others is just…
YES, BUT YOU KNOW HOW TO TAKE THE BALL AND RUN WITH IT, WHICH YOU HAVE ACTUALLY DONE WITH A NUMBER OF PROJECTS…
Yes, you can, and I have done that with a number of projects, and I usually see that it gets done…. One more thing here, we talked about how on a local level you have to be there to assist people when they show interest. We also have to get the word out on a national level. We need to make people aware of our existence. People in the media are dying for "soft news", and we should give it to them, it's our job to get the word out to the media, to the radio stations at the least. How hard is it to have the local radio station – never mind, even, the TV stations – to say, "Hey they're having a big croquet tournament right down the road, and you can go out and have a look!"? Doesn't hurt, does it?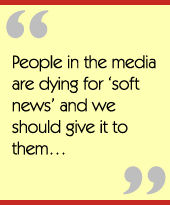 AS YOU WELL KNOW – BECAUSE YOU WERE A LARGE PART OF CLEANING UP THE MESS – THE PUBLICATION OF THE LAST RULEBOOK WAS KIND OF A MESSY PROCESS, THE DRAFT WASN'T PUT ONLINE, IT WASN'T SUBJECTED TO BROAD REVIEW, THERE WERE IMMEDIATELY ALL SORTS OF ERRORS AND PROBLEMS AND AMBIGUITIES THAT HAD TO BE CLARIFIED ALMOST BEFORE THE INK WAS DRY, AND SO THE RULES AND REVISIONS AND INTERPRETATIONS WERE CLARIFIED AND WE PUT IT ALL ONLINE, BUT PEOPLE ARE STILL OUT THERE ON THE COURT CARRYING THOSE RULEBOOKS FROM 1999 OR WHENEVER, WITH LOTS OF WRITING IN THE MARGINS, AND LITTLE SCRAPS OF PAPER…. SO WHAT'S ENVISIONED FOR THE FUTURE OF THE RULES?
Well, that's a good question, The Rules Committee has been in the process intensively for the last year considering any serious proposal about changing or clarifying the rules, and we have been doing that, and we are getting VERY close to the end. And my plan is to get this revision done in the next few months, because after that it has to go to the Management Committee, and then it has to be printed, so it's a long process.
IT SEEMS TO ME – AND AS YOU KNOW I ARGUED STONGLY FOR THIS BEFORE THE CURRENT BOOK WAS PUBLISHED – YOU OUGHT TO PUT THE THING ONLINE TO LET PEOPLE BROADLY REVIEW IT, AND OUT OF THAT BROAD REVIEW – FROM PEOPLE SEEING IT WHO HAVE NOT BEEN THROUGH THE PROCESS OF CREATING IT (WHICH SKEWS THE PERCEPTION OF IT) YOU WILL FIND MANY ERRORS AND UNCLARITIES TO CORRECT AND MAKE THE PRINTED VERSION BETTER.
There is something to be said for putting the proposed rulebook online, but I think that would extend the process by another six months or a year, so what we have done is listen to whatever anybody has said, but I don't think we're going to put it online…
YOU DO UNDERSTAND WHAT HAPPENS WITH A PIECE OF TECHNICAL WRITING. YOU CREATE FROM THIS BODY OF DISCUSSION AND INFORMATION A RULE THAT YOU UNDERSTAND BECAUSE YOU WENT THROUGH THE ENTIRE BACKGROUND PROCESS OF DISCUSSION AND REFINEMENT. BUT THEN WHEN YOU DELIVER IT TO A READER, THEY HAVEN'T HAD THE BENEFIT OF THIS BACKGROUND, SO THEY DON'T UNDERSTAND IT, OR THEY SPOT UNCLARITIES THAT YOU DIDN'T SEE BECAUSE YOU ALREADY UNDERSTOOD THE INTENTION OF THE RULE…
Well, I don't doubt that would make a difference, but the amount of work that would involve is unconfrontable. Let's say you publish this online and 200 people ask a question, and you can't deal with them, logistically it's impossible.
I MUST CONFESS I DON'T UNDERSTAND THAT, BECAUSE 190 OF THEM WOULD PROBABLY BE IDIOTIC QUESTIONS, AND YOU WOULD PROBABLY FIND OUT THAT IF YOU PUT A COMMA THERE, THE MEANING IS CLEAR TO EVERYONE…OR SOMETHING ON THAT ORDER….
Well, I understand, but you and I do have a disagreement here about the process. Obviously, the rules can't be a fluid thing, and we have to have a rulebook, and there's never going to be a perfect rulebook, and as soon as we have a new rulebook, we'll start working on the next edition. Len Canavan told me the same thing is going on with the Golf Croquet rules, incidentally. So do people have to wait another six months or a year for a new rulebook? I don't think we should make them wait.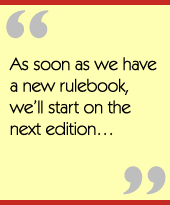 BUT YOU WOULD MAINTAIN YOUR WORKING PROCESS, THAT IS, YOU WOULD CONTINUE TO PUT CORRECTIONS, UPDATES, AND INTERPRETIVE MATTER WHEN IT WAS APPROPRIATE ONLINE ON WWW.CROQUETAMERICA.COM, SO THERE WOULD ALWAYS BE A CLEAR AND ACCURATE AND COMPLETE PRESENTATION OF THE RULES THERE, WHILE…
Oh, absolutely. That's going to continue. In fact, there may be a day when we don't even need a printed rulebook any more, although people may always want to have a copy they can carry in their back pocket.
WELL, THIS BRINGS UP A QUESTION DEAR TO MY INTERESTS AS A LIFELONG CORPORATE COMMUNICATIONS PROFESSIONAL. IT LOOKS AS THOUGHT THE USCA DOES NOT HAVE AND HAS NOT HAD FOR SOME TIME A COORDINATED, INTEGRATED, CORPORATE COMMUNICATIONS POLICY AND PLAN.
I'm not sure that it does.
BY THAT I MEAN AN ORGANIZED INTENTION FIRST TO DETERMINE WHAT DO WE WANT TO COMMUNICATE, TO WHOM DO WE WANT TO COMMUNICATE IT, WHAT IS THE MEDIUM WE WANT TO USE, WHAT IS THE FREQUENCY, IN WHAT FORM IS THIS COMMUNICATION, WHAT ARE THE COST FACTORS INVOLVED VERSUS THE BENEFITS IN VIEW OF THE CONSTANTLY CHANGING TECHNOLOGIES AND DEMOGRAPHICS OF ONLINE USE, WHAT'S THE CORRECT BALANCE TODAY AND IN THE NEAR FUTURE BETWEEN ONLINE AND IN PRINT, AND DO WE CONTINUE TO PUBLISH THE USCA DIRECTORY ON PAPER, FOR EXAMPLE, IS IT TIME TO CONSIDER ANOTHER PUBLISHING PROGRAM THAT MIGHT INCLUDE, ONCE AGAIN, AN ANNUAL…? BECAUSE THE WAY ALL THIS IS HAPPENING IS, YOU JUST KEEP DOING THE SAME THING OVER AND OVER, WITHOUT CREATING AN OVERALL COHERENT POLICY THAT WORKS IN ACCORDANCE WITH ACTUAL, PRESENT-DAY CONDITIONS…
Well, first of all, when you say "corporate communications" you aren't talking about communications between the USCA and its members are you?
YES, I AM, I'M TALKING ABOUT EVERYTHING.
Everything that the USCA puts out, both to the public and to its members.
YES, SURE, AND THERE'S LOTS OF OVERLAP. THE WEBSITE, FOR EXAMPLE, IS AVAILABLE TO EVERYONE, AND FUNCTIONS AS BOTH A PUBLIC INFORMATION BROCHURE AND PRESS KIT AND A COMPENDIUM OF MEMBERSHIP SERVICES, LIKE THE HANDICAP AND GRAND PRIX…
The directory, unlike the rulebook, perhaps, is an example of something that could be online and constantly updated, rather than published every three or four years and always be out of date. And we have to look at that. One thing I'd like to know, frankly, is how many members now are online. I suspect a very high percentage are.
IN ENGLAND, IT'S SURPRISINGLY HIGH, THEY DID A RECENT SURVEY…
Yes, I heard this somewhere.
I SENT IT TO YOU IN AN EMAIL…
Oh, yes, wasn't it 82 percent or something like that…?
ACTUALLY, IT WAS HIGHER, I THINK, LIKE 90 PERCENT WHO HAVE ACCESS, AND 82 PERCENT WHO LOOK AT THE WEBSITE REGULARLY….
Yeah, something like that.
IT MIGHT BE DIFFERENT HERE. WE MIGHT HAVE AN OLDER POPULATION HERE.
Well, some people, like myself, if they want to read something for content and understand it, I don't want to read it on a computer screen, I mean I can read an email of course, but for some of your lengthier articles I want to read on Croquet World Online, I print those out…
SURE…
The Directory is not something people want to read, so that's a perfect thing to put online for reference. It's time now to think about whether we want to do the Directory again on paper, or whether it belongs exclusively online, because the vast majority of our members have online access. That would make an increase in the service, not a decrease, because it would be constantly updated.
YES, AND YOU WOULD HAVE MORE MONEY TO DEVOTE TO OTHER MORE USEFUL PROJECTS, LIKE MAYBE A GLOSSY ANNUAL…
Could be.
OKAY, SO HERE WE ARE AT THE NATIONAL CROQUET CENTER, WHERE AFTER A COUPLE OF YEARS OF UNDER-FINANCING, FALSE STARTS, PARTTIME, OFFSITE MANAGERS, AND INSUFFICIENT STAFFING AND CAPITALIZATION, THE PLACE NOW HAS THE RESOURCES AND MANAGEMENT STAFF IT NEEDS AND LOOKS LIKE IT WILL SURVIVE AND MAYBE EVEN SHOW A PROFIT IN A COUPLE OF YEARS. SINCE I MOVED OUT HERE FROM SAN FRANCSICO MORE THAN FOUR YEARS AGO TO HELP LAUNCH THE CENTER, I CERTAINLY HAVE A POINT OF VIEW ABOUT THE POTENTIAL ROLE OF THE CENTER IN THE AMERICAN CROQUET UNIVERSE. WHAT IS YOUR ESTIMATION OF THE ROLE OF THE NATIONAL CROQUET CENTER IN THE GROWTH AND DEVELOPMENT OF USCA CROQUET?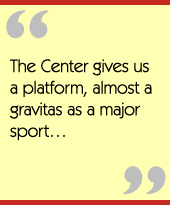 I think it's the crown jewel in the American constellation of croquet. The three organizations, the Croquet Foundation of America, the USCA, and the National Croquet Center have to have a symbiotic relationship, intertwined for better or worse. The fate of all the organizations is shared. That's not to say that if the Center were not here the USCA would not continue, but the Center gives us and croquet a platform, and almost a gravitas as a major sport, something that we can point to and be proud of. It's even a tourist attraction to the people in the South Florida area and to visitors, and that can make a difference, certainly. But on the other hand, the USCA is a national organization, and has a responsibility to all the members, who may never set foot here in Florida.
MAYBE, THOUGH – AND HERE'S A ROSY PROPOSITION – MAYBE WHEN THIS CENTER BECOMES FINANCIALLY VIABLE, AND BEGINS TO POST A PROFIT, MIXING INCOME FROM MEMBERSHIP AND COURT RENTALS WITH PROFITS FROM CORPORATE EVENTS AND PARTIES WITH A UNIQUE CROQUET AMBIENCE, MAYBE THAT COULD STIMULATE THE CREATION OF OTHER, SIMILAR CENTERS AROUND THE COUNTRY. SO THAT WOULD MAKE THIS CENTER BE A MODEL THAT SUCCESSFULLY GENERATES OTHER CENTERS OF GROWTH… FOR EXAMPLE, EVEN TODAY IN MISSION HILLS IN CALIFORNIA, WITH ITS EXPANDED SIX-COURT CAPACITY (WHICH WOULD HAVE MADE IT THE LARGEST CROQUET FACILITY IN THE COUNTRY JUST A FEW YEARS AGO) ALONG WITH ITS MEETING HALLS AND OTHER AMENTITIES, PEOPLE ARE CALLING IT 'NCC WEST'.
Yes, and it's great that the Nationals are going to be there this year, and I don't think that's far-fetched at all. We need to make sure first that the Center can sustain itself, but sure… One of the problems is that we can publicize croquet, but if there are no courts where the people are, we don't get much benefit from that, they're not going to be playing.
WHICH COMES FIRST, THE COURTS OR THE PLAYERS….?
"If you build it, they will come…"
(both chuckling)
WELL, I HATE TO TELL YOU, BUT LOOK AT WIMBLEDON, 130 YEARS AGO, AND LOOK AT LOTS OF CROQUET LAWNS AROUND THE USA IN THE LAST COUPLE OF DECADES, LAWNS THAT HAVE BEEN BUILT HERE AND THERE…
And somebody dropped the ball, yes, that has happened.
OKAY, SO LET ME ASK THE QUESTION I ALWAYS ASK AT THE END: WHAT QUESTION WOULD YOU LIKE TO ANSWER THAT I HAVEN'T ASKED YOU YET?
You know, I think you've been pretty comprehensive…
I TAKE THAT AS A COMPLIMENT, BUT STILL THERE'S SOMETHING….
Well, it's a good interview, you've put some thought into it. There was one more thing I was wanting to say about the model of Australia versus the more centralized model of the United States. In one sense, early in croquet history as you and I both know, the USCA although it was trying to be a national organization was not having much success in the western part of the country. There was an alternative organization created in the western part of the country, and I think for a number of reasons….well, that was not one of the high points of croquet in the United States, and it wasn't one of the high points of Jack Osborn's career, to be honest. But what happened in the West has shown that probably what happened in Australia would not work here. Which is not to say that there shouldn't be more localized activity. But I don't think there's enough interest at this point…
I DON'T UNDERSTAND WHAT THE A.C.A. HAS TO DO WITH…
The A.C.A. did not grow and prosper in the West.
THE A.C.A. WAS A RESPONSE TO JACK OSBORN'S FAILURE – IN FACT, REFUSAL – TO INCORPORATE INTERNATIONAL RULES PLAY IN THE USCA. ONCE THE RIVAL ORGANIZATION STARTED PRODUCING INTERNATIONAL RULES EVENTS THAT PLAYERS WERE ATTENDING IN SIGNIFICANT NUMBERS, OSBORN PRE-EMPTED THEM WITH HIS OWN EVENTS, WHICH EVENTUALLY BECAME MORE SUCCESSFUL, AND THERE WAS NO REASON, FINALLY, FOR THE A.C.A. TO EXIST AFTER THE USCA ADOPTED THEIR PROGRAM.
Yes, it was started because the USCA was not providing what was wanted. But my point was only that the A.C.A. failed to sustain itself and grow even in the West, which suggests, maybe, that if we did have separate locally based croquet organizations around the country, that wouldn't work very well. And that experience also suggests that the USCA today needs to look out into the country at the various regions and figure out what it is people in various areas of the country need from the United States Croquet Association in order to grow.
YOU NEED TO ANSWER THE QUESTION, 'WHY SHOULD WE JOIN THE USCA?"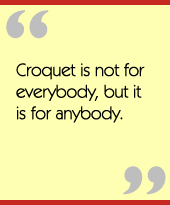 Exactly. We have tried to do this more and more in the last years, the USCA does try to be more responsible to members' desire to compete in International Rules, for example. And another potential source of growth, of course, is Golf Croquet, and we're trying to provide plenty of opportunities for people to play Golf Croquet; and historically the most neglected group of croquet players has been the 9-wicket crowd, and we have even taken the view that this is not "real croquet" and we shouldn't get involved with it. We're recognizing now that this group should not be neglected, and we've entered into a licensing agreement with Franklin Sports and intend to hold 9-wicket tournaments around the country, and we feel that we can be responsive to the needs of those people, too.
IN THE PAST, THE USCA MANAGEMENT HAS BEEN ALMOST CONTEMPTUOUS OF THE NINE-WICKET MARKET, WANTING MOSTLY TO EXPLOIT IT TO RECRUIT NEW SIX-WICKET USCA MEMBERS.
I was thinking about this issue not long ago, and a motto came into my head, and it's this: "Croquet is not for everybody, but it is for anybody. So you might not be interested in croquet of any kind, and that's too bad. But if you're interested in croquet of any kind, I want us to be able to say, 'We have a place for you in the USCA, and our association is big enough for everybody."
YOU HAVE TO ACKNOWLEDGE THAT EVEN THOUGH THERE ARE MORE AND MORE PUBLIC COURTS, THE SPORT IN AMERICAN STILL, OVERWHELMINGLY, HAS AN EXCLUSIVE IMAGE.
In correspondence with the president of a USCA club not long ago, this man said, "You know, in my time as a member of the USCA, it always seems to me that the USCA is trying to figure out ways to exclude people, rather than include them." And I think sometimes even in our personal dealings out on the croquet lawn, we lord it over a newcomer, we enjoy knowing more than they do – and I know everybody doesn't do this, and it doesn't always happen – but there's a tendency to do that, to make it uncomfortable for newcomers. Every game we play doesn't have to be a competition. We say this game is fun and relaxing. Why can't we welcome novices in that spirit? And that good sporting spirit of croquet includes calling faults on yourself, not having to have a referee, and practicing ordinary courtesy on the court – especially with the newcomers who are going to make the sport grow and flourish, for everyone's benefit.
RICH, THIS IS A GOOD PLACE TO END, DON'T YOU THINK?
Good enough.
---