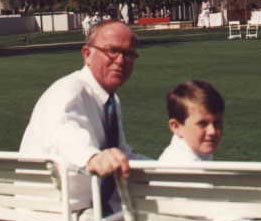 The godfather with his youngest son and protege, circa 1991. Father and son observe the finals of the Arizona Open at Gainey Ranch in Scottsdale. In later years, one would be surprised to see the younger Fournier watching instead of playing in the finals.

Don Fournier, Senior, was a prominent dentist who lived with his family near downtown Phoenix in a big house on a quiet cul de sac no more than several miles from the place of his birth. He will long be remembered in the croquet world for the founding of what could turn out to be one of the strongest croquet dynasties in the history of the sport.

If he were here to agree with this statement, he would do so, with his typical energy and enthusiasm. It's hard to believe the man was in his mid sixties. Sixty-year-olds seldom have that kind of energy. He seemed always to be "up." If he wasn't playing, he was there cheering for his favorites - and he had his personal share of glory on the court.

One of his best playing moments was his defeat by one point of multiple national champion Wayne Rodoni in the 1999 Calzona in San Francisco. This annual contest between California and Arizona is one of the strongest tournaments in the country. Though he was the "weak link" on the team, he put himself into the game 100 percent, and he came through for the team.

It's that competitive spirit that infected his entire family. Almost all of them play croquet, including his father-in-law, who manufactures mallets - and importantly including his three sons: John, Don Jr., and Jacques.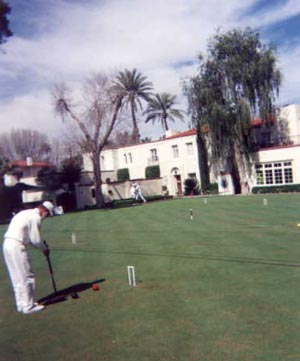 The Fournier court is the one of the newest and best of the Phoenix area lawns. It was sometimes Don Senior's pleasure to manicure it severely, making it an incredily fast surface that called for the most delicate of touch shots - especially in American Rules boundary play. He would observe the overshooting from the sidelines with barely restrained glee.

It started out simply enough. He built a miniature court behind his house, overlooking the golf links. What started as a casual pastime turned into a passion. The small court wasn't good enough for the Fornier family. By the early nineties, he had made the mistake of building a full-sized croquet court in his front yard by the sodding method - which almost always results in rolls and swales. Not atypically, he had been in too big a hurry to get it done. But he fixed it. Eventually, it was a superb lawn of which he was justifiably proud and a key venue for all the signficant croquet tournaments in the area.

The Fournier clan are almost alone responsible for the resurgence in Arizona player power in the nineties, sparked by the building of the Fournier lawn and the creation of an atmosphere of competition and conviviality around their front-yard court. Thursday is "croquet night' at the Fournier home. Croquet under the lights on Thursday night became the training ground of the Fourniers and the best players in Arizona. It's the same prescription that made Arizona the greatest playing power of the eighties, first at the 3/4 sized lawn of Stan Patmor, then in Ren Kraft's back yard: You get the guys together, and you play. Hard.

Don tended to speak in superlatives because that's the way he thought, that'swhat he aimed for: "Have you ever seen a faster lawn?" he would ask with genuine glee, then wait intently, as if daring you to come up with a "Yes."

He styled himself the "godfather" of Arizona croquet, and made it come true. No hired press agent could have done it better. If every state had one promoter of the sport like Don Sr., American players would rule the world. According to Don, that's exactly what ought to happen in this sport, and soon.

All three of his sons have distinguished themselves in croquet. All three have represented the U.S. on one international team or another. They would all agree that Jacques, former boy wonder, leads the family parade of croquet champions. Jacques won the 2000 Sonoma-Cutrer World Championship and is widely seen as America's best hope for anchoring a future USA world team championship. He's in his first year at the University of Virginia, building the kind of collegiate croquet team that Don, Sr., would approve of. No one doubts that it will shortly become the strongest collegiate team in America.

He was diagnosed on June 13, 2000, with a terminal brain tumor. He underwent two surgeries and radiation. He fought hard in the care of his family, who kept constant vigil. He died on October 19.

Don is survived by survived by one brother, Dr. Dudley J. of San Francisco; three daughters, Julia, Anne, and Catharine; three sons, Don, Jr., John, Jacques; and Nancy, his wife of 24 years.
---

Obituaries

On Thursday, October 19, 2000, Dr. Donald Fournier passed away peacefully at his home after a brief illness. Dr. Fournier was born on October 16, 1934 in Phoenix, Arizona to Dr. and Mrs. Dudley T. Fournier. He was a proud graduate of Kenilworth Elementary School and St. Mary's High School. He later attended Stanford University, and the University of Southern California for undergraduate studies and earned his doctorate in dentistry from the University of Nebraska in 1958.

After dental school, he returned to Phoenix, to begin his practice of dentistry. His love of dentistry was well known to all who knew him. He cherished his friendships with his patients and would always say that he looked forward to Monday mornings because dentistry was so enjoyable for him. He loved dentistry so much that he wanted to share his interests with his fellow dentists and peers. He started numerous study clubs over the years bringing top dentists in their fields to Phoenix for seminars. He was also a visiting professor of the Perio-Prosthodontics Department at the University of Nebraska, an instructor of oral radiology at Phoenix College Dental Hygiene School, and was involved in the Continuing Education School of the Central Arizona Dental Society. He was a lecturer to dental study clubs, dental societies, U.S. Armed Forces, national dental organizations, university faculties and university post doctoral students in the United States and foreign countries from 1962 to 1998. He donated his dental skills to Mercy Dental Clinic for 40 years. He was active in many civic organizations which included CODAC (Community Organization for Drug Abuse Control), the Lukesmen (Volunteer Organization for Men for St. Lukes's Hospital), the Citizen's Crime Commission, Osborn School District Governing Board, the National Ski Patrol, The Phoenix House, Longview Little League and the Phoenix College Dean's Advisory Committee.

His professional organizations and honors were worldwide. He was an active member of the American Academy of Restorative Dentistry, the Pacific Coast Society of Prosthodontists, the American Academy of Gold Foil Operators, the Academy of Operative Dentistry, and the International Association of Dental Research, Prosthodontic Section and he held offices in most of these organizations. Dr. Fournier held honorary degrees from the American College of Dentists, and the International College of Dentists and has been included in Marquis Who's Who in the World since 1993. Dr. Fournier was on the active staff of St. Joseph's Hospital and Medical Center and was chief of the Dental Staff in 1968. He was also retired from the Arizona Army National Guard as Lt. Col., State Dental Surgeon.

In recent years his second passion became tournament croquet. He was the founding member of the Downtown Croquet Club, and an active member of the Arizona Croquet Club. His tournament lawn was his pride and joy.

Dr. Fournier is survived by his wife of 24 years, Nancy Hamm Fournier, six loving children, Julia M. Fournier, Donald F. Fournier, Jr., John Robert Fournier, Anne Fournier Selin, Catharine J. Fournier, Jacques E. Fournier ten adorable grandchildren and one brother, Dr. Dudley J. Fournier of San Francisco.

Funeral Mass will be held on Saturday, October 28, 2000 at 9:30 A.M. at St. Mary's Basilica at 231 N. 3rd Street, Phoenix, Arizona. Procession and interment immediately following mass will be at St. Francis Cemetery, 5005 E. Oak Street. A reception following the interment service will be at the Fournier family's residence. Our family cordially invites all who knew Don to participate in the celebration of his life and come together to honor his memory.

In lieu of flowers, the family requests memorial contributions to be made to Barrow Neurological Institute's Brain Tumor Center, specifically for research of glioblastoma treatment. Please send to the attention of Dr. Joan Rankin Shapiro, 350 West Thomas Road, Phoenix, Arizona 85013. Arrangements handled by Whitney & Murphy Arcadia Funeral Home

[Picture of Don, Sr., and Jacques by Rory Kelley; other photos and text by Bob Alman; layout by Reuben Edwards; obituary from The Arizona Republic.]
---