The Hall of Fame speech
I shall not deliver from a podium



by Bob Alman
photographs by Erv Peterson, Mike Orgill and others as noted
layout by Reuben Edwards
Posted November 1, 2015


---

The only time I have spoken at the annual HoF ball--which is both a fund-raiser and an occasion for honoring extraordinary contributions to the sport and the USCA--is when I have nominated an inductee, such as John McMillen, first president of the Foundation. The rule makes sense. With a great live band, and more than 100 people sitting at rounds-of-ten waiting to dance and talk, who needs more speeches? But the fact is that I have an extraordinary connection to all three of this year's inductees--stories to tell that nobody else knows--good and sufficient reason for writing this article. I won't have to cut it short because of time, or annoy you with a too-long speech when you're itching to get up and dance to the music. You can scan it if you like, but you do so at the risk of missing an intimate personal view into the history of croquet in America, with some elements of "news" not fit for publication in "official organs"--or even, come to think of it, for speaking from a podium!

---
When somebody somewhere asks me what I do and I tell them about my croquet career, after they finish laughing, they're apt to ask a further question: How did that happen?

I have two answers, both probably correct. The "final" cause (as the philosophers would say) is that my grandmother always beat me at backyard croquet when I was a lad of seven or eight, and she did it viciously, sometimes sending my ball behind the chicken house, cackling with glee. (She was a kind and generous woman, and knew the difference between "real life" and a game. I didn't at the time, so I was upset: powerful motivation, some would say, for what happened later.)

What happened later--much later--was Mike Orgill. I think it's fair to say that unless I had met Mike Orgill, I might never have played USCA croquet. But unless he had met me, he might never have become the important figure we are honoring in this year's 2015 Hall of Fame. That's what happens with pals: You give me, I give you, and finally you don't even remember who did what and who caused whom.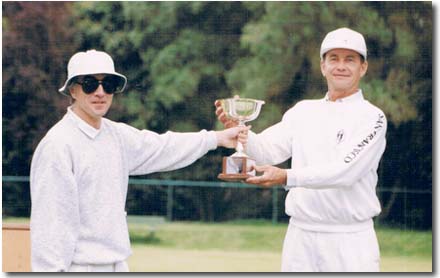 That's the Golden Gate Challenge Cup, for the winner of a passionately contested two-weekend team contest for four doubles pairs each between Sonoma-Cutrer and San Francisco, when they were the strongest players' clubs in the country. Each of the clubs won one year and lost the other, so it's hard to tell here which team captain is presenting the sacred cup to which other team captain: Orgill on the left, or Alman on the right.

But here are some of the facts, in sequence: I moved from Manhattan to San Francisco in 1975 and shared a huge flat in the Haight-Ashbury with my former secretary, Bonnie Simpson, who said to me the following October, "My office isn't having a Thanksgiving party this year, so is it okay to invite them here?" I guessed it would okay. "How many, do you think?" I asked. "No more than 30 or 40," she said.

About 50 people came, and one of them was Mike Orgill. We chatted. He was a writer, hired in Manhattan as part of a small team writing a book about Bonnie's boss--a truly interesting man who was a well-known personality in the dawning California New Age. I told Mike something about my background, and he said, "We have an opening for one more person, but it's mostly transcription and editing of speeches and talks we need to use for the book."

At this time, I was not interested in "serious" work, and it sounded ideal. Mike encouraged me to apply. I did apply. I got the job. Mike and I became friends. We laughed a lot. We did crazy and sort of hip things that sometimes included Helen, Mike's wife. After a few months I proposed forming a croquet group that we would call "Guerilla Croquet," the idea being that we would go to "forbidden" lawns looking authorized in white clothes, set up a 9-wicket court, and play croquet and get away with it.

In the 70's people did that sort of thing in California, in the spirit of "street theatre," or performance art, but we would do it on lawns with mallets in white clothes, looking "authorized."

Mike thought it was a nutty idea, and immediately agreed that we should do it. We recruited friends who became regulars, and a couple of Saturdays every month we went out and found a challenging venue and carried out our "theatre" as planned. (In the course of doing this, we formulated our own rules which were to become for a few years in the 90's the "official rules" of the USCA because I was the guy who put up the USCA website; but I'm getting ahead of the story.)

The problem with our Guerilla Croquet was that we always got away with it. Only once did we leave a venue when challenged, and that was only out of compassion for the soldier who came and told us, on the central parade of the Presidio army base, "The commandant doesn't want you playing croquet here." After going through our agreed-upon formula ("Is there a war we hadn't heard of?" And "What rules and regulations, exactly?) we relented out of pity for the soldier and left. That was the only time.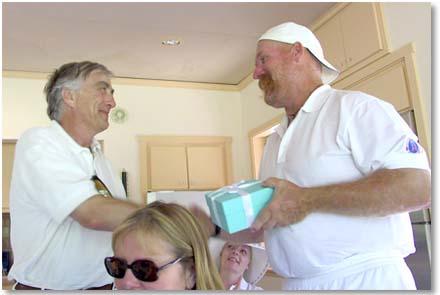 Who's giving what to whom? Whatever and whoever, Mike and the late Jerry Stark look very pleased, with players at Ellery McClatchy's elegant Ink Grade annual tournament looking on.
But not long after that, Mike showed me a New York Times article he had read about croquet and something called the US Croquet Association. It was probably the standard mainstream article of the time, including Jack Osborn's emphasis on the elite image he promoted for the sport. There was a picture that included mallets obviously much bigger and heavier than the ones we played with.
Then, during a football strike, the local paper published an article listing things people might do instead of pro football. One of them was croquet as played by the San Francisco Club under the leadership of Tom Lufkin (aka Tom McDonnell). The USCA was coming to town and giving a demonstration on a putting green in Stern Grove. We should check it out.
We DID check it out, and it seemed to me too serious--especially when the small group of socialites who had permission to play there from the SF Rec and Park asked us for a $300 initiation fee, and another $150 annual dues. It seemed like a lot of money to me--and it actually was, in 1981. But Mike insisted we join. So we did. And got hooked.
Soon after we joined, we had "taken over" the club with our friends from Berkeley and other non-socialites, and in fact promoted a "public club" policy that included asking the city to build two proper lawns for us, which the socialites finally went along with and supported.
The rest is history, and Mike and I had a great deal to do with developing the San Francisco Croquet Club into a national powerhouse of the sport, precisely BECAUSE it was publicly available to everyone--including young, sporty players like Wayne Rodoni and John Taves and Carl Hanson, who passed by and asked us in one way or another, "What kind of game is this?"
Mike Orgill is right in the middle of a group portrait in which everyone looks ecstatic for the first and much-over-produced annual event he said we had to begin because every respectable club has one. Note the brass band in the background, for fanfares and triumphal processions. But the tournament became, within six years, the strongest American Rules event in America, played on seven full-sized lawns for 64 players in three flights.
It was Mike who insisted we produce the "San Francisco Open," so we did. But soon after that, Sonoma-Cutrer came into existence, and we had to belong to that club, too, because it was clearly "Croquet Heaven," and at first, most of the best players were perfecting their game there. Only later, when we had two full-sized lawns of our own and a prominent public presence, did the SFCC become "the club of champions."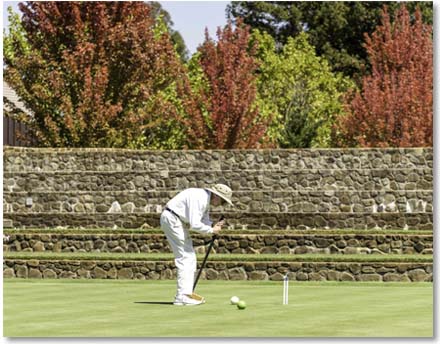 Sonoma-Cutrer with fall colors: Where else but in "croquet heaven" could such a thing happen with year-round mild California weather? Orgill plays croquet at the club where he has been the president for more than two decades. Erv Peterson photo.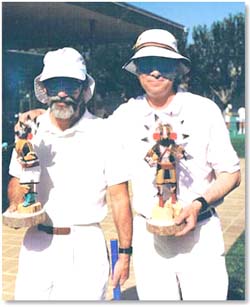 Orgill was delighted to win doubles at the Arizona Open at the height of the glory of that club in the 80's, with partner Phil Arnold. They're holding Arizona's signature Hopi-style trophies.

And by that time, Mike had moved to Sonoma County and was the president of the Sonoma-Cutrer Croquet Club.

I'm leaving out our playing history as partners and opponents, though I can't forget our "breakthrough" victory in "B" flight doubles in Beverly Hills. In the first few years, we were the guys to beat in San Francisco, but when Rodoni and Taves and the like showed up, our glory days on the croquet court were mostly over and we both had to invest our egos in organization and management, rather than winning trophies.

How I do go on! The point is: Orgill and Alman were the kind of "croquet buddies" who made croquet the focus of their friendship and along the way helped spark the development of the sport as it happens almost everywhere and in every country.

Friendship and sport are the best of partners. Orgill, in the red blazer worn by Hall of Fame inductees, proves that.

Shereen Hayes, actress in residence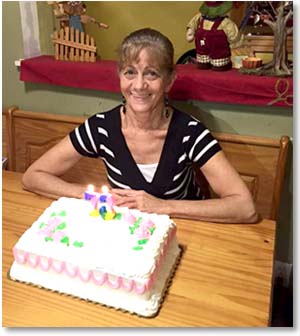 Sure, it's posed, but it might just be "the real Shereen Hayes" behind the tough Marine-sergeant persona she uses to run the USCA office with military precision. Only her staff could say for sure. As for the cake....who's counting calendar years at this point?

When I arrived permanently in West Palm Beach in 2000 feeling very much like a West Coast orphan marooned amongst Jack Osborn's "elite class" of croquet players, Shereen, though younger than I, took an almost motherly interest in my happiness and welfare-- when she wasn't scolding me loudly and with a deep frown about my numbers. I took the intensity seriously for a while, but later discovered that it's all a part of the "theatre" fundamental to her management style. She's a good enough actress to pull it off, and it's necessary, given her usually concealed heart of gold.

When my friend Nadja visited early on and we were planning a trip to the Keys, Shereen--occupying the temporary quarters of the USCA office we had built in a corner of the maintenance shed--noticed that my polo shirt had a small hole in it, and insisted on replacing it with USCA logo polo that I still wear; it's one of the few white polos hanging in my closet that doesn't display coffee or breakfast stains that need to be concealed with a nametag.

Shereen's dedication to the job is legendary. When I reminded her not long ago that I recommended her to Dan Mahoney for the USCA officer manager position, she said, "Well, several people take credit for that." Maybe so, but I think surely my first visit to the USCA in the late nineties, when I came down to facilitate the transfer of USCA HQ materials to the website I had put up in 1996 (including the programing of the handicaps and Grand Prix features) and commented in my weekly email to the San Francisco Croquet Club, "The USCA headquarters is a swamp," I know it made an impression on Dan Mahoney. Someone had forwarded it to him. He told me with some heat, "I was thinking of reimbursing you for coming down and doing this work, but now I'm not sure I ought to."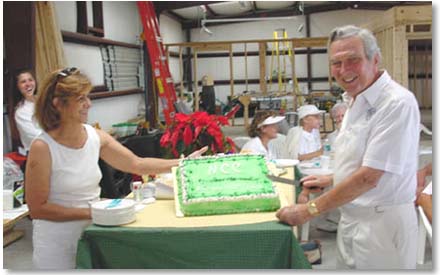 This ceremonial cake is for Chuck Steuber, with something like 70 other donors and members celebrating the "soft opening" of the lawns on December 2, 2000. We played croquet on the completed lawns and shared a buffet lunch in the Maintenance shed. Shereen's temporary USCA offices are being constructed in the background.
When Dan dropped by the office on brief visits, as he often did, naturally the women would be on their best behavior. He didn't see as I did the damage being caused by having no onsite person designated as office manager.
I told Dan that I only meant that I had seen, first-hand, how badly the office needed that authority; without it, the four women would all be competing and overlapping and figuring (quite rightly) that each of them should be that authority. But Shereen would probably be the best choice, because she wasn't a "front of the house" worker as the others were, and possibly could maintain a sensible overview with the all-important job of accounting as context.
Shereen also did the accounting for the Croquet Foundation of America. She was the person who came to me in June of 2002, just eight months after Chuck Steuber's debilitating stroke and six weeks after we had moved into the clubhouse in early May--the worst possible time--to tell me, "Bob, you need to get some revenue so we can pay the bills." Good luck with that, Shereen!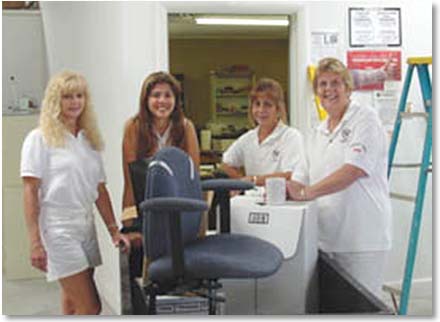 Shereen and her staff--including Jayne Everman, Deyana Ferro, and Diane Wier--were able to move into their temporary quarters in the maintenance shed after a couple of months of working out of Shereen's Loxahatchee home after the USCA's lease at the Palm Beach Polo Club ran out at the end of 2000. Archie Peck, John Curington, and Bob Alman with his membership director Jan Warrington would also work out of the maintenance shed for more than a year.
Shereen has such dedication to the job that she didn't think twice about transferring the USCA staff to her own house in early 2001 when the USCA lease at Palm Beach Polo had run out, and we had not gotten from the county the Certificate of Occupancy we needed for the temporary USCA office already built in the maintenance shed of the National Croquet Center. Her house was--and is--large, with plenty of rooms for offices looking out on fenced property with fruit trees and animals. She keeps saying she's going to retire there soon. If she ever does that, how can she be replaced, after reigning over the USCA for more than 15 years?
Steve Johnston: ultimate team booster
Steve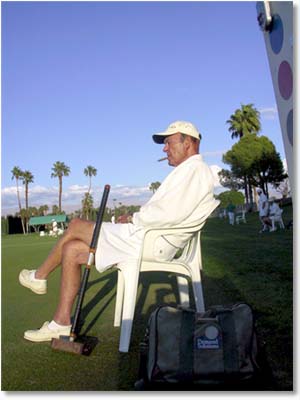 Here's a study in concentration, with Steve as outplayer at an NCC event. Erv Peterson photo.

Johnston, as a successful businessman and chief executive, took a suitably businesslike approach to contributing to the progress of American croquet: He never said this, but I think he asked himself, at some point, "Where can I make the most difference--and enjoy myself doing it?"

Many people have done that in the croquet world, and Steve's answer (and he stuck to it, year, after year) was "I will support the USCA International Team." He did that in many ways for many years, hosting the team at his home, donating funds for travel, arranging for special "practice" get-togethers at his home in North Carolina. He liked and admired most if not all the high-achievers who made the team, so it worked perfectly for him. And he also partnered them in some important croquet events.

As a player, he was never quite at their level, himself, though he did sometimes successfully partner with various members of the teams, including Rory Kelly and Doug Grimsley, with whom he won the Arizona Open one year. (According to Steve's story, it was Steve who ran their strategy and choreographed the victory.)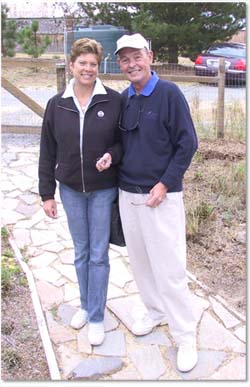 Steve and his wife Pam at their Jacksonville home. Erv Peterson photo.

But it was in singles when he was at his best, most interesting, most engaged as a competitor seasoned in the wiles of a canny corporate player. I watched one of his last games at the NCC--I think it was the Seniors/Masters of 2014--at a certain point when he was WAY down and appearing to give up and lose interest. Losing interest did not seem to me like something Steve would do, and I realized later--when the opponent went CLUNK and let him in again--that he was simply encouraging the in-player, with his obvious but obviously unobtrusive attitude--to lose focus. And it worked.

That was the fartherest I ever saw him venture into the realm of "gamesmanship," because he believed in fair play above all.

With his wife Pam, he travelled all the way out to San Francisco a number of times to play in the San Francisco Open, recognizing it as one of the finest and best-run tournaments in the country in the mid-nineties. It was usually the best-organized as well, exept for one year when John Taylor (who usually did the schedules and kept the scores) had a disagreement with me about something, and didn't do the schedules that year. So I decided to do the schedules by hand, and I made the classic mistake of scheduling Pam in two different games--one singles and one doubles--in two different locations at the same time! (As part of the annual de-brief of every tournament, the SF Open Committee later elected Pam Johnston the "victim" of the event.)

But when I fessed up and apologized, after making it all work for Pam and the tournament, Pam forgave me, I think, as well as Steve.

It wasn't until I came to West Palm Beach to organize the National Croquet Center that Steve and I became friends. Although he had told me in San Francisco on one occasion, "Bob, you should never buy your own lunch," in fact he didn't begin to buy my lunch until we were encountering each other in West Palm Beach on the veranda of the NCC.

What he meant was that with so much non-profit work on my plate, either lowly paid or entirely unpaid, I "deserved" to have my lunch paid for by somebody else. He was often that person at the NCC, and to return the compliment, I sometimes bought his favorite beer in return--an imported brand so shockingly expensive that I asked myself, "Should I be doing this? Is this really fair?"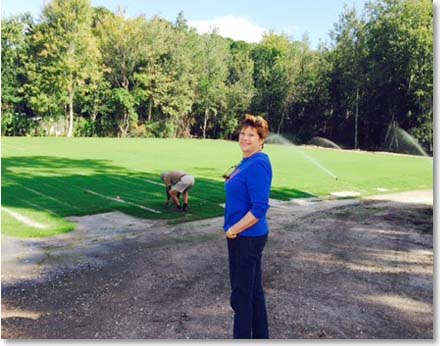 Steve snapped this picture and sent it to Bob Alman on November 3, 2014, to show the progress being made on the Ponte Vedra Croquet Club courts. John Curington, financer, developer and manager of the 7-court complex in north Florida, is doing something in the background, while Pam Johnston beautifully expresses the delight of the title of Steve's email: "Coming along."
Steve was the person who told me about John Curington's amazing project in North Florida--the seven-court Ponte Vedra Croquet Club. He and Pam were winter residents and huge supporters of John--as John's first "Lifetime Members"--and he kept me apprised of progress and sent me pictures of the development until the time he went into the hospital for the last time.
Steve had confided in me the details as well as his own estimate of his poor prospects, on the veranda of the NCC, months before. He was okay with exiting, he said, because he didn't want to live with the kind of impairment that resulted from a "miracle" save, with one of those gadgets you have to hold to your throat to make noises that simulate speech.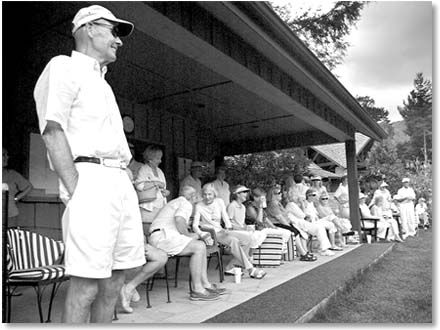 Jeff Soo's gorgeous black-and-white shot at Grandfather Mountain perfectly portrays Johnston as the ideal spectator, generous of spirit and genuinely pleased with the players in the game he's watching.
Now that he is really gone, who could possibly take his place--not just as booster of the International team, but as courtside sage and raconteur?
Michael Orgill, official CFA biography
Where would the USCA be without the addition of new players and clubs, and someone to manage them? What good is a selection committee if no one observes the players? How would players know anything if no one published results? There are, of course, those that do these things for a year or two, or even 5 to 10; but only a precious few have done these things for over 30 years! Michael Orgill falls into the 30 year plus, category!
Mike discovered croquet and the USCA in 1982 through a New York Times article. He quickly joined the San Francisco Croquet Club and began playing in the San Francisco Open -- then the pre-eminent, USCA-rules tournament on the West Coast. Soon thereafter, Mike helped found Croquet Magazine, the first American "slick" publication devoted entirely to croquet.
Additionally, along with Garth Eliassen, Mike developed the Croquet Calendar, an excellent monthly, national newsletter of tournament results, editorials, and croquet news. This brought awareness of the tournament scene to players everywhere. They learned of results, prominent players, game tactics, strategies, schedules and many of the issues and viewpoints surrounding the sport. Mike also assisted Bob Alman in the creation of croquetworld.com, the first croquet news and analysis website--one that continues to shape croquet coverage today.
In the mid-1980's, after Brice Jones built Sonoma-Cutrer Vineyards and included two world-class croquet courts, Mike and his family moved north to Sonoma County where he joined the Sonoma-Cutrer Croquet Club. Since 1994, he has been the club president, working closely with the winery to ensure the continuance of croquet. This was especially important as the winery was sold to Brown-Forman, the Kentucky spirits conglomerate.
Jones created and held the World Croquet Championships, an international-rules tournament that was the first invitational singles championship tournament. Mike was the tournament director for ten years until the tournament ended in 2003. He then brought the North American Open to Sonoma-Cutrer, which continued the winery's major fund raising relationship with the Make-A-Wish Foundation.
In recent years, Mike has worked with the Hayes Presidential Center in Fremont, Ohio, the site of the largest croquet library in the United States, to create its first major croquet-themed fund raising event. Along with organizing the golf croquet tournament, Mike spearheaded the creation of a USCA club at the Hayes Center.
Mike is active in croquet management at the club, national, and international levels. He is currently a member of the World Croquet Federation Management Committee, as well as a member of the USCA's International Committee. He has been a member of the USCA Selection Committee since 1994, as well as serving as USCA District President in Northern California.
Mike won several tournaments including the 1991 Arizona Open Doubles with Phil Arnold and the 1991 Wine Country International, placing high in numerous regionals, invitationals, and opens. He has contributed immensely to the successful advancement of croquet in the Western states. Over the years, Mike has cultivated and built friendships and advanced the sport of croquet wherever and however he could. He is a true gentleman, a very special ambassador of the sport, and a most worthy inductee into the US Croquet Hall of Fame.
Shereen Hayes, official CFA biography
Shereen is a South African native; now a US citizen. She came here in 1984 and currently lives in Loxahatchee, Florida. She began working for the USCA as bookkeeper in September, 1995. She had an extensive knowledge of bookkeeping and finance. Since then, she has worked tirelessly for the USCA and the CFA, managing their financing, reporting, and the staff. During these twenty years, Shereen worked for six USCA Presidents, becoming an integral part of USCA's operations, now functioning as Executive Manager.
Most USCA members take for granted the smooth operation of the USCA office, but when Shereen first began working for the USCA, it was in danger of even surviving. It was through Shereen's hard work and dedication that things slowly turned around. Today, in large part due to her efforts, the USCA is financially sound and stable.
Stephen C. Johnston, official CFA biography
For over twenty years, Steve Johnston provided unflagging organizational and financial support for his favorite cause…USCA international competition. In addition, he had a long list of personal on-court successes and served on various key national committees.
In 1993, as Chairman of the International Committee, he traveled to Echuka, Australia, for the first US foray into the MacRobertson Shield competition. This was to be the first of four "MacRobs" he attended, followed by Cheltenham UK in 1996, Christ Church, New Zealand in 2000, and the National Croquet Club in Florida in 2003. It's easy to be a fan when your team is winning, but years of frustration and might-have-beens tell you who your real supporters are.
According to long-time champion US International team player Jeff Soo, "Material support is always appreciated, but what really helps the team is knowing it's not just six guys on their own; and that you have your friends and fellow Americans behind you during the actual matches and throughout the year. Steve was there in the bad years as well as the good ones."
He had a quiet way of calming fears and motivating people, and a knack for identifying important initiatives that make a difference. His ongoing, unwavering financial support and encouragement made it possible for the USA to field its best teams at a time when we were considered second tier by many other countries. He was instrumental in proving them wrong and elevating American croquet to the highest level worldwide. Over the past fifteen years, he was always there for the team whenever there was a need.
Steve and his wife Pam hosted both MacRob and Solomon teams at their home in North Carolina, for pre-tournament tune-ups, and he provided stunning team uniforms and rain gear. Steve also made it possible for Erv Peterson to accompany 2010 and 2014 teams to England and New Zealand as a much appreciated team manager. His financial support was crucial, consistent and unflagging, and his donation of time, counsel and wisdom was invaluable. In addition to his team support, Steve also chaired the USCA's Handicap and Rules Committees.
Some of his many competitive accomplishments include multiple wins at Useppa and Palm Coast, plus the Midwest Regional, Arizona Open, North Carolina Doubles Teams, and the Canadian National Singles Championships. Multiple runners-up finishes include the Florida Open, Palm Beach Invitational, and Osborn Cup. He finished fifth in Singles and third in Doubles in the USCA National Championship. According to other championship players, Steve's play may not have been elegant, but he was always an enjoyable opponent because of his attitude, demeanor, and his bonhomie. Known for his humor and wit, he always displayed an easy manner, whether winning or losing, one of the toughest tricks in the game.
Steve was an initial contributor to Chuck Steuber for the building of the National Croquet Center, continuing his support of the USCA and CFA until his passing in 2015. Recently, he and Pam were the first members and significant supporters of John Curington's new, five-lawn Ponte Vedra Croquet Club, recruiting new members and providing financial and educational aid. He learned the game while a homeowner on Useppa Island, and was a member and active supporter of Linville Ridge and Arizona Croquet Clubs. Steve was a USCA member since 1990.
A strong national team is good for US croquet in many ways, and Steve's exceptional support was critical to the success we have achieved. Inducting Steve Johnston into the US Croquet Hall of Fame is a fitting recognition for this true ambassador for the sport.
Bob Alman is the founder and editor of CroquetWorld.com, as well as the founder and longtime manager of the USCA website and the websites of the National Croquet Center, which he organized and managed for several years beginning in 2000, when he moved to West Palm Beach from San Francisco. Alman had been a key organizer, along with Mike Orgill, Hans Peterson, Karen Collingwood, John Taylor, and many others, of the San Francisco Croquet Club. Largely "retired" at the age of 76, he continues to consult with the Croquet Foundation of America and produce and direct occasional events for the National Croquet Club. Since December of 2014, he has focused his local commitment on the growth of the NCC members' club, always with an eye towards broader application of whatever is learned from designing. producing, testing, evaluating and perfecting new and innovative events and programs. He is a year-round "floater" for the year-round Saturday morning free public "Introduction to Croquet" at the Center, and is now crafting a "curriculum" for first-time potential members designed to lead them to the office of the Membership Director at the end of their second and final free two-hour adventure on the lawn with croquet mallets.
---